When it comes to festive dressing and looks, no one can pull off festive looks better than our Bollywood divas. On the occasion of Krishna Janmashtami, the birthday of the Hindu God Shri Krishna, we spotted the enchantress – Vidya Balan in Pune on 19th August, celebrating the traditional ritual of dahi (curd) – handi (earthen pot); which is a sport act based on the legends of Krishna steeling maakhan (butter) or dahi (curd) from the earthenware pots.
Vidya donned a very contemporary looking mythological print tussar silk sari in classic beige + black border combination. She added a twist to the sari by pairing with a high contrast shocking pink blouse. Vidya's hair and make- up style is what is captivating. With those beautiful tresses and bright pink lips Vidya looked nothing but a pure Indian bedazzling beauty.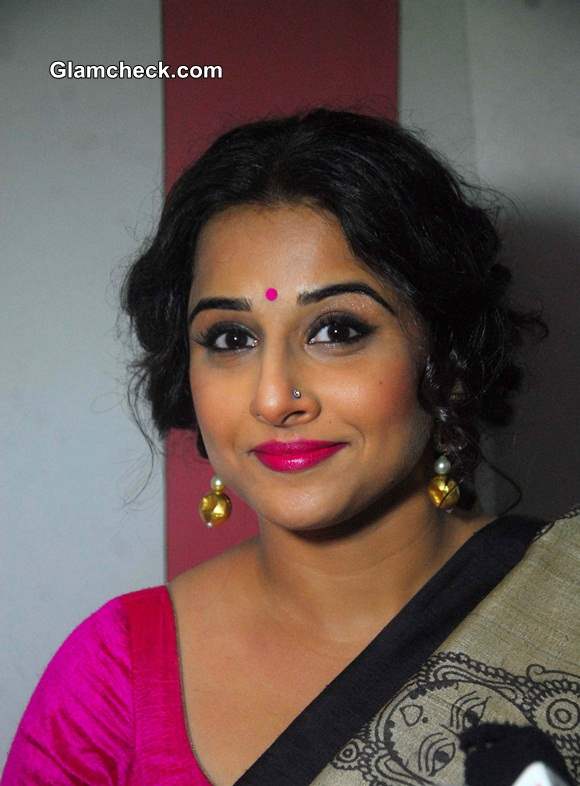 Look like a Celebrity – Festive Hair and Makeup
The Look: Vidya's styled her hair in a front parted messy carefree braid. With her tresses curled and left loose in front she balanced the act well between artsy and traditional. Her makeup on the other hand comprised of her classic thick – winged eyeliner, dark black kohl, mascara and brown shimmer eye shadow. Rosy cheeks, a shocking pink lip colour and similar coloured bindi (coloured sticker dot adorning the forehead) is all she was adorned with. Of course her chandelier ruby earrings added the missing bit of glam touch to her look.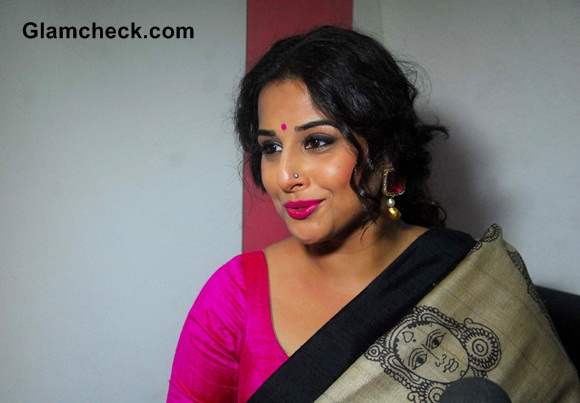 Look like a Celebrity – Festive Hair and Pink Makeup
To get those curled messy tresses and mesmerising makeup, you would require:
For the makeup:
A natural – pink blush, black eye liner, black kohl or kajal pencil, brown shimmer eye shadow, black mascara, bright pink glossy lip colour, invisible lip liner, foundation to match your skin colour or you could even accomplish this with your regular bb or a cc cream.
For the hair:
Just a hair serum and a hair dryer is what you would require
DIY Steps to get those curled hair tresses: yes we ask you to set your hair first as the heat from the hair dryer might melt down the makeup.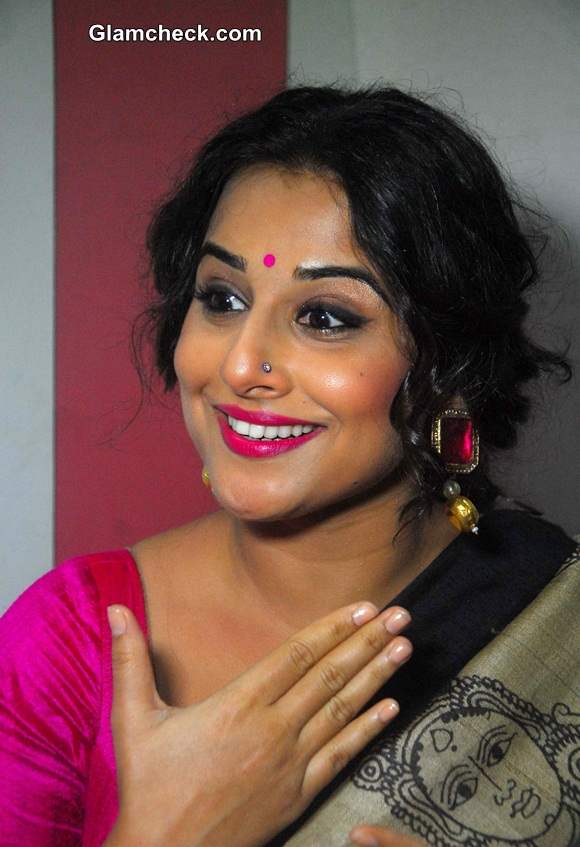 India Festive Hair and Pink Makeup
Apply the hair serum as per instructions to your washed tresses
Blow dry the hair just until partial wet
Section the front hair into a centre parting; in this case the front section has graduating lengths which makes the parting look natural.
Pull back the rest of the hair, blow dry the hair into out- curls and in – curls (this will create volume as well the messy braid due to the alternation of curls)
Now braid the hair into a fish tail style braid
Take the hair in the front section and set them into curls with the help of your hair dryer and roller brush. Of course you can achieve this with curlers too!
And with that the hair is done
Moving on to the make- up
Pat dry your face to clear out any perspiration from the blow drying
Apply your regular foundation cream or dust or your bb/cc cream whatever makes you feel most comfortable (as we are focusing at a festive event, your comfort levels is more important to get that happy glow)
Make sure there are no patchy sections; even out using a compact if required
Use your blusher cream or blush- on powder and highlight those cheeks very lightly
Apply the brown shimmer eye shadow on to your eye lid extending till your eyebrow contours
Using an eyeliner pencil, line your eyelids in a thick winged style extension
Use a black kohl or kajal pencil and line the lower eye lid
Finish with multiple layers of black mascara
Lips: apply a tad bit of lip balm first, paint your lips with the shocking pink lip colour
Line your lips with the invisible lip liner to block any chances of smudging; and you are good to go!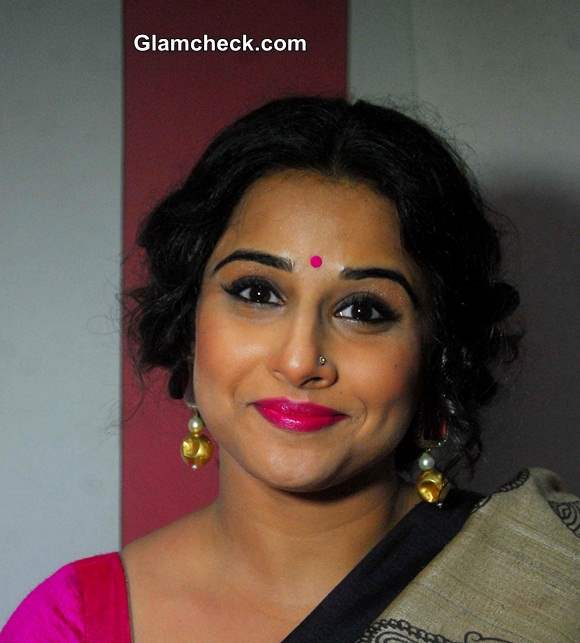 Vidya Balan's Festive Hair and Pink Makeup
When and Where to Flaunt this Look:
If you are aiming at a morning event to flaunt this look; make sure the event is indoors (the pink might be  a little too shocking in the bright sun)
This look is perfect for festivities arranged in the early evening to late at night; just like Vidya did to a Dahi-handi event, hint- Ganesh Chaturthi is right around the corner
You can flaunt this hair and makeup idea to a post temple visit dinner party
Or even to a quiet prayer meet or any auspicious events
Or even when you are all by yourself and visit your regular place of worship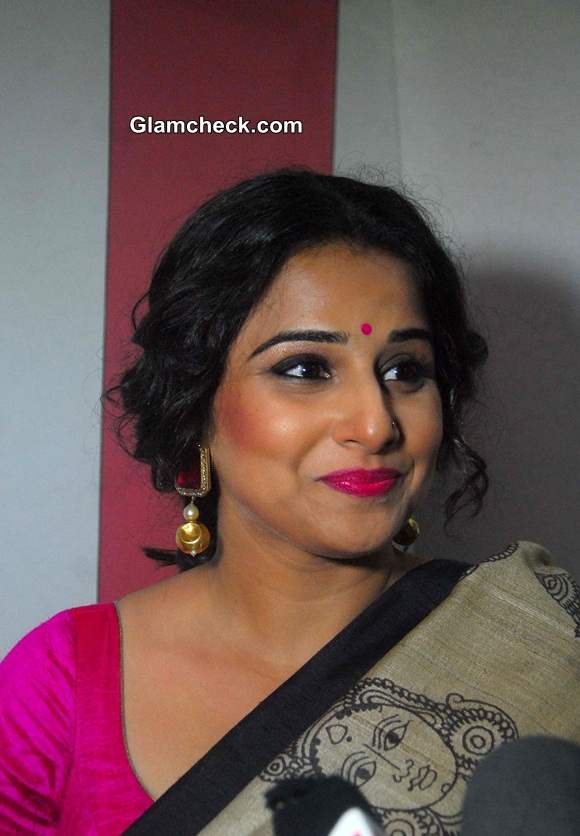 Vidya Balan 2014
Solaris Images