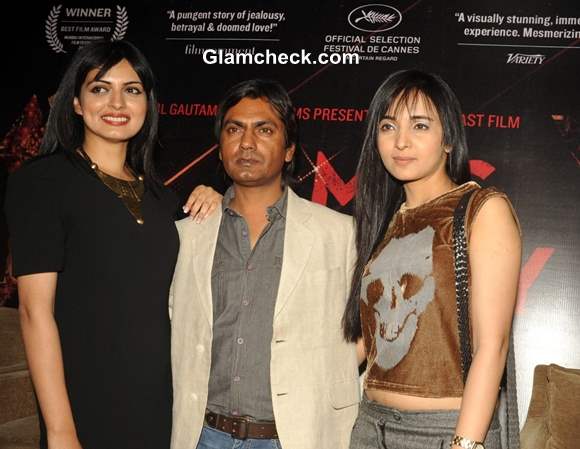 Nawazuddin Siddiqui during the first look launch of Miss Lovely
Mumbai, Jan 3 (IANS) Actor Nawazuddin Siddiqui-starrer "Miss Lovely", which has done a fair share of rounds at foreign film festivals will release in India Jan 17 with well over 400 prints, said its distributors.
B.L. Gautam, who is co-distributing the film under his banner Easel Films said: "We are looking at a nationwide release for 'Miss Lovely' and we will cover all the major territories including the northeastern states."
"Indie cinema has come of age in India, it seems, and it is crying for a separate room. These films need right voices, and not empty noise to reach out to their audience. Everything from marketing to the screens needs to be apt for these small gems to make some money," he added.
"Miss Lovely", helmed by Ashim Ahluwalia, is set in the lower depths of Mumbai's C-grade film industry and follows the devastating story of two brothers who produce sleazy horror films in the mid-1980s.
The movie's co-distributor, Sunny Khanna of White Lion, said: "Initially, when we were planning the release of 'Miss Lovely', we were sure of going about with just 225 to 250 screens. But after seeing the overwhelming response from the multiplexes, theatre owners, exhibitors and distributors pan India, we are looking at 400 plus screens and a decent number of shows."
The directorial debut of Ahluwalia, who has also produced it under his home banner Future East, stars Anil George, Zeena Bhatia and Menaka Lalvani in prominent roles.