On an impressive day five of Wills India Fashion Week Spring edition, Rajdeep Ranawat showcased 'Santorini'.  A holiday to this magnificent island in Greece left a very deep impact on the designer. So impressed was he, that the whole collection revolved around it.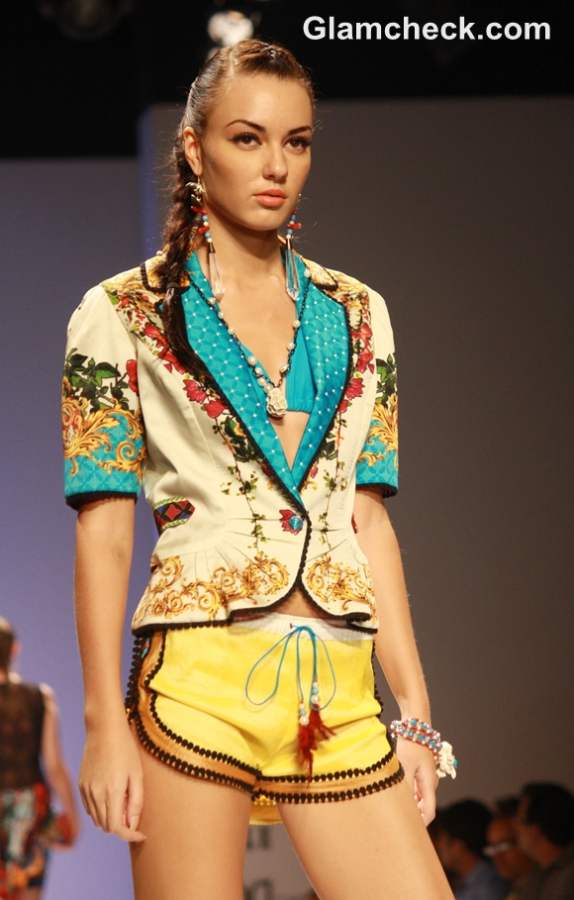 WIFW S-S 2013 Rajdeep Ranawat
He was inspired by the churches and buildings which have neo-classical and baroque influences. A spectacular expanse of clear blue sea, black sands, blue sky and white houses on hillocks was the imagery behind Ranawat's collection. The colorful bougainvillea and ornate grills too formed a part of his collection.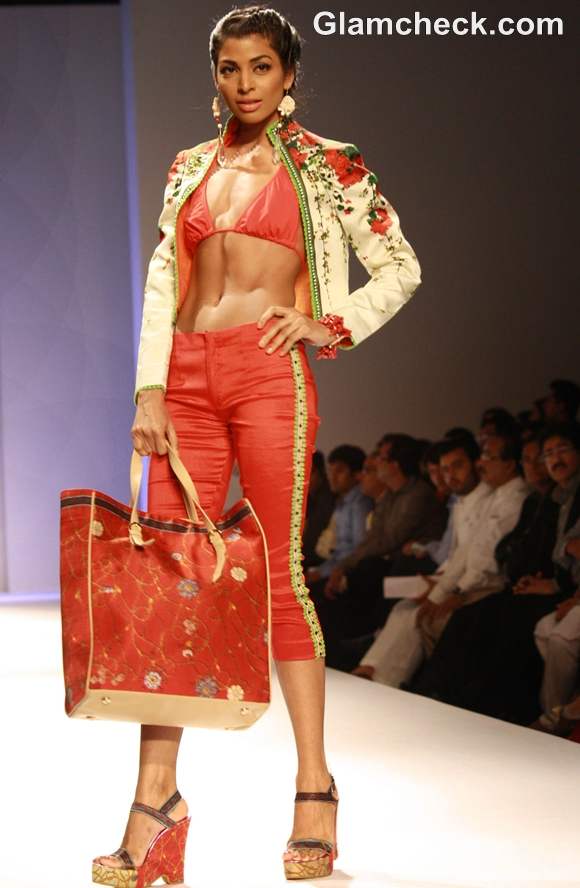 Rajdeep Ranawat WIFW S-S 2013
The line included shorts, tailored printed jackets, bright pants and printed skirts paired with bikini tops, breezy tunics, sheer saris as well as maxis and short dresses.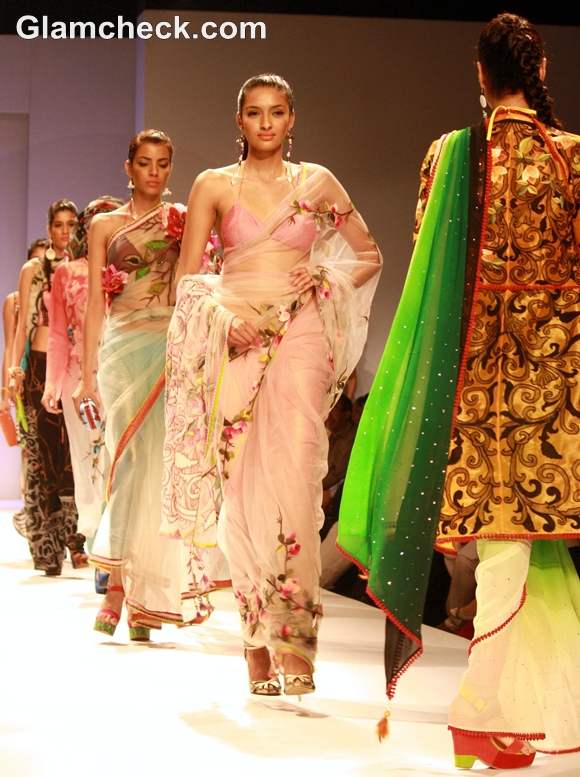 WIFW S-S 2013 Rajdeep Ranawat collection sarees
The cornerstone of the collection remained the amalgamation of baroque and floral tea branches, and the conversational photographic prints captured. And all this on a canvas of vivid colors like blue of the sea, tangerine, yellow and ivory base.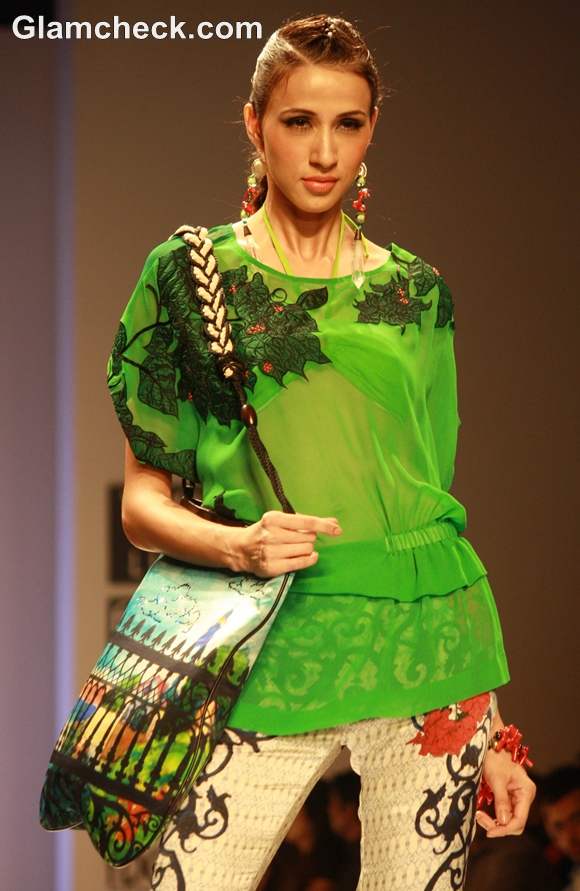 WIFW S-S 2013 Rajdeep Ranawat collection
The accessories for women consisted of Photographic print totes, pop color clutches, beads and crystal earrings and bracelets featuring porous igneous rock pieces.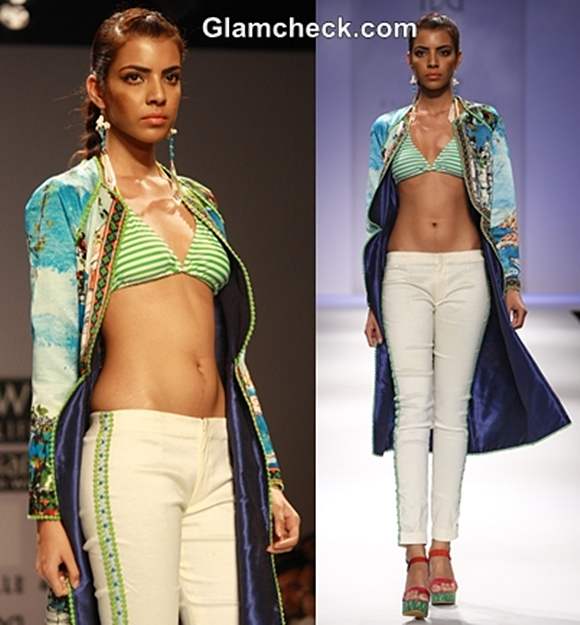 WIFW S-S 2013 Rajdeep Ranawat show
Colorful wedges with a printed body and gold stilettos ruled Ranawat's runway.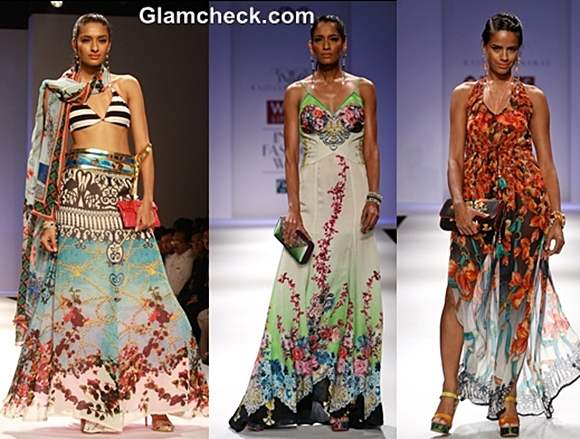 WIFW S-S 2013 Rajdeep Ranawat maxi dresses
The models sported neatly braided hair and natural lips with bold eyes. Only the upper lash line was highlighted with mascara and eye liner.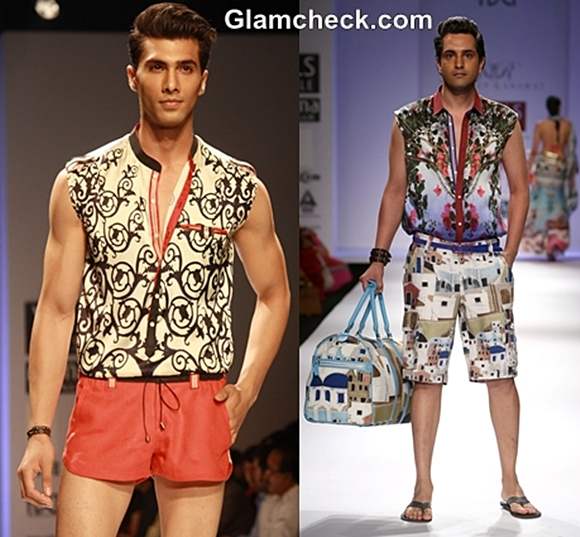 For the men, Rajdeep advocated sleeveless printed shirts and shorts. The duffle bag with Santorini houses printed could become a hot seller.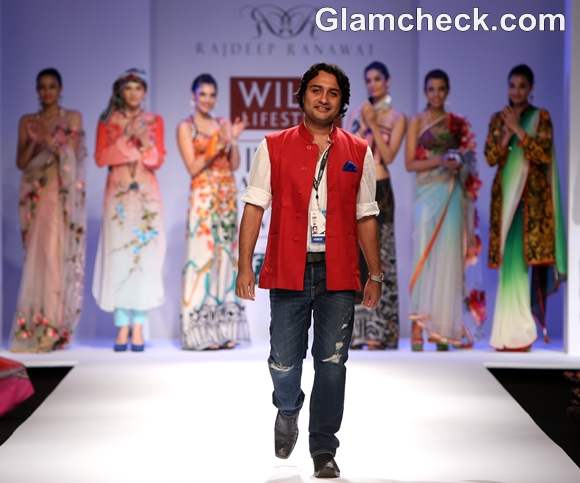 WIFW S-S 2013 Rajdeep Ranawat-day 5
This season seems promising for young designers like Ranawat with the buyers taking a note of their creative cum consumer centric approach.
Indian Photo Agency, IANS