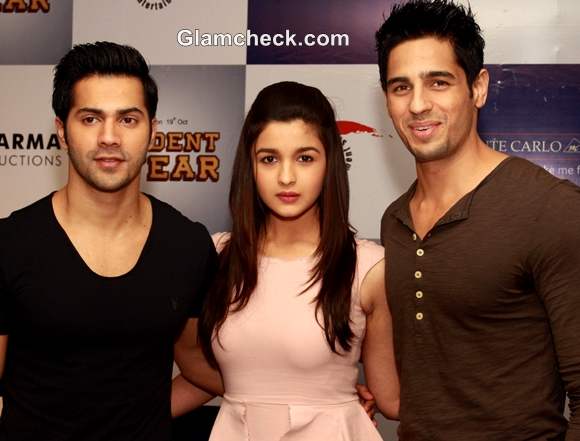 Alia Bhatt "Student of the Year" pictures
Newcomer Alia Bhatt is one pretty lady. As she earns her acting stripes, she's also developing quite the style sense as is obvious from her very 'in' look at a promotional event for her upcoming film "Student of the Year" at the BluO in Gurgaon, Haryana on October 15.
Her Look
Classy
What She Wore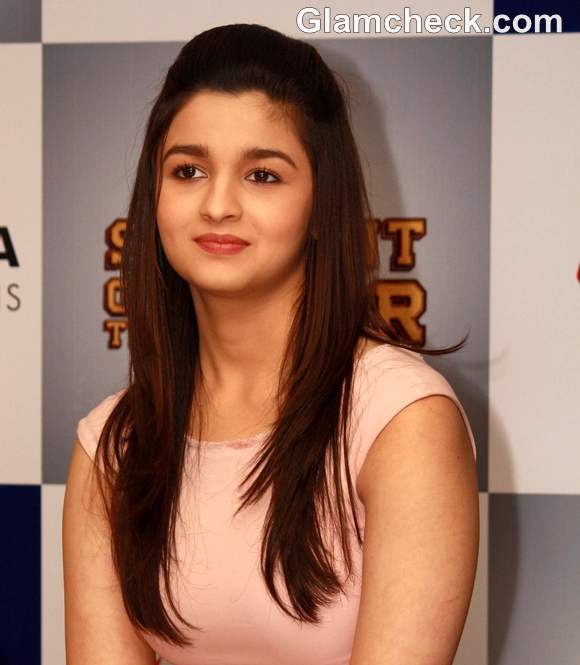 Alia Bhatt was a modern day princess in a gorgeous peach peplum silhouette dress. However, the edges of the peplum bit of the dress were frayed and stray threads were coming loose. Was that some sort of style statement she was trying to make (edgy??? devil-may-care????) or did her designer simply not have the time to finish the dress? Either way, it marred her look the moment you noticed it. But that aside, she dazzled. She accessorized the outfit simply with a gold cuff bracelet.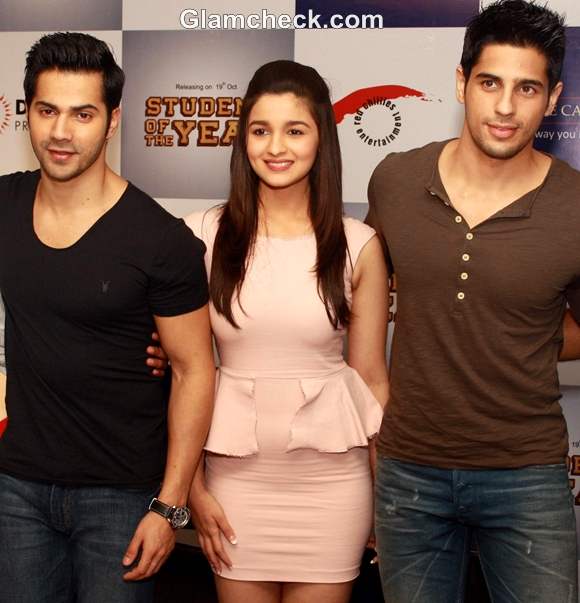 Aliya Bhatt hot Student of the Year pictures
Her hair and makeup are perhaps the most defining aspects of her look and what contribute to the overall sophistication. Already brown, her tresses glowed with softer, lighter highlights of brown. Her hair was blow-dried to achieve a wispy feel at the ends and the portion at the crown was pulled back to magnify the radiance of her well-executed makeup. A healthy color in her cheeks, subdued red lips and a dash of brown eye liner completed her look.
Get the Look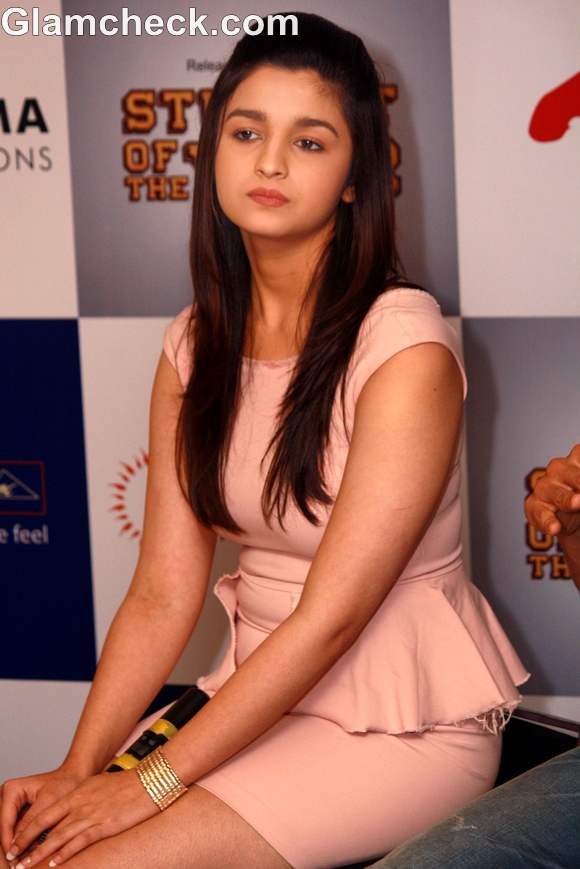 Alia Bhatt Pretty in Peplum "student of the Year" promotion
Have you been told that you shouldn't wear peplum if you are not stick thin? Can those claims right away because you're missing out on a trend that will make you look slimmer and sassier immediately if worn right. Alia's no clothes hanger herself and you can see how she looks toned and fit in the peplum silhouette. There are two rules to follow here:
Choose a fabric that has a nice flow to it so that it moulds your curves, thus softening them a bit.
The cut below the peplum should be straight (e.g. a pencil skirt). Whether you go with pants or a skirt like Alia, make sure that it hugs your curves. The jutting-out peplum combined with the straight look on your lower half will ensure that you look shapely rather than fat.
Where to Sport the Look
A peplum silhouette exudes femininity, confidence and elegance. But that doesn't mean it's only meant for formal events. Indeed, outfits for work and casual wear are incorporating appropriate peplum styles into the ensembles so that you can sport this look anywhere. As for Alia's peplum look, you could wear it on its own to a dinner or girls night out. You could also glam it up with edgy accessories and sport it to a wedding or a formal work event.
IANS, Indian Photo Agency