Bollywood actors Deepika Padukone & Shahrukh Khan were at the Zee Cine Awards 2013 press conference in Panchgani (Satara) on December 19 to announce the transparent voting process incorporated by Zee at next year's awards show to celebrate 20 successful years in the Indian entertainment industry. Zee is hiring third-party authentication entity Ernst & Young to give viewers the confidence and assurance that every winner at the Zee Cine Awards from now on will be voted solely by the viewers.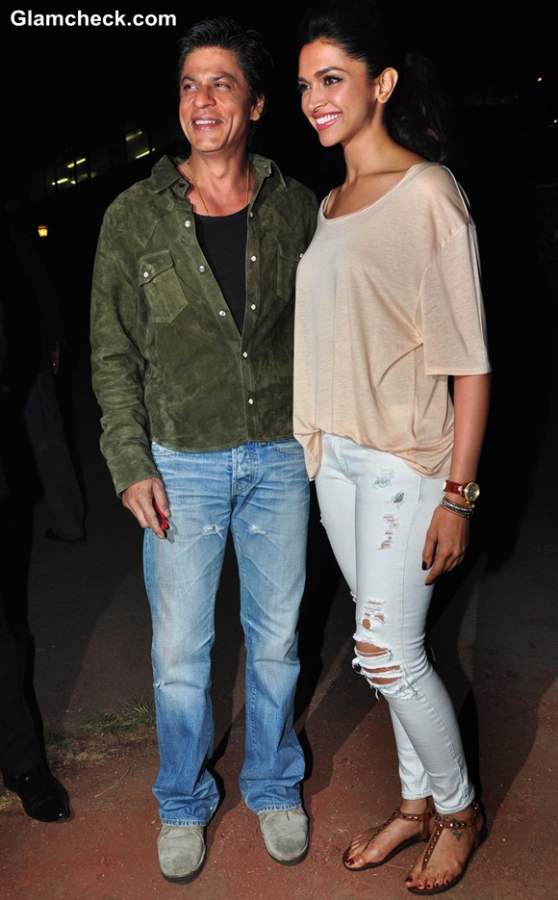 Sharukh khan & Deepika Padukone at Zee Cine Awards 2013 press conference
Shahrukh and Deepika – two of the hottest stars in Bollywood right now – were fully in support of the new process and more than happy to spread the word at the press meet. They both dressed casually for the event, Shahrukh in a basic outfit consisting of blue jeans, a black tee and an army green jacket. Deepika was a little more adventurous with her ensemble. 
Her look
Casual grunge
What she wore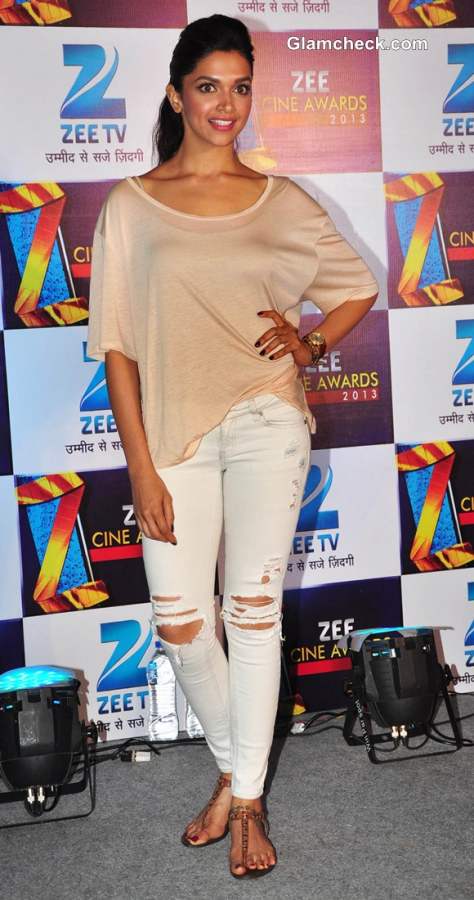 Deepika Padukone in ripped denims at the Zee Cine Awards 2013 press conference
Deepika's look for the day mimicked one that is quite popular with supermodels and designers. The focus was the skin-tight, very pale blue distressed jeans. A loose-fitting, elbow-length nude tee made up the rest of her outfit, which she accessorized with flat sandals, a watch and multiple bracelets.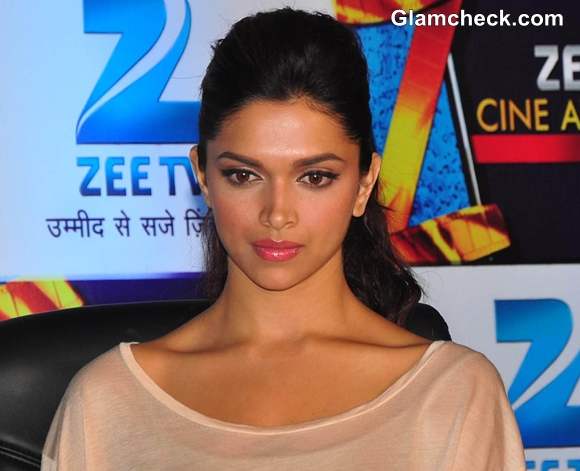 Deepika Padukone at the Zee Cine Awards 2013 press conference
A simple ponytail with volume on the crown was a good hairstyle choice for her as it added inches to her already enviable height but also pulled back the hair from her face to show off her features.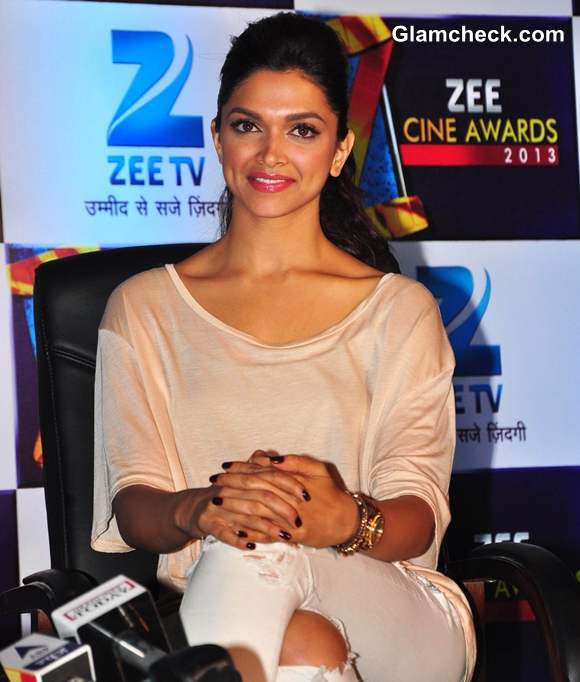 Deepika Padukone Sports Distressed Jeans at the Zee Cine Awards 2013 press conference
The leggy beauty's large doe eyes were lined and mascarraed to perfection. Rosy hues on her cheeks and a youthful pink on her lips completed her styling for the look.
Get the look
A grunge look does not always have to be entirely, well, grungy. You can clean it up a bit for evening wear or tone down the edginess for a casual day look that will work well for college, shopping, running errands or going to the movies. Pair your distressed jeans with a flowy blouse like Deepika's for a breezy look. Or try a tank top, blazer and pumps for an evening look.
Indian Photo Agency