So what's common between Greta Garbo, Audrey Hepburn, Marilyn Monroe, Priyanka Chopra, Abhishek Bachchan and Sonam Kapoor? Don't stay dazed and confused, as all of these actors have had the honor of receiving a made to measure shoe from none other than Salvatore Ferragamo!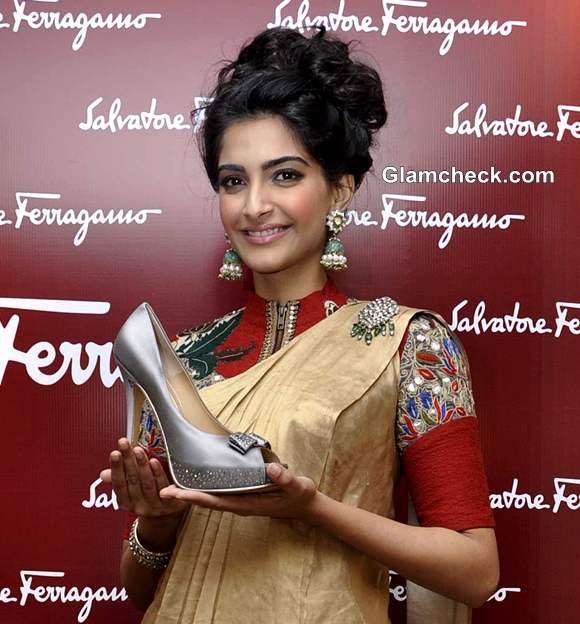 Sonam Kapoor at Salvatores Ferragamo's Shoe for a Star Event
As part of their Shoe for a star project Sonam received her custom heels on 19th December at the Ferragamoe boutique in The Oberoi, Mumbai. The lady often seen in India as the queen bee in fashion, was part of the design process and her tastes were taken full care of.
Sonam Kapoor silver Salvatores Ferragamo Shoe
Her silver peep-toes had the signature Ferragamo bow on top and encrusted with a generous amount of tiny jewels.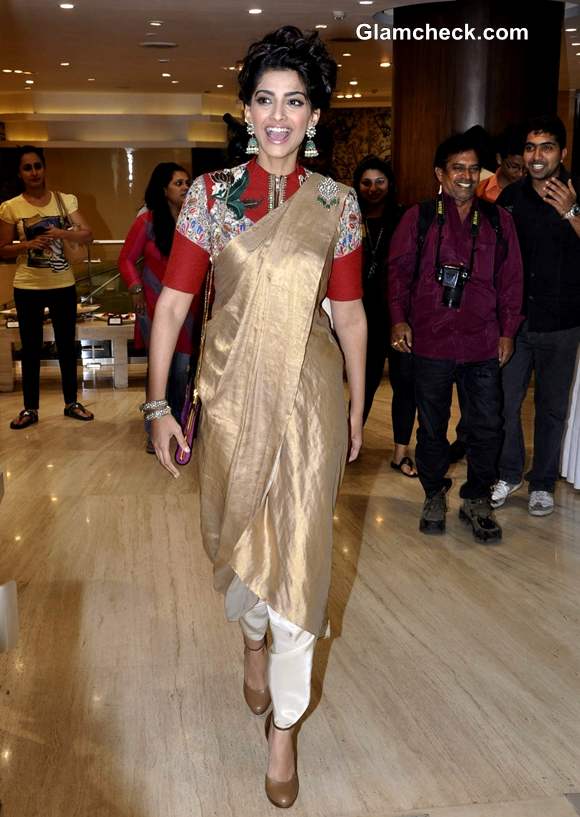 Sonam Kapoor at Salvatore Feragoma Shoe for a Star event in Trident Mumbai
In February this year, she was invited to their headquarters the Palazzo Spini Feroni in Florence to have her feet measured for a wooden last exactly her size.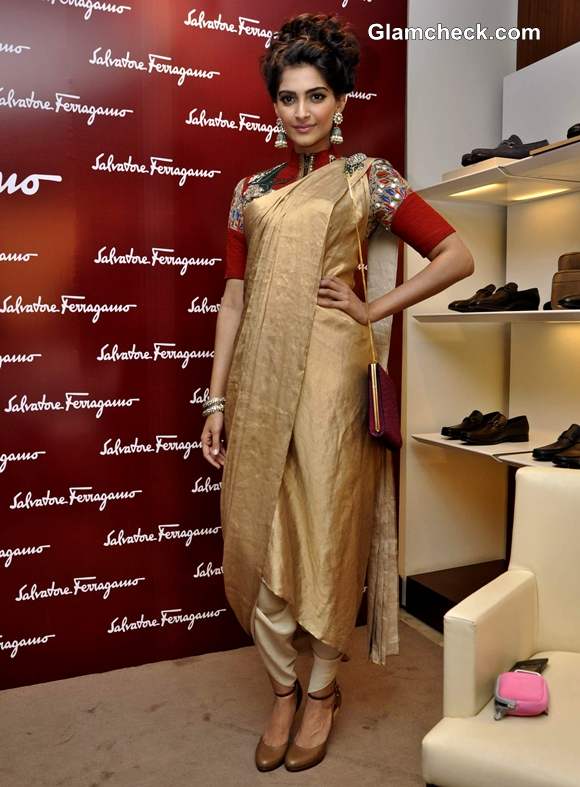 Sonam Kapoor style
As always Sonam proved to be fashion forward at this event too.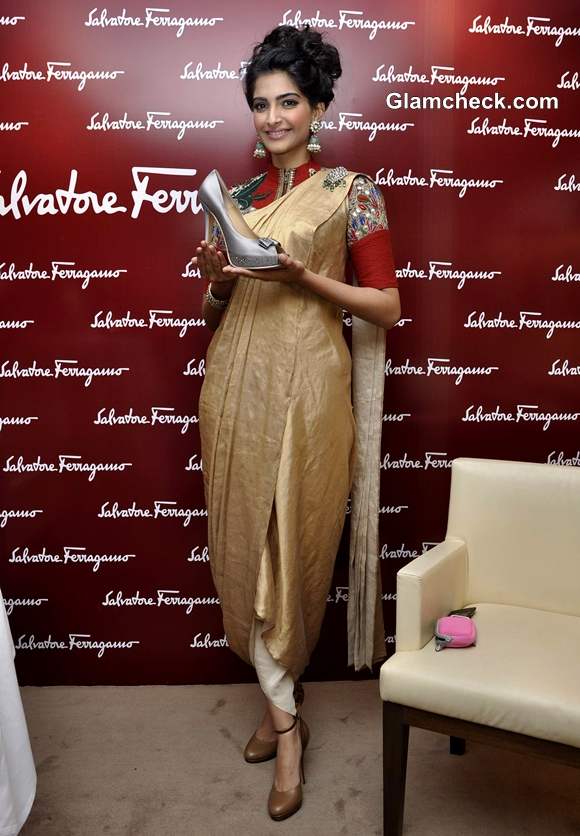 Sonam Kapoor  Salvatores Ferragamo Shoe for Star Event
The ensemble was eclectic with a gold traditional sari like drape on top, a heavily embellished maroon blouse with appliqués and embroideries – only it had an exposed metal zipper up front, and a beige pair of tailored pants worn underneath.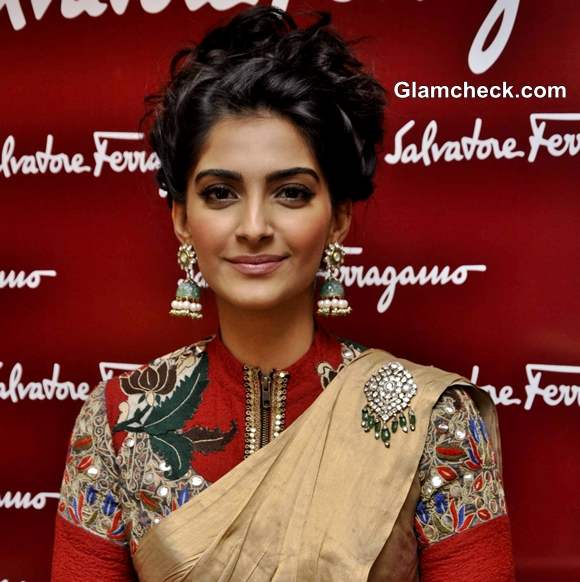 Sonam Kapoor traditional hairstyle makeup
The accessories she completed her look with were equally interesting. A traditional brooch, kundan and pearl earrings, kundan bangles, a violet structured bag and camel colored heels toed at the ankle.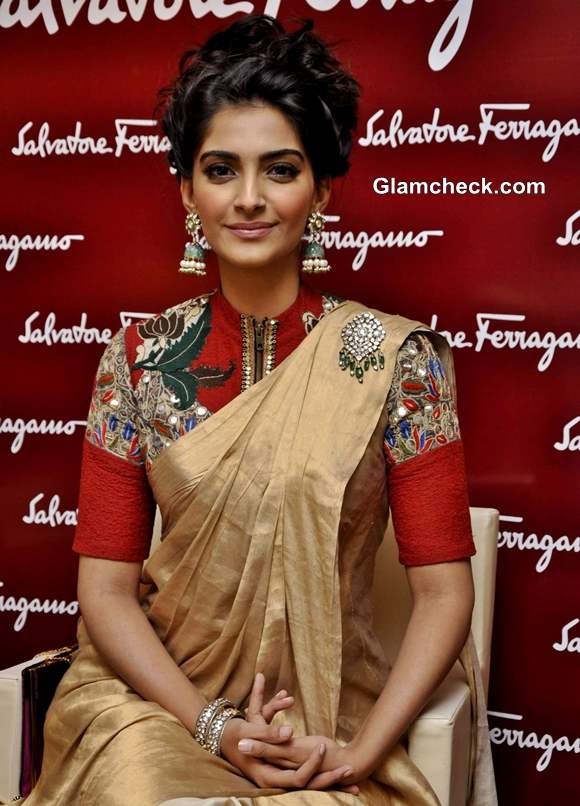 Sonam Kapoor style statement
Her natural pink lips, defined eyes and an intricate and elaborate bun, all made the look even more impeccable.
IANS