"Dehradun Diary" is a movie that deals with real life incidents and reflects the apathy of youngsters being killed for hollow traditions by their parents and relatives.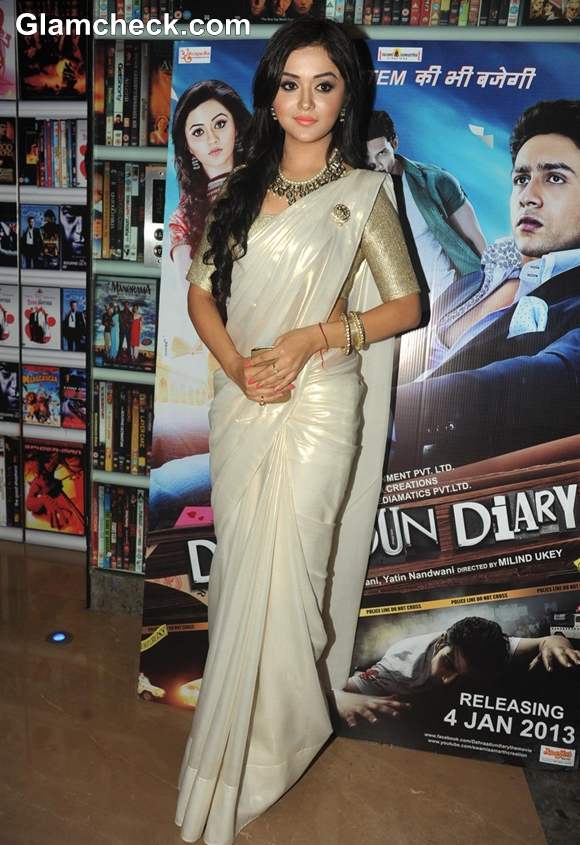 Ragini Nandwani 'Dehradun Diary'
The premiere saw Ragini Nandwani wearing a silver/gray sari with gold accents and a shimmery gold blouse. Her long hair was moulded in soft curls and left open.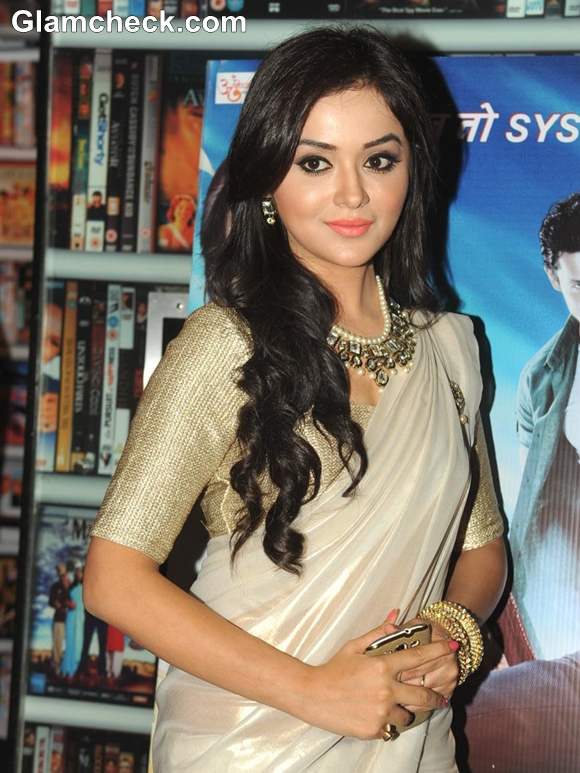 Ragini Nandwani at dehradun diary premiere
She accessorized her look with a heavy pearl and diamond choker, earrings, bangles, a ring and a brooch. Her make-up had a powerful play of the peach hue in it. A hint of peach blush, a coral pout and beautifully lined eyes paired with a coat of mascara completed her look. A candy pink shade of nail colour covered her nails.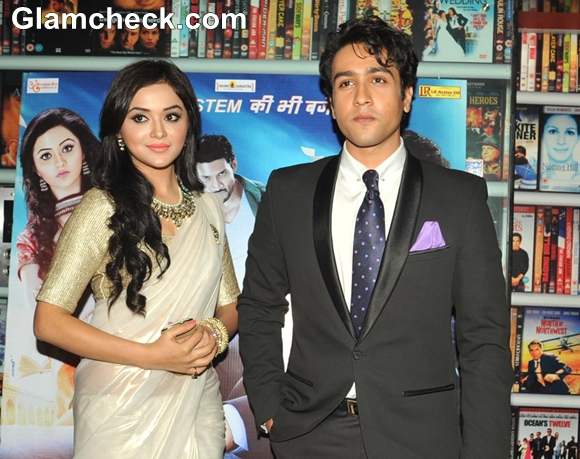 Ragini Nandwani & Adhayan Suman dehrahun diary
Adhayan Suman looked good in a black dinner suit with a mauve square-pocket and a navy tie with mauve coloured polka dots.
The movie is set in Dehradun and is about a young girl played by Ragini Nandwani who falls in love with a boy played by Rohit Bakshi. The relationship does not stand a chance in the conservative family of the girl. Hence, the boy is murdered by her family. The victim's brother, played by Adhayan Suman fights for justice in court, but the files are just buried and the politically backed Ragini's family lives free of any sentence.
The movie is directed by Milind Ukey and produced by Anita and Yatin Nandwani and Swami Samartha Creations and AshwagandhaEnt. Pvt. Ltd. Anita says, "The real life incidents form the plot of the film." Producer Yatin Nandwani comments, "Justice delayed is justice denied."
The movie releases today.
IANS