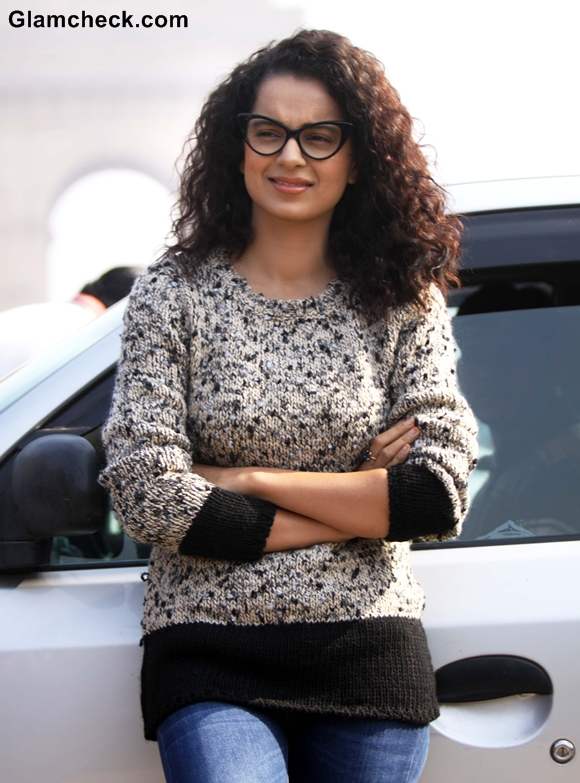 Kangana Ranaut is doing her bit to ensure that women on the roads of Delhi are safe. She is part of a Safety Campaign for women on roads and was spotted at India Gate in New Delhi. The actress does not favour tinted car windows on the streets as it leads to various crimes going unnoticed on the streets.
Kangana Ranaut casual winter style at India Gate for women safety campaign
Kangana Ranaut was seen in a casual style with a knitted grey and black pullover with a black border on the hem and cuffs to keep off the Delhi chill.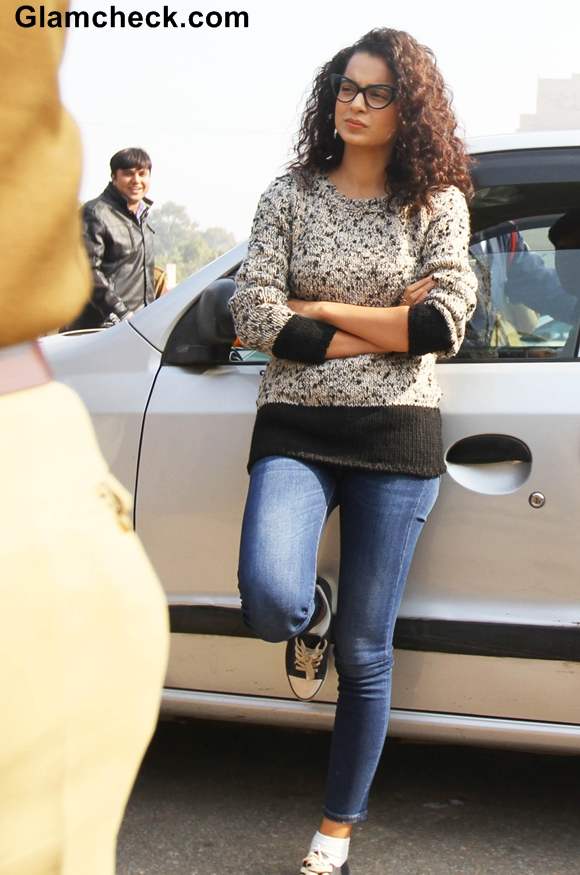 Kangana Ranaut Casual Street Style
The round-neck pullover was paired with cropped skinny blue denims and a pair of navy canvas shoes. We loved what she wore! It was casual street style that the masses easily adopt! A peach blush and lip color were her makeup essentials at the event.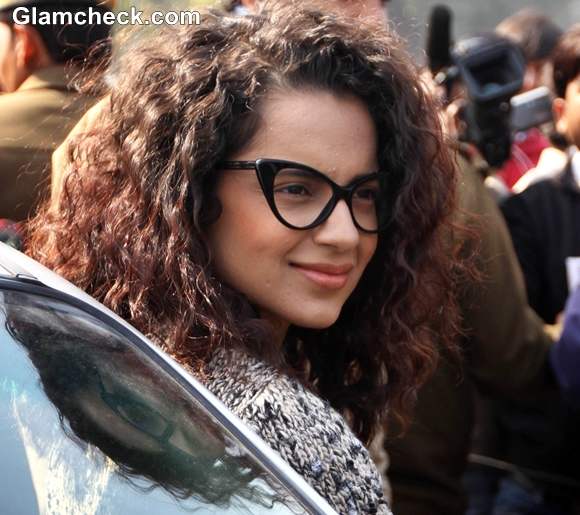 Kangana Ranaut cat-eye frames
We give her full marks for the kitten glasses, so Marilyn Monroe! Her curly hair gives her a wild streak that comes naturally to her, be it her fashion statements or the bold characters she portrays on the silver screen.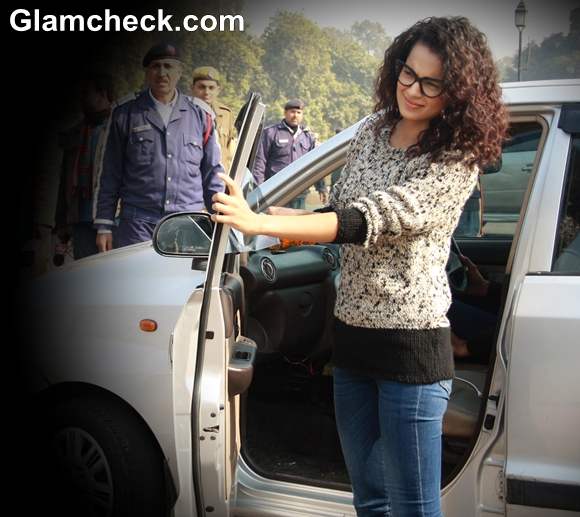 Kangana Ranaut At India Gate During Safety Campaign For Women
The drive was organized by Delhi Traffic Police and JCP Satyendra Garg was present at the event along with the actress. Together, they urged Delhi-ites to stop using tinted glasses on their vehicles and buses to ensure less crimes in the capital.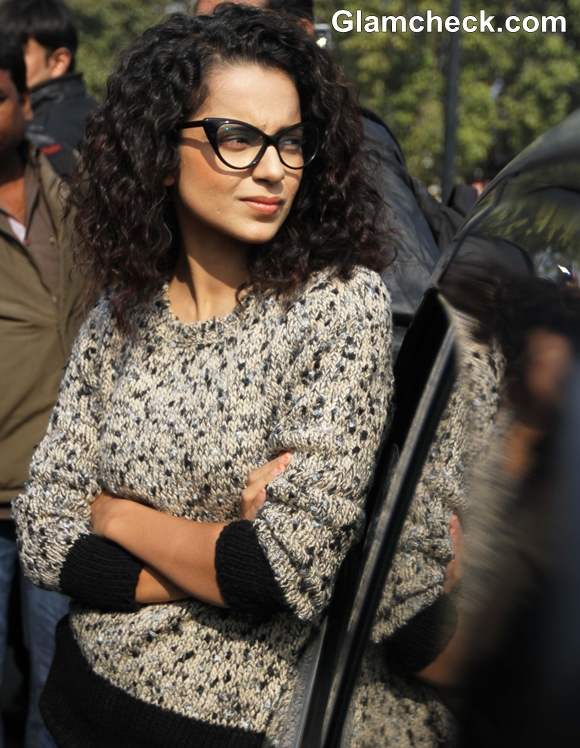 Kangana Ranaut 2013
Get the Look
Street style is probably, the most fascinating style statements for celebrities as they seem to connect with the masses. Kangana did just that when she stepped out wearing a smart casual look for the Delhi Safety campaign at India Gate.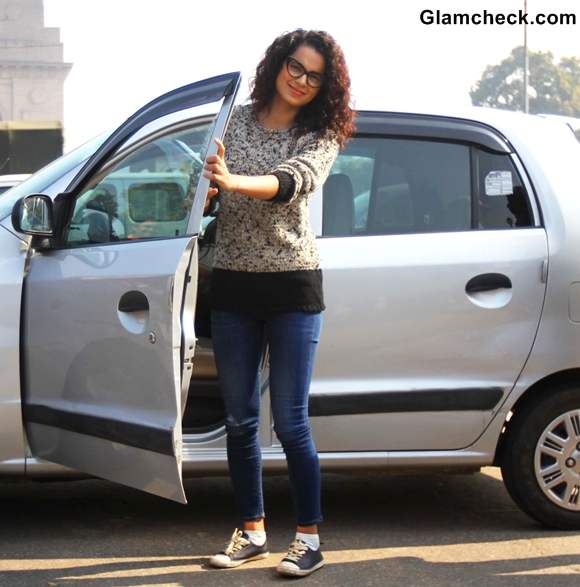 Kangana Ranaut 2013 casual winter street style
A knitted pullover is the best option for this winter, more so if it's hand-knitted
Black is not the only color you should sport, go for colorful ones this winter
Stripes, argyle, jacquard, you name it and you have it. There are some wide variety of pullovers in the market
Wear this piece of garment with cropped denims in black or blue
Celebs are seen sporting frayed denims this season, wear one of those for the rebellion in you
If you are not into the torn-denim trend then we think you should go for well-fitted narrow denims. They look smart when cropped
A pair of printed converse or canvas shoes are a great option with this look
Carry a sling purse with you in some of the brightest colors
And of course, the kitten frame, wear one like Kangana to make a splash on your day-out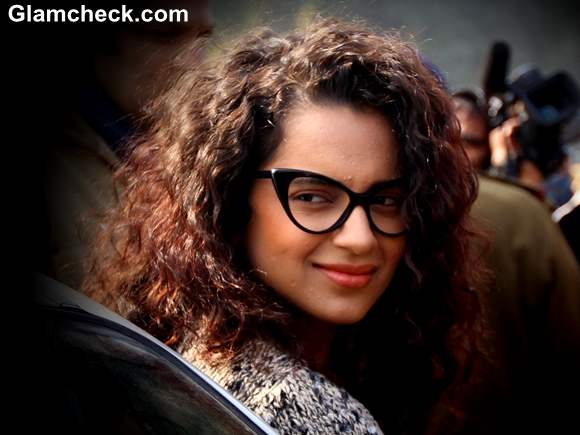 Kangana Ranaut style 2013
Kangana has styled her look immaculately for the street. We think she truly wore it to perfection! Girls! We want to see you in this trendy outfit when you go out on the streets tomorrow!
Indian Photo Agency, IANS