A chic ruffled red dress from Gauri and Nainika was the chosen outfit for the perky brand ambassador of Gitanjali Jewels, Anushka Sharma. Gitanjali Jewels has launched a new collection named, 'Seasons of Love' at the Trident BKC in Mumbai.
Style Identity
Ravishing Dame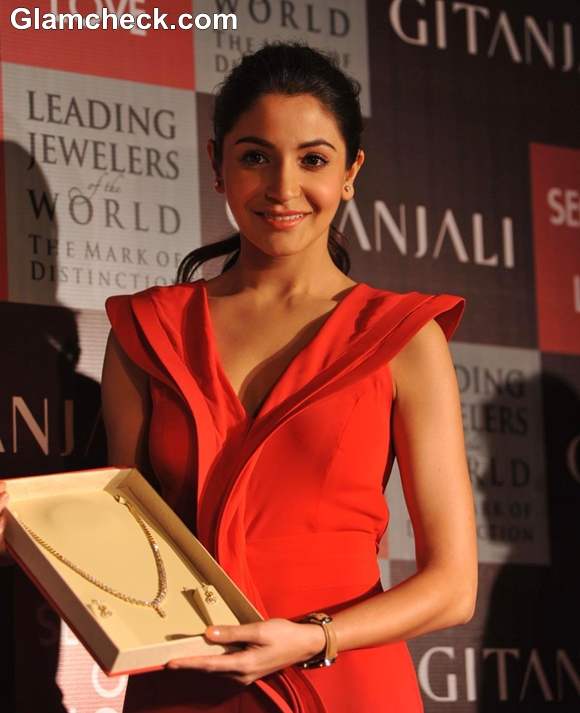 Anushka Sharma At The Collection Launch of Gitanjali Season Of Love At Trident BKC Mumbai
The actress basked in the limelight wearing a stunning Gauri & Nainika ruffled red dress which skirted just above her knees. The sleeveless ensemble was zippered at the seams for a good finish.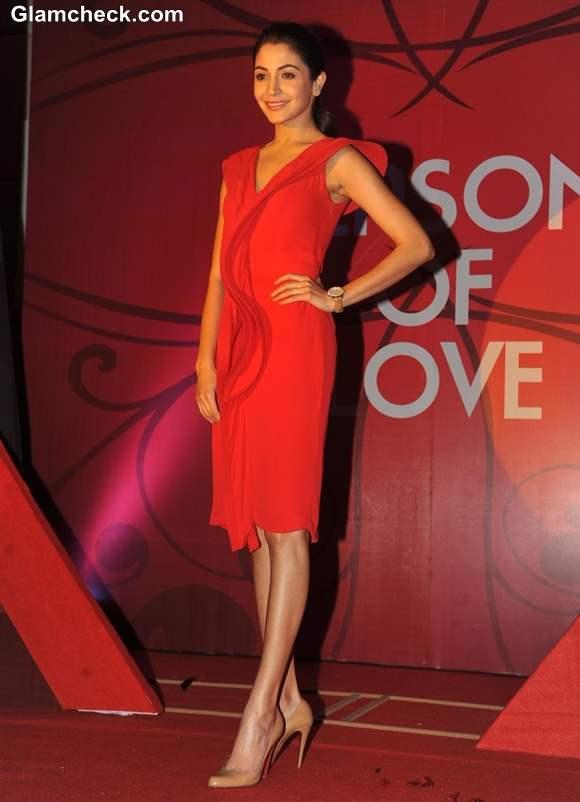 Anushka Sharma 2013 At Gitanjali Season Of Love launch
The dress was sharp and clean with ruffles streamlining from her shoulders till her ankles. Anushka sported a minimal styling with this look.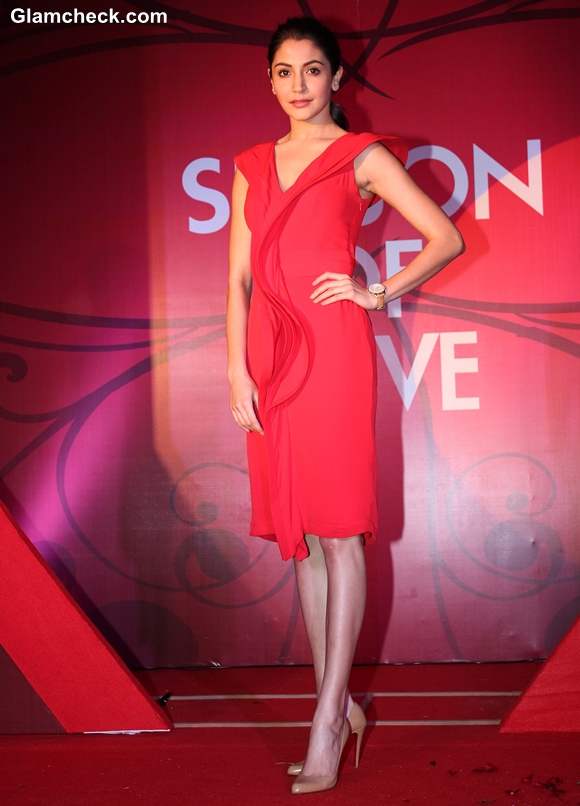 Anushka Sharma red dress At Collection Launch of Gitanjali Season Of Love
A nude Christian Louboutin heels, tiny diamond studs and a chunky leather watch with nude colored straps completed her look.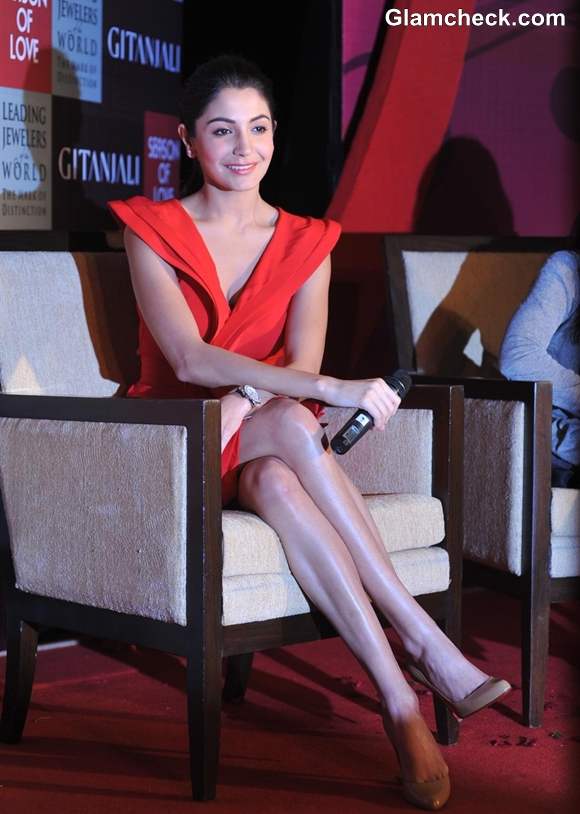 Anushka Sharma At Collection Launch of Gitanjali Season Of Love
Anushka looked great with minimal make-up and slick hair-do. Her hair was tied back into a pony that grazed her back. The face was lit up with sparkling bright eyes and a natural pink lip color.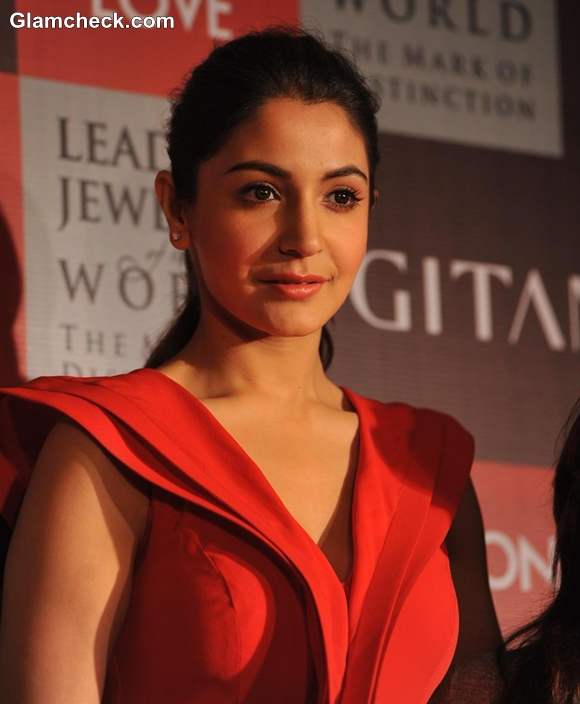 Anushka Sharma Gitanjali Season Of Love jewelry launch
At the launch the actress said, "The best way to woo somebody is by giving her a diamond. After all diamonds are a girl's best friends."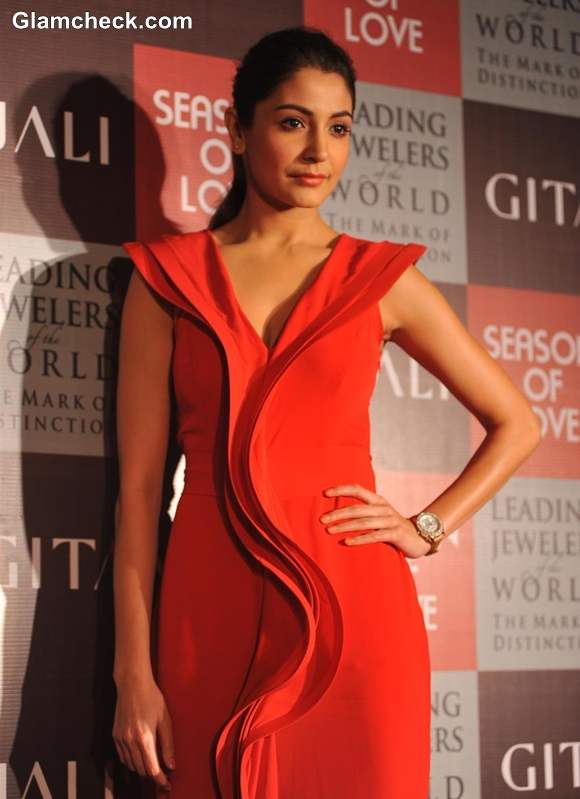 Anushka Sharma Launch of Gitanjali Season Of Love
Gitanjali Jewels offers a discount in the season of love and the brand has launched a new Valentine collection of diamond jewellery under its sub-brand Gili. The brand also offers discounts upto 25% on diamond jewellery of purchase above Rs. 10,000. Hurry, the offer is valid till the 24th of February.
IANS