The final day of Blenders Pride Bangalore Fashion Week held at The Lalit Ashok was reserved for the best. The 8th edition was themed, 'Summer Showers' and reflected the flavours of the season with noted designers like Sayantan Sarkar and Ambrish Damani displaying an interesting collection replete with quirky prints, rainbow colours and of course, florals.
Designer: Sayantan Sarkar
Label: Sayantan Sarkar
Collection: To Be or Not To Be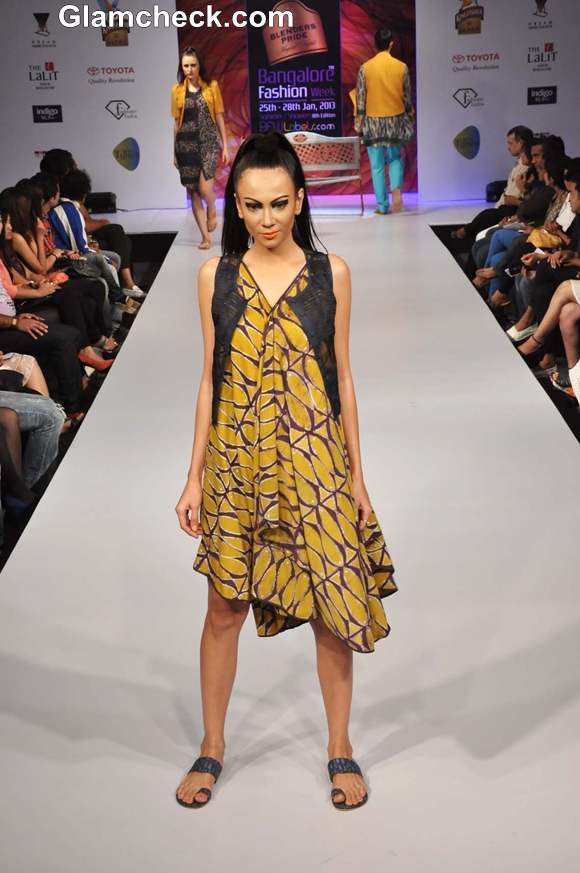 Sayantan Sarkar Bangalore Fashion Week 8th Edition Summer Showers 2013
Kolkata based fashion designer, Sayantan Sarkar has been in the industry for a long time and this venture seals his place as one of the most influential designers in the Indian fashion arena.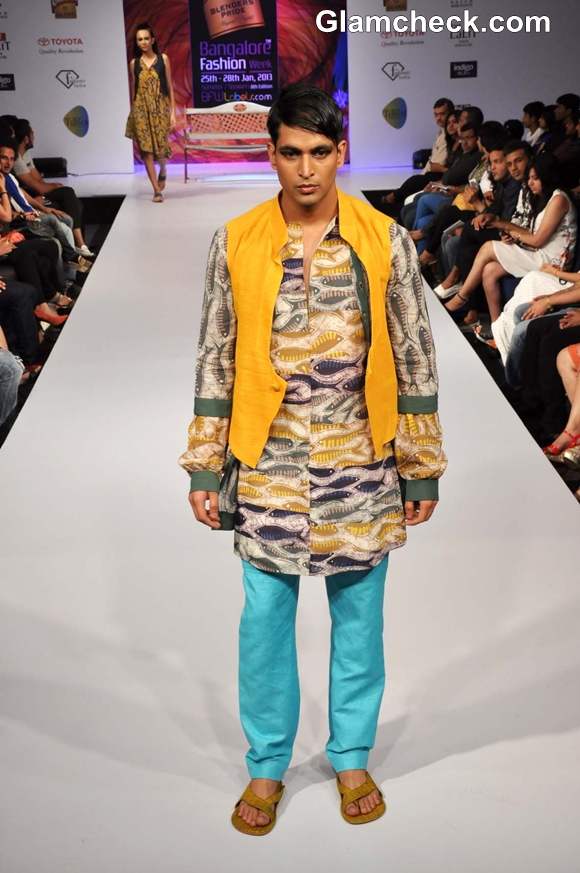 Sayantan Sarkar collection Bangalore Fashion Week 8th Edition Summer Showers 2013
The collection was based on a colour palette of mustard, peach, and brown, hints of blue, aquamarine, and neutral shades like white and black. We spotted quirky fish prints on dresses, jackets, kurtas and boleros which added a zing to the collection.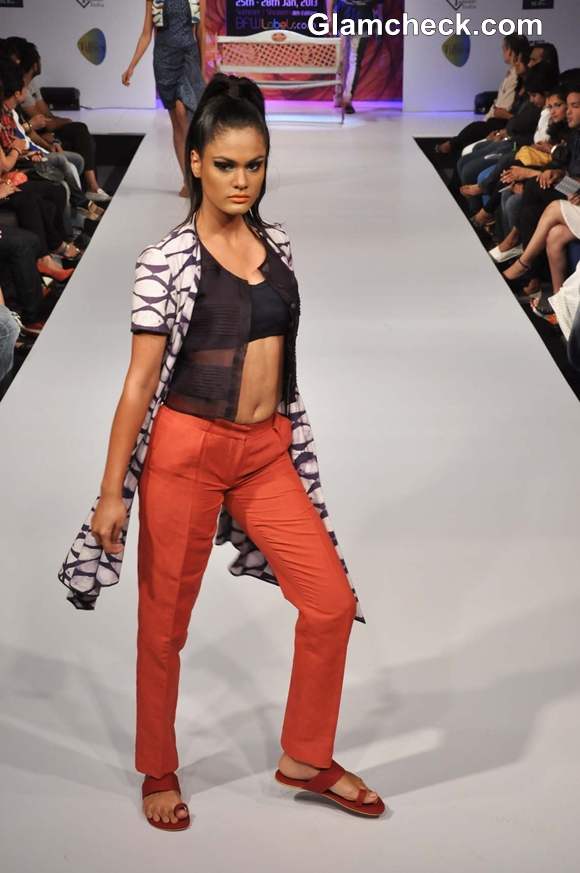 Sayantan Sarkar show Bangalore Fashion Week 8th Edition Summer Showers 2013
There was an interesting mix of batik on the garments for both men and women; the collection comprised of asymmetrical dresses, sheer jackets, pin striped horizontal pleats, layered sleeves, fabulous cuts and refreshing colours. A tasteful collection with a whiff of androgyny elevated the style quotient of the ensembles. We experienced a gamut of arresting and well-finished silhouettes that enthralled us all the way back home.
Our Verdict: Fabulous use of surface detailing! A very wearable collection!
Designer: Ambrish Damani
Label: Ambrish Damani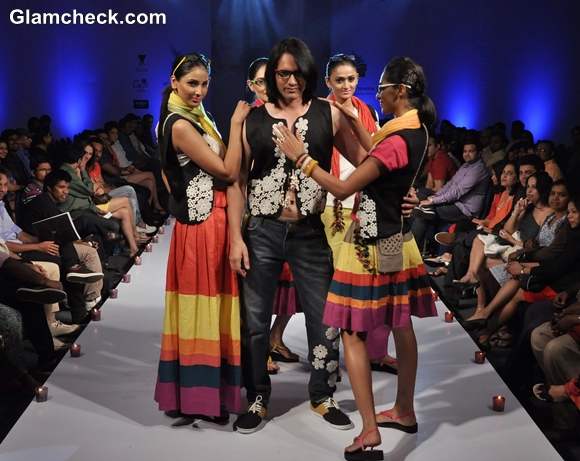 Ambrish Collection Bangalore fashion week summer showers 2013
The collection by designer Ambrish Damani was well etched with floral embroidery and rainbow colours for a fun filled summer.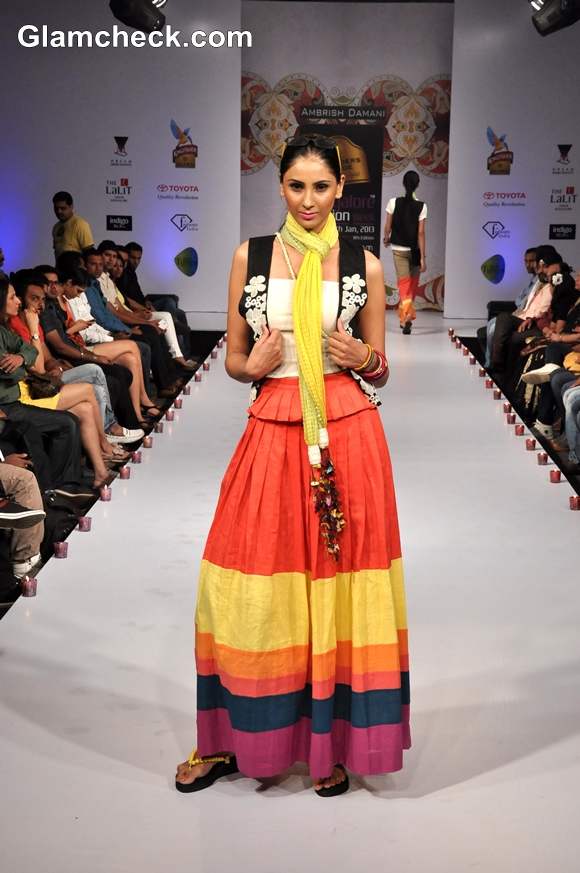 Bangalore fashion week summer showers 2013 Ambrish
The colour story comprised of bright summer colours like lemon yellow, orange, fuchsia, indigo, purple, lime green which formed a major part of his collection.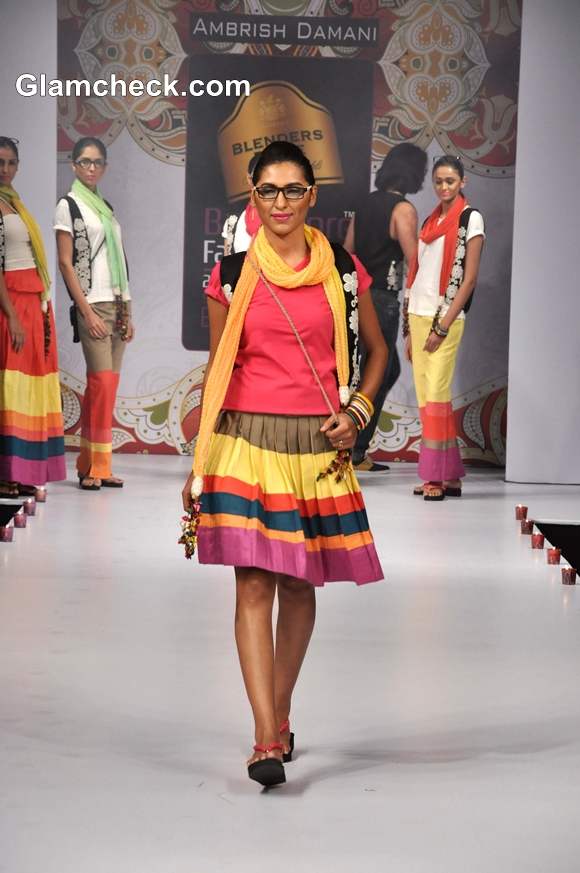 Bangalore fashion week summer showers 2013 Ambrish Collection
Floral embroidered jackets were seen with long and short skirts along with straight fit trousers. The skirts were layered with panels of warm and cool hues and the wide-legged trousers were hemmed with similar coloured periphery.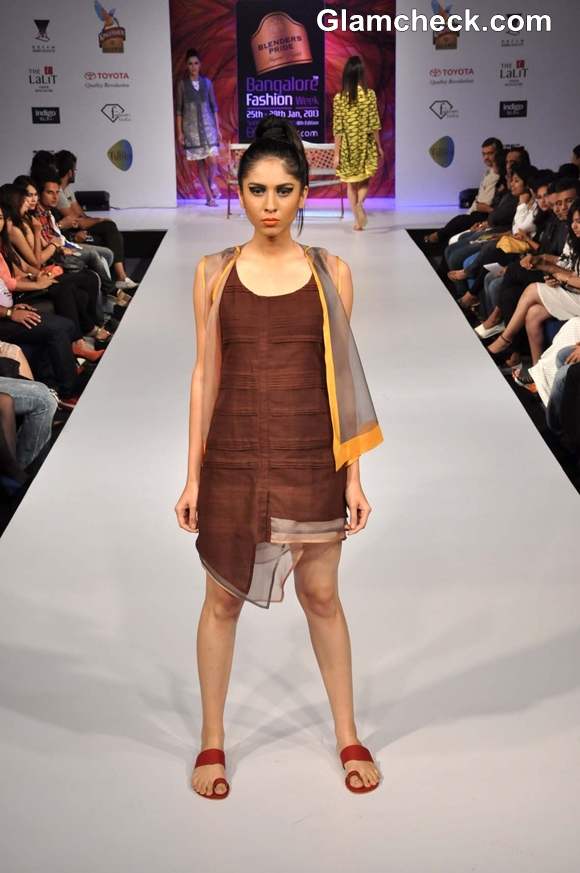 Bangalore Fashion Week 8th Edition Summer Showers 2013 Sayantan Sarkar
The collection revolved around lots and lots of hues. The models carried small jute sling bags as accessories with their casual and colourful ensembles.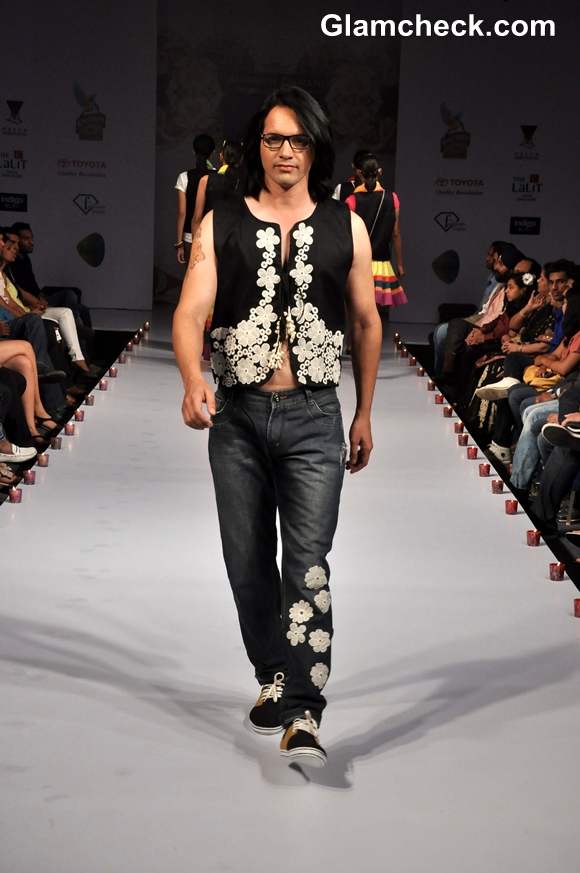 Ambrish Collection for fashion designer Akhilesh Pahwa
There were scarves with tassels wrapped around the models while they sashayed the ramp and playfully displayed the outfits.
Our Verdict: Colourful and wearable!