Fashion designer Tarun Tahiliani showed his collection during the Wills Lifestyle India Fashion Week – Autumn-Winter 2013 in New Delhi, India on Thursday, March 14, 2013.
The collection was dominated by orange, tangerine, saffron and red shades and had a rustic feel to it. The underlying feel of the clothes was quite Indian in its essence – bringing to mind the "sadhus and sages" of the contiment.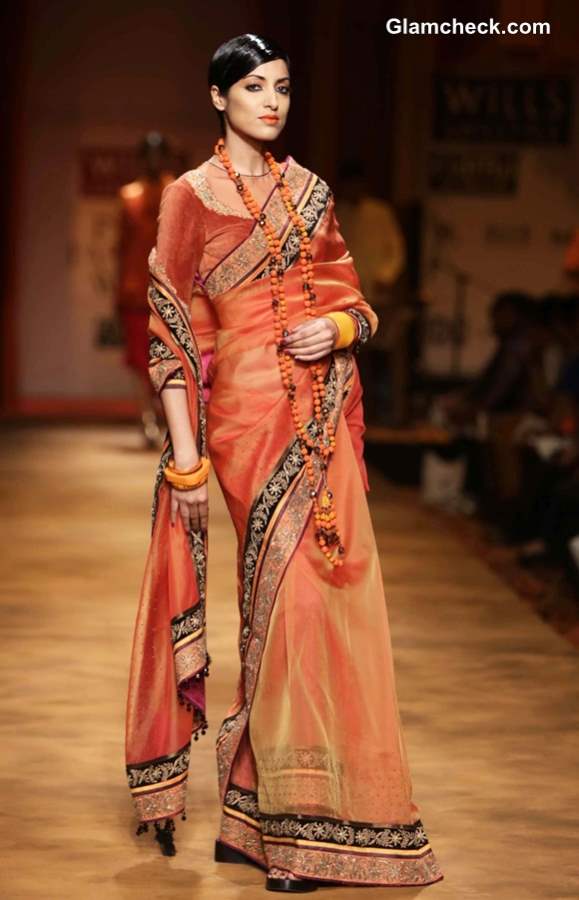 Tarun Tahiliani at Wills Lifestyle India Fashion Week Fall-Winter 2013
There was a combination of different fabrics at play. Velvet blouses made with net covering the neck area were teamed with organza sarees. The sarees themselves had heavily embellished borders. Chunky bangles added a fun quotient to the overall look. The long beaded necklaces could be well mistaken for "rudraksh malas".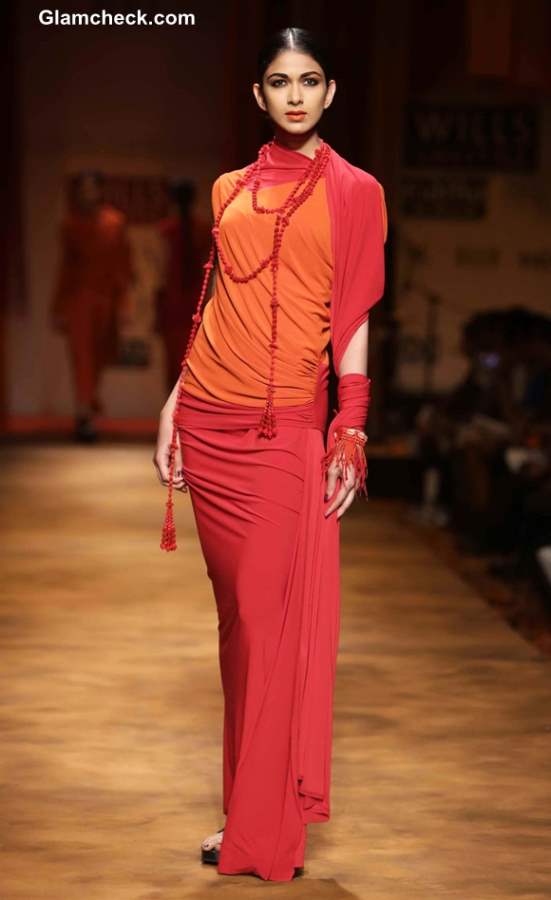 Tarun Tahiliani WIFW Fall-Winter 2013
The collection was also about draped lycra dresses. Bracelets made of shells and feathers were an interesting touch.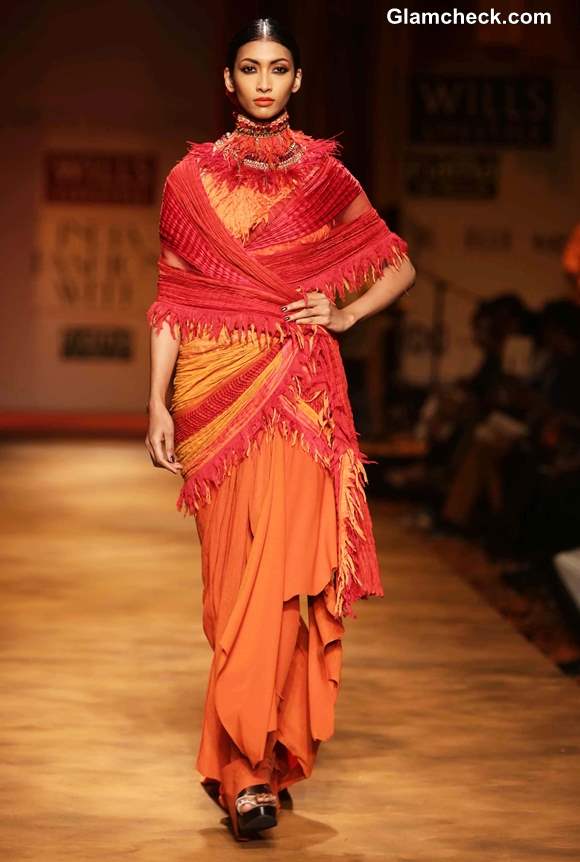 WIFW Fall-Winter 2013 Tarun Tahiliani
The "gamcha" or "Indian towel" feel was also quite evident – it was perfectly brought out with the help of crinkled dupattas. We also couldn't help but notice a slight "Red Indian" touch by way of the ruffles and feathers and the neck accessories.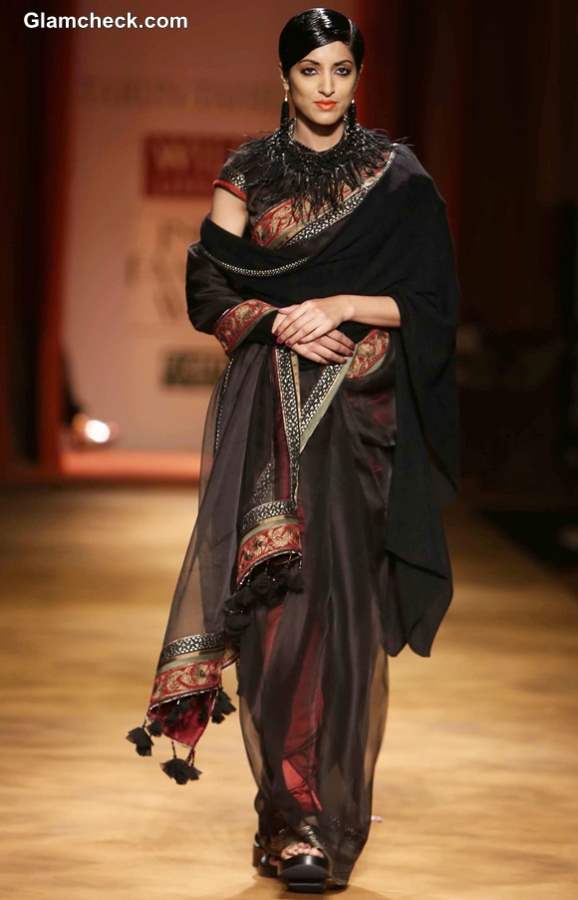 Tarun Tahiliani WIFW Fall-Winter 2013 Collection
Apart from the saffron effect, Tahiliani also used classic combinations like black and red. Pompoms were used along the "pallu" border.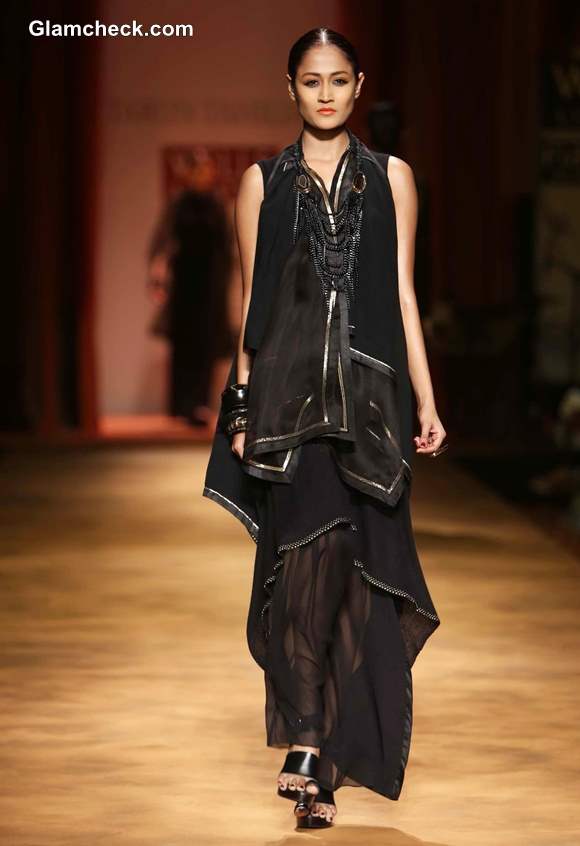 Tarun Tahiliani WIFW Fall-Winter 2013 show
Multi layers and tiers were another bastion of the collection.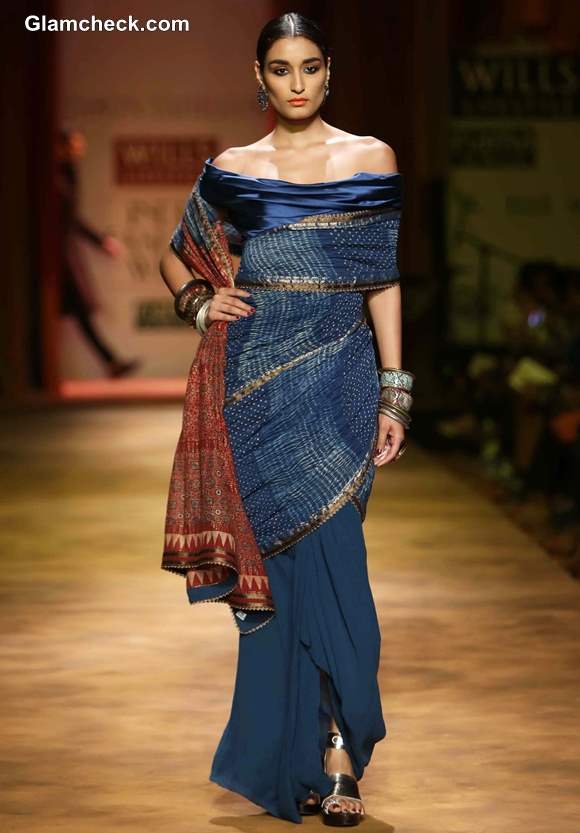 WIFW Fall-Winter 2013 Tarun Tahiliani collection
Bandhini prints also found their place in the designer's creations for Fall Winter 2013.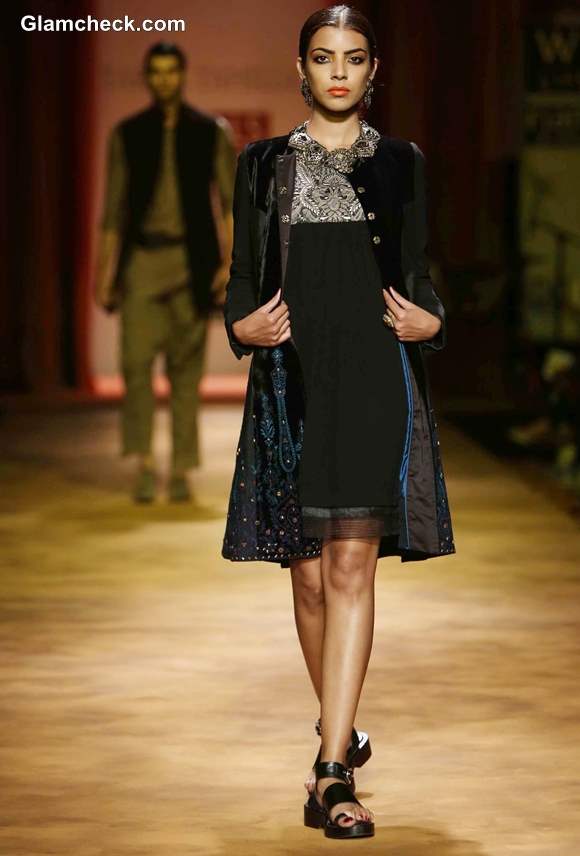 Tarun Tahiliani show fall winter 2013 WIFW
Embellished tunics with embroidered coats brought in a fusion feel.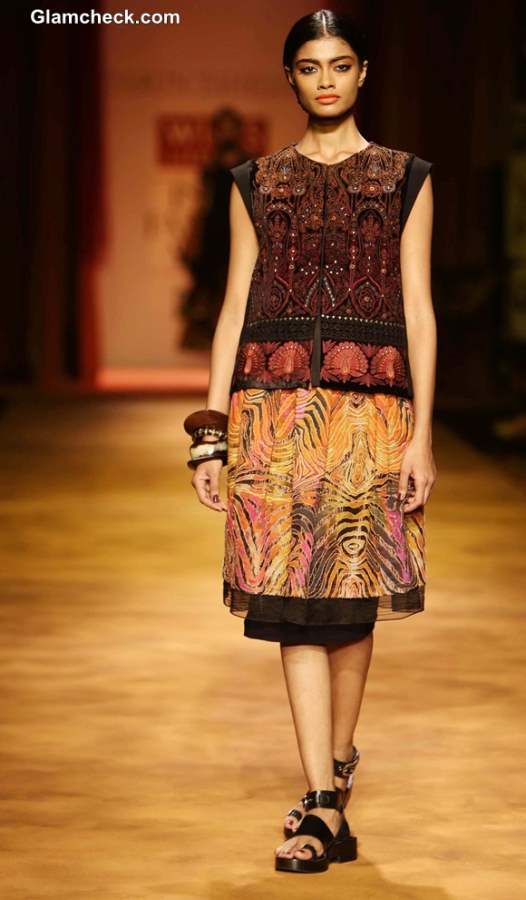 Tarun Tahiliani Collection fall winter 2013 WIFW
Jacquard multi printed skirts and tops with bird motifs added variety.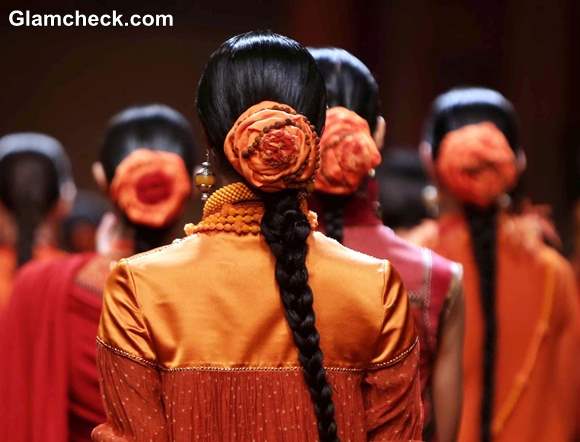 Hairstyle Trend fall winter 2013 WIFW
The models were seen wearing plaits with saffron floral accessories.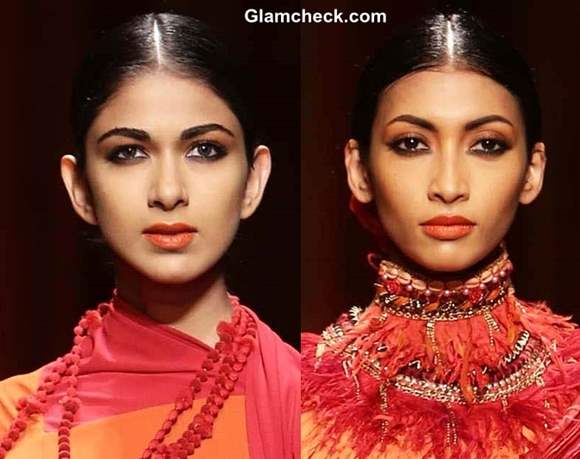 Makeup fall winter 2013 WIFW Tarun Tahiliani show
The makeup consisted of smokey eyes and orange lips. However, the smokey eyes had a slight twist – in the sense that instead of the upper eye lid being smokey, it was the lower eye lid that sported the smokey effect.
Trend Watch – Glamcheck's Pick from the Show
Three quarter sleeved velvet blouses
They have been ruling the roost for quite some time now and are here to stay.
Feather Accessories
Watch out for feather necklaces and earrings this year.
Indian Photo Agency, IANS