It may have been the MTV Video Music Awards India 2013 (the first one ever!) but the red carpet could have been a high-end ramp at Fashion Week. One after the other, the celebs left us spell-bound, gushing and excited with their looks. Check out what they wore on March 21 as they made their way to the star-studded event in Mumbai.
Anushka Sharma looked fabulous in leather pants and a fully-sequinned sleeveless blouse by Kanika Saluja Choudhry.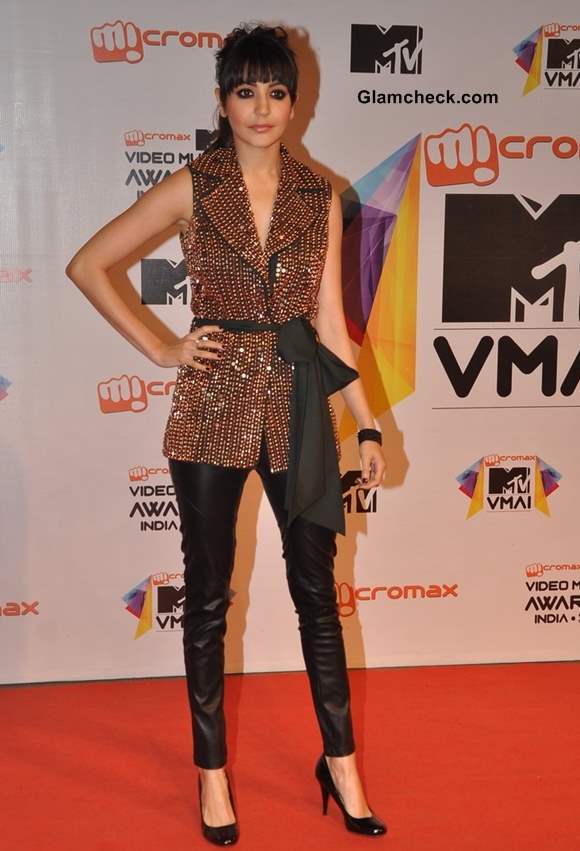 Anushka Sharma at MTV Video Music Awards India 2013
The waist was emphasised by a black blow which gave off a nice classic vibe. Black pumps and a black cuff bracelet accessorized the look. Loving the ensemble! High on glamour, exquisite taste but also a bit edgy to reflect her personality.  The blunt fringes and heavily-kohled eyes added loads of drama which, again, were a hit!
Priyanka Chopra was totally channelling the rockstar within in a quirky printed evening gown by Gauri & Nainika.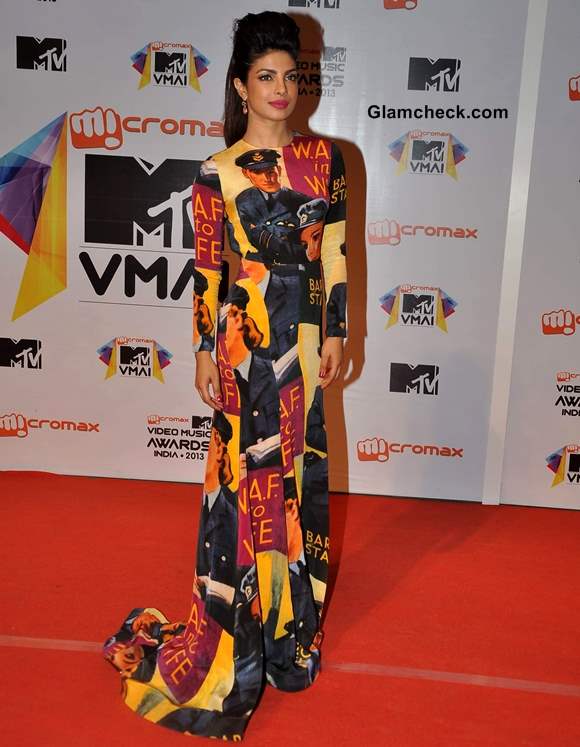 Priyanka Chopra at MTV Video Music Awards India 2013
Full-sleeved and floor-sweeping with a stellar train, the dress was fun and vibrant, exuding oodles of sex appeal too with a gorgeous cutout back.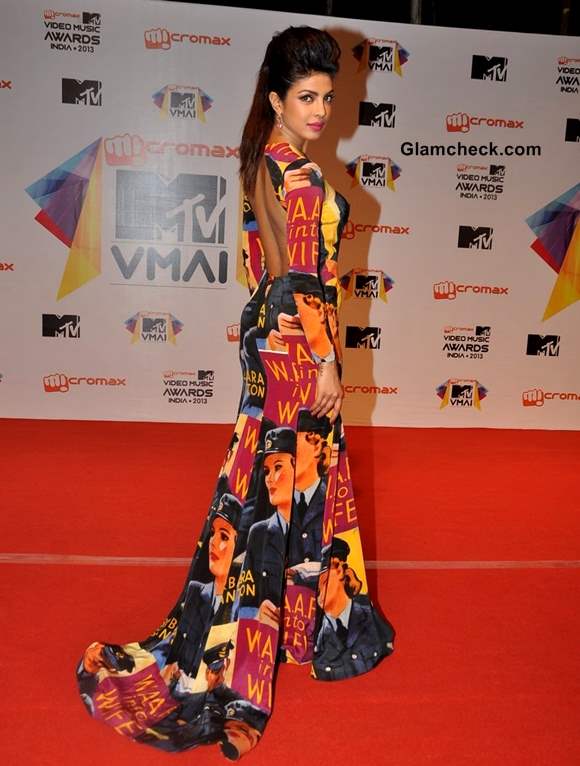 Priyanka Chopra at MTV Video Music Awards India 2013
More rock chic elements followed with danglers, fuchsia lipstick and a beehive-esque hairdo.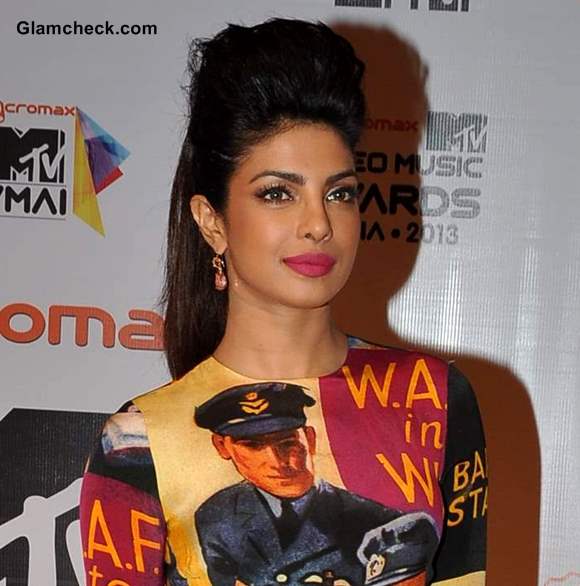 Priyanka Chopra 2013 MTV Video Music Awards India
Sara Loren dazzled in a sequinned mini dress. She accessorized with gold-tipped white heels and a cocktail ring.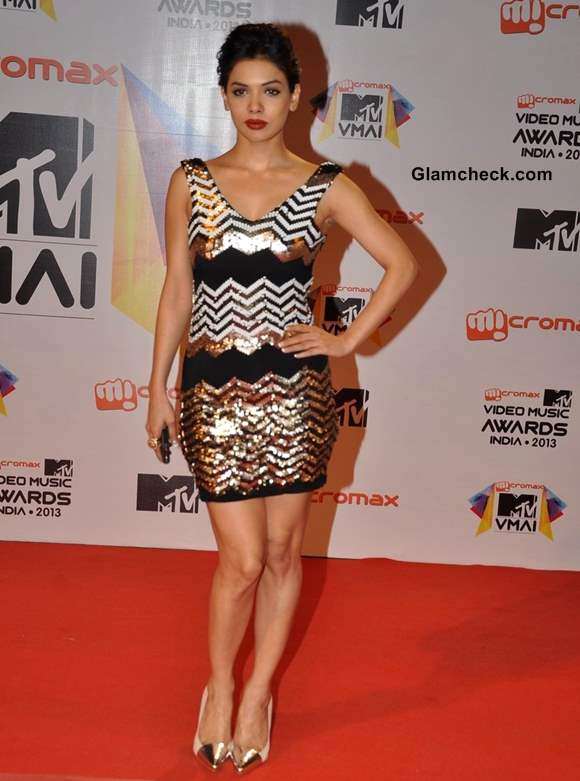 Sara Loren at MTV Video Music Awards India 2013
If you ever doubted the sex appeal of red lipstick, one look at Sara will wipe it away. She sported the bold color and transformed her look from sex siren to red carpet glamour goddess. A simple updo gave an elegant finish to the stunning ensemble.
We were happy to see Zarine Khan in Western wear. She sported a knee-length sleeveless silver dress with coral heels and matching nails.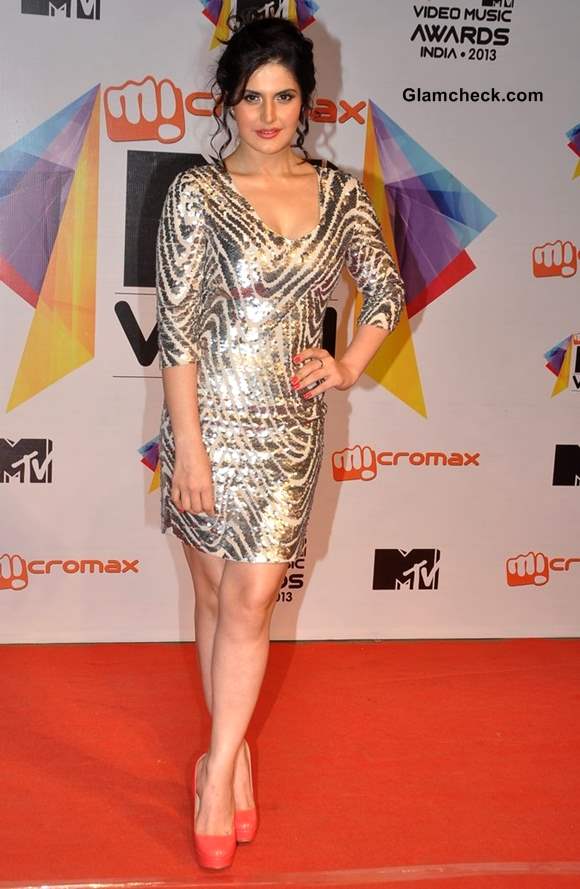 Zarine Khan at MTV Video Music Awards India 2013
The actress has been working on shedding a few extra pounds and the outfit is a good indication of her progress. Silver liner and an updo with trailing tendrils completed her look. She is mind-blowing here! We hope to see this chic new avatar at future red carpet events too.
IANS