A wedding is a life altering event marking a new era and a lifestyle. World over the approach may differ from one place to another but the significance remains the same. Various variables are symbolic of the occasion of which clothes form an integral part. The perfect bridal outfit is often nothing short of a dream for a bride. It isn't everyday that one gets a chance to be draped in all the fineries hence, a wedding becomes a chance to do so.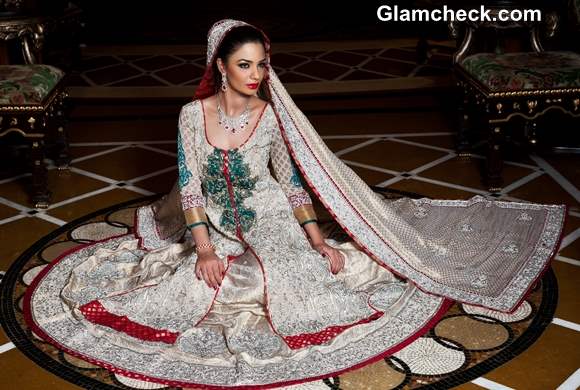 Indian Bridal – How to Pick the Perfect Bridal Outfit
It may be an outfit for some but to get the right one requires a lot of hard work, dedication and understanding. Here are a few guidelines to help one through the sweet ordeal:
Establishing your budget:
India is a flourishing market when it comes to bridal wear and the spectrum of the availability is extremely wide. Hence it is important to set your budget to find out exactly what you are looking for and without burning what you can afford.
Selecting the Outfit:
Different brides wear attires specific to their region and religion but with globalisation what a bride chooses to wear can be purely based on her own style and what she favours which results in a choice to choose from sarees, suits, lehengas, shararas and all typical traditional wear the country is known for.
Dress for your Type:
Every body is different and mostly not perfect. There is some to flaunt and some needs hiding. Bridal wear is usually custom made which is why it makes even more sense to make an effort to understand the body shape and adorn it accordingly. Whether the body is busty, petite, pear shaped, broad or tall, the key is to play with balance and illusions. What you wear can drastically make a difference in the way one looks. If a garment falls perfectly for your body, then all shapes define beauty.
Understanding the shape of your body further determines the silhouettes which at times can even be established based on trends.
Color:
Red is a classic when it comes to Indian Bridal wear but one can always redefine or play with its beauty by adding a contrasts. However, understanding the skin tone and accordingly picking the colour for the day is never a bad option. Lovely pastels with heavy metallic work look as striking as red or jewel toned delights with dull finish metallic work adding to the vintage glam.
Jewellery:
Jewellery is an integral part of a bride's look and has a lot of significance otherwise apart from aesthetics. It is important to know the jewellery one would be adorning to ensure the balance otherwise a bride tends to be lost amidst the heavy jewellery and outfit. If the neck line of the outfit is very elaborate then the neckpiece has to be minimal and the vice versa.
The Fit:
When one goes all out to look the best then compromising on the fit is not even an option. Often bridal outfits are heirloom treasures which need care but one can definitely alter it to keep its shape.
After one . spells out the lengths , necklines, sleeve length etc. a bride must make it a point to try the dress often and immediately before the wedding to make minor changes that strive for perfection. A bridal dress is often acquired well before time and hence changes need to be included.
Follow these simple rules and the experience can be far from intimidating. Finding the perfect one can be task but once accomplished, the efforts should pay off. End of the day if a bride manages to look great then that Is what matters. Sticking to your personal tastes is a golden rule to be followed and one can never really go wrong.
Shutterstock