Bollywood actors Akshay Kumar, Sonakshi Sinha and Imran Khan promoted their upcoming movie "Once Upon A Time in Mumbai Again" at the Taj Bengal Hotel in Kolkata on April 3. The press meet was meant to coincide with IPL-6 cricket match to be played in the city that evening.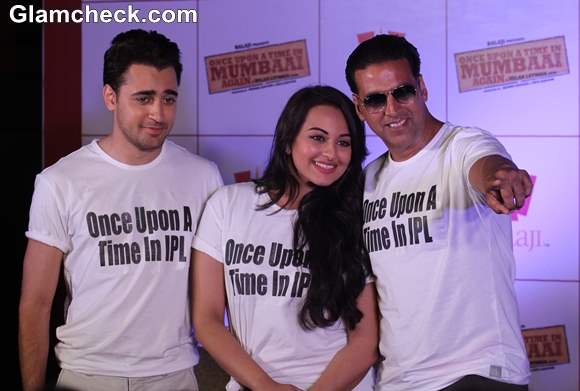 Cast of 'Once Upon a Time in Mumbai Again' Promote Film in Kolkatta
All three actors wore white T-shirts with "Once Upon a Time in IPL" emblazoned in black on the front. Sonakshi paired hers with nude pants and T-strap bejewelled jootis.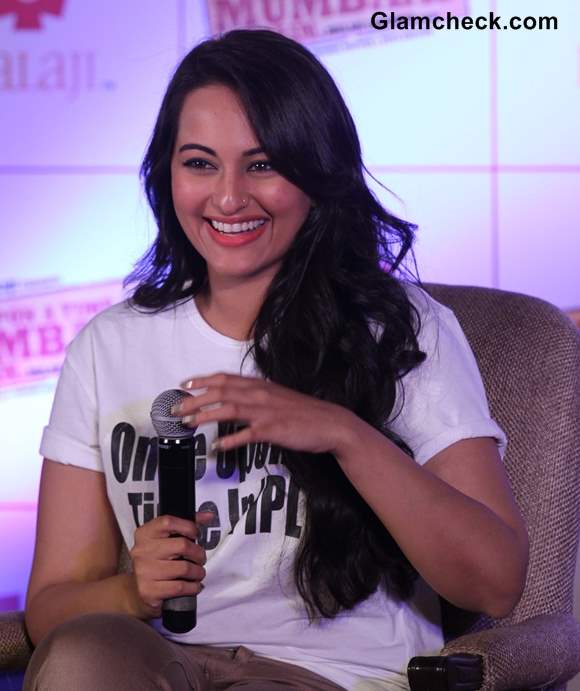 Sonakshi Sinha 'Once Upon a Time in Mumbai Again' Promotion
She also rolled up her sleeves a bit and knotted the tee on the side to make her stand out from the boys. Of course, her peachy lippie and glorious side-swept curls also helped on that end. Don't miss her glamorous nail art.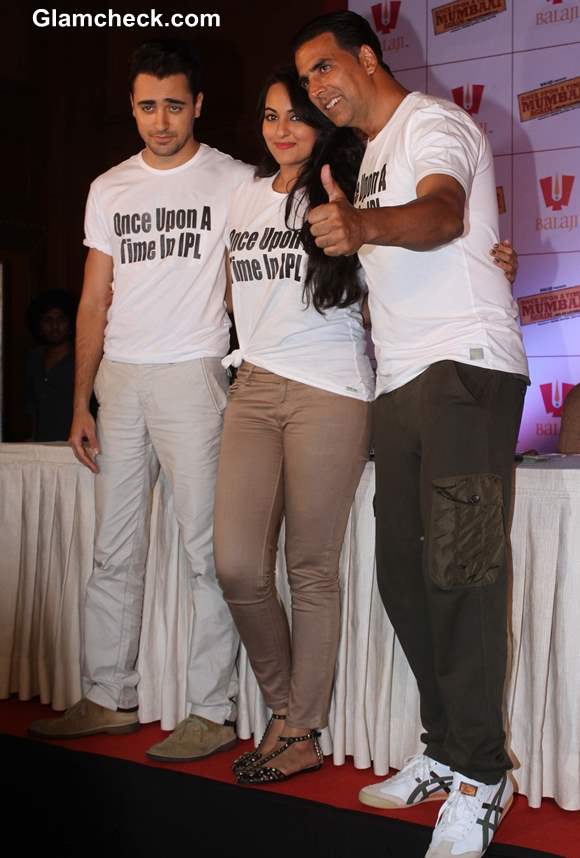 Cast of Once Upon a Time in Mumbai Again
The gentlemen, meanwhile, played down their looks without compromising on charm. Akshay looked sporty and rugged in dark cargo pants and white trainers while Imran managed to look all sultry and inviting even in off-white pants and suede shoes.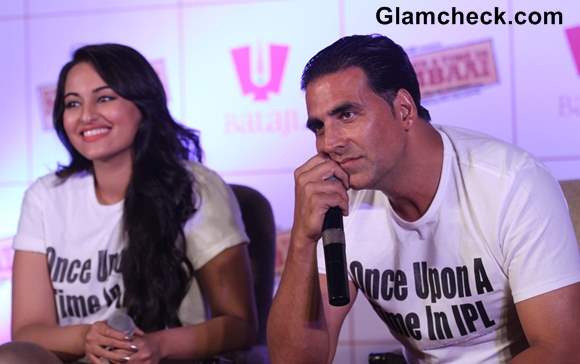 'Once Upon a Time in Mumbai Again' Promotion Sonakshi Sinha & Akshay Kumar
The trio talked about their upcoming film, of course, but they were far more enthusiastic about the cricket match later that day. Akshay stated that they were all huge fans and were looking forward to the experience of watching the first game of the series at the famous Eden Gardens.
Asked who he was rooting for, the Khiladi star replied that he just wanted the best team to win and would be invested in the match no matter who won.
IANS