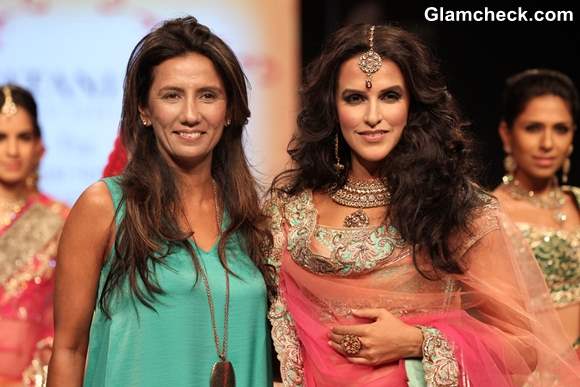 Neha Dhupia IIJW 2013 Gitanjali
Bollywood actress Neha Dhupia walked the ramp for jewellers Gitanjali at their presentation as part of the India International Jewellery Week 2013 in New Delhi.
Her Look
Ethnic glam
What she wore
Neha Dhupia for Gitanjali at IIJW 2013
Neha wore a peachy pink bridal lehenga choli that featured heavy yet surprisingly delicate embroidery across the lehenga. The choli was a sea-foam green affair, short and just as exquisitely embroidered as the bottoms.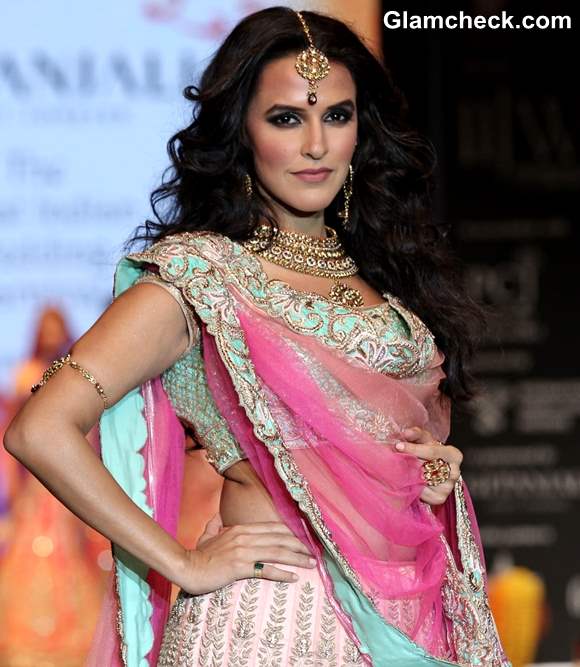 Neha Dhupia For Gitanjali at IIJW 2013
The jewellery she accessorized with was gorgeous too! She sported a heavy necklace, arm band, dangle earrings, finger rings and a hair accessory. They all complemented the attire beautifully. Tumbling curls, smokey eyes and a plum lippie completed her look.
The two-day fest is showcasing 17 jewellery designers and brands across India, gem giants Gitanjali being just one of them, although definitely one of the biggest. As a brand ambassador for the jewellery group, Neha has launched several Gitanjali stores in the last year alone. Walking the ramp in one of their spell-binding creations was just the icing on the cake!