The recent premiere of Bollywood movie Yeh Jawaani Hai Deewani was well attended. One saw the star cast as well as other celebs on the red carpet. Everyone looked stylish in their gear.
Let's see who all turned heads!
Deepika Padukone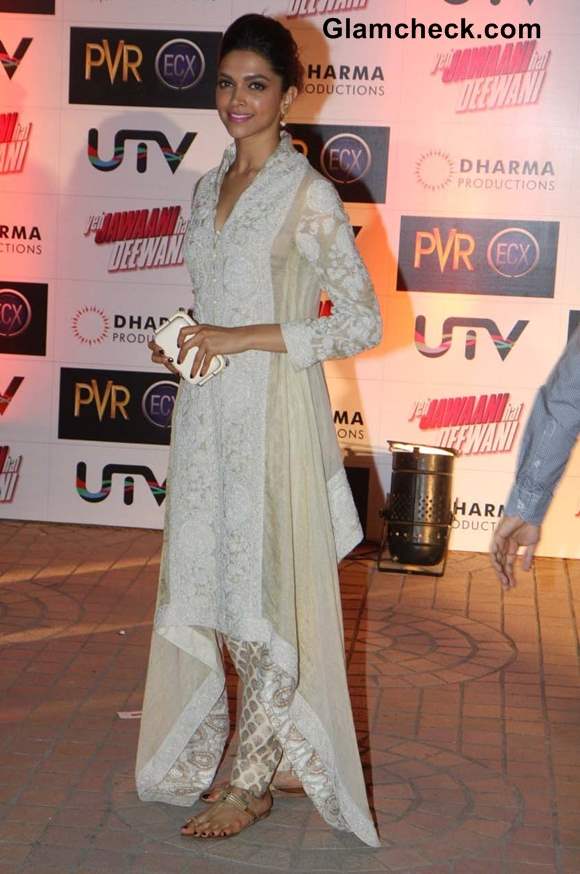 Deepika Padukone at the Premiere of "Yeh Jawaani Hai Deewani"
Lead actress from the movie, Deepika Padukone, looked resplendent in her asymmetrical Pakistani style churidar suit. The beige full sleeved kameez featured chikan work on the body and the sleeves. A collar gave more body to the attire. The churidar was made of brocade.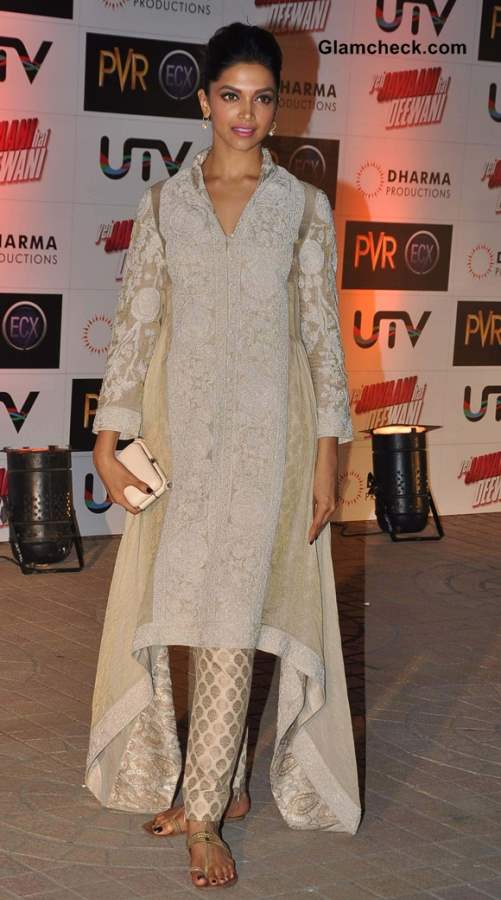 Deepika Padukone 2013
It was quite an interesting outfit, and we reckon this style will be big this year – watch out for it during Diwali! Deepika paired her outfit with a beige clutch and flat kolhapuri chappals. We like the way her nails have been done up in black to contrast with the outfit.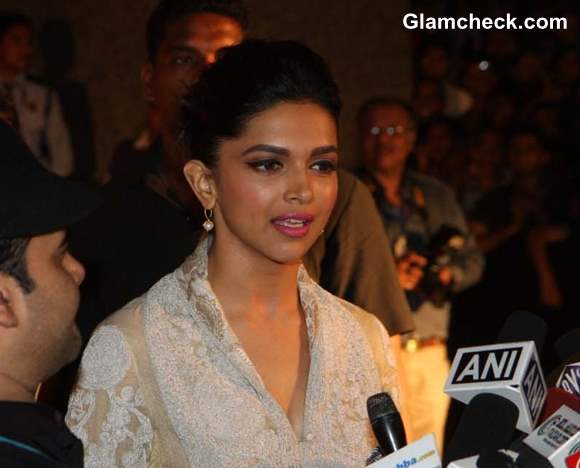 Deepika Padukone at "Yeh Jawaani Hai Deewani" Premiere
Hoop drop earrings completed the ensemble. An elegant updo and makeup, which consisted of pink lipstick and the actress's favourite winged eyeliner, gelled well with the outfit and accessories. We like!
Kalki Koechlin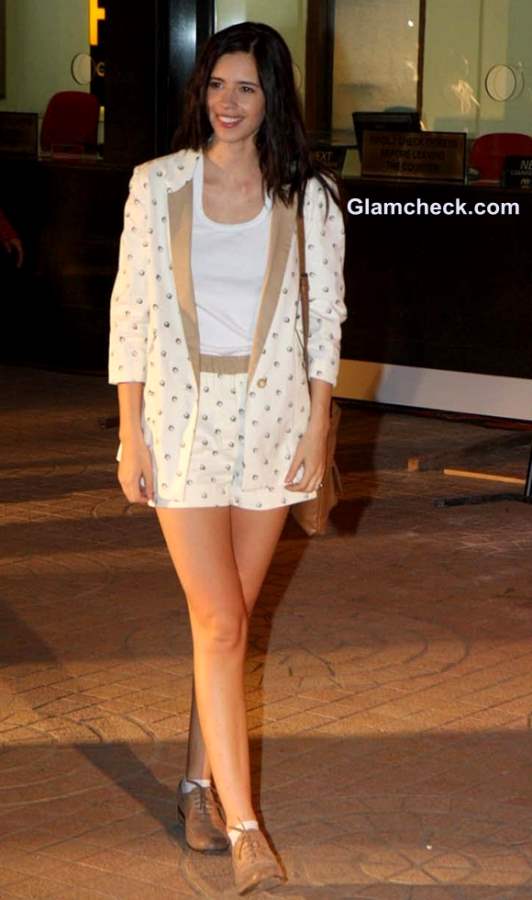 Kalki Koechlin at the Premiere of "Yeh Jawaani Hai Deewani"
Actress Kalki Koechlin, who plays the other female lead in the movie, looked her "cool and funky" self in printed beige shorts suit that she wore. Camel colored lapels and a matching waistband added more style to the already stylish suit. She matched her accessories with her outfit and carried a tan sling bag – which also went well with the white socks and tan brogues that she wore. Her hair was left open and she went for a messy, carefree style for the tresses. A hint of lip color was her only makeup. It is the perfect getup for summers – and Kalki rocked it.
Evelyn Sharma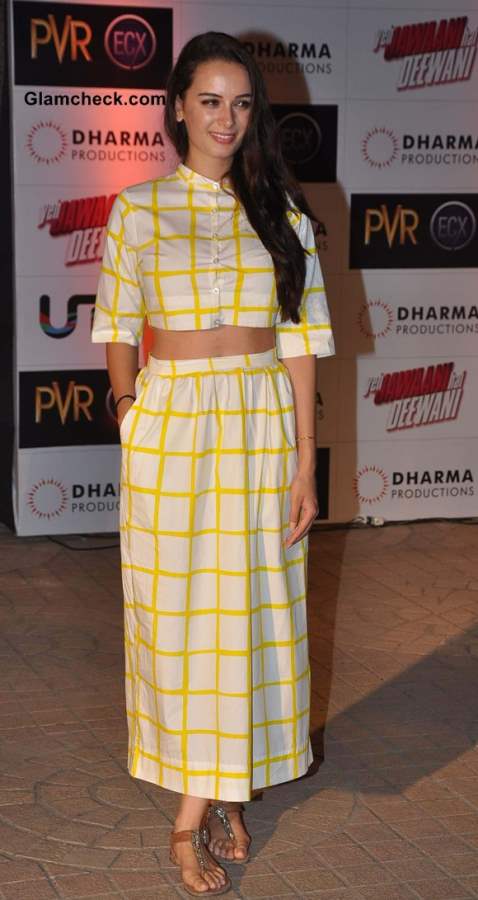 Evelyn Sharma at the Premiere of "Yeh Jawaani Hai Deewani"
Starlet Evelyn Sharma had a very eclectic look going for her. She wore a midriff baring orange checked skirt blouse set. Very few can carry it off with élan the way Evelyn did.  She paired her dress with an embellished thong sandal, and kept her hair open. Her fresh beauty was highlighted by the dewy makeup that she wore. Overall, it was quite a sassy in your face look! One can work this look for everyday wear by opting for a longer blouse and a shorter skirt – if they don't feel comfortable showing the mid riff.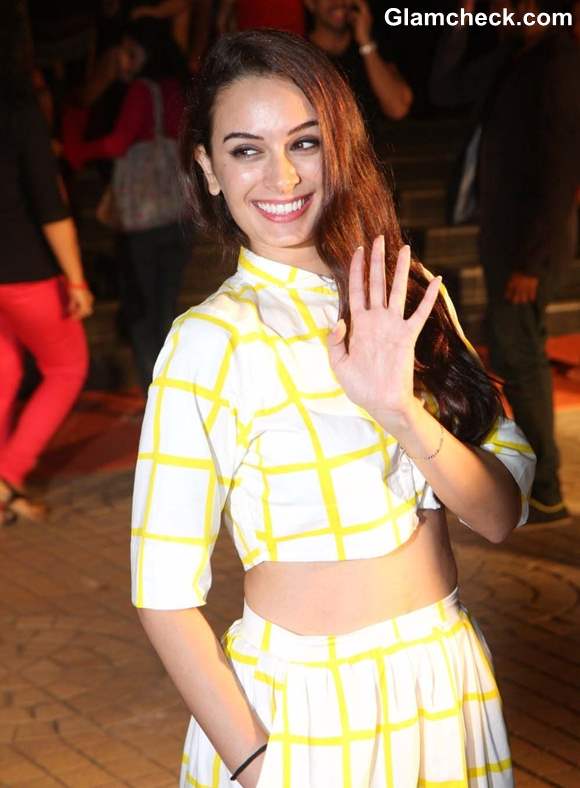 Evelyn Sharma 2013
It is interesting to note that each of the three actresses sported completely different looks, and did justice to it. We have quite a stylish trio there!
Ranbir Kapoor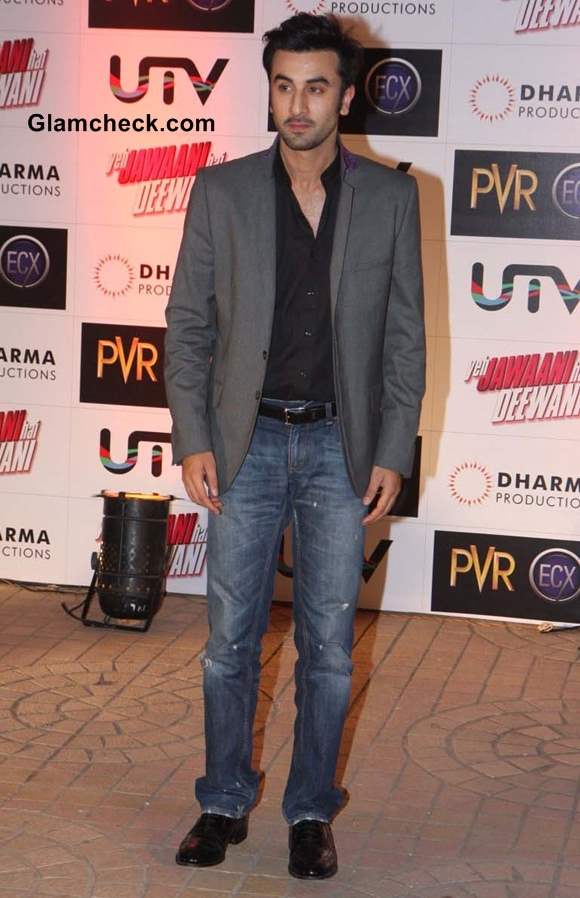 Ranbir Kapoor at the Premiere of "Yeh Jawaani Hai Deewani"
The lead actor from the movie looked dapper in his blue denims-black shirt-grey jacket combo paired with black shoes and a black belt. Dashing is the word that comes to mind on seeing him! In fact, very few people can go wrong with this look! So all you guys there, we hope you are taking note from the stylish star.
The star cast definitely played their part on the red carpet with style. Yeh Jawaani Hai Deewani released in theatres on Friday, 31 June and we can't wait to see the stars making more fashionable statements in the movie!
IANS