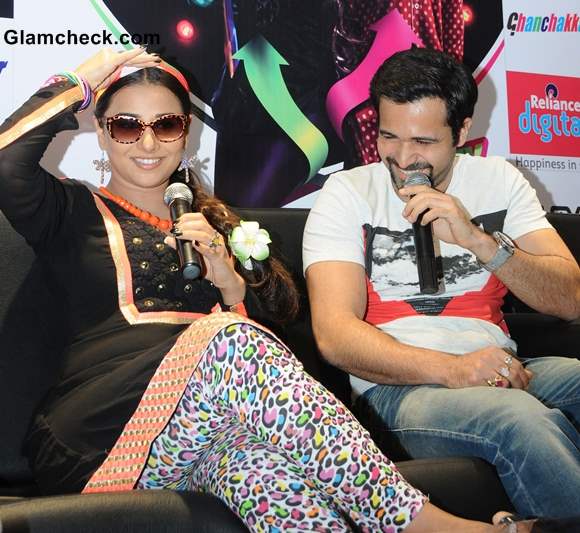 Bollywood actors Vidya Balan and Emraan Hashmi jetted to Bengaluru to promote their upcoming movie "Ghanchakkar" at Reliance Digital on Brigade Road on 24th June.
The two have developed quite the camaraderie during filming and the chemistry was evident in their interaction with the press and each other. Emraan related how Vidya would laugh a lot during filming, and how he was never quite certain why, but that her mirth and spontaneity paved the way for a lot of fun and bonding.
Both actors commented that they were quite fond of the weather in Bengaluru and wished they could stay there a few more days. However, they will move on to yet another city for yet another promo event before the film's release on June 28. Meanwhile, check out Vidya's ensemble at this one.
Her look
A little zany
What she wore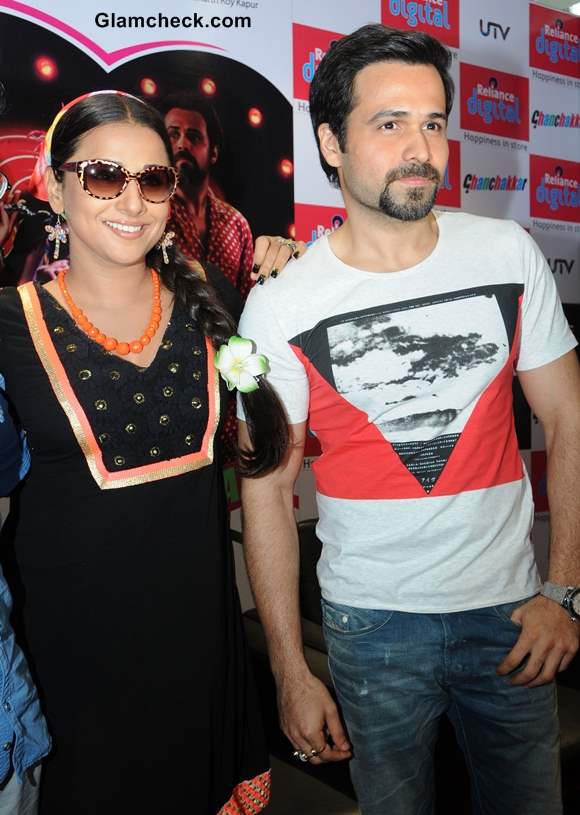 Vidya Balan Promotes "Ghanchakkar" in Bangalore
Vidya has been sporting some pretty crazy outfits as part of the promos for Ghanchakkar so that people get a feel for her character in the movie, who she has been styling her looks on. No doubt, even a non-fan will want to go check out the film out of nothing but curiosity.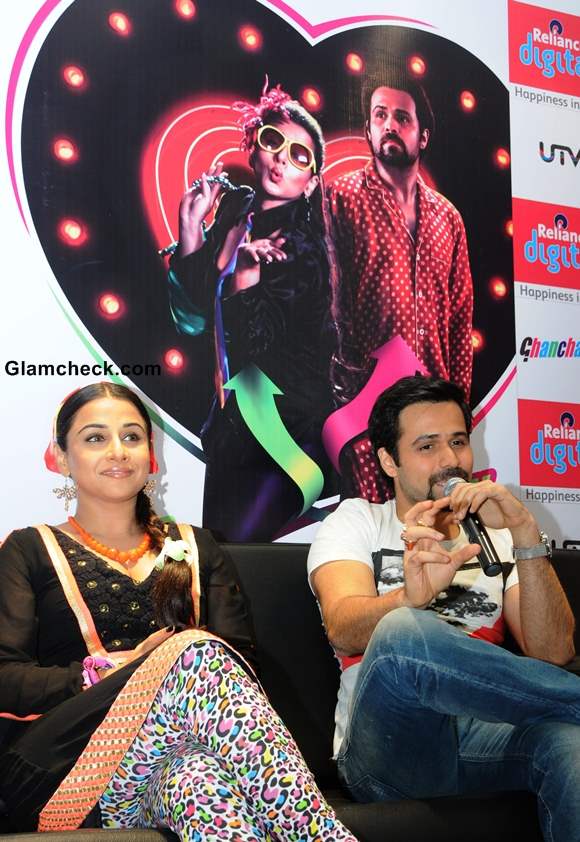 Vidya Balan Emraan Hashmi Promote "Ghanchakkar" in Bangalore
This time around, she wore animal print slacks in rainbow colors with a full-sleeved black kurti, the latter boasting peachy accents on the hem, neckline and cuffs. The clashing colors of this basic outfit were only the beginning. It was her accessorising that really stole the show.
Apart from wrapping a multi-colored bandana around her head, she also wore a multi-colored bracelet, sported colorful butterfly danglers, animal-print-framed sun glasses, an orange beaded necklace and, finally, a large green flower accessory on the end of her side-swept braid.
Too garish for your taste? Perhaps. But Vidya just embodies the character of the ensemble so full-on that there's nothing off or unseemly about it.
No one else could do it quite like her, no? 
IANS