Bollywood actors Hema Malini and Dharmendra have reason to celebrate. Their youngest daughter Ahana Deol got engaged on June 22 at their home in Juhu, Mumbai.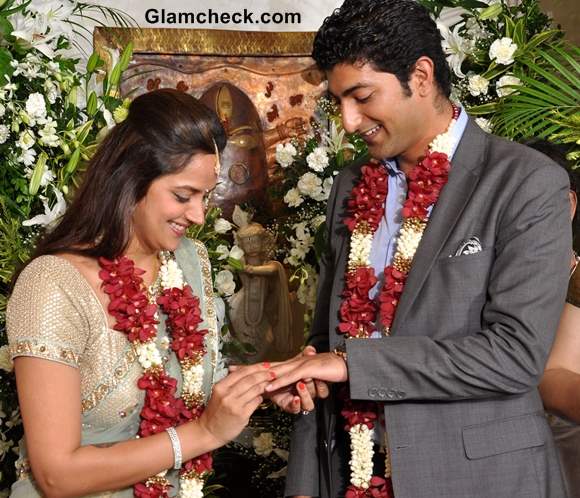 Ahana Deol Engaged to Vaibhav Vora
Her fiancé is Vaibhav Vora, a businessman based in Delhi, who she has apparently been seeing for the past few months after they met at her elder sister Esha's wedding in June 2012.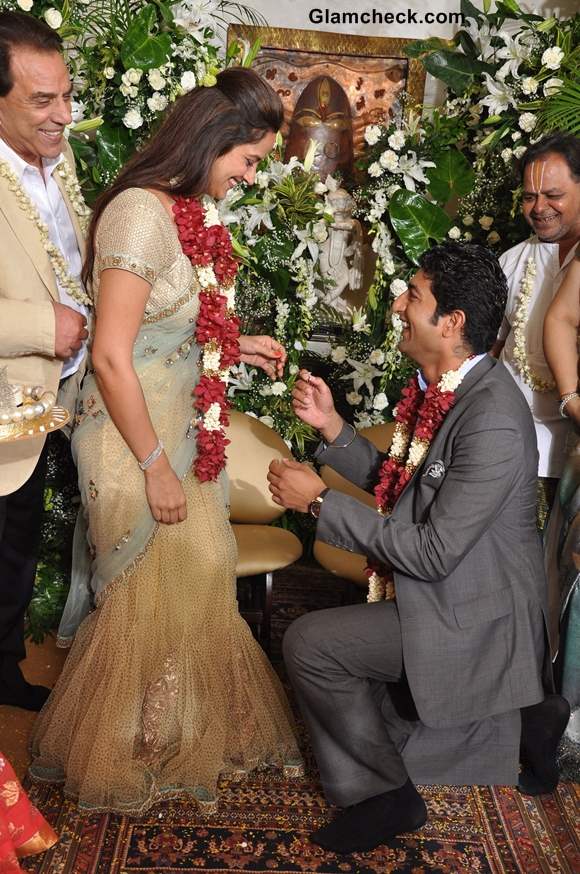 Ahana Deol engagement with Vaibhav Vora pictures
She could not contain her happiness and was seen smiling throughout the evening. She was glowing in a pale green shiny net lehenga-sari with colorful floral detailing. Both the blouse and the lehenga were fully sequinned in gold, coming close to rivalling the wearer's own inner glow.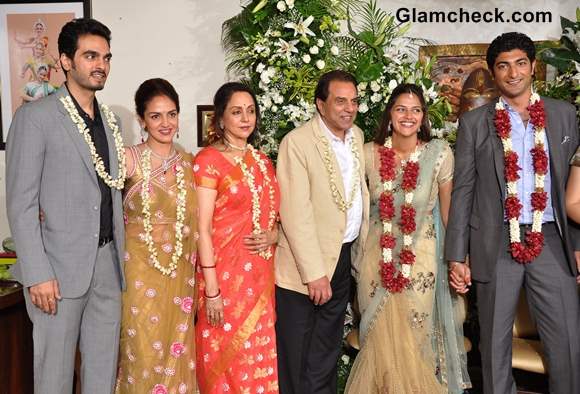 Ahana Deol & Vaibhav Vora engagement pictures
Ahana avoided heavy jewellery, choosing instead to go with a very elegant gold necklace in a modern cut and an understated gold hair ornament.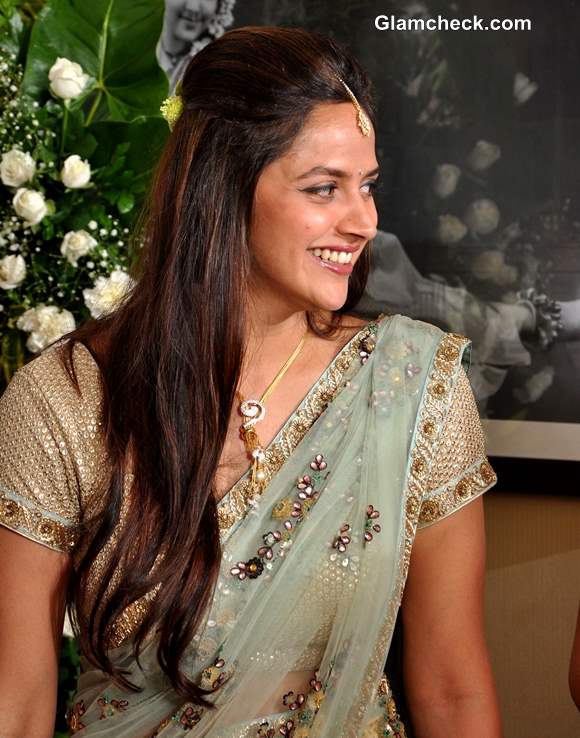 Ahana Deol engagement 2013 pictures
Her hair and makeup too reflected a more contemporary look with a half-up, half-down hairdo enhancing her highlights and just hints of color on her cheeks, lips and eyes.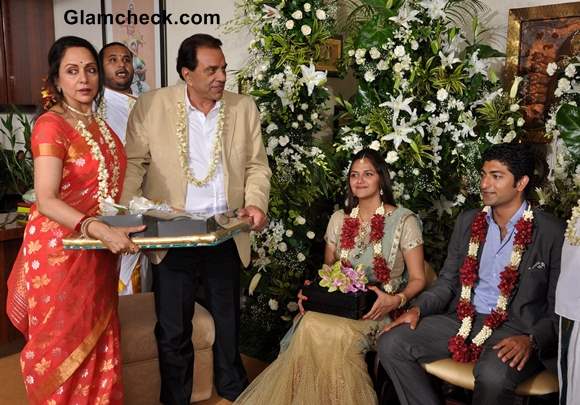 Ahana Deol Engaged to Vaibhav Vora 2013
Meanwhile, dad Dharmendra went semi-formal in black pants, a white shirt and a cream blazer, complementing mum Hema who wore an orange sari with floral patterns.
Hema was more than thrilled with the match, calling Vaibhav a 'very nice boy' and giving them her whole-hearted blessings.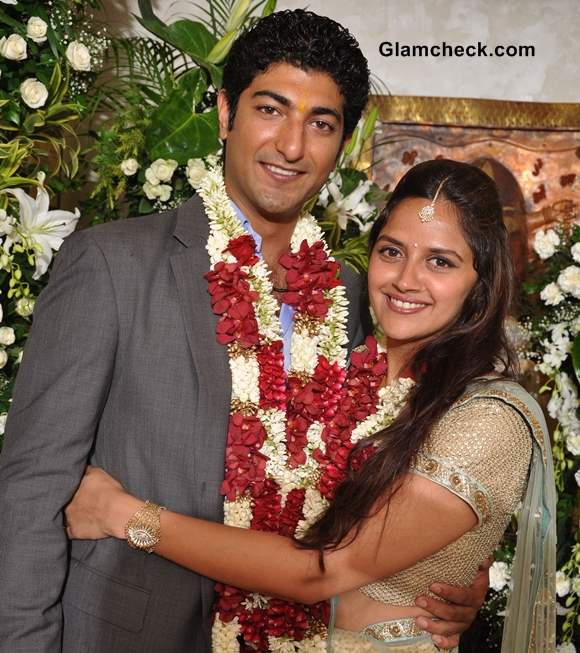 Ahana Deol & Vaibhav Vora engagment pictures 2013
The newly-engaged couple is all set to tie the knot in Gurgaon come November.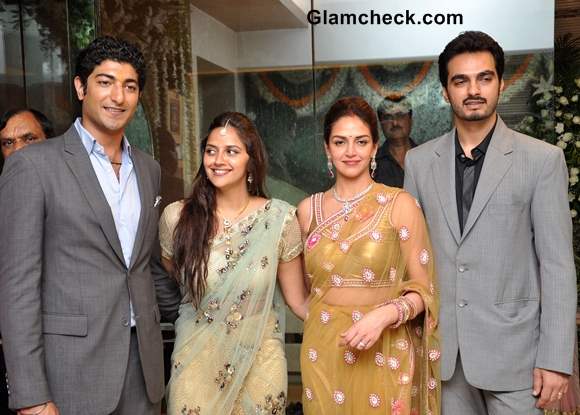 Ahana Deol engagement pictures with Vaibhav Vora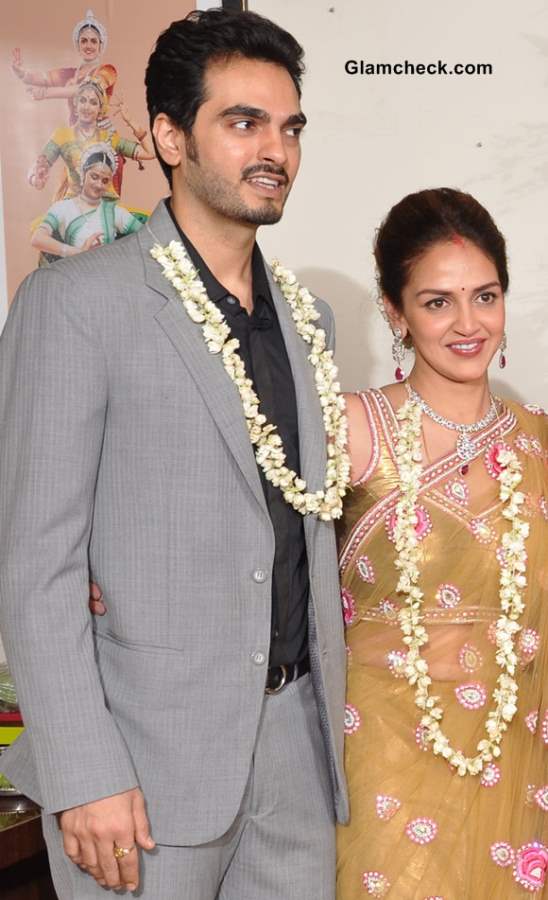 Esha Deol with husband Bharat Takhtani at Ahana Deol's engagement
IANS