Spring is just round the corner and so is the festival that marks its arrival in India – Holi. The festival of colors as it is popularly known has mythological origins. Young Prahlad miraculously does not get burnt in fire due to his undying devotion and faith in lord Vishnu. In the contemporary setting it marks the gathering of friends and family for the bonfire the night before and color smearing rituals on Holi day.
And whenever there is a gathering for celebrations, it is the sweets and snacks that come to mind. So are you hosting a Holi party at your place this year and looking for some great ideas for the food? We talk about it today.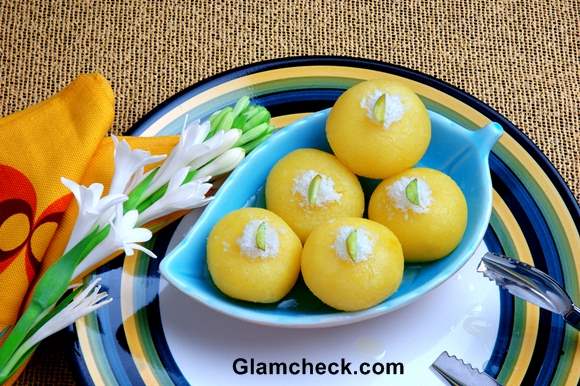 Sweets for Holi
Holi Sweets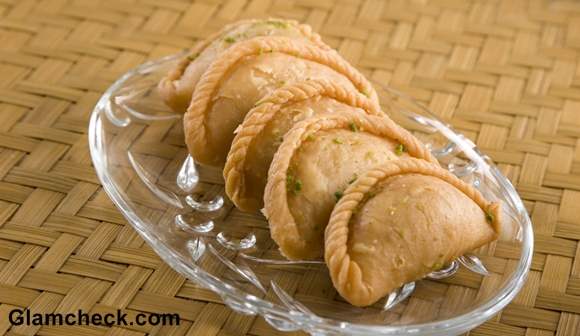 Gujiya
The traditional sweet for this festival is often the gujiya – a dumpling filled with khoya and dry raisins. Easily available at confectionaries around this time of the year, it is filling and easy to serve sweet. Bhaang or cannabis mixed sweets are a tradition for some, if intoxication is your thing go ahead and order some bhang gujiyas.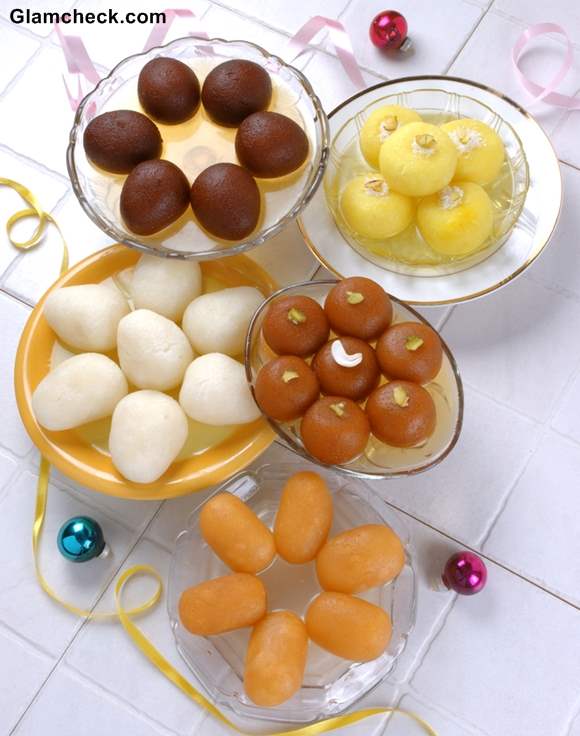 Holi sweets gulab jamun
Gulab jamuns and rasgullas dipped in sugar syrups are a crowd favorite. You could serve the 'serve cold' variety on Holi as they suit the best during the day. Look for those decorated with pistachio shavings as they look more presentable and taste good too. The many shapes and colors available also are a plus point. You can find the spherical and more cylindrical looking gulab jamuns in light brown and dark brown colors. The rasgullas are spherical and available in, dark brown, yellow and white spongy varieties.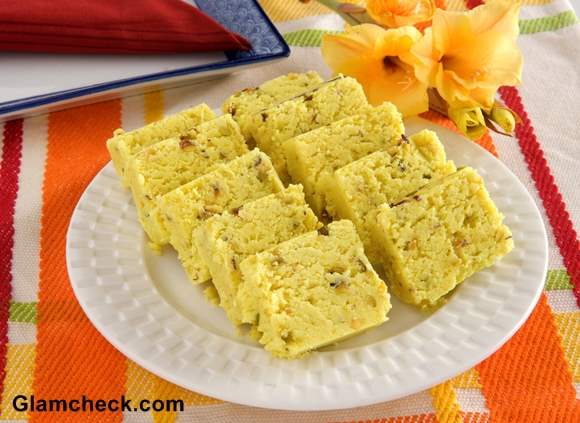 Holi sweets Barfi
Barfi in its many avatars is a popular choice too. Choose from an array of flavors like milk, chocolate, kaaju, pineapple, besan etc. This is easy to serve sweet since it is not dripping unlike gulab jamuns and rasgulas, and easily broken into pieces in case a guest wants to consume less unlike gujiya.
Just in case you wish to serve a more non-traditional sweet during the occasion to your guests, you can choose cookies and cupcakes too. Visit your favorite bakery and who knows, to cater to local festivals they have a Holi special cupcake jus for you!
Holi Snacks
All the delicious sweets above can only please your sweet-tooth guests. A mix of something salty and spicy on your menu is a must. That brings us to discussing some easy and crispy snacks for Holi.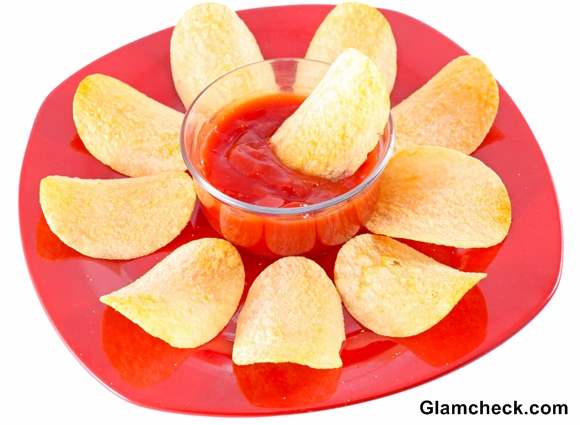 Salted Potato Chips – Holi Snacks
The easiest trick is to open a bag of salted potato chips and serve it nicely with a tomato ketchup dip. A similar option can be nachos with salsa dip or cheesy dip too. All things are ready to be consumed and easily available in the grocery store.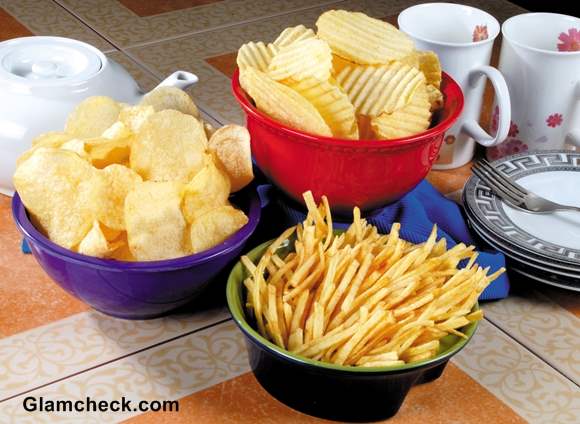 Potato Chips-Indian snacks
Also possible options among the potato snacks family are potato fingers and masala potato crisps too. You can serve a whole variety together in different flavors.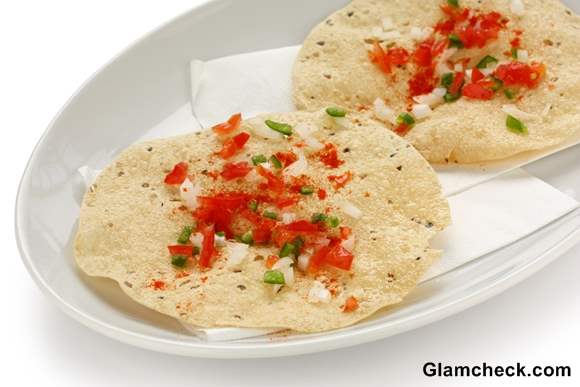 Indian Snacks – Masala Papad
Masala papads are another delicacy easy to make and very tasteful. Fry papads, or bake them in microwave or buy packaged ones. Chop some onions and tomatoes into small cubes and sprinkle them over the papad along with some red chilli and masala.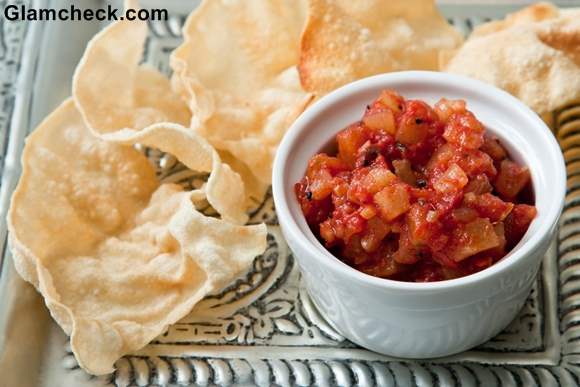 Indian Snacks – Pappadams and pineapple chutney
Another variation of the above is fried pappadams served with pineapple chutney. The bland crispiness of pappadams is great combined with the spiciness of chutnies and achaars.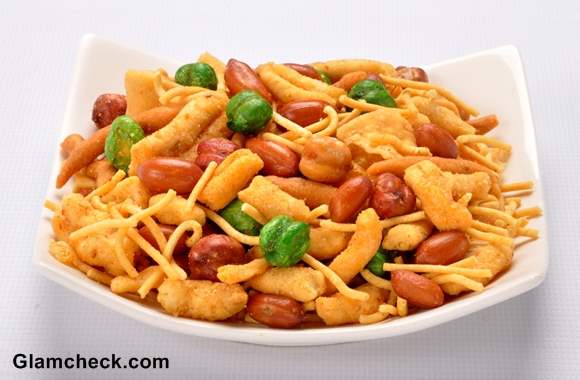 Indian Snacks- Spicy Namkeen
Spicy namkeens with peanuts and dries peas are a good option for Holi. The great thing is you can get baked and low fat of namkeens too in the market today for serving to health conscious guests.
Serving tips
Presentation makes a delicious dish all the more mouth watering. Hence here are a few quick tips that you can follow.
Colorful ceramic ware is aesthetically very pleasing and a great background for the food mentioned above.
Interesting shapes of bowls like leaf and other organic shapes give a fresh look to your servings.
Take out the whole set, if you have four matching bowls use them to serve the different snacks and sweets. If you need more, then take out another set.
Paper plates are becoming a norm in parties these days. Just pay attention to the quality of your paper plates and make sure they can hold the food without breaking or falling.
Make it easier for your guests to serve themselves. Keep serving spoons and tongs.
Don't forget to keep some tissues alongside too, hospitality is always cherished.
So go ahead and host a party as you have Glamcheck by your side to guide you through being a great host.
Also Read:
Holi Hairstyle : Side Braided Bob with DIY colored Bobby Pins

So I have recently got my tresses chopped off into a bob and even though short hair is great, there […]
Holi Special – The Right Makeup & Accessories for Holi

The Holi dream is to wear an all white attire and be smeared in colors right. If you are a […]
Holi Dressing – Colorful Ways to Wear White

Doesn't it feel like a ritual on its own to wear white on Holi? Yes of course your dear clothes […]
DIY: Holi Inspired Nails

The plethora of colors on Holi can sure get inspiring. Wearing white attire is great, but colored accessories and colored […]
Dual Lip Color Trend for Holi

The recently held Wills India Fashion week Autumn Winter 2013 actually showcased a trend which is perfect for Holi. Dazed […]
Beauty Tips for Playing Holi

Holi, the festival of colors is an occasion that is enjoyed by everyone in India. Vibrant hues fill the […]
Shutterstok