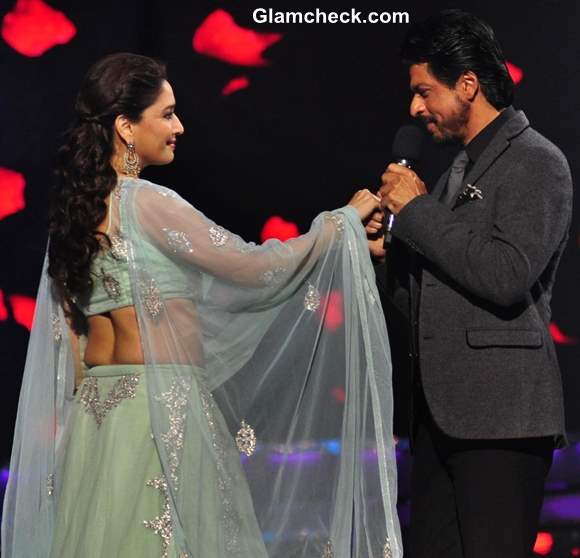 Bollywood actors Shahrukh Khan and Madhuri Dixit Nene had the audience in a frenzy as they appeared on the sets of Jhalak Dikhla Jaa when Shahrukh paid a visit to promote his upcoming film "Chennai Express" in Mumbai, India on July 3.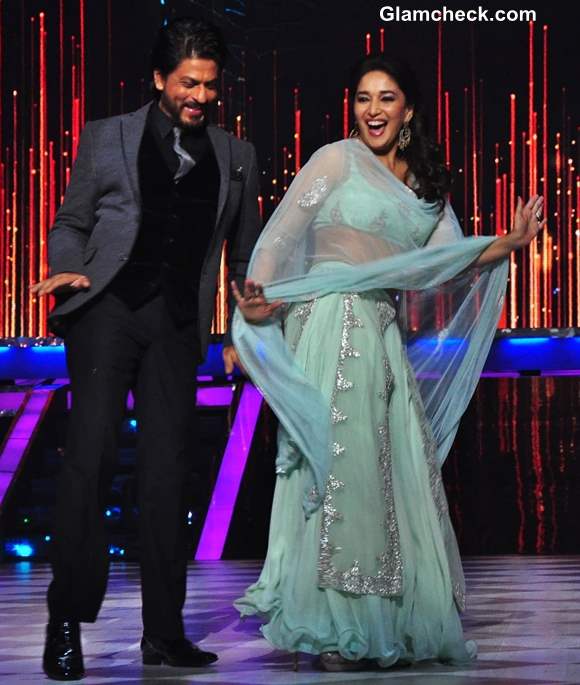 Madhuri Dixit & Sharukh Khan dancing on Jhalak Dikhla Ja
It was a reunion of sorts. Of course, the dancing queen and romance king are sure to have bumped into each other since her return to B-town some years ago, but this is the first time they have appeared together publicly so you can imagine the racing hearts of all the Dil toh Pagal Hai and Devdas fans in the audience, of which there were many!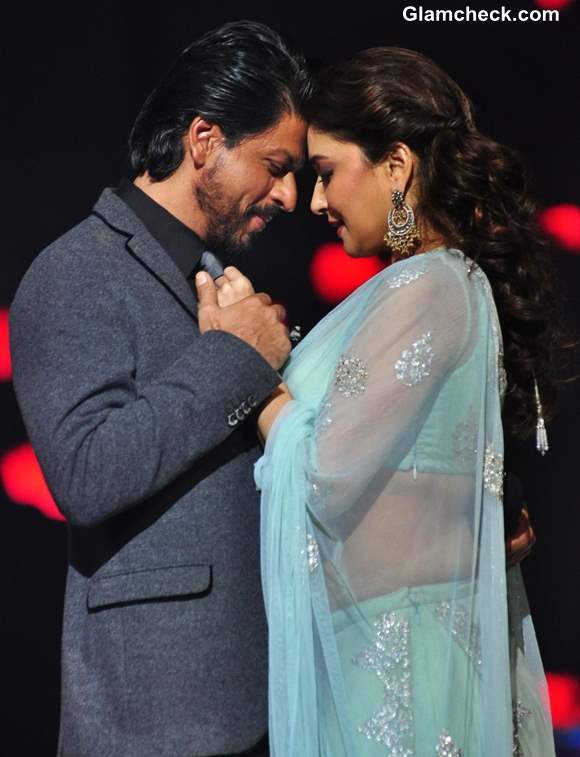 Madhuri Dixit & Sharukh Khan  2013 on Jhalak Dikhla Ja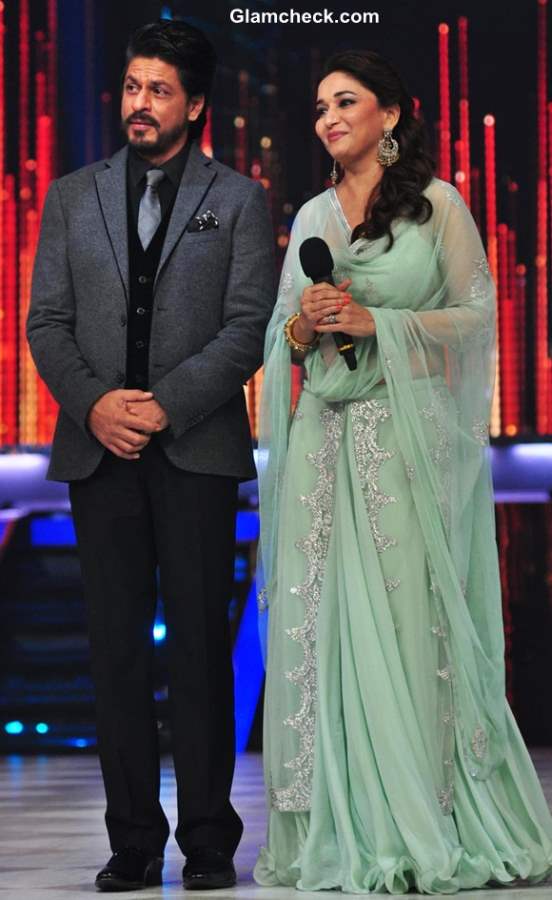 Madhuri Dixit Sharukh Khan Jhalak Dikhla Ja
Madhuri looked like a million bucks, and that's totally apart from that million-watt smile of hers. She wore a seafoam green lehenga choli with delicate sequin detailing that almost matched the brilliance of her smile.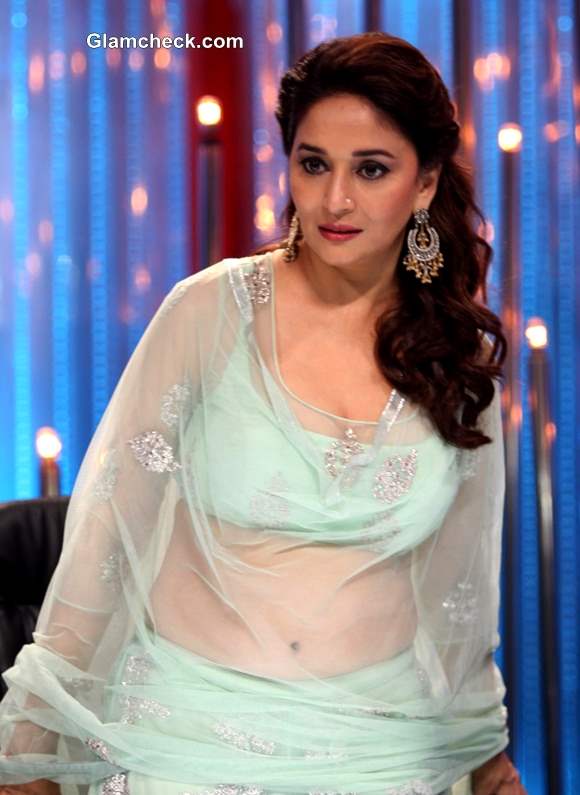 Madhuri Dixit outfit 2013 on Jhalak Dikhla Ja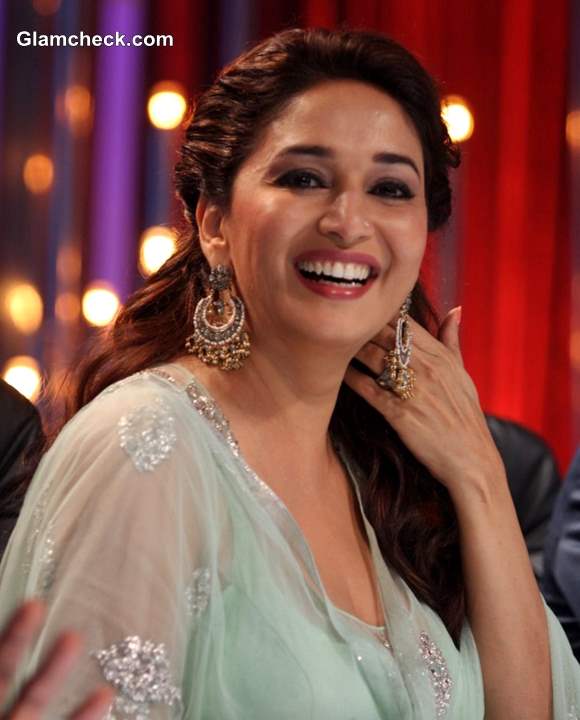 Madhuri Dixit lehenga on Jhalak Dikhla Ja
A pair of stupendous baalis accessorized the look while a glossy red lippie enhanced the charm of her timeless beauty.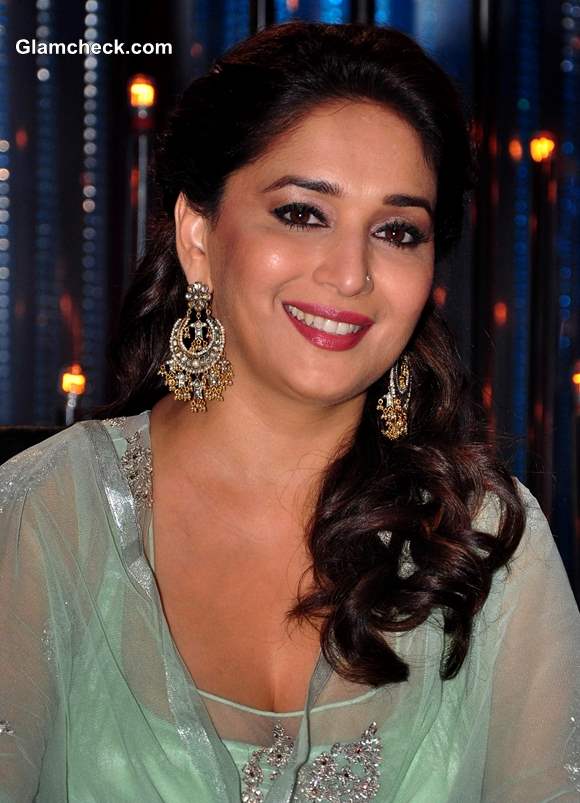 Madhuri Dixit 2013 on Jhalak Dikhla Ja
Images: IANS
Shahrukh looked every inch the ruling Badshah of Bollywood in black pants, a black shirt, black shoes and a grey blazer. The duo reminisced on stage and even danced to a few romantic numbers, much to the delight of the crowd who had a hard time staying in their seats or ceasing the approving applause.