Mahima Chaudhary walked the ramp for Shobha Shringar Jewellers at the India International Jewellery week 2013 in Mumbai.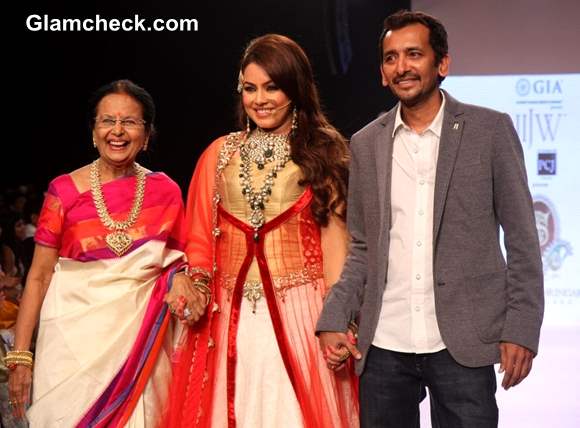 Mahima Chaudhary Showstopper for Shobha Shringar Jewellers
Shobha Shringar Jewellers presented their "Neesha Collection" at the show. The jewellery showcased traditional Indian work such as vintage gold, polka and jadau. The collection was opulent in its essence and included precious stones like rubies, emeralds, south sea pearls as well as uncut diamonds. Large floral baaju bands, chokers, eye catching floral pendants, collar necklaces, carved bangles – some of which extended into the bib style, grand necklaces, beautifully crafted earrings, jhumkas, dainty nose pins and rings, elaborate diamond sets, mesh and medallion designs, raani haars, maang tikkas, gold cummerbunds, jhumar, maatha patti and even shoulder dusters were part of the elaborate collection.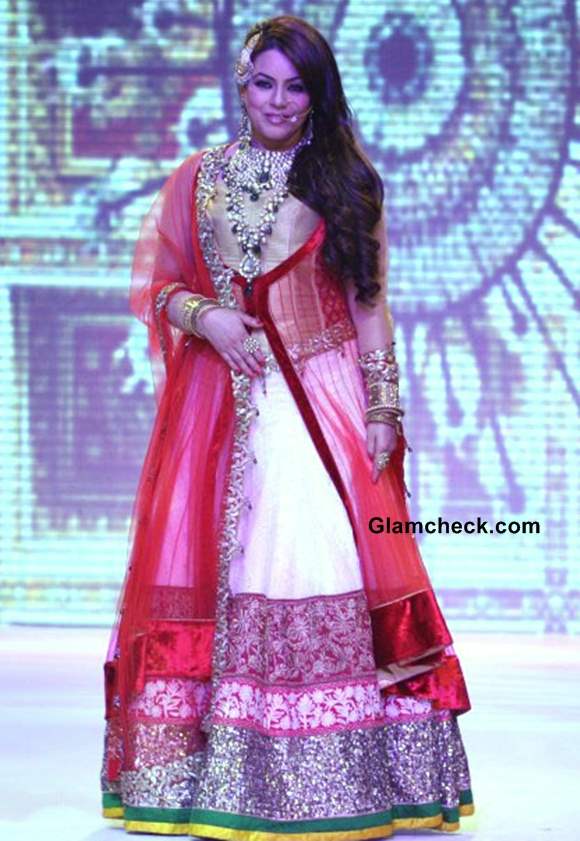 Mahima Chaudhary IIJW 2013 Shobha Shringar Jewellers
There was a well etched south Indian section that presented traditional jewellery from this part of India. One could also see western influences in the precious stone set jewellery.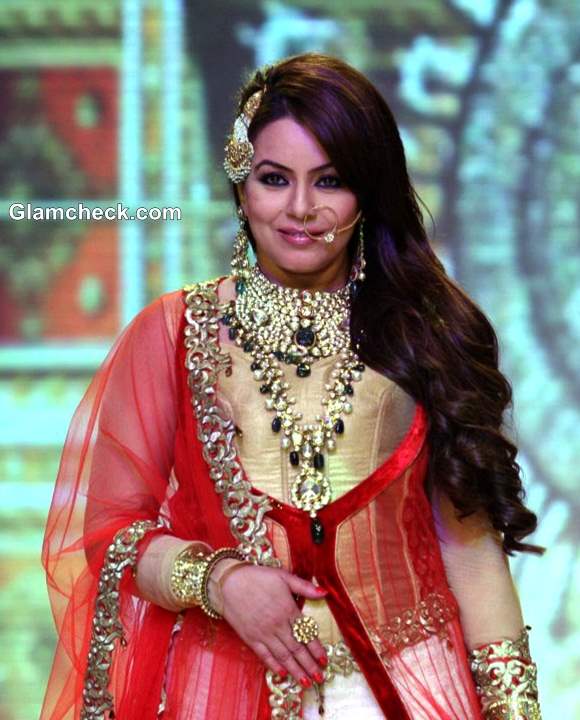 IIJW 2013 Mahima Chaudhary
Bollywood beauty Mahima Chaudhary was the showstopper and looked stunning in the rich jewellery adorning her. She wore a cream and gold lehenga that featured a sheer long layer in red. The outfit was by the Bawaree label – which also showcased gowns, anarkalis and saris apart from layered lehengas.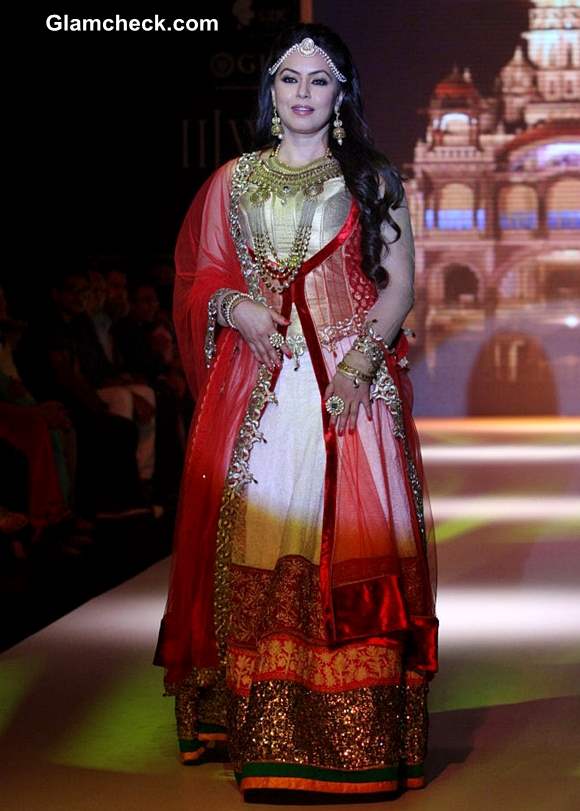 Mahima Chaudhary for Shobha Shringar Jewellers  at IIJW 2013
The actress wore two different jewellery sets for the opening and closing act of the show respectively.
To open the show, she wore a bridal set that included a raani haar – comprising of four layers. This was paired with a wide and flat gold necklace. A beautiful maang tikka, jhumka style drop earrings, pretty bangles and a statement ring comprised the other jewellery that she wore along.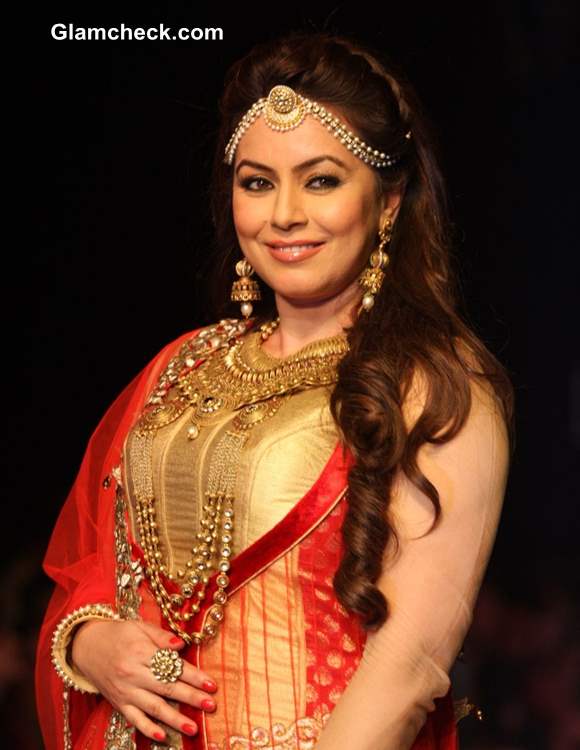 IIJW 2013 Shobha Shringar Jewellers Collection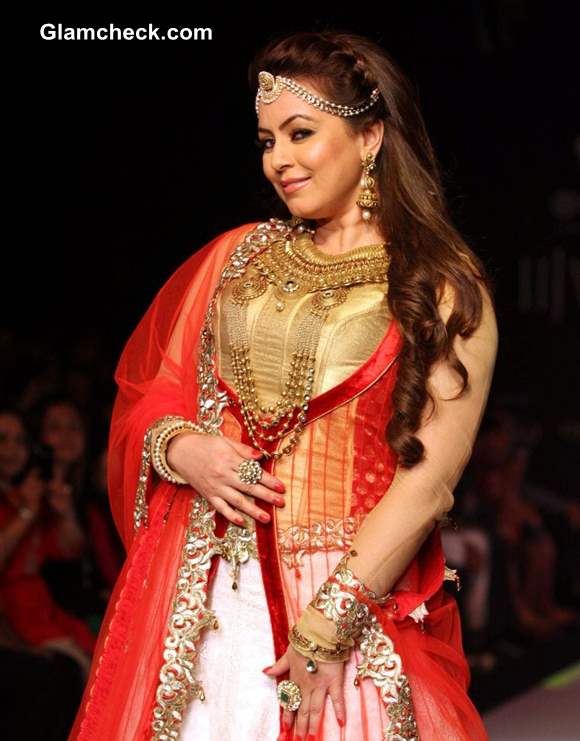 IIJW 2013 Shobha Shringar Jewellers Show
For the closing act, she looked like every bit of a royal princess in a polka and emerald set comprising of a thick choker and a longer necklace. Matching earrings adorned her ear. Also on display was a nathni on her nose, thick bangles and a floral designed ring. The jhumar on her head added to the regality of the look.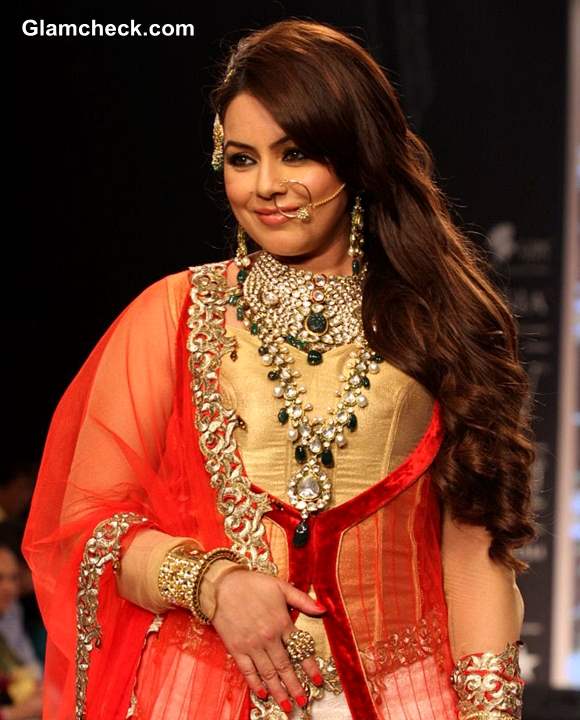 Mahima Chaudhary at IIJW 2013 for Shobha Shringar Jewellers
Image: IANS, Indian Photo Agency