Some days, it's just best to go traditional. Like on Independence Day. Mind you, we're not saying that you should wear only traditional outfits, but you have to admit that there's just something authentic about a good old salwar kameez or sari that makes you get more into the patriotic mood. And the simpler it is, the more charming somehow. So let's get proud about our Indian heritage and slip into traditional wear for this one day of the year.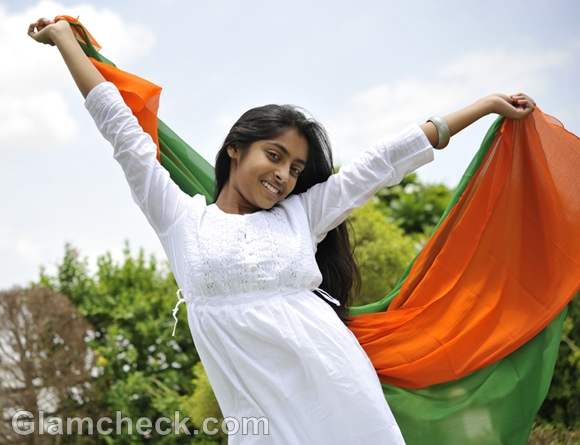 Here's the easiest way to create a traditional Independence Day look. A white salwar kameez with two dupattas – one orange and one green. The kameez has pretty embroidery on the chest and draw-strings are laced in under the bust line to give it an empire waistline. Wearing two dupattas is an inspired touch.
The whole outfit is simple without being insipid. It's comfortable, yet cute.
Hair and makeup are kept natural and minimal, while a bronze cuff bracelet is the only piece of jewellery used to spruce up the look.
How to Achieve the Look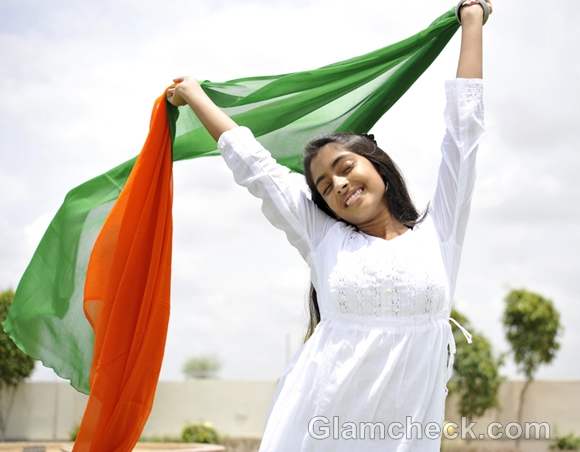 A fully-white salwar kameez is a must. If there is no embroidery or detailing on it, that's fine too. With a traditional look, even plain can look cool. Buy two separate dupattas, an orange one and a green one, but make sure that the fabric is light so that you can wear both at the same time without it weighing your outfit down. Maybe you can make your own single dupatta which features both colors in a tie-and-dye pattern.
Styling Tips
If you think the look is too plain, ask your tailor to show you patterns for an interesting neckline or backline for the kurta. There are many ways to stitch a kurta too to make it stand out more. Ask your tailor for tips.
Don't want to go fully traditional? Swap that salwar for a pair of jeans but keep the rest of the look intact.
Instead of dupattas, you can wear a whole bunch of green and orange bangles on each hand. 
Image: Shutterstock.com