The red carpet of the much-anticipated Times of India Film Awards 2013 held in Vancouver, Canada recently certainly did not disappoint. Perhaps because they were overseas, the stars went out of their way to make a lasting impression.
Despite her slightly more generous figure, Aishwarya Rai was resplendent on the red carpet as she posed with hubby Abhishek Bachchan.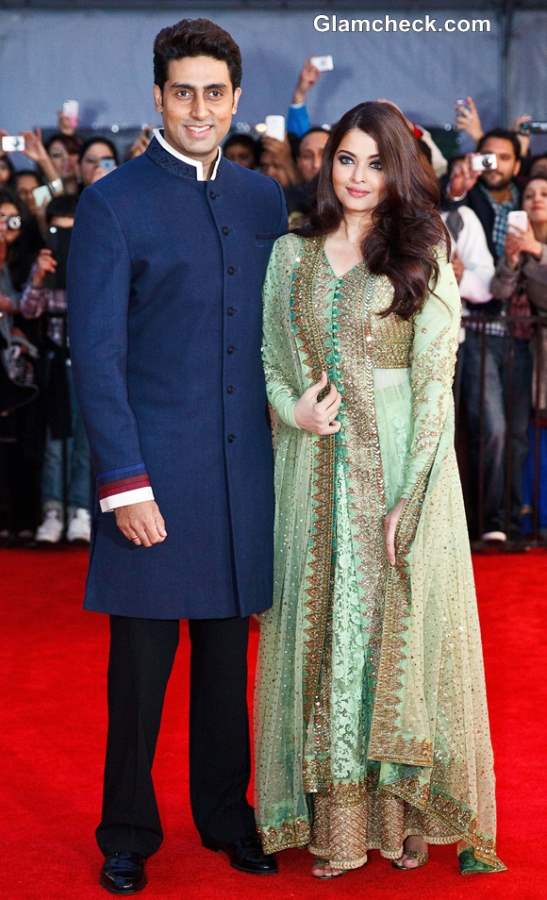 Aishwarya Rai & Abhishekh Bachchan at TOI Awards 2013
He donned a navy kurta with a raised collar, pairing it with black pants and black patent leather shoes. As dashing as he looked, it was the light-eyed lady on his arm who stole the show. She wore a full-sleeved mint green anarkali with celebratory embroidery in gold, primarily on the bodice and hemline but also on the equally lovely dupatta. Her look wouldn't be complete if she didn't highlight those killer peepers, which she did with thick liner and mascara, finishing off her look with a muted red lippie and side-swept loose curls.
Aditi Rao Hydari was a raging orange tidal wave! She wore a strapless orange evening gown with an exuberant skirt that expressed itself in a tumbling train.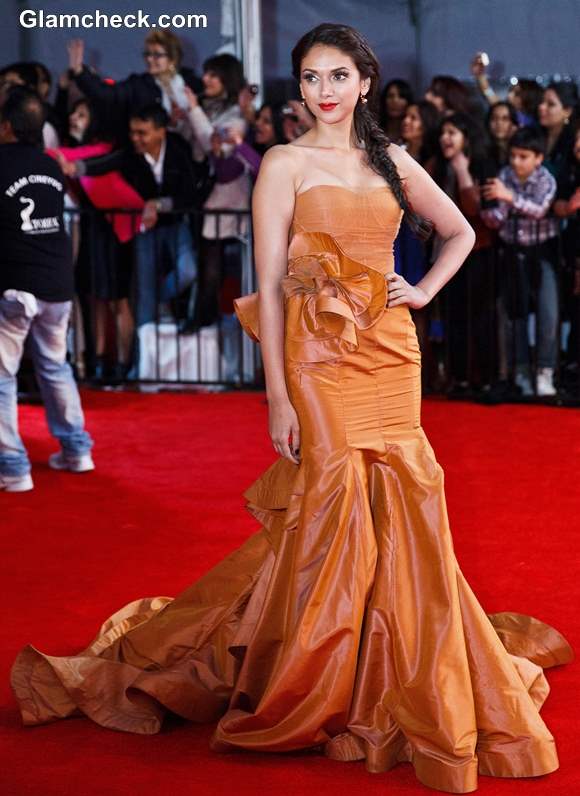 Aditi Rao Hydari at TOI Awards 2013
A large floral piece at the belt made the look more fiery and also added a bold symbol of femininity to the ensemble. A deep red lippie and tight side-swept curls completed her look.
Anushka Sharma brought a sleek, sharp and very modern look to the red carpet! She wore an all-black pant-suit – well- tailored, clean silhouette. The buttoned up blazer did lovely things for her curvy figure.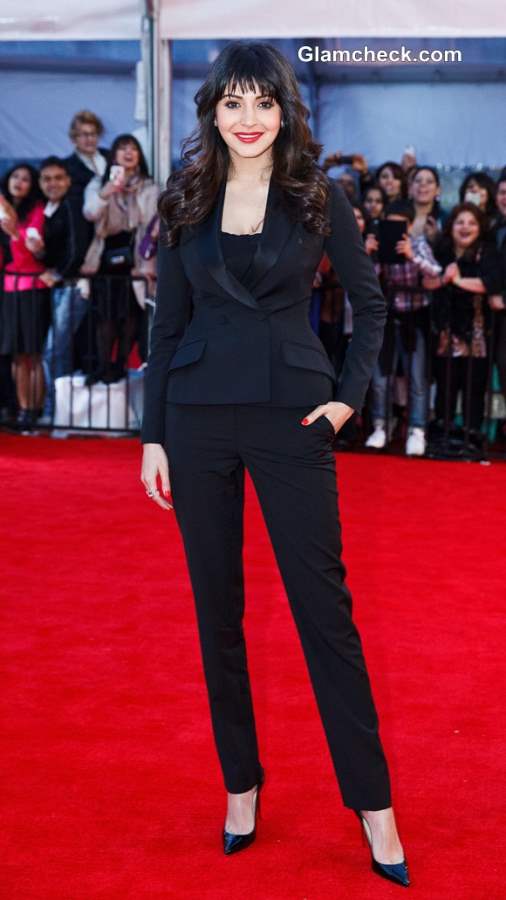 Anushka Sharma at TOI Awards 2013
We'd call this an androgynous look, but there is so much femininity that it just falls short of being so. Tumbling curls, a red lippie and black pointy pumps rounded things off.
Mugdha Godse was being all coy and sassy – a provocative combo that we're sure broke a few hearts that evening. She poured her hot bod into an electric blue evening gown – high-necked but with a cowl backline that fell low.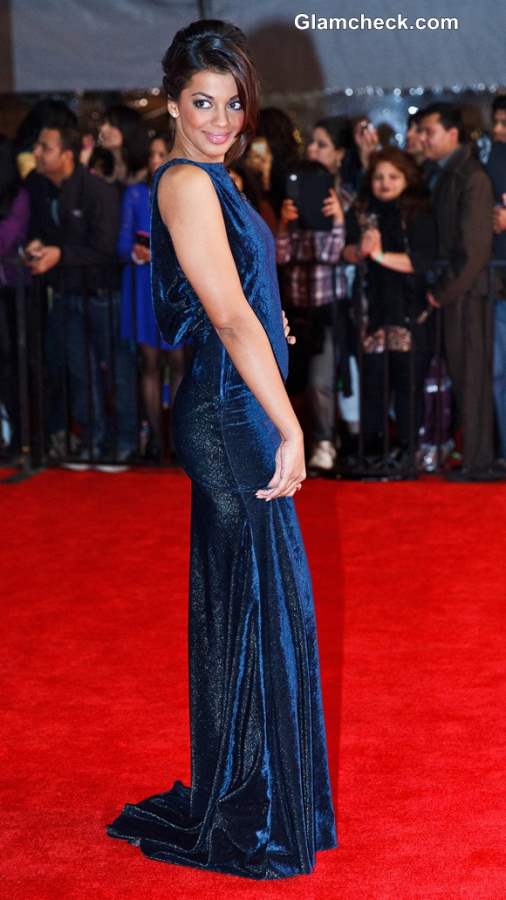 Mugdha Godse at TOI Awards 2013
She ensured that the shiny, slinky fabric reflected the light just perfectly as she posed on the red carpet. Her hair was swept into an updo with her grown-out bangs combed onto the side framing half her face – which is pretty much where the coyness figured in the picture. After that, the pink lippie and smokey eyes were just details.
Nargis Fakri was oozing some mind-blowing sex appeal in a strapless floral gown with a thigh-high slit.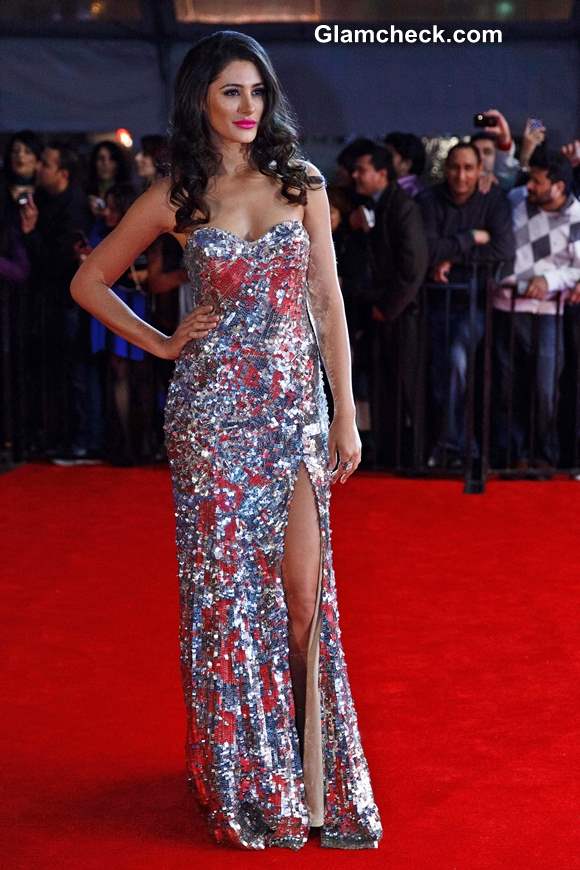 Nargis Fakri at TOI Awards 2013
Although the floral pattern did exude a soft femininity, Nargis has a raw sexual energy that adds dollops of sensuousness to the look, especially when those qualities could play off her red carpet curly hair and a striking red lip color.
Neha Dhupia has been favouring traditional looks of late. She wore an outfit that was ethnic in design but with a Western vibe – a patterned black and white lehenga choli with the 'dupatta' stitched into the side of the ensemble, thus giving the impression of a jacket.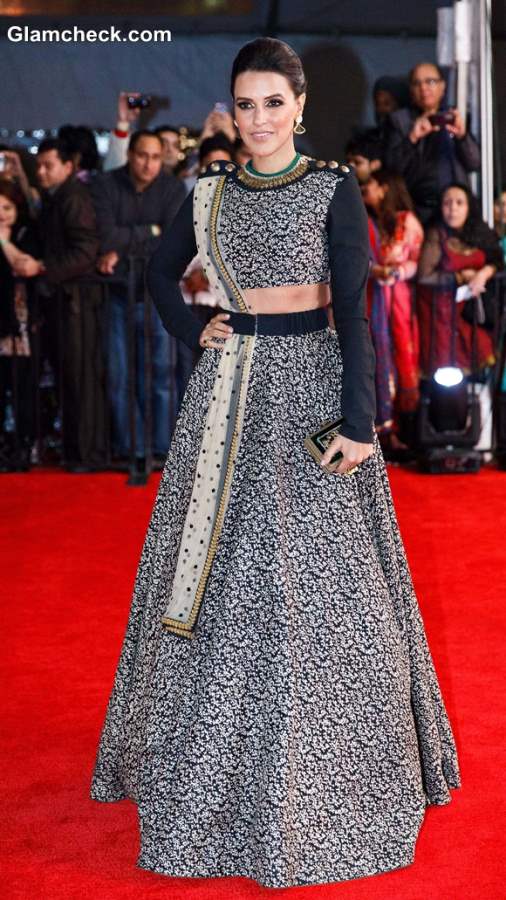 Neha Dhupia at TOI Awards 2013
The neckline and shoulders were embellished with dull gold detailing, eliminating the need for a neckpiece or any other statement bling apart from simple gold danglers.
Priyanka Chopra's been going from strength to strength with her outfits of late! She chose a halter-neck black gown with a chain link pattern in gold running vertically down the whole of it, with three horizontal ones too to emphasize the cinched-in waist, define the bust and basically just show off her delectable figure.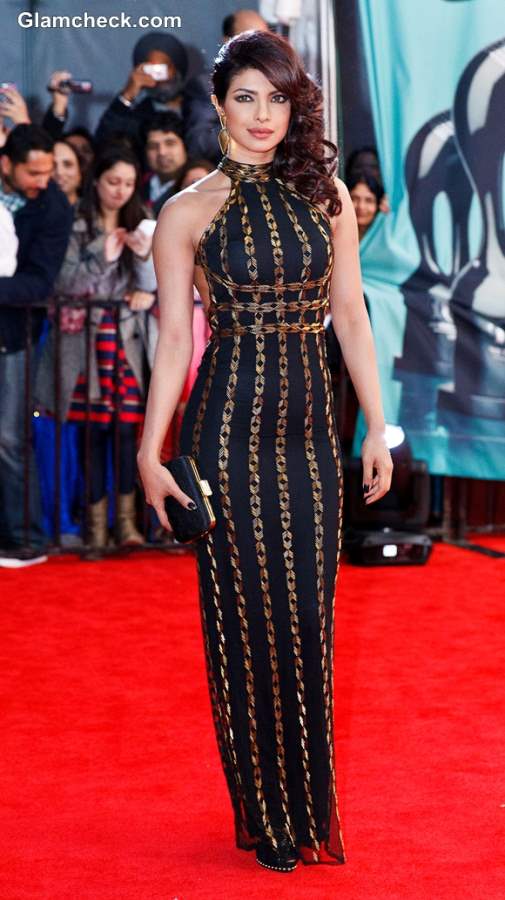 Priyanka Chopra TOI Awards 2013
Like many of her red carpet contemporaries that evening, she too wore a red lippie with smokey eyes adding her own aplomb to the popular makeup choice with side-swept curls. Gold danglers, a gold and black clutch, gold-lined black pumps and black nails completed her look.
Shahrukh and Gauri Khan went all matchy-matchy, well, sort of. He wore black pants and a black shirt with a maroon blazer, complementing her draped red evening gown.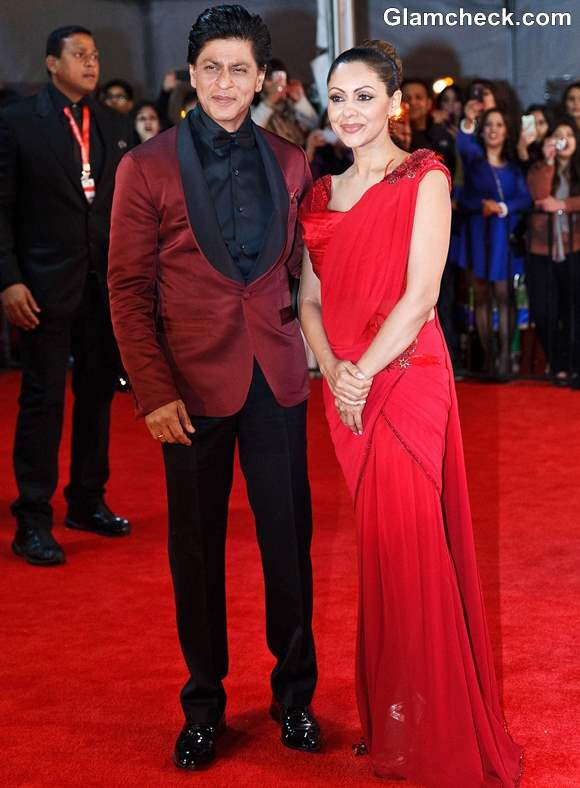 Sharukh Khan with Gauri Khan at  TOI Awards 2013
She may not be a Bollywood diva, but she's got va va voom in plentiful reserves, enough to give any B-town beauty a run for her money.
Last, but definitely not least, Zareen Khan wowed in a blue evening gown with delicate sequinned detailing on the neckline and straps.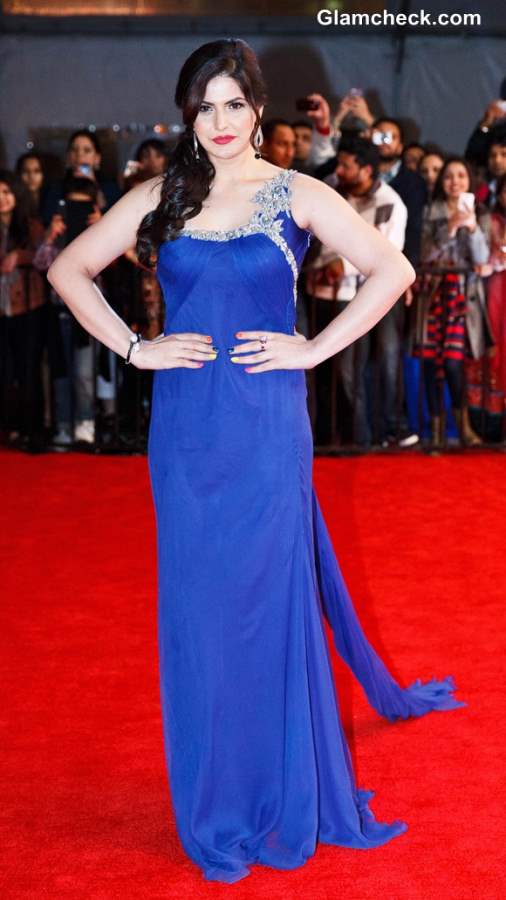 Zareen Khan at TOI Awards 2013
The bright, bold color reflects beautifully off her skin tone, the latter adding to the magic of the ensemble. Red lips certainly were the thing of the evening because she too sported that shade on her pout. A very feminine, soft side-swept ponytail completed the look.
IANS