Bollywood actor Shahrukh Khan enjoys meeting his fans. He has often said that he would not be where he is today without them and that personal days of celebration are incomplete without some sort of interaction with them.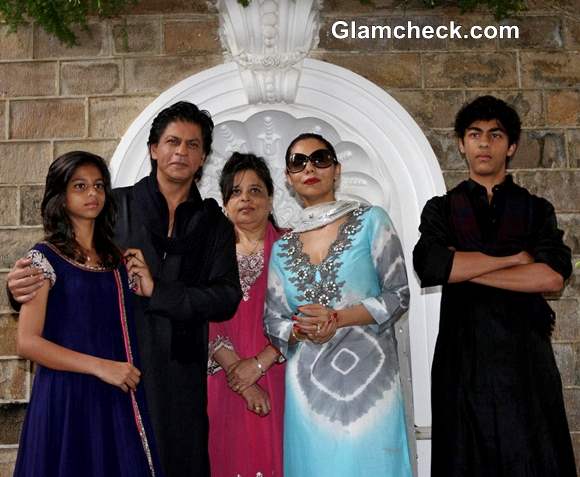 Shahrukh Khan with wife Gauri and Kids Wish Fans Eid
On the occasion of Eid on August 9, Shahrukh thus appeared on the balcony of his home Mannat in upscale Bandra, Mumbai to wave out and talk to hundreds of fans who had been awaiting his appearance since very early that morning.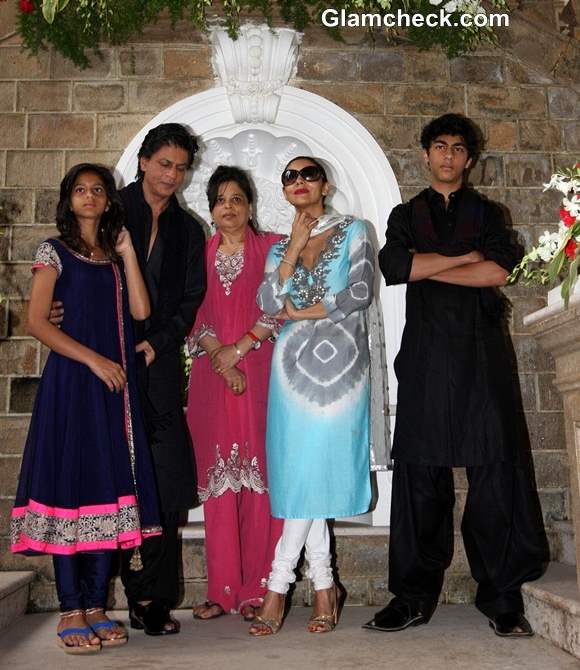 Shahrukh Khan with family Wishes Fans Eid
What was different about this public appearance was that he was joined by his whole family including his wife Gauri, daughter Suhana, son Aryan and sister Shehnaz. Mannat was beautifully decorated that day with white lilies and red carnations. The family stood on the balcony and later participated in a photo shoot with the media, the latter enjoying biryani and sevaiyyan gracefully laid out by the host.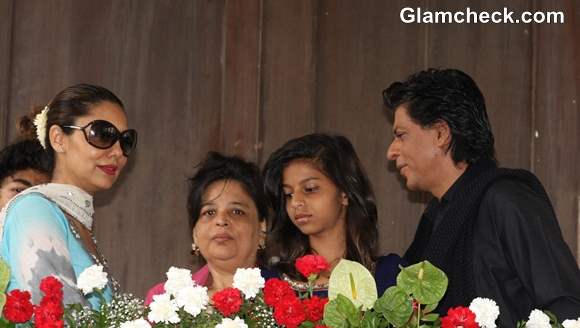 Shahrukh Khan with family Wishes Fans Eid pictures
Shahrukh's kids, however, looked decidedly glum. He explained that they had not even wanted to wear new clothes on the happy occasion neither had they wanted to appear in front of fans but that he had insisted which is why they were a little miffed at him. This personal anecdote did much to humanize the superstar in the eyes of his fans.

Shahrukh Khan with family in front of his house 'Mannat' wishes fans Eid Ul Fitr 
This is a rather special Eid for the family considering that it is their first with the new addition baby Abram. Although the newborn was not present on this occasion, it was reported that he is recovering from the complications of his premature birth so Shahrukh & Gauri are over the moon.
Not to mention that Shahrukh's latest film "Chennai Express" is breaking box office records like nobody's business thanks to his incessant promotional efforts that led right up to the day of its release.
It's a happy Eid for the Khan family indeed!
Image: IANS