With disposable incomes in India increasing like never before despite a worldwide recession, everyone is keen on getting a piece of the pie while it's still hot with many businesses making a foray into the retail sector. Wittal See Marketing Ltd. smartly stepped into the competitive world of retail with the opening of their new Wee Stores. There are already a number of these stores in India, about 70 and there will be close to 150 new Wee Stores across the country by April 2014.
Hoping for a revenue projection of over Rs. 100 crore, the brand is boosting its marketing efforts by roping in Bollywood actress Sridevi to be their brand ambassador. Sridevi's involvement as well as the company's future plans were announced Jyoti Narain, the executive director of the company.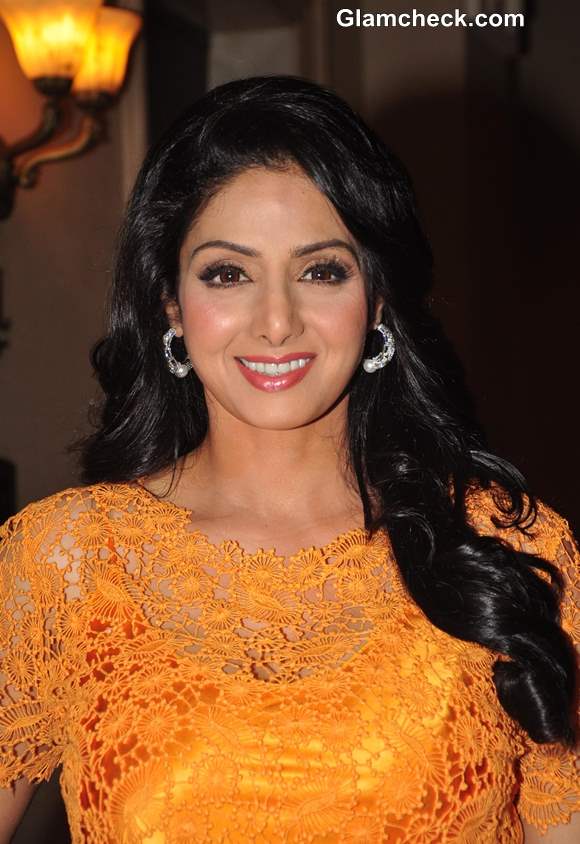 Sridevi Named Brand Ambassador for Wee Store
Sridevi felt that the Wee Stores would be quite a hit as they would provide a quality shopping experience for the entire family. She also touched upon her role in the brand's TV advert which would be out shortly.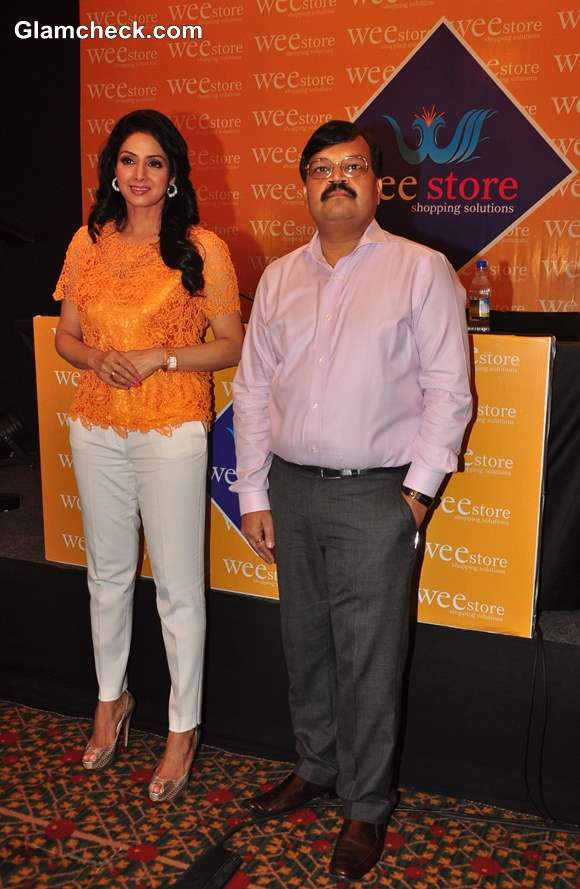 Sridevi Brand Ambassador for Wee Store
The evergreen star looked classy and contemporary as usual. The focus of her ensemble was an orange crochet top with an orange silk tank top underneath. Not a color people normally wear, but it's not surprising that Sridevi is bold enough to sport it. Of course, it looks stellar on her!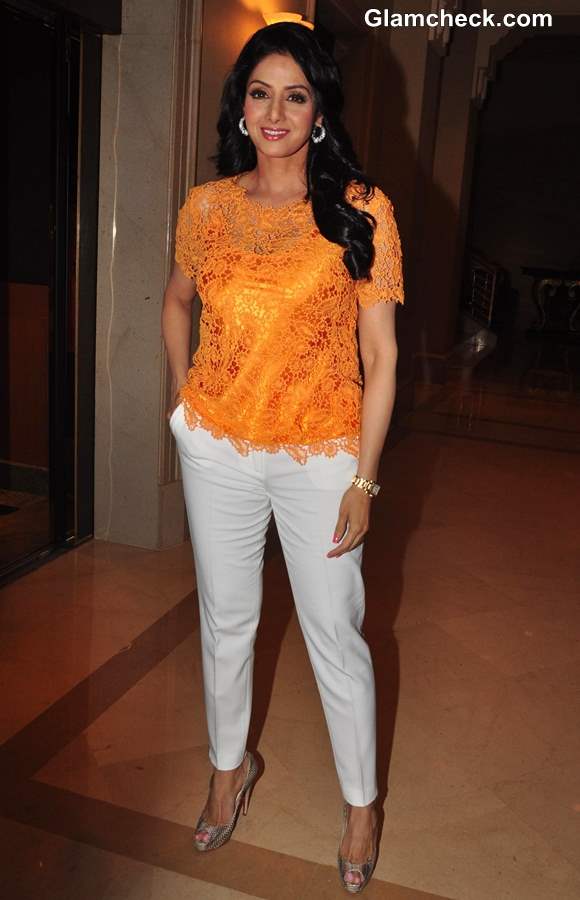 Sridevi Brand Ambassador Wee Store
She paired the top with plain white pants, rounding off her look with notes of silver in the form of peep-toes and pearl-set silver hoop earrings. A gold watch gave the warm-colored top company.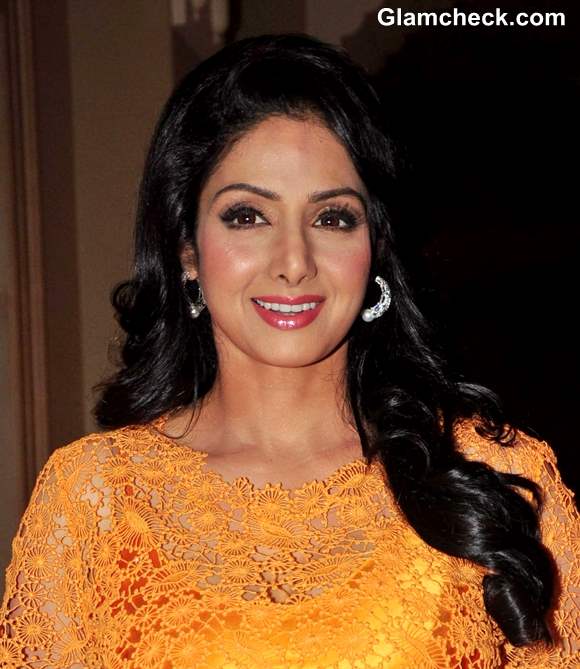 Sridevi 2013 pictures
Sridevi's long black hair was curled in loose ringlets, offering a glamorous frame for her glossy lips and false eyelashes. Don't miss her almost-neon pink mani-pedi.
She paints quite the pretty picture. A veteran on the silver screen, she's obviously drawing on years of fashion experience as well to have put together an ensemble that's high on the style scale while appearing so effortless!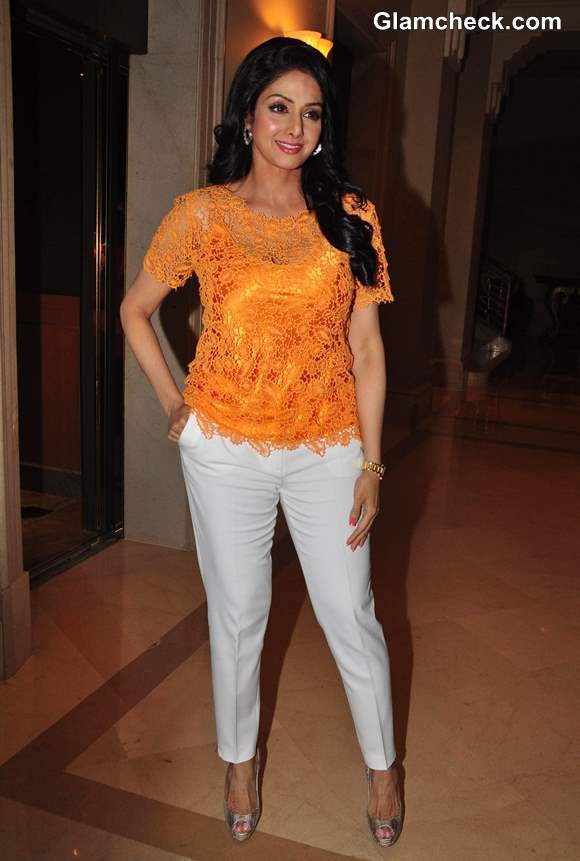 Sridevi casual in pants and top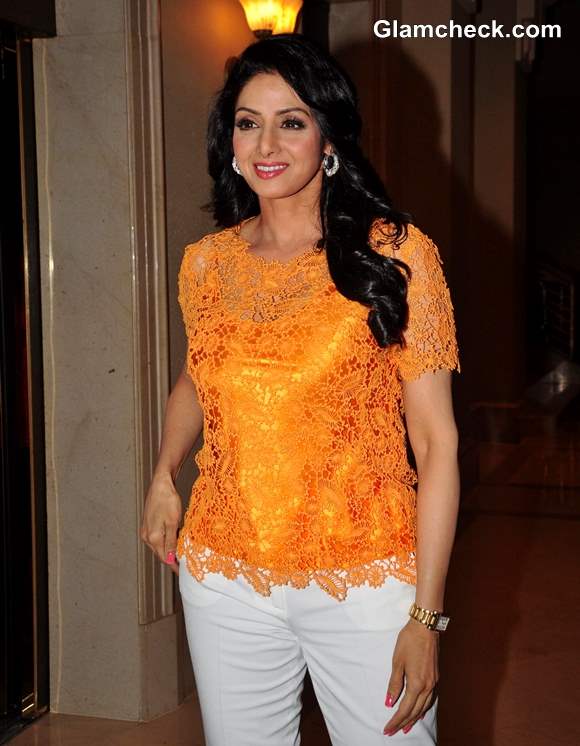 Sridevi casual look 2013
Image: Indian Photo Agency