Several B-town and runway celebs congregated in Mumbai, India on August 10 for the Retail Jewellery India Awards 2013.
DJ Aqeel Ali walked in with his pretty wife Farah Ali Khan on his arm. We're sorry to say that Aqeel was a bit too casual to Farah's uber-glam avatar. Blue jeans and a white shirt are a little too blasé for a red carpet event, no? But his better half more than made up for it.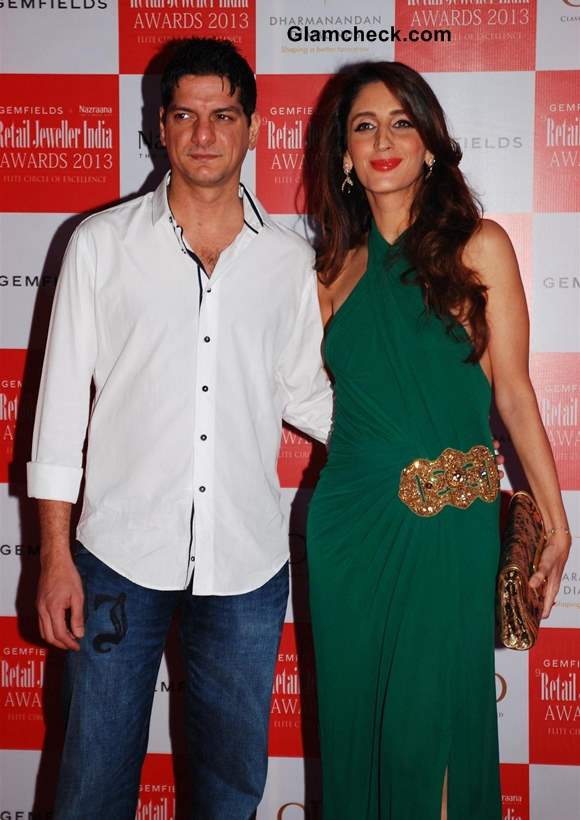 DJ Aqeel Ali with wife Farah Ali Khan at Retail Jeweller India Awards 2013
Farah was rocking a Monisha Jaisingh emerald green halter neck evening gown with sequin and bejewelled detailing on the hip, and a slit that showed off her pins from time to time. She accessorised with a gold clutch and delicate gold jewellery, the latter presumably her own designs which, FYI, won her the Best Jewellery Designer of the Year award.
Femina Miss India International 2012 Rochelle Maria Rao waltzed down the red carpet next in a rather expressive anarkali outfit. The burst of orange on her bust was balanced out by the skirt's pure white which ended again in a smattering of orange embroidery.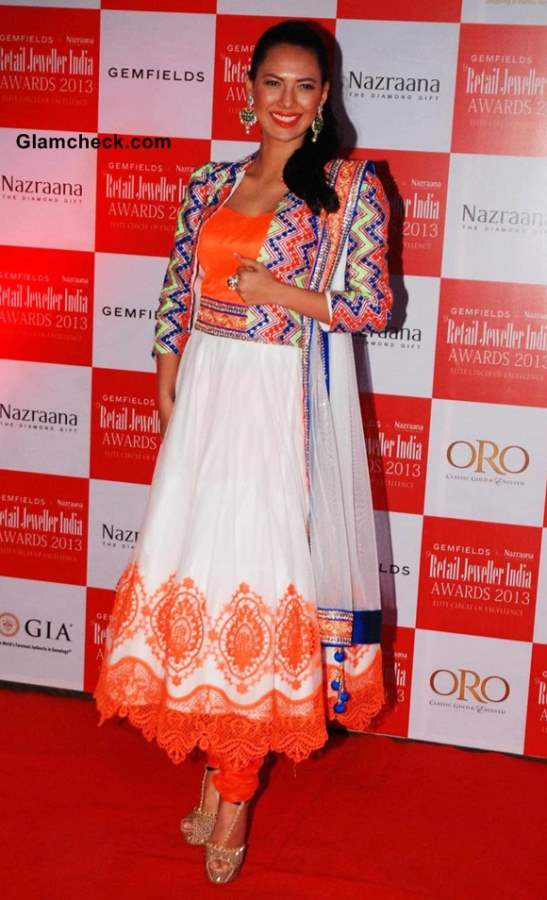 Rochelle Maria Rao at Retail Jeweller India Awards 2013
Her jacket was perhaps the most striking thing about her ensemble as it featured neon, blue and orange geometric patterns that you just could not get your eyes off. Sequinned T-straps and statement earrings and a ring completed her look.
Neha Dhupia was quite a vision in her stunning blue and gold Shantanu Goenka dress.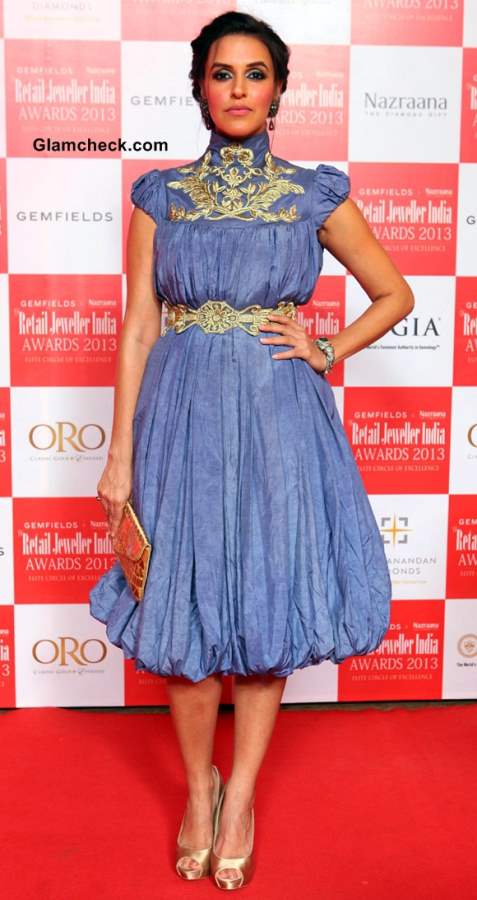 Neha Dhupia at Retail Jeweller India Awards 2013
A puffy skirt, puffy sleeves and high neckline had her looking both elite and playful. We're also loving the gold shoes and clutch that rounded off the pretty number.
Lisa Haydon was simply exquisite! This leggy beauty sported a silver evening gown which was so snug that it showed off every detail of her well-toned torso.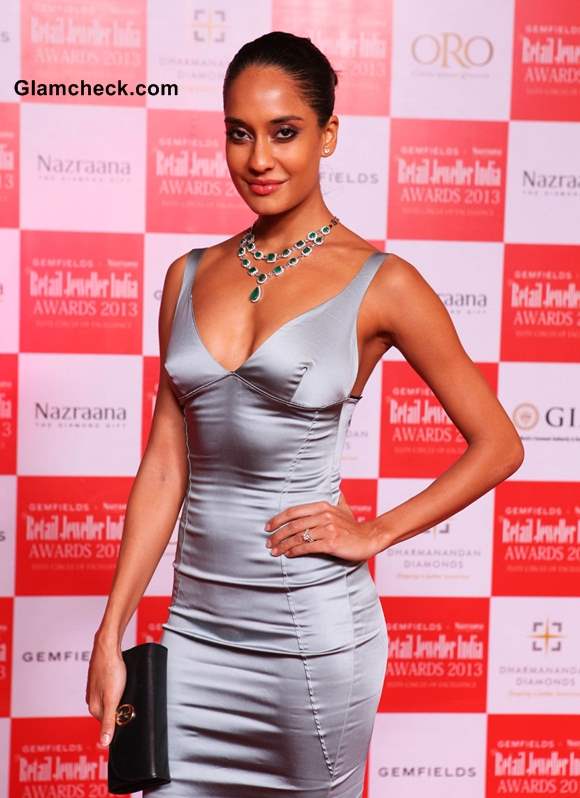 Lisa Haydon at Retail Jeweller India Awards 2013
If you've got it, flaunt it, and this sultry-eyed star has definitely got it. Her elegance was personified with an emerald necklace, black clutch and sleek pulled-back hairdo.
Miss India first runner up Sobhita Dhulipala went uber-classy and also quite sultry with her look in a black jumpsuit which featured bottoms like palazzo pants and a statement collar.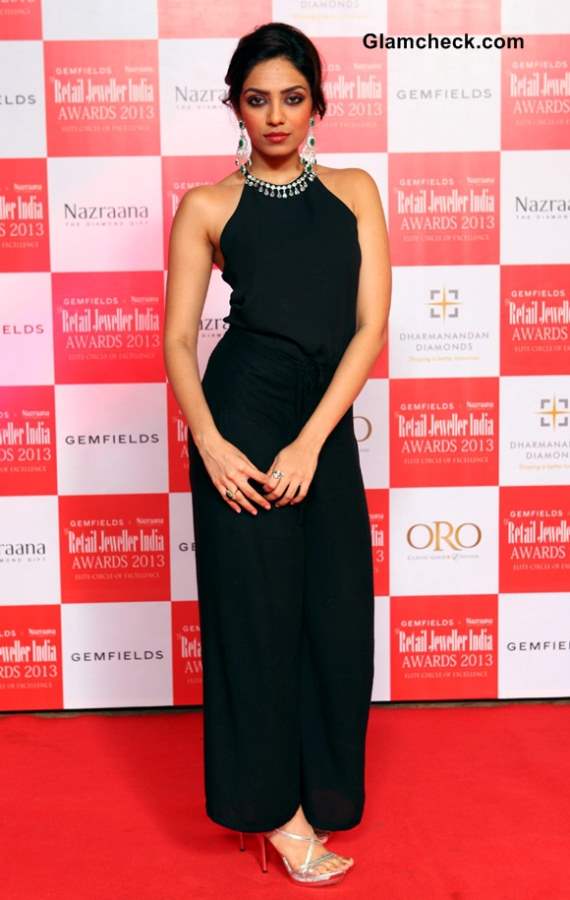 Sobhita Dhulipala at Retail Jeweller India Awards 2013
Silver jewellery inlaid with emeralds (a popular choice of bling that evening) and strappy silver heels added the finishing touches.
Miss Universe Canada Sahar Biniaz was in the pink! In more ways than one. Not only was she beaming in her pageant crown she was also giving off an effusive vibe in her pink sari gown which boasted tons of silver detailing both on the skirt and the blouse.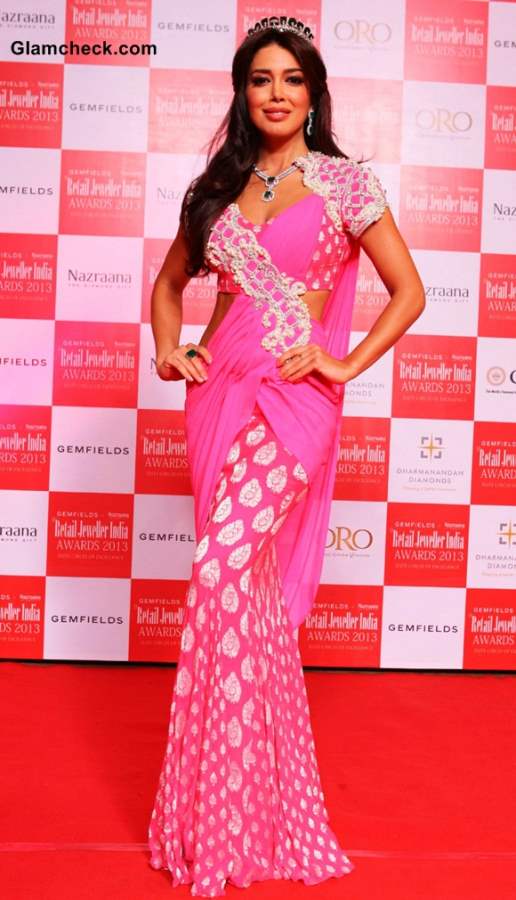 Miss Universe Canada Sahar Biniaz at Retail Jeweller India Awards 2013
With her hair left loose and a royal-looking emerald necklace and ring complementing the vibrant hues, she looks like a strong contender for any pageant crown.
Green and gold is a massively sexy color combination that only a few can pull off. Namrata Barua Shroff is obviously one of them. Although very elegant, her outfit had a relaxed feel to it too.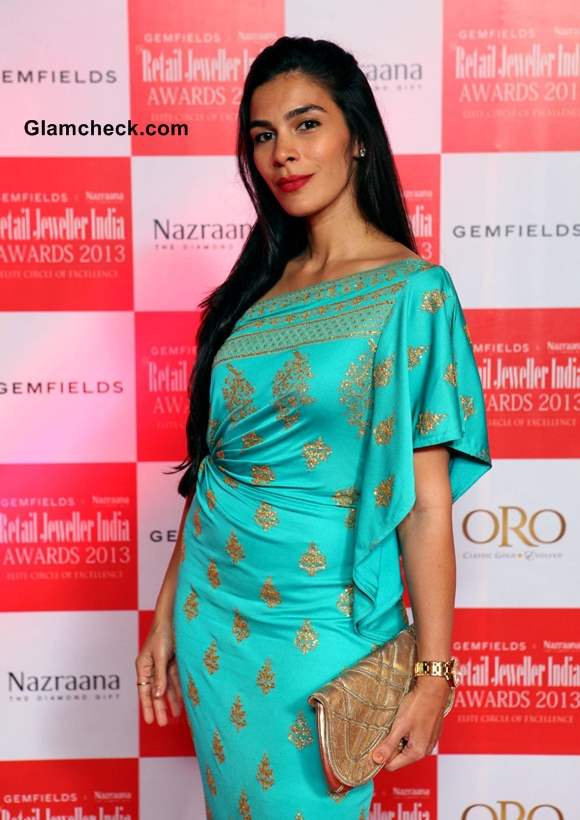 Namrata Barua Shroff at Retail Jeweller India Awards 2013
Gathered at the waist on one side with an over-sized kaftan-esque sleeve dominating the aesthetics on the other, her red carpet ensemble was indeed one of the more interesting ones at the event.
And finally there was Yami Gautam giving all the other women a run for their money. She looked absolutely delish in a strapless white corset gown.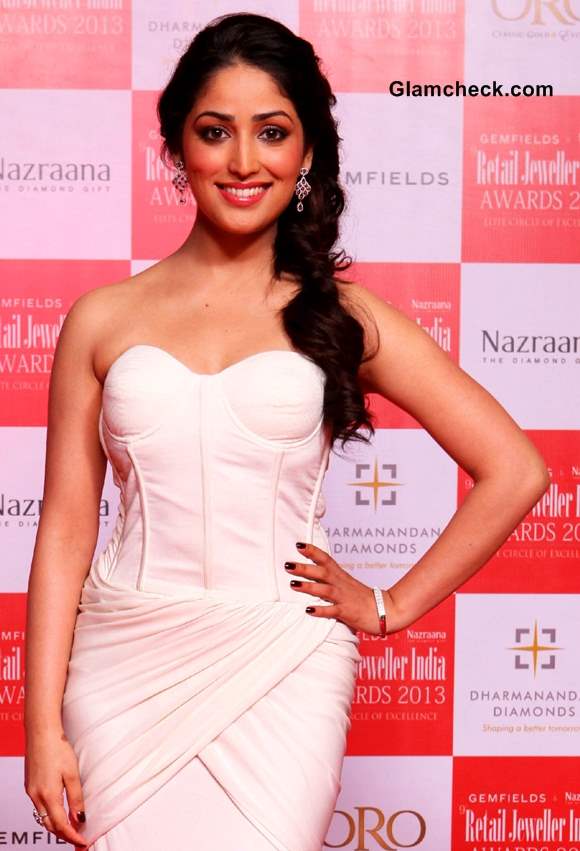 Yami Gautam at Retail Jeweller India Awards 2013
Designed by Sonaakshi Raaj, the dress had very sexy ribbing on the torso, draped detailing over the hips and a column skirt that fell to the floor. We like that she avoided jewellery around her neck because it gives her ensemble such heavenly clean lines. Her side-swept loosely-braided curly do and ruby danglers delicately accentuated the pristine vibe of her ensemble. 
Image: Indian Photo Agency, IANS