Over the last few months, several Bollywood celebs have been spotted in designer Shehla Khan's outfits at everything from press events to movie premieres to intimate dos. She can boast a pretty impressive fan following which includes such big names as Sonam Kapoor, Malaika Arora Khan, Karishma Kapoor and her sister Kareena Kapoor Khan, Aishwarya Rai Bachchan, Madhuri Dixit, newcomer Alia Bhatt and Priyanka Chopra. It's no wonder then that Shehla has been one of the top three fashion designers to keep an eye out for at the ongoing Lakme Fashion Week Winter Festive 2013 being held at the Grand Hyatt in Mumbai, India. She presented her new collection Tale of the Unexpected under her label Shehlaa by Shehla Khan on August 24.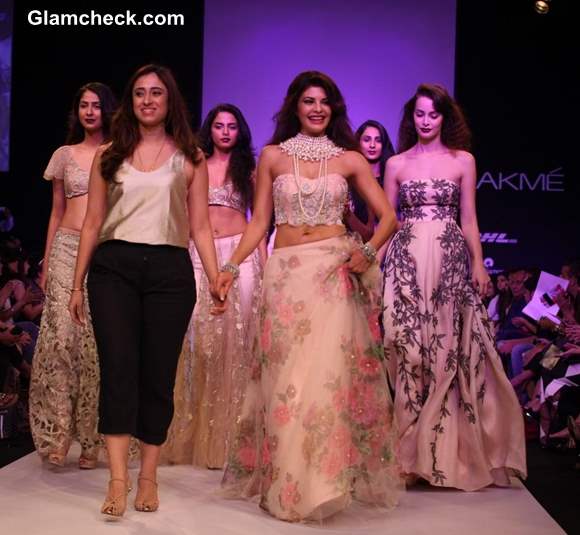 LFW Winter-Festive 2013 Jacqueline Fernandez for Shehla Khan
As you can imagine from that moniker, the outfits on the ramp exuded an air of fantasy and all that fairytales are made of. The collection was fashioned out of sheer fabrics in dreamy colors, floral prints and motifs, delicate embroidery, and silhouettes that were bold but structured thus making for wearable ensembles.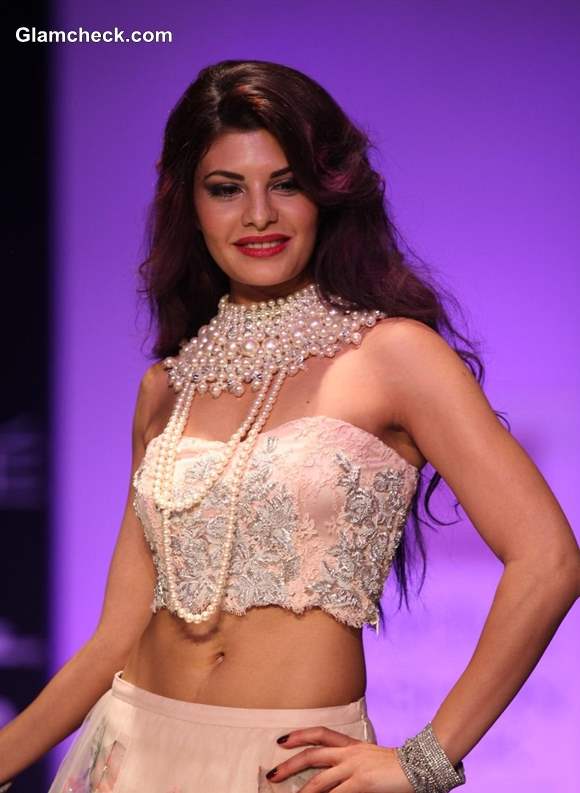 Jacqueline Fernandez for Shehla Khan at LFW Winter-Festive 2013
Bollywood actress Jacqueline Fernandes was the show-stopper for Shehla in a beyond-gorgeous baby pink lehenga-choli. The lehenga hypnotised with its transparent pink rose motif against sheer fabric. The choli was more of a very sexy strapless corset top with a frayed hemline and silver embroidery against a baby blue backdrop.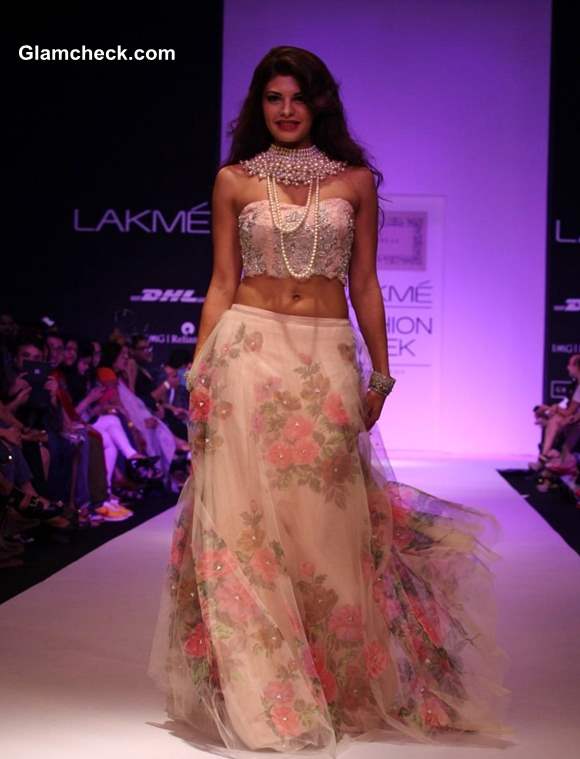 LFW Winter-Festive 2013 Jacqueline Fernandez Show Stopper for Shehla Khan
The Race 2 star's locks had been left loose in all their voluminous glory. But what was really enchanting was that they had been dyed a deep pink so that she looked like a nymph walking through a forest. A statement pearl necklace and jewel-encrusted bracelet completed her look.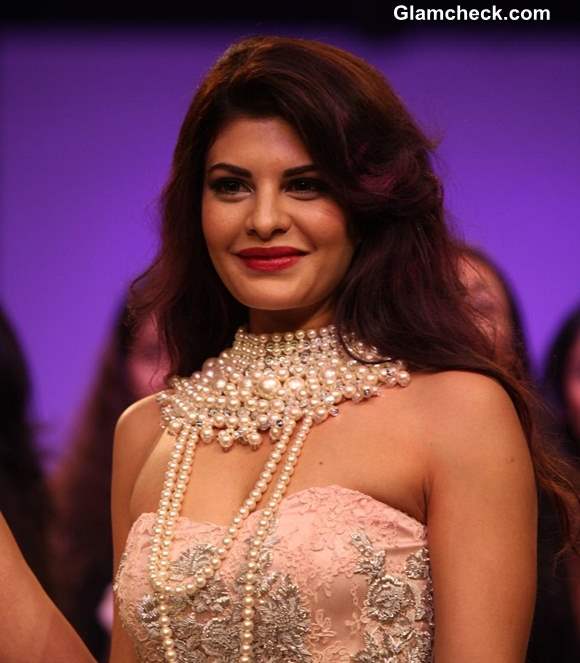 Jacqueline Fernandez Show Stopper for Shehla Khan at LFW Winter-Festive 2013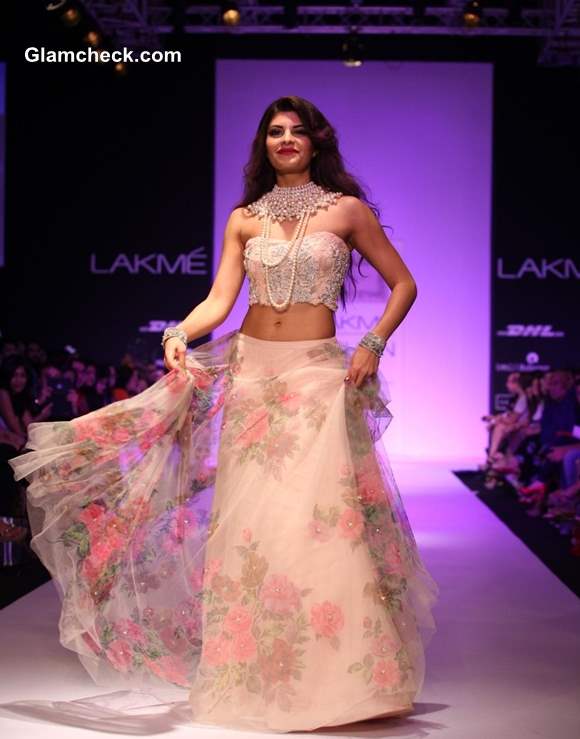 LFW Winter-Festive 2013 Jacqueline Fernandez
While the action was definitely on the runway, the front row too was quite the news-maker with several celebrity fans turning up to show their support. Kajol was the fore-runner, showing her appreciation for the designer's skills by wearing one of her creations – a sheer, powder blue sari with to-die-for silver-gold embroidery.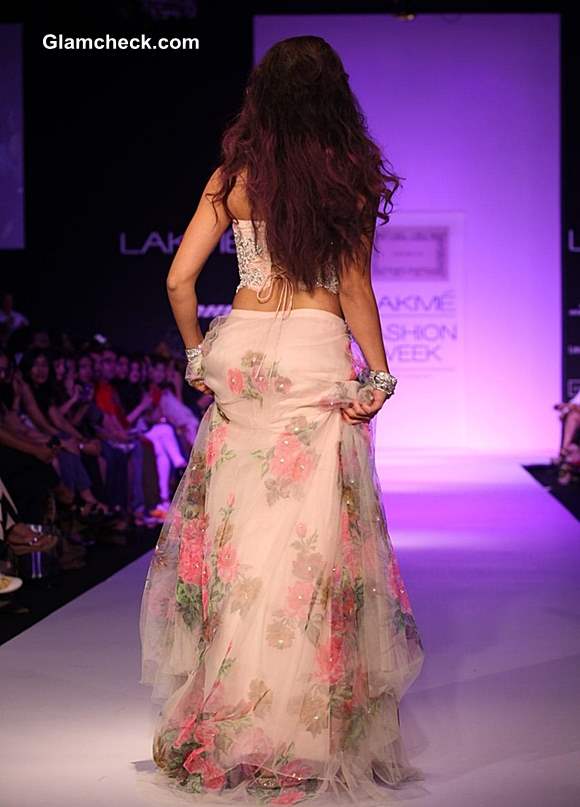 Jacqueline Fernandez at LFW Winter-Festive 2013
Other celebs who were applauding young Shehla's talent included Zarine Khan, Rhea Kapoor, Anu Dewan, Sharmilla Khanna, Shabina Khan, Avantika Malik, Sunita Kapoor, Maheep Kapoor and Shaan Khanna. 
Image: IANS