Designer Anushree Reddy displayed her collection on the last day of Lakme Fashion Week Winter/Festive 2013 at the Grand Hyatt in Mumbai, India on August 27.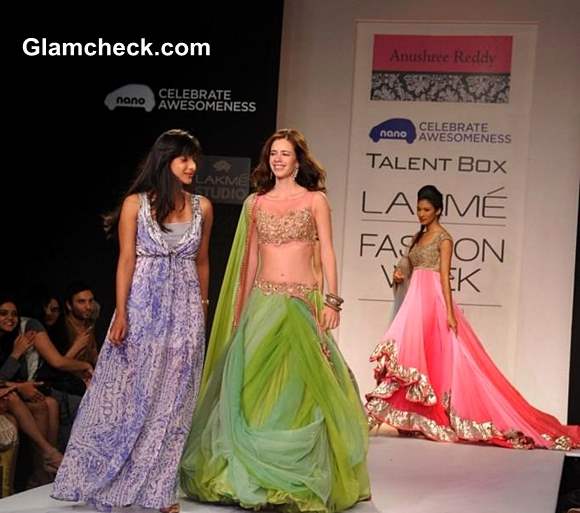 Kalki Koechlin For Anushree Reddy at LFW Winter-Festive 2013
Anushree said that her main inspiration for her line was actually the wedding of her show-stopper Bollywood actress Kalki Koechlin. How sweet is that! Kalki married filmmaker Anurag Kashyap at a very private ceremony in Ooty two years ago. Anushree had met her back then and commented on what a laidback yet captivating bride she made.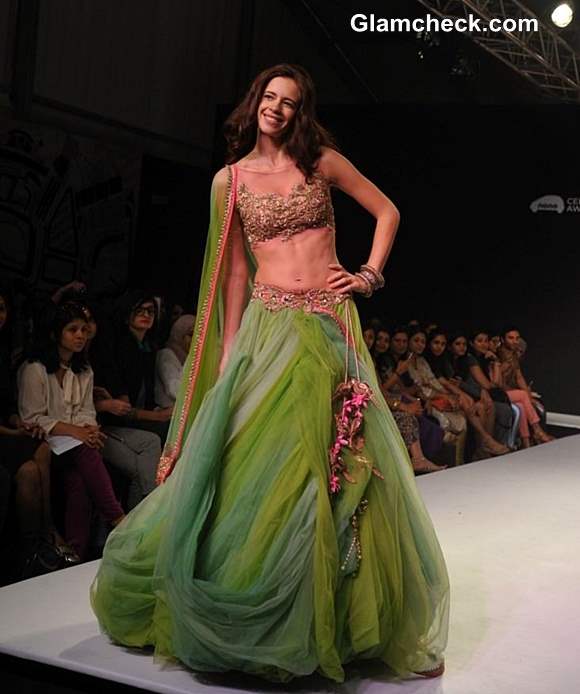 Kalki Koechlin For at LFW Winter-Festive 2013
She also said that it was Kalki's quiet wedding and her unique looks that sent a wave of ideas rushing through her head for her presentation at Fashion Week 2013. You can see the elements of her muse in the radiant, ethereal, fun and wearable outfits that made up the lehenga-cholis of her bridal collection.
Every outfit on that ramp was designed for the modern day Indian bride who wants a fairytale wedding. Light materials in a range of gorgeous colors were embellished with silver and gold embroidery to create a transcendent line.
We're not calling Kalki the show-stopper for nothing. Since the collection was inspired by her, you can really see how the outfit she modelled seemed to blend into her inherent beauty so seamlessly and vice versa.
Her Look
Heavenly Bride
What she wore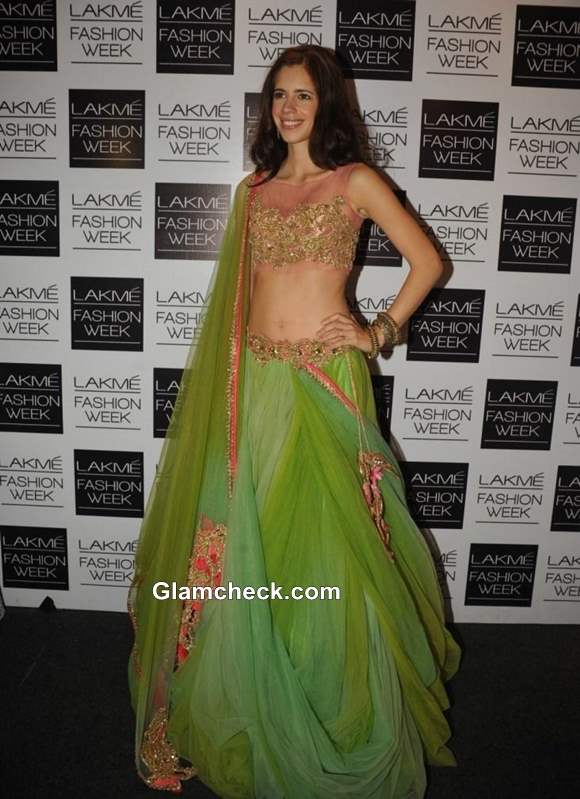 LFW Winter-Festive 2013 Kalki Koechlin For Anushree Reddy
Kalki's lehenga choli was a dream! The lehenga was fashioned from green and pale yellow fabric, draped detailing giving it a contemporary vibe.
The choli was a seriously ethereal affair. Gold embroidery emblazoned the bust of the sheer pink net fabric that made up the lovely top, the same embellishment featuring on the hips of her lehenga.
The border of the dupatta was lit up by a combination of pink and gold detailing. There was also a floral hanging detail on one side of the lehenga which was really quite charming.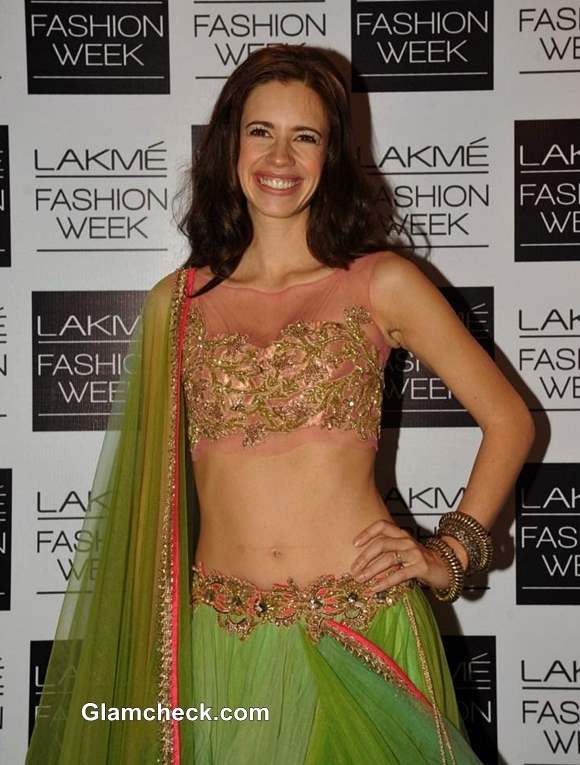 LFW Winter-Festive 2013 Kalki Koechlin for Anushree Reddy
Kalki's hair was left loose and the curls on the back were peppered with white flowers.  A subtle peachy pink lippie and a variety of kadas completed her look.
Kalki said she was very touched that Anushree was inspired by her. She also praised the collection, saying that it had a feel-good factor that so few designer clothes can translate off the runway. 
Image: IANS