The Lakme Fashion Week Winter/Festive 2013 at the Grand Hyatt in Mumbai, India ended with a bang on August 27 after giving us five whole days of beauty, fashion, glamour, ideas, stories and just plain ol' fun. What they say about leaving the best for last certainly applied to this extravaganza, for as much as we were enamoured and over-whelmed by the collections displayed on the days before, we were brought to our knees by the grandeur of what we saw on day 5. Easy to believe when you have ace designers like Sabyasachi (after 5 years!) and Vikram Phadnis showing off their genius.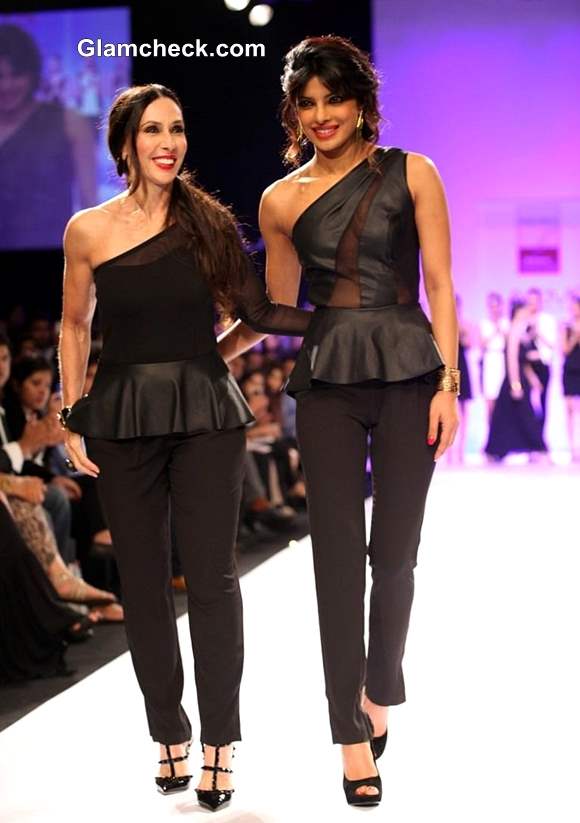 Priyanka Chopra Show Stopper for Bisou Bisou at LFW Winter-Festive 2013
Of course, the final day on the ramp was just as flooded with celebrities as the days before. We were thrilled to see former beauty queen, now Bollywood actress Priyanka Chopra walk the runway for Bisou Bisou, part of the Reliance Trends show, in a black peplum top and black fitted pants.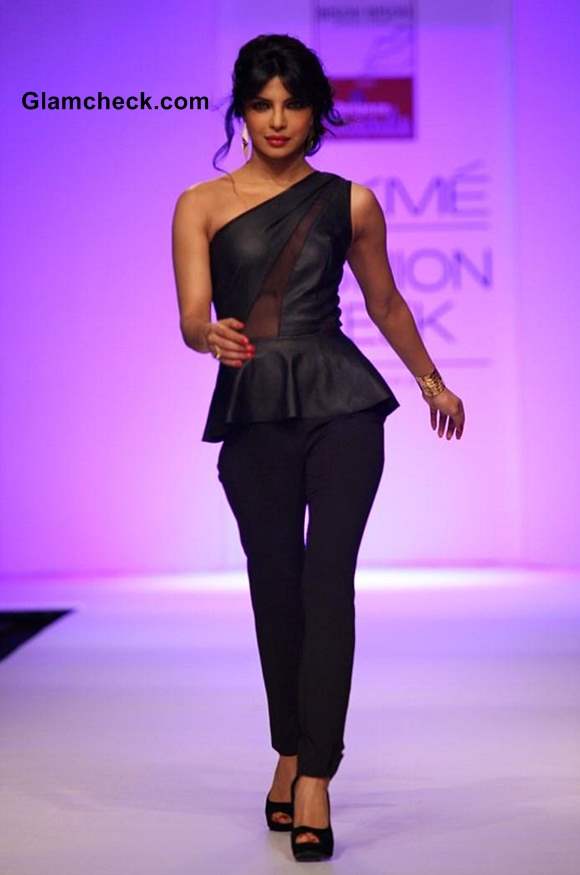 LFW Winter-Festive 2013 Priyanka Chopra Show Stopper for Bisou Bisou
The peplum silhouette, in fact, was the defining element in several other pieces of the Bisou Bisou line including more tops and dresses.
Indeed, so popular is peplum that we saw it peppered throughout LFW 2013.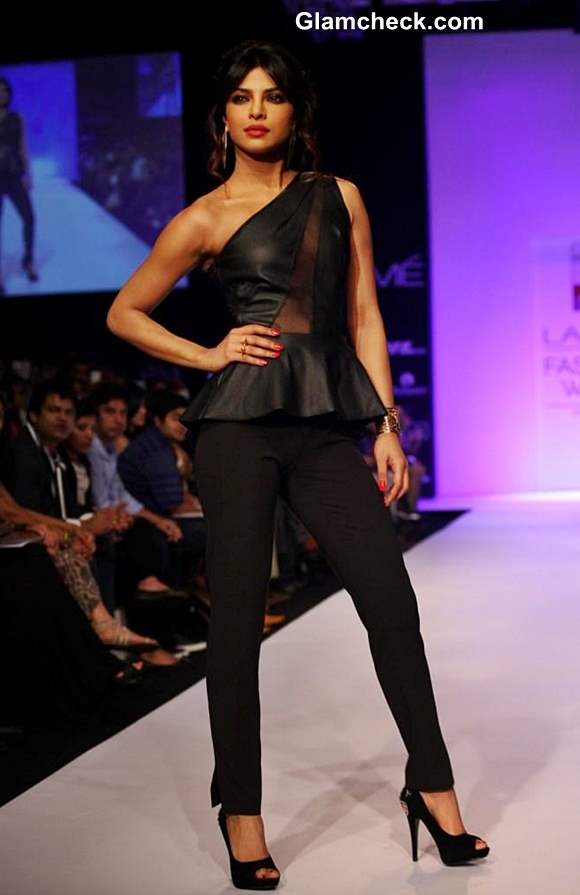 Priyanka Chopra for Bisou Bisou at LFW Winter-Festive 2013
The rest of Bisou Bisou's collection included jumpsuits, jackets, shorts and tops, evening gowns, pants, skirts and maxis – all very doable and adaptable to whatever look you are trying to pull off. The show ended with the label's American designer Michelle Bohbot joining Priyanka and blowing a flying kiss to the audience, a signature move at all the designer's shows apparently.
Priyanka Chopra at LFW Winter-Festive 2013
Priyanka said that she was very excited that Bisou Bisou would now be available in India as it was one off her favourite brands, and also that she was glad that it will be associating with the remake of Zanjeer, her upcoming film. 
Image: IANS