The Holi dream is to wear an all white attire and be smeared in colors right. If you are a devout Holi lover or a Bollywood lover you would definitely know what I am referring to here. After all, the 'filmi' celebrations and parties have celebrities arriving dressed in chic white and departing in full color. Isn't that what Holi party is all about though?
But the pristine white salwar kameez or blouse or a maxi, all call for colorful makeup and accessories. It fits quite well with the thought of arriving channeling the colorful mood whilst remaining a blank canvas for all the fun and color to follow.
Makeup tips for Holi
Before I move onto the idea of bold makeup, many of you would wonder why use makeup at all that day. Well guess what, the very makeup can protect you from harsh colors. Imagine the makeup like your shield between the colors and your skin. Sounds legitimate right? But the kind you use would be important.
Use a slightly oily and water resistant foundation.
Moisturize well and do not forget sunscreen.
Needless to say waterproof mascara and the like are the only ones which will last you all through the rituals of Holi.
Cream based eye shadow and blush are the best bets.
Apply olive oil all over your body as it will again act as a layer between the skin and colors. The color will also come off easily due to this.
Don't shy away from oiling your tresses on Holi. The wet sheen look is a great trend to channel anyways.
Now on to the colorful tips.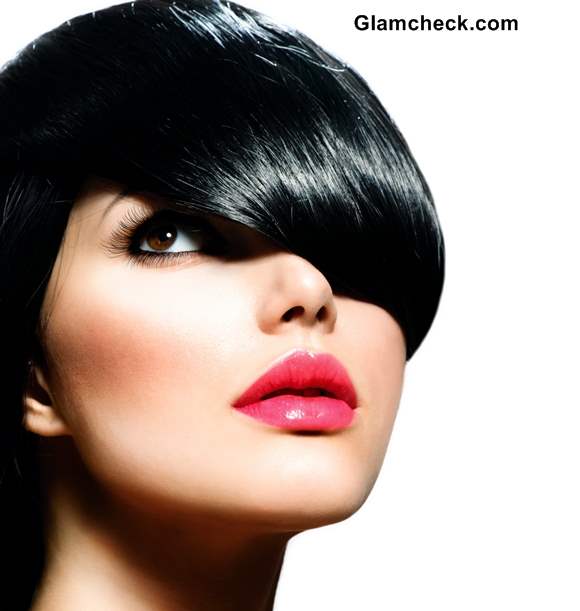 Colorful Holi Makeup Tips
Bold luscious lips always define a look. And what with a white attire, these are even more eye-catchy and pleasing. So moisturize well and put on a bold glossy lipstick that compliments your skin tone.
Even when your face is smeared with color, your eyes will be visible so dress them up. Use kohl and mascara too, to highlight them.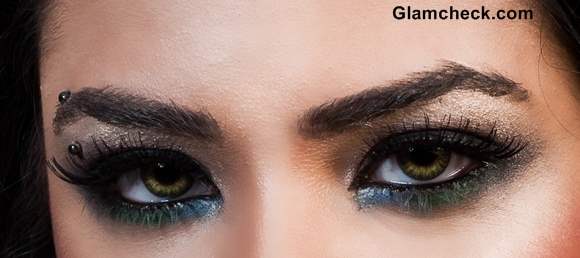 Colorful Eye Makeup for Holi
If you would rather have your beautiful eyes take centre stage, that look can too be achieved easily.
Use a mix of black and silver on your eye lids, gradating as you move up towards the brow bone. It was always advisable to have well groomed eye brows when highlighting eyes.
Play with color on your lower lash line. Use metallic blue for the inner corners which merges well into the emerald green in the centre. The black continues from the eye lids to the outer corner of the eye and merge it well with the green. This creates a sultry colored smokey look. Finish with defining the lower lash line with a thin stroke of eye liner and no not forget to volumize your lashes with a mascara.
Accessory Tips for Holi
As your jewellery has a lot of chances to get ruined in colors, I would never suggest wearing precious or semi-precious jewellery at the occasion. And when there is no dearth of beautiful economical flea market jewellery in our home country then why not take its advantage.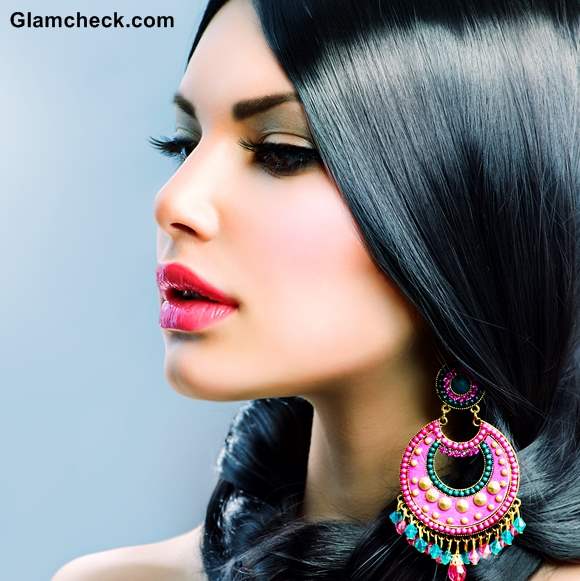 Holi Style-colorful accessories
A bright colorful traditional dangling pair of earring can look stunning with white. The 'jhumka' will add a touch of tradition to your look and keep the overall look as pretty. Choose a bold color combination like here we have used pink, matching with the color of the 'gulal'. The size will depend on personal taste but anything slightly above the shoulder should be bold enough for this look.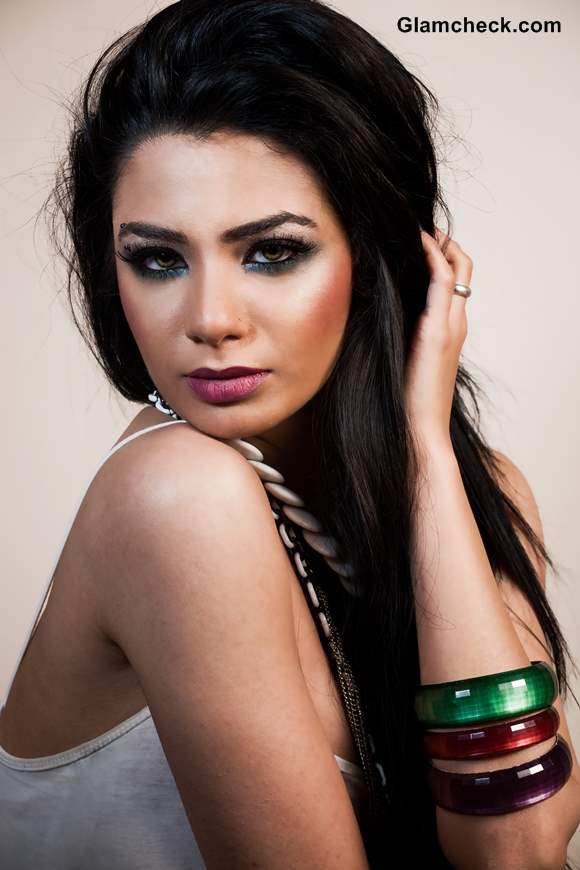 Colorful bangles 
If you were wearing slightly neutral beads in the neck then your wrists could use some attention. Stack some colorful plastic bangles or cuffs in one arm. This would work extremely well with a sleeveless outfit or white tank.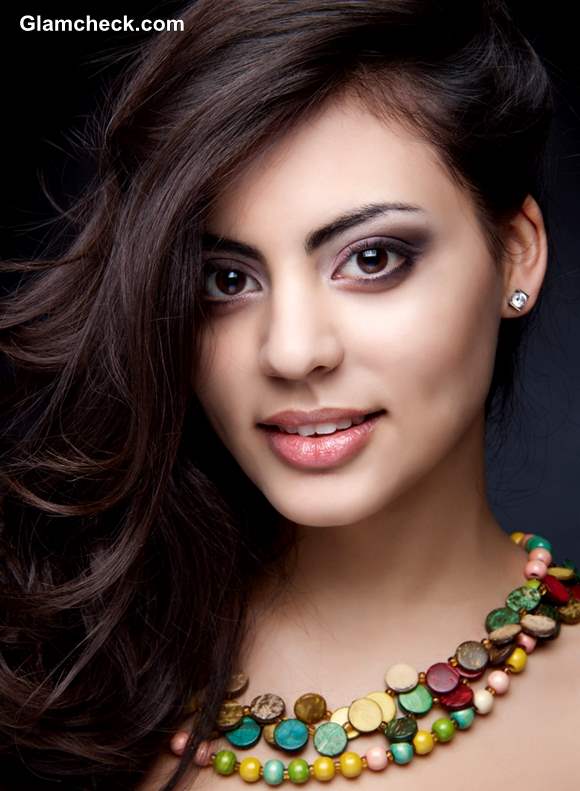 Colorful Holi Tips-Indian Style beaded necklace 
With a natural dewy makeup wooden bead necklace is a brilliant choice. These necklaces are available in an array of beautiful colors, shapes and textures. Be bold and sport two instead of one. Make sure both the necklaces are similar in hues to appear harmonious but different in shapes to remain interesting.
The boldest of all
If you are feeling like a rockstar on Holi, you would probably pull off all of these elements together without looking OTT (over-the-top). But if your sartorial sense does not allow you to be brave enough, you can always use these great elements separately.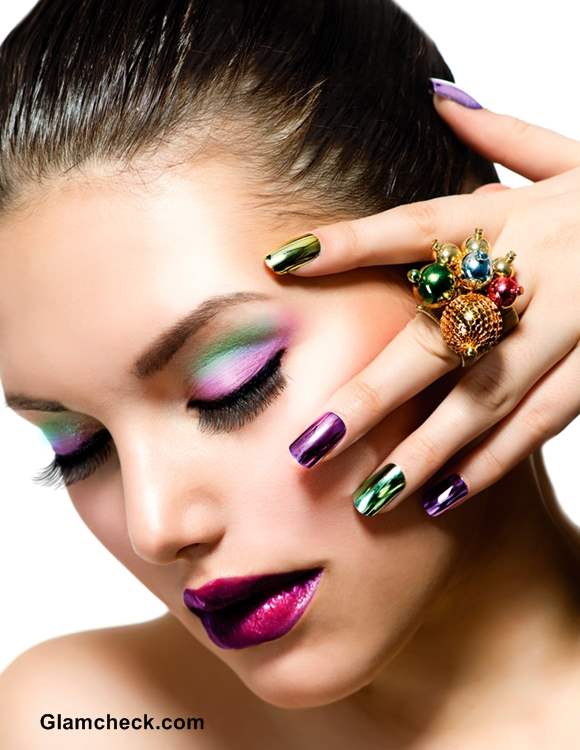 Holi Beauty Tips
This look has all the elements combined together. Let me break them up for you.
Metallic nail paints or extensions are easy to find now. Choose two colors and paint your nails alternately. For example emerald green and violet look stunning together, as seen on the model.
When there had been necklaces and earrings, there can be bold cocktail style rings too. And when your nails are painted so well, the ring will only complete the hands.
Match your nails to your eye shadow. Keep violet closer to the lash line, as pink and its tone are present naturally in our skin. As you move up, gradate to green and only highlight the brow bone with a slight white. Also make sure the color in deepest and most saturated towards the inner and outer corner. Use a volumizing and lengthening mascara for your lashes.
The lips look bold and lovely in hue of magenta meets violet. Stick to this color scheme but do pick a color according to your skin tone.
So go ahead wear white but also dip in the spirit of Holi with these colorful tips on makeup and accessories. Wishing you a fun and colorful festivity!
Also Read:
Holi Dressing – Colorful Ways to Wear White

Doesn't it feel like a ritual on its own to wear white on Holi? Yes of course your dear clothes […]
Holi Hairstyle : Side Braided Bob with DIY colored Bobby Pins

So I have recently got my tresses chopped off into a bob and even though short hair is great, there […]
Dual Lip Color Trend for Holi

The recently held Wills India Fashion week Autumn Winter 2013 actually showcased a trend which is perfect for Holi. Dazed […]
DIY: Holi Inspired Nails

The plethora of colors on Holi can sure get inspiring. Wearing white attire is great, but colored accessories and colored […]
Beauty Tips for Playing Holi

  Holi, the festival of colors is an occasion that is enjoyed by everyone in India. Vibrant hues fill the […]
Shutterstock