Bollywood actress Raveena Tandon was one of the people to go on stage and crown the winners of the Miss Diva 2013 contest held in Mumbai, India on September 5, 2013. Maybe that's why she chose an outfit which came really close to being over the top.
Who she wore
Considering that it was a sari, Sabyasachi was the obvious choice. She picked one of the most-loved numbers from his Couture 2013 collection which boasted his signature design.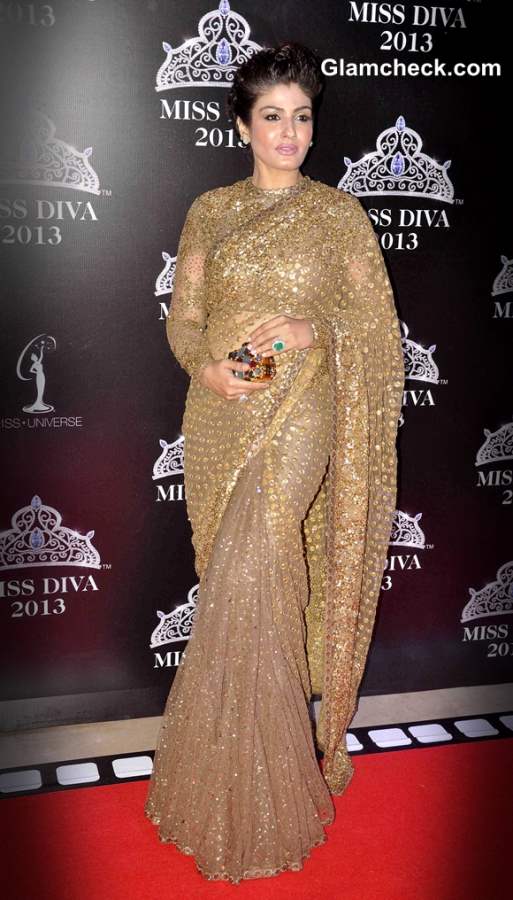 Raveena Tandon in Sabyasachi Golden Sari at Miss Diva 2013
She was covered from neck to toe in gold. Her blouse was full sleeved with a closed crew neckline and featured gold dust and sequins against sheer fabric.
The sari partially mimicked the blouse with the same gold dust sprinkled liberally on the front against similar sheer fabric. Gold sequins formed polka dots against the remaining nine yards while a thick border embellished with even more sequins, gold dust and mirrors made the outfit almost blinding.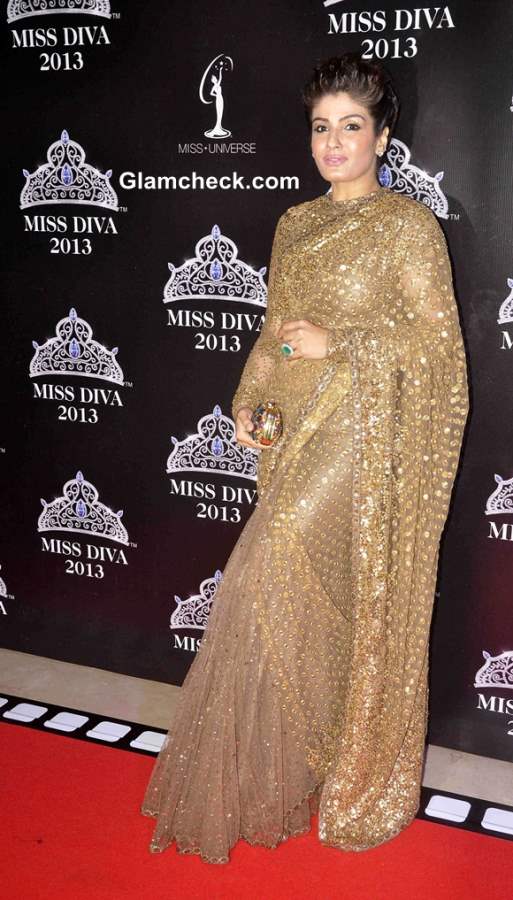 Raveena Tandon in Sabyasachi Sari at Miss Diva 2013
You really need to have a strong personality and presence to pull of this much gold, and you can see that Raveena definitely has them in abundance. She takes on the ensemble with pride, looking stately and in control all the way.
She wore a couple of cocktail rings and understated earrings, and carried a tiny clutch with this heavily glamorous number. The purse was fashioned from multiple stones and was an interesting touch to the ensemble.
Hair and Makeup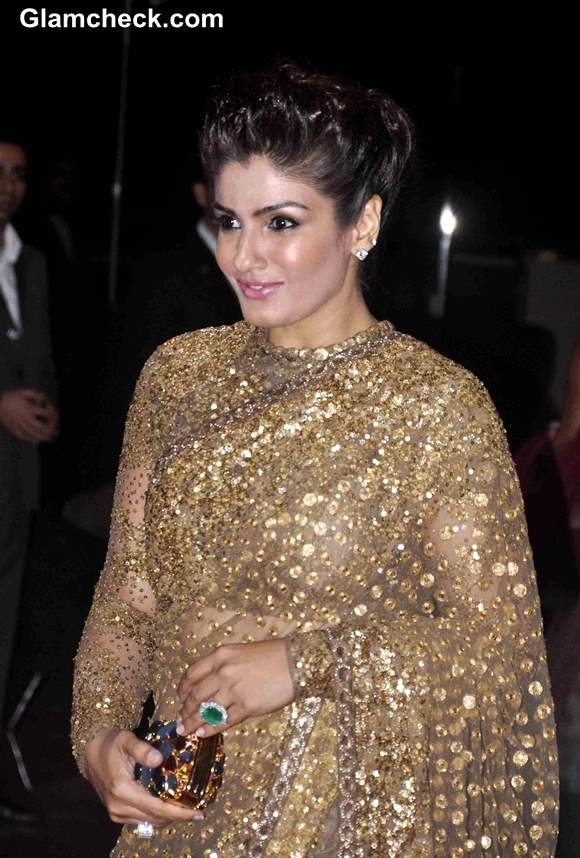 Raveena Tandon in Sabyasachi Sari 2013
While the sari was flawless, the styling of this look left something to be desired. Actually, we wish she'd left something out.
Her hair was in an updo, a textured, voluminous one at that which looked like she had spiked her locks. The makeup seemed out of whack. Although the colors were neutral, there was just a little too much of it on and not so expertly applied. There was a marked difference between the color of her skin on her face and on her neck. A pretty basic faux pas which this red carpet veteran should have noticed.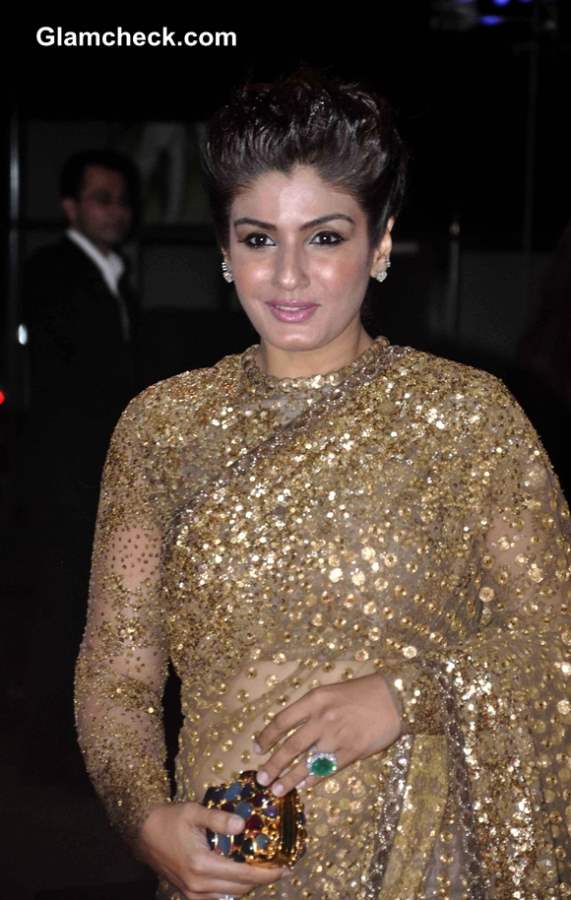 Raveena Tandon in Sabyasachi Golden Sari 2013
The dramatic hairdo and the odd makeup draw the eye immediately and make you wonder what's going on there. It's a flaw you can't quite put your finger on but you know something's off. Still, like we said before, the outfit itself is incredible – we couldn't fault it if we tried. And Raveena's definitely owning very inch of it.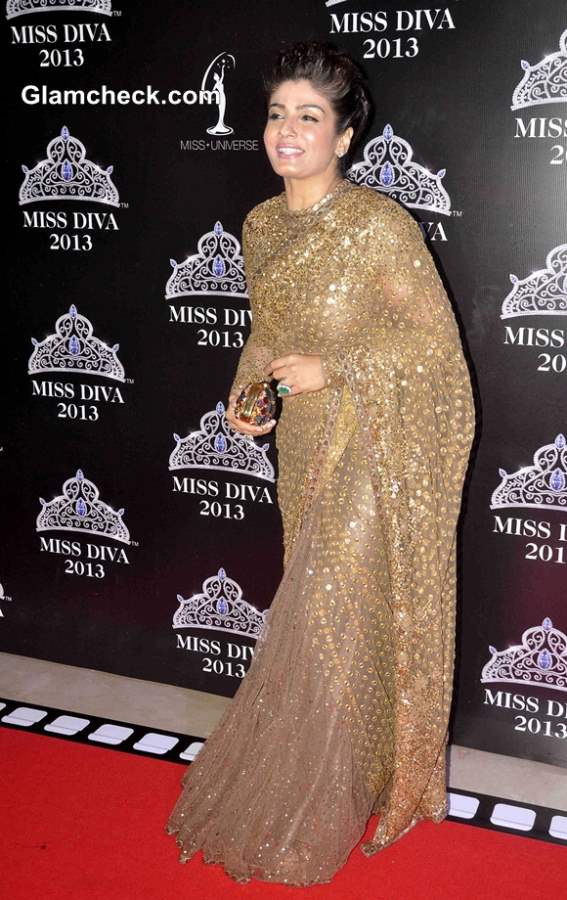 Raveena Tandon in Sabyasachi Golden Sari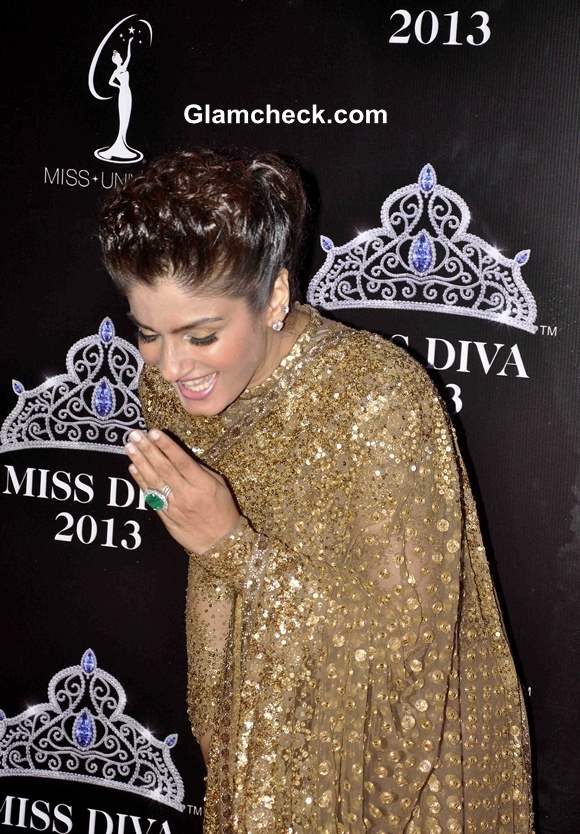 Raveena Tandon at Miss Diva 2013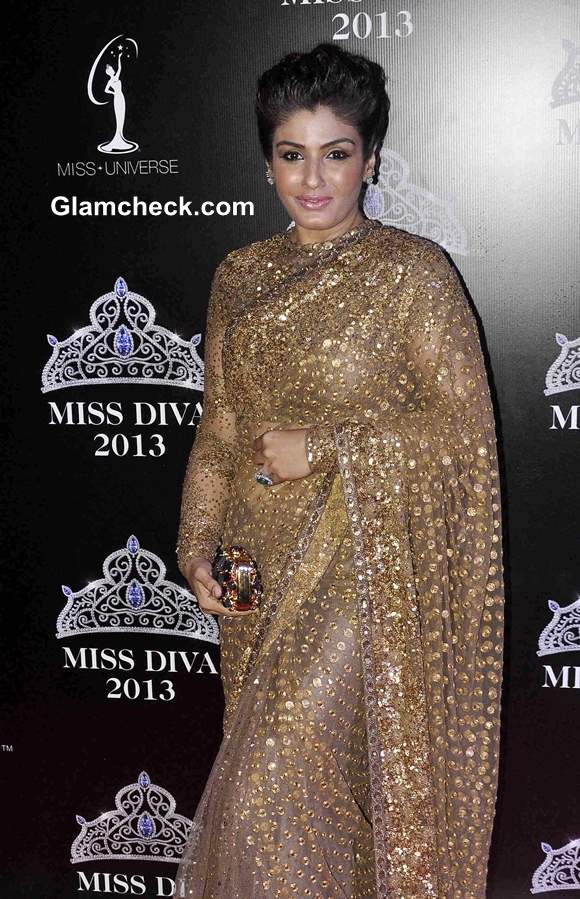 Raveena Tandon at Miss Diva 2013
Solaris Images