Who flashed more leg during the preview of The House of Style Blenders Pride Fashion Tour 2013 in Mumbai, India on September 17, 2013? Bollywood actresses Neha Dhupia and Sameera Reddy are both strong contenders.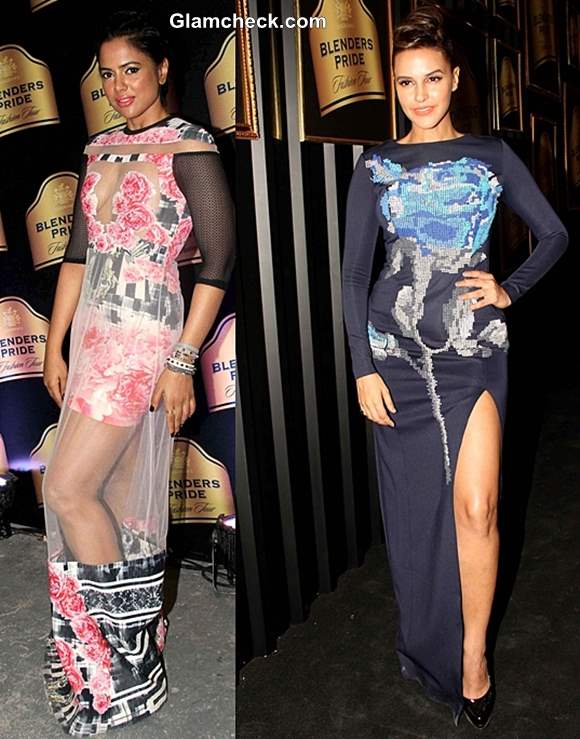 Skin Show – Neha Dhupia and Sameera Reddy at Blenders Pride Fashion Tour 2013
Both style divas went all out to ensure that their ensembles made a statement that evening. After all, stealing the spotlight is no cake walk when you have dozens of Bollywood beauties vying for attention right alongside you. But these two had no problem standing out.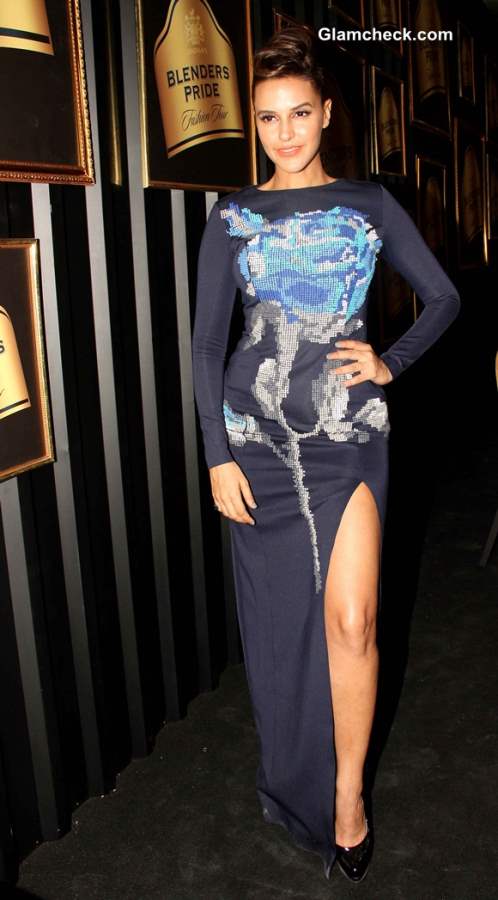 Neha Dhupia at Blenders Pride Fashion Tour 2013
Neha's look was on the sultry side. She wore a floor-length black gown, split high on one thigh showing off a lot of shapely leg. There was something about the very fit of the dress too which defined her curves almost explicitly. It also had full sleeves, so deceptively modest and also somehow shooting the sex appeal of the number sky high.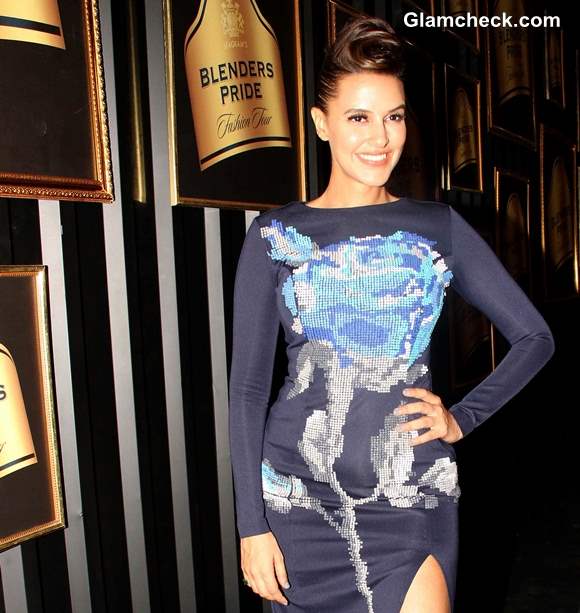 Neha Dhupia 2013 Blenders Pride Fashion Tour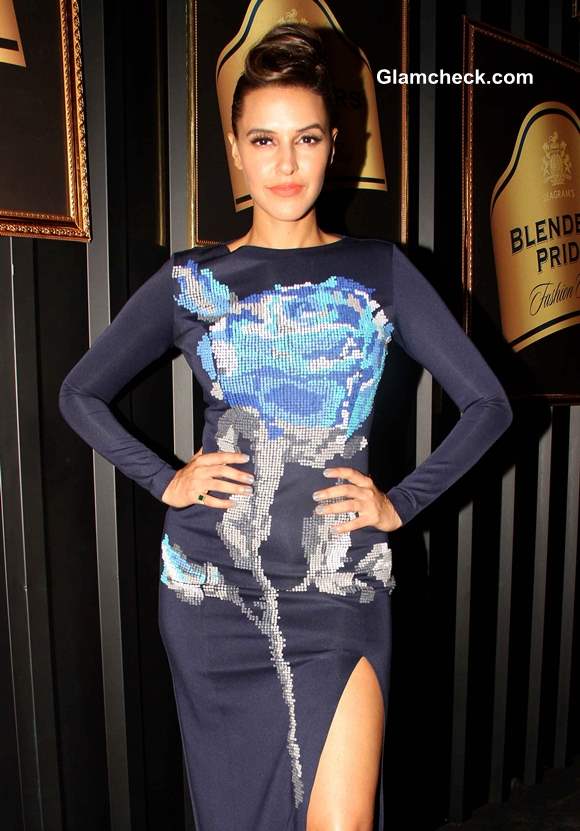 Neha Dhupia Blenders Pride Fashion Tour 2013
A large blue rose fashioned entirely of sequins emblazoned the front of the dress. A pair of black patent pumps marked the end of her long, toned pins.
We love that twisty, twirly updo she sported. It's suave and ever-so-slightly mischievous too. Infuses a childlike element to her ensemble. This look is da bomb!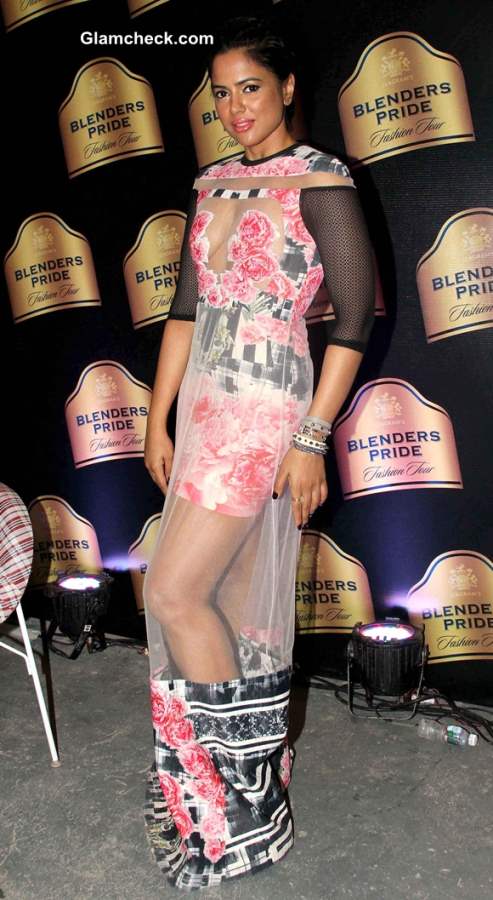 Sameera Reddy at 2013 Blenders Pride Fashion Tour
Meanwhile, Sameera was no less. Although hers was a more fun and playful look which resorted to cutouts and sheer fabric to tease.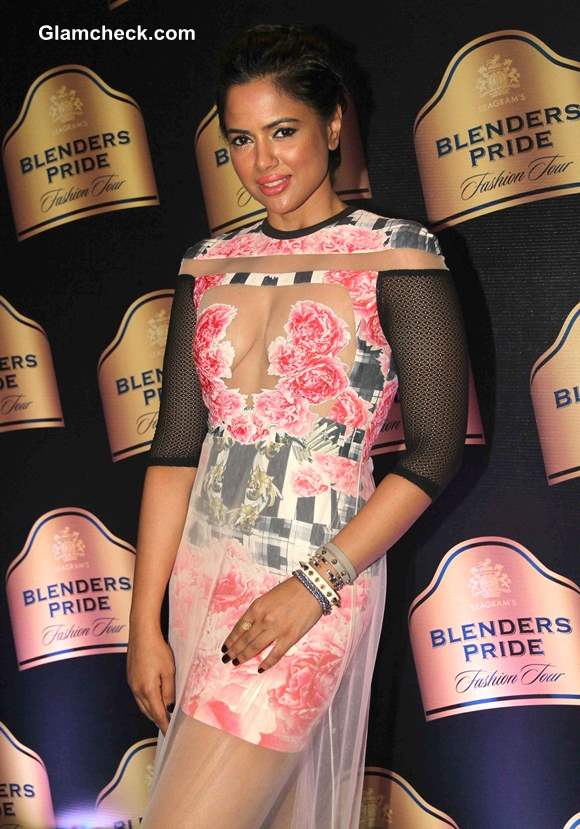 Sameera Reddy 2013 Blenders Pride Fashion Tour
Floral themed – roses, just like Neha, but pink ones  – the dress was exposing skin on many levels. The base was a mini dress with cutout detailing on the upper bust and around the breasts. Over this mini, starting at the waist, was an overlay of sheer white lace that showed off her pins. However, the pattern of the dress was repeated from the calf to the floor so it wasn't a full view. But as we know, it's the bits you can't see that titillate all the more, and this peek-a-boo tactic works to perfection.
Sameera too opted for an updo, and a bright ice pink lippie that mimicked the shade of the roses.
Whatever your view on who did it best, you have to admit that each lady is all set for the limelight in her own right! 
Solaris Images