Bollywood actress Katrina Kaif walked the ramp to pay tribute to late filmmaker Yash Chopra on his 81st birthday celebration in Mumbai, India on September 27, 2013.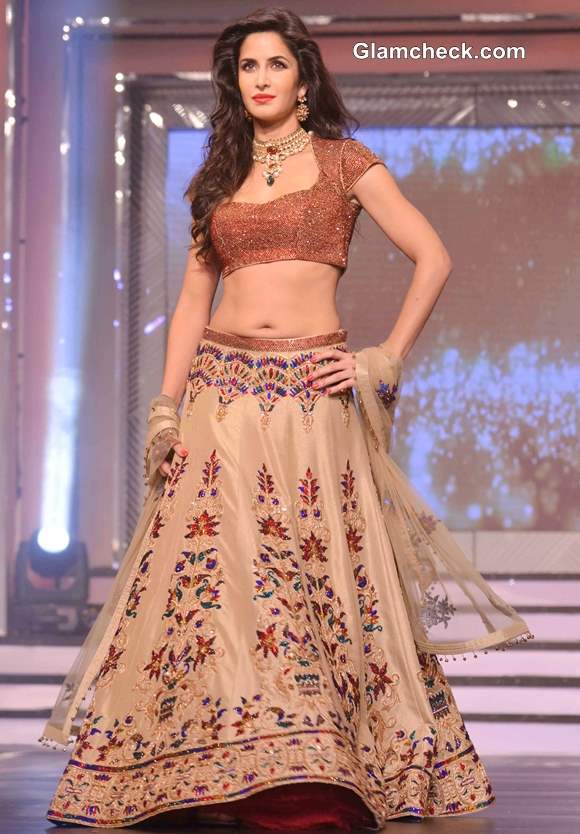 Katrina Kaif Sports Flesh-tone Lehenga at Yash Chopra Tribute Fashion Show 2013
Although her outfit was one of the less elaborate ones on the ramp, Katrina brought enough oomph to make it more so. She wore a lehenga choli, each piece of the ensemble embellished with sequins.
Every inch of the choli boasted copper sequins, but since the color was nice and subtle, the effect was not gaudy or too bright.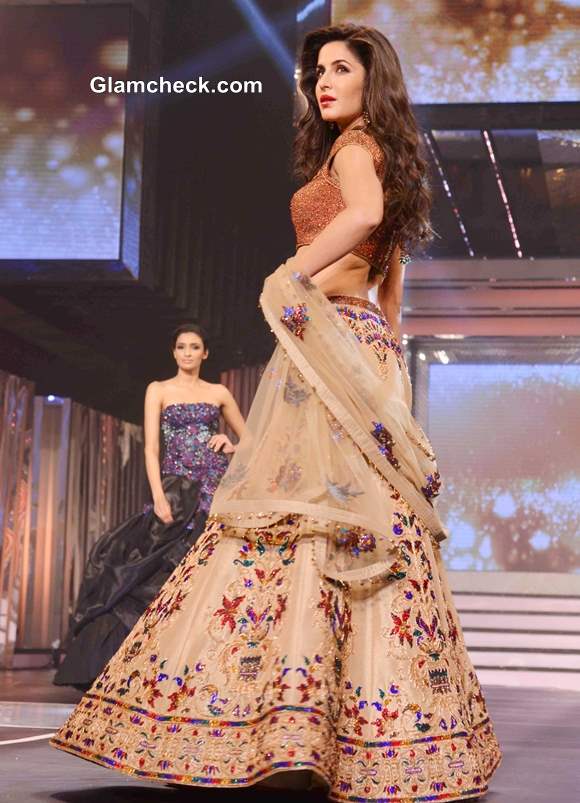 Katrina Kaif in Lehenga pictures 2013 at Yash Chopra Tribute Fashion Show
Even if it was, it would have been balanced out by the lehenga which was toned down yet glamorous in its own right. Multi-colored bits of glass and sequins made floral patterns across the bottoms, the arrangement imparting an international flavour to the outfit.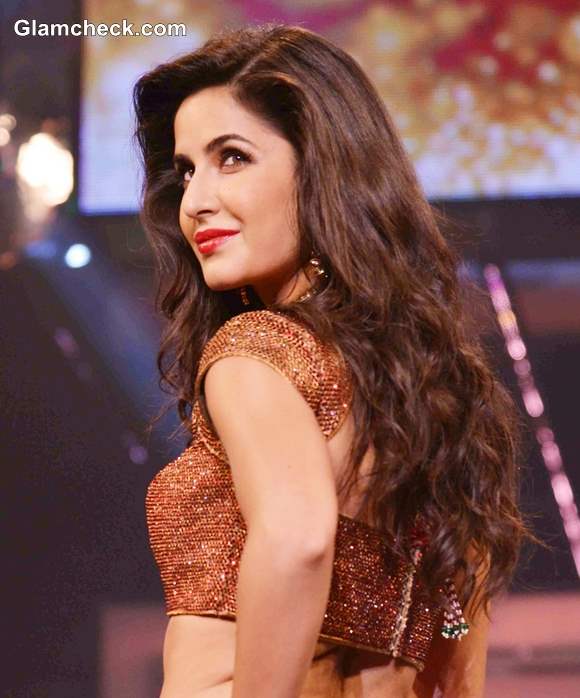 Katrina Kaif 2013 pictures
Keeping in tune with the relatively low-key glam vibe of the look, the jewellery was not too elaborate although it did make a statement. The outfit was accessorised with a gold and pearl choker with emerald and ruby set in it, and matching danglers with a floral motif.
Her chocolate locks looked silky and delectable as they fell down one shoulder in tumbling curls. Red lips completed her look.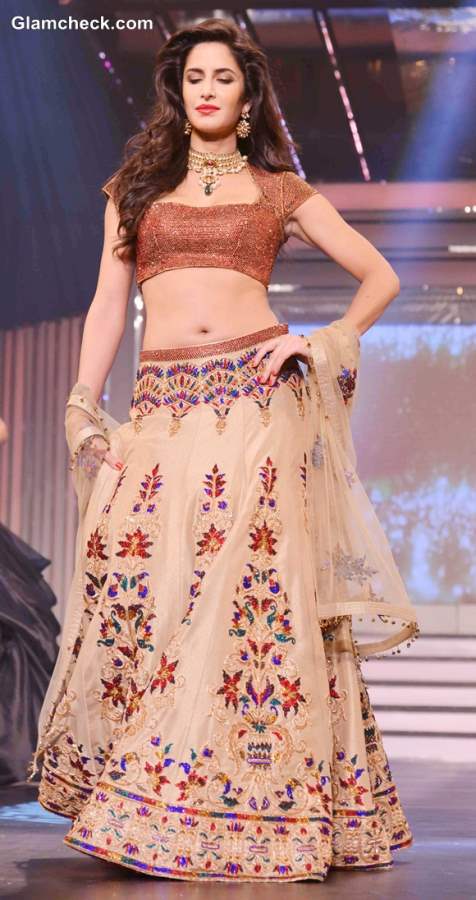 Katrina Kaif in Lehenga at Yash Chopra Tribute Fashion Show 2013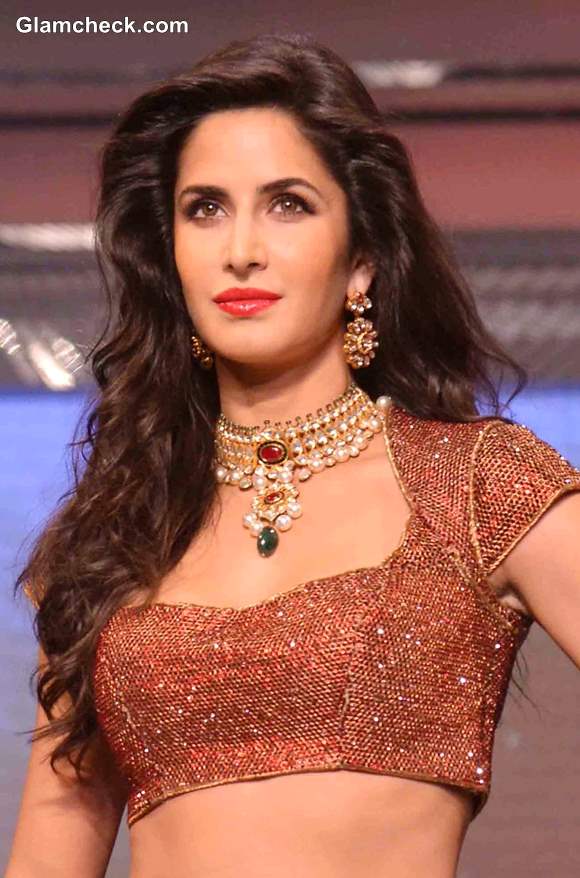 Katrina Kaif 2013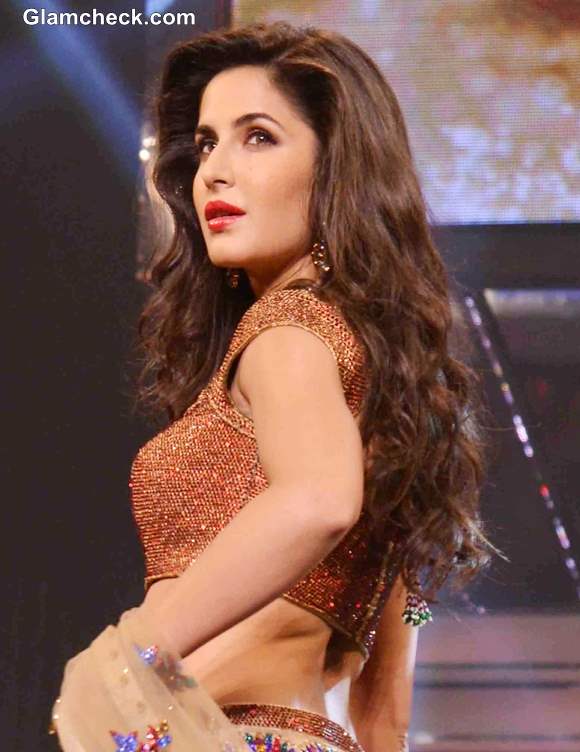 Katrina Kaif at Yash Chopra Tribute Fashion Show 2013
Solaris Images