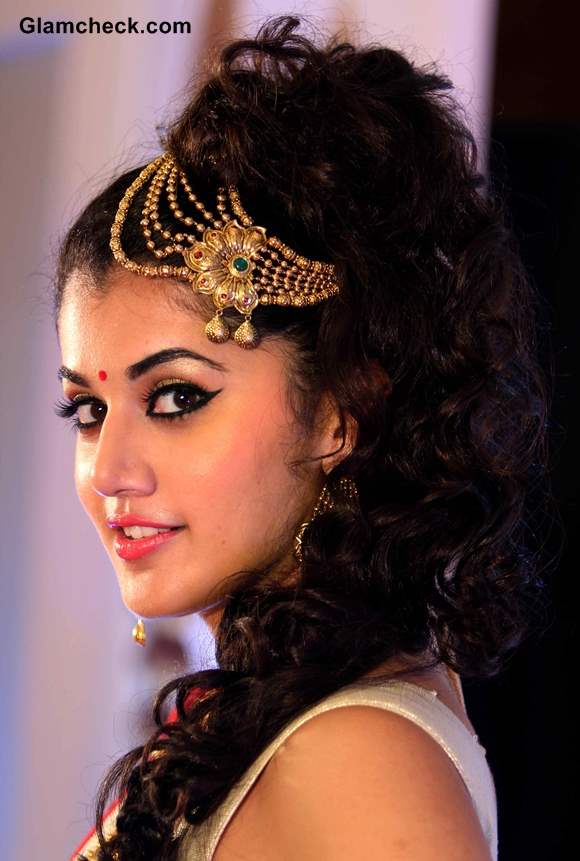 Bollywood actress Taapsee Pannu displayed jewellery by Azva while launching the brand's collection at the World Gold Council in Trivandrum, Kerala, India on October 1, 2013.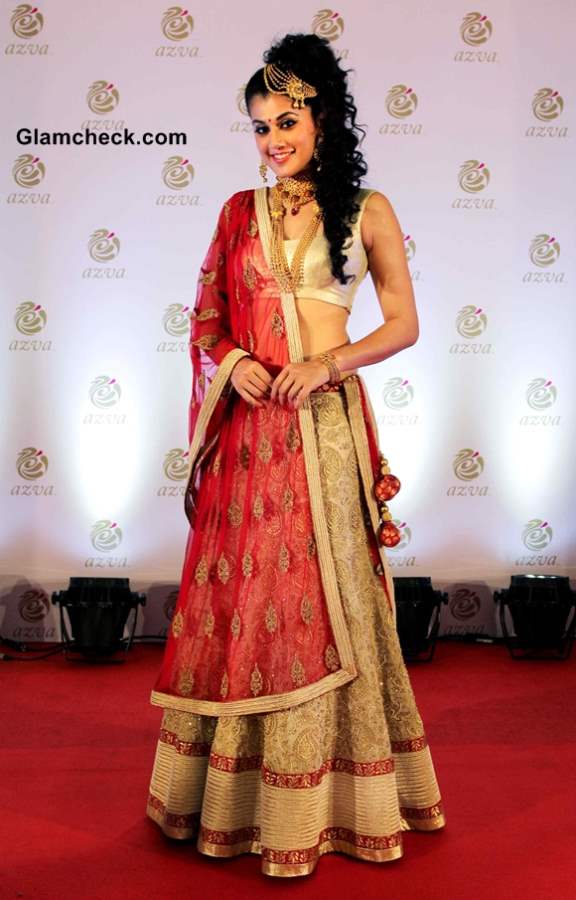 Taapsee Pannu in Golden Lehenga at World Gold Council Azva Presentation
Last seen in Chashme Baddoor, Taapsee has since been appointed the face of Azva. You may have seen her in print adverts for the brand. She was dutifully earning her advance as she modelled their jewellery at the event.
What she wore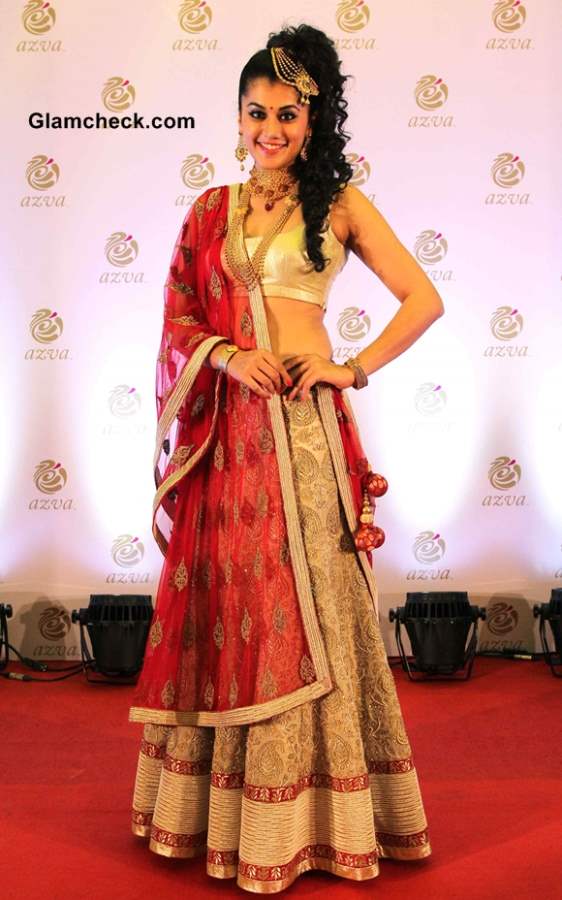 Taapsee Pannu in Lehenga at 2013 World Gold Council Azva Presentation
She looked resplendent at the showcase of the collection in a subtle gold plain choli and a heavily-embellished gold lehenga. The dupatta was another thing of beauty – sheer red with gold leaf detailing and a thick gold border. The getup was entirely bridal and she looked absolutely lovely.
Her Accessories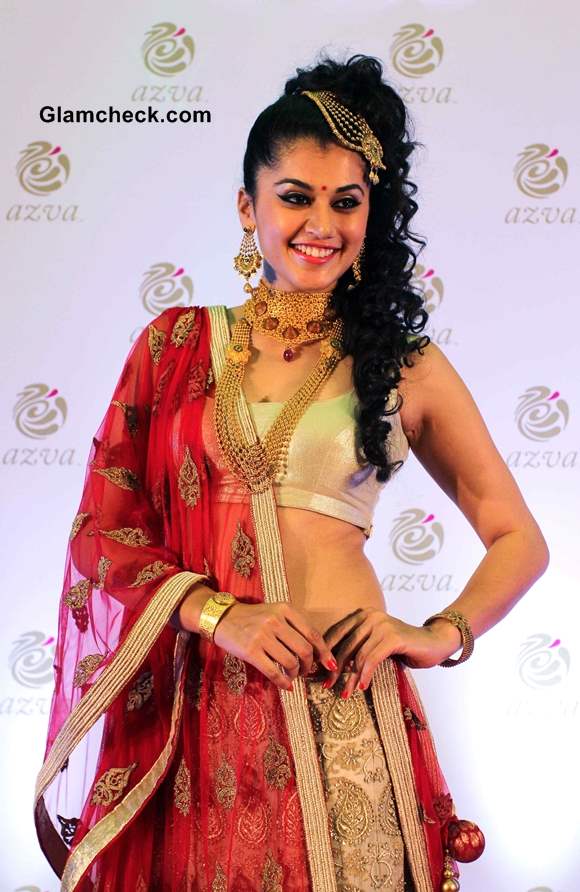 Taapsee Pannu in Lehenga at World Gold Council Azva Presentation
As can be expected, she was dripping in gold jewellery. A thick gold statement necklace formed the focus of her accessories, drawing the eye immediately and completely. An ornate gold hair ornament was also quite striking, followed by gold dangle earrings and comparatively daintier bangles. There's no mistaking the message of this ensemble so far – it's all about the gold and she's rocking it like nobody's business.
Hair and Makeup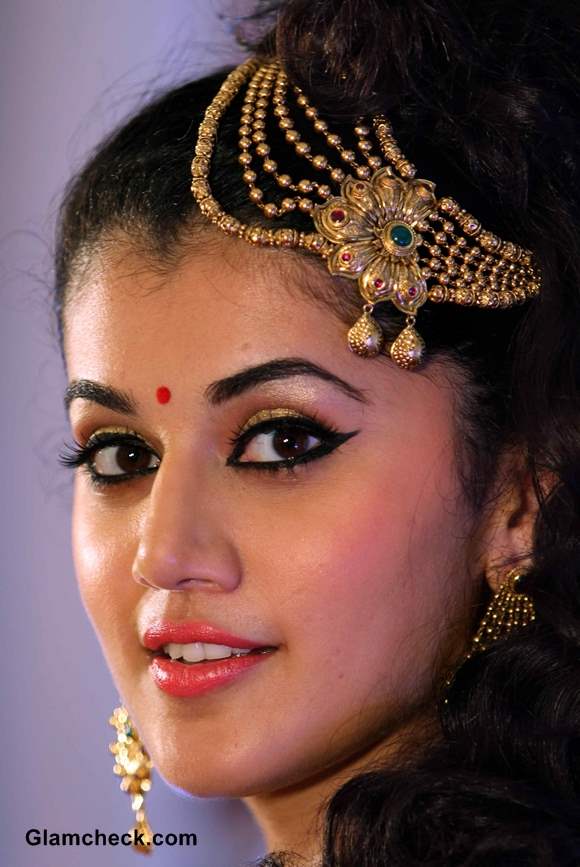 Taapsee Pannu 2013 at World Gold Council Azva Presentation
Her hair was pulled up into a high ponytail, and the ponytail itself was rippling with curls which fell down her shoulders, accentuated by that hair ornament we talked about earlier.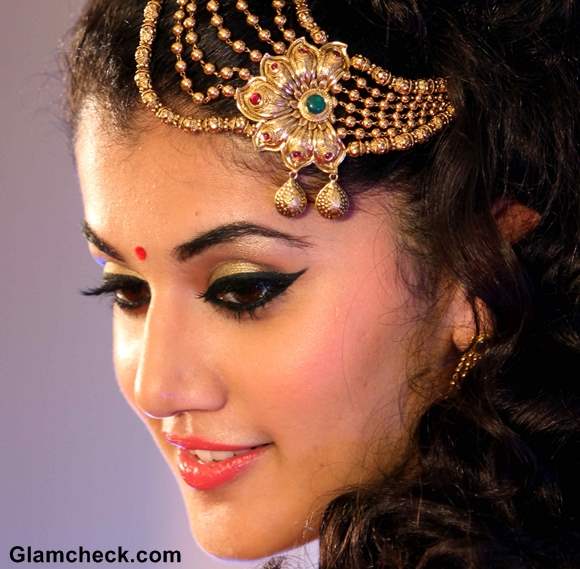 Taapsee Pannu 2013 Pictures
The most noticeable thing about her makeup was her gold eye shadow. And no dull gold or gold shimmer; we're talking about an actual thick layer of gold shadow which made her thick Cleopatra-esque eye liner appear even starker. Soft pink lips and a small red bindi completed her look. 
Solaris Images