Looking for a new way to rock the recent cropped top trend? Bollywood actress Rhea Chakraborty showed off a great take on the look during the preview of Neeta Lulla's bridal collection in Mumbai, India on October 5, 2013.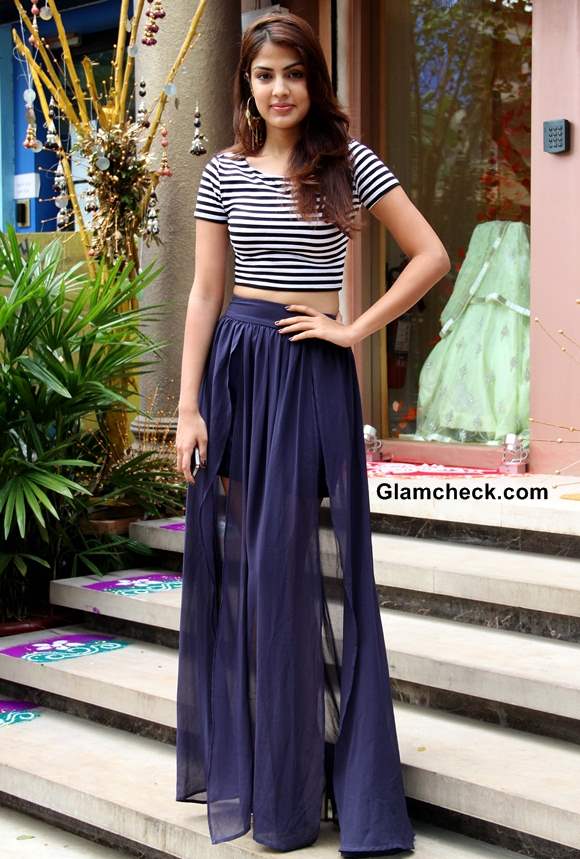 How to Wear Cropped Top with a Maxi Skirt
She wore a striped black and white cropped top with a blue, high-waist skirt. The bottoms were sexy, young and interesting. Well, her whole look was, of course, but the unique skirt was what made this a fun affair. The sheer overlay on the mini skirt underneath had long slits right from the waist all the way to the floor, giving the impression of tassels and exuding a teasing, playful vibe.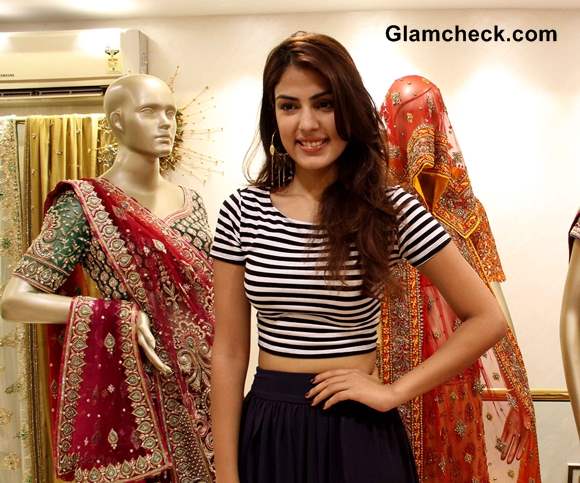 How to Wear a Cropped Top with a Maxi Skirt like Rhea Chakraborty
Cropped tops are all the rage and so is the monochrome palette. And note that by wearing horizontal stripes on the top, Rhea smartly made her bust look bigger too.
Teaming a cropped top with jeans can look too casual and going with a pencil skirt can be too formal. Rhea's sheer-overlay skirt idea falls right in between, making this ensemble just right for college, time out with friends, a movie or a first date.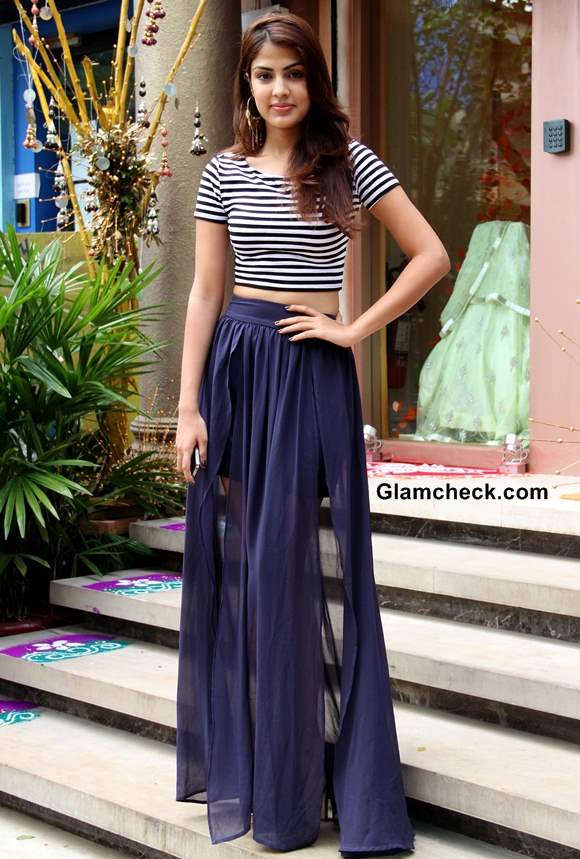 How to Wear Cropped Top with a Maxi Skirt
She did add a touch of girliness and glamour with a pair of statement gold dangle earrings and high heels. A casual side parting and wavy locks, just the kind that most of us would have one any given day, completed her look.
This ensemble is pretty simple to put together and doesn't even call for any style sense on the part of the wearer. It's a no brainer so you can simply throw these two items of clothing together and you'll have yourself an outfit that no one will be soon forgetting.
If you can't find a tasselled skirt like Rhea's then why not try one of the many asymmetrical silhouettes. Monochrome too dull for you? Go with bold prints or neon shades especially if you want to create an illusion of more fullness around your chest. If you are already busty enough, go with solid, darker colors and smaller prints.
Don't forget to add just a little bit of bling to round out your look and to add that je ne sais quoi to your look. Something long and dangling like Rhea's earrings is a typical but very effective choice since it draws the eye, is feminine but does not interfere with the overall vibe of your ensemble. 
Solaris Images