Bollywood actor Aamir Khan's Diwali party in Mumbai, India on November 3, 2013 was one of the most popular this festive season. But although it was a star-studded affair by any standards, it was actually pretty low-key. Check out the B-town guests who turned up to make it a special evening.
Aamir's daughter Ira was one of the more eye-catching of the guests, mainly because this tomboy who loves her Western attire chose to wear a green sari with a plain black blouse to the event.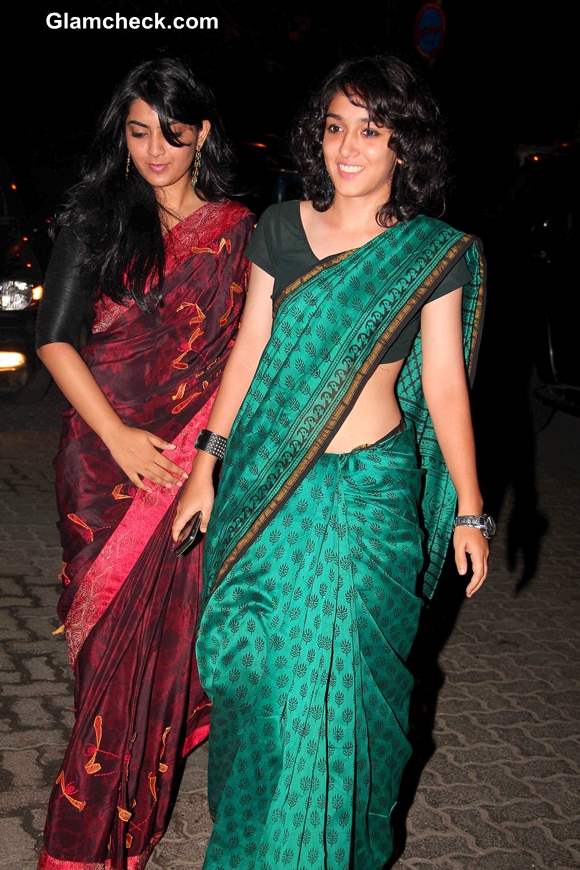 Aamir Khan's daughter Ira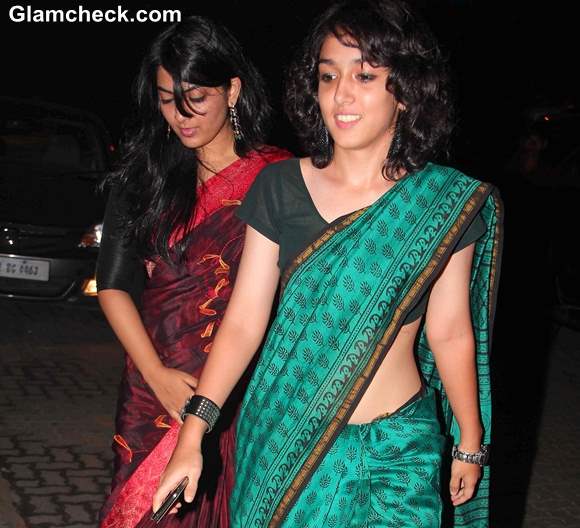 Aamir Khan's daughter Ira at Diwali Party
The look was unexpected which is why it was such a hit. She looked all grown up and very feminine. However, she didn't ditch the Western elements entirely. She paired the sari with black boots! Here's a young lady who knows her mind and isn't afraid to express it through her clothes!
Bollywood actor Imran Khan also attended the do with his wife Avantika Malik. Imran looked dashing in a white kurta pyjama with a sleeveless maroon jacket and black sandals.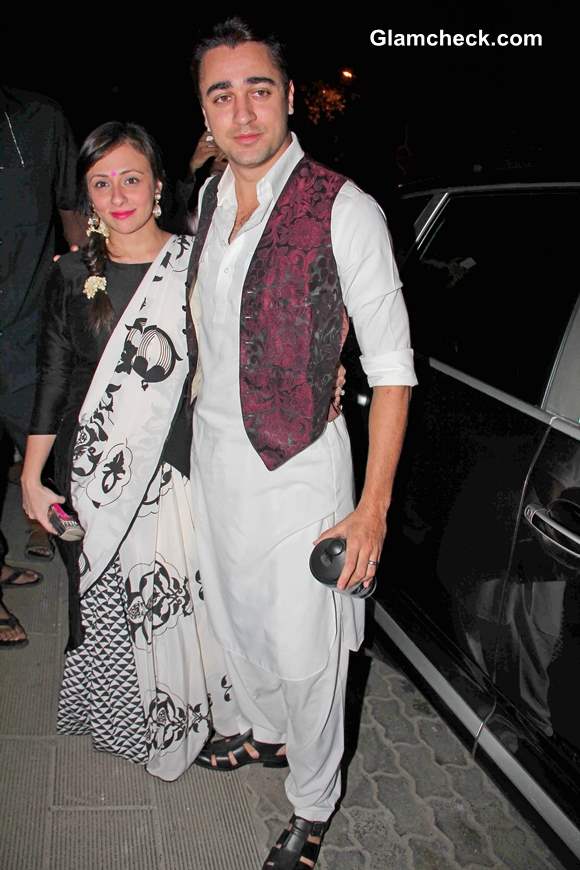 Imran Khan along with his wife Avantika at Aamir Khan Diwali Party
His melting eyes were the piece de resistance of his look though. Wifey looked cute in a printed monochrome sari by Payal Singhal that she wore with a full sleeve long black blouse. She accessorized with a clutch by Leiber but that wasn't the only glam accent to her ensemble.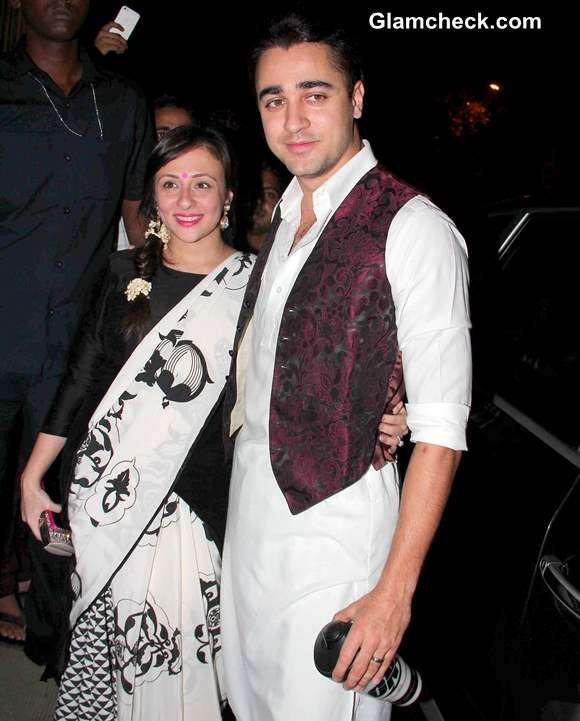 Imran Khan along with wife Avantika at Aamir Khan Diwali Party
She also rocked large dangle earrings, a side swept braid adorned with fresh jasmine flowers, a neon pink bindi and bright pink lips.
Bollywood actor Sharman Joshi attended with his better half Prerna. Choosing to play it safe, he wore a blue kurta with black pyjamas while she went with a white sari that had a light pink border.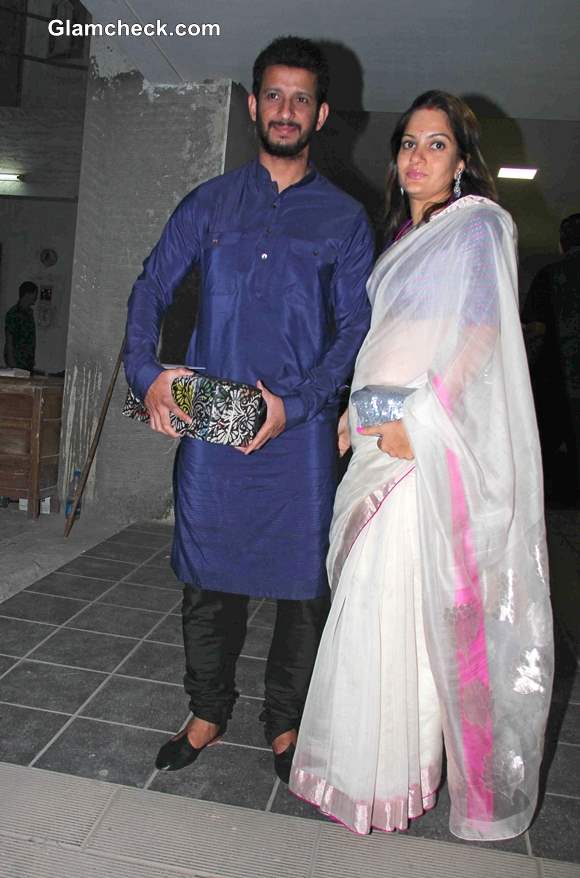 Sharman Joshi with wife Prerna at Aamir Khan Diwali Party
Bollywood filmmaker Ashutosh Gowariker too went with a white kurta pyjama – a popular outfit choice that evening and one that suited him well.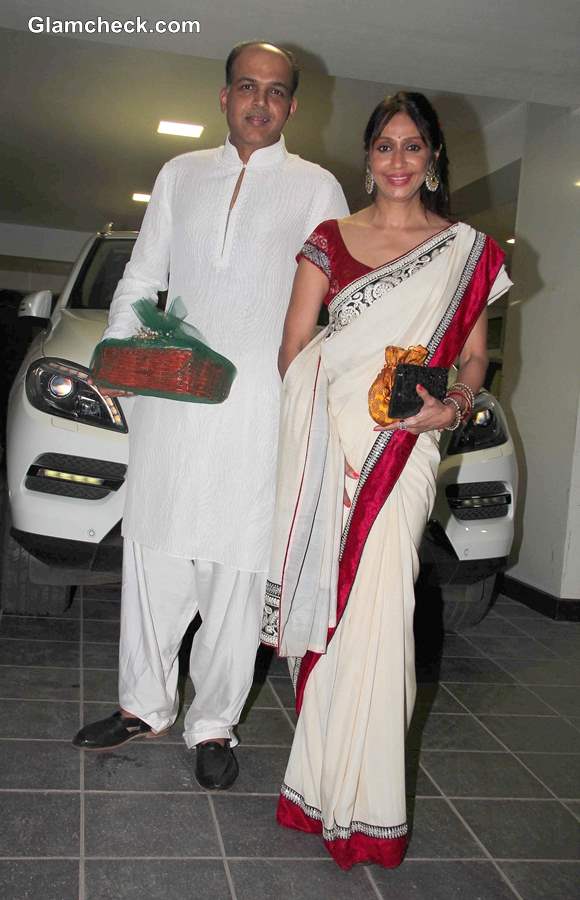 Ashutosh Gowariker at Aamir Khan Diwali Party
He arrived with his lovely wife Sunita who could rival any Bollywood leading lady in her cream sari with a red border. Her ponytail, ethnic earrings and red velvet blouse were all immaculate.
Bollywood filmmaker Ritesh Sidhwani channelled his darker side in a black kurta with white pyjamas, painting a brooding but stylish picture.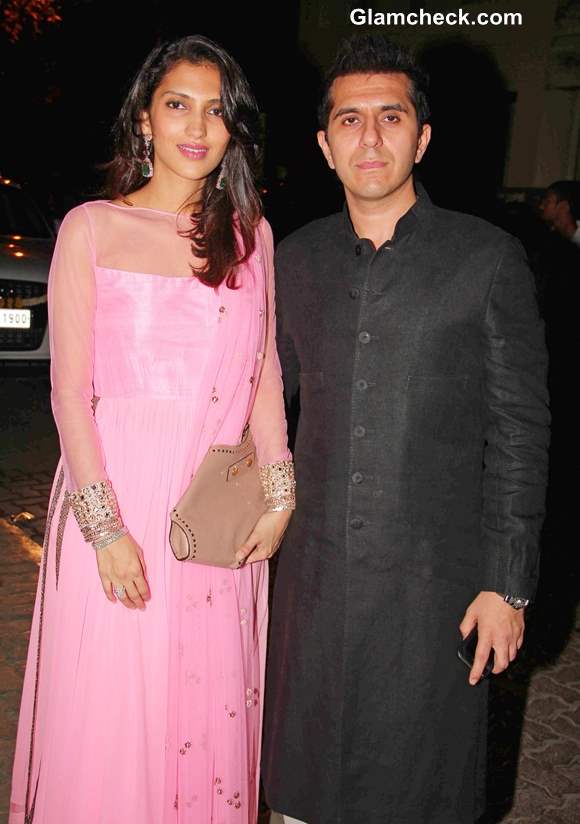 Ritesh Sidhwani at Aamir Khan Diwali Party
Bollywood power couple Siddharth Roy Kapur and his wife Vidya Balan were quintessentially traditional. There's that white kurta again making an appearance on Siddharth.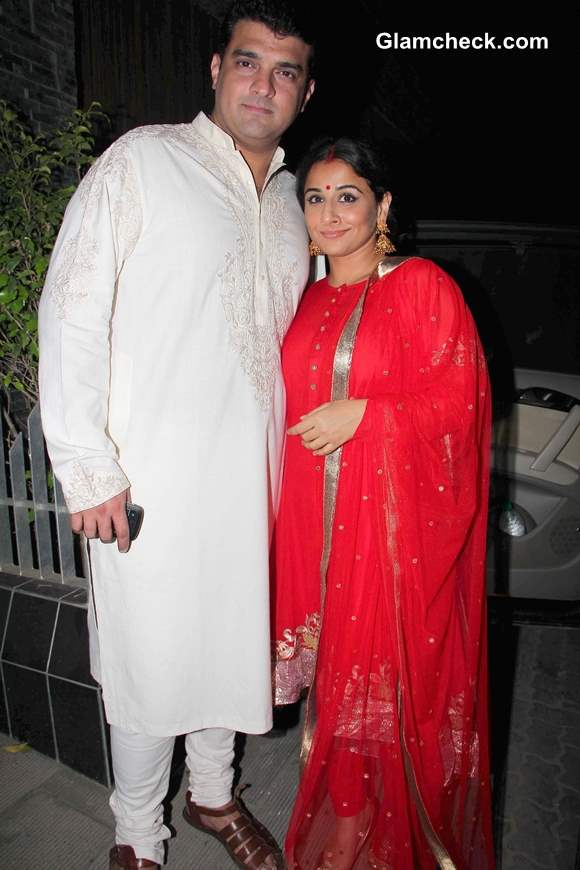 Siddharth Roy Kapur along with his wife Vidya Balan  at Aamir Khan Diwali Party
As for Vidya, the Dirty Picture star decided that she'd had enough of her saris and wore a red salwar kameez instead. The hemline was emblazoned with gold floral embroidery and a gold band brightened up the sheer dupatta too.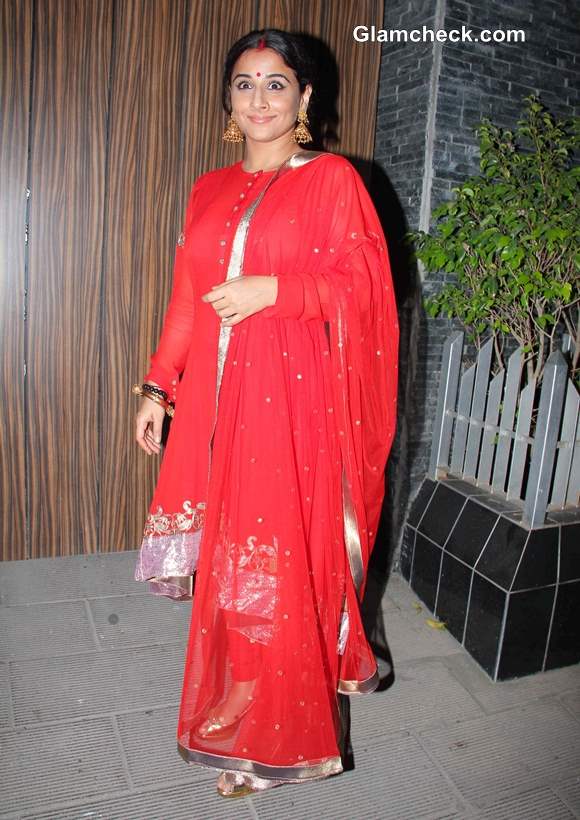 Vidya Balan in Red Suit at Aamir Khan Diwali Party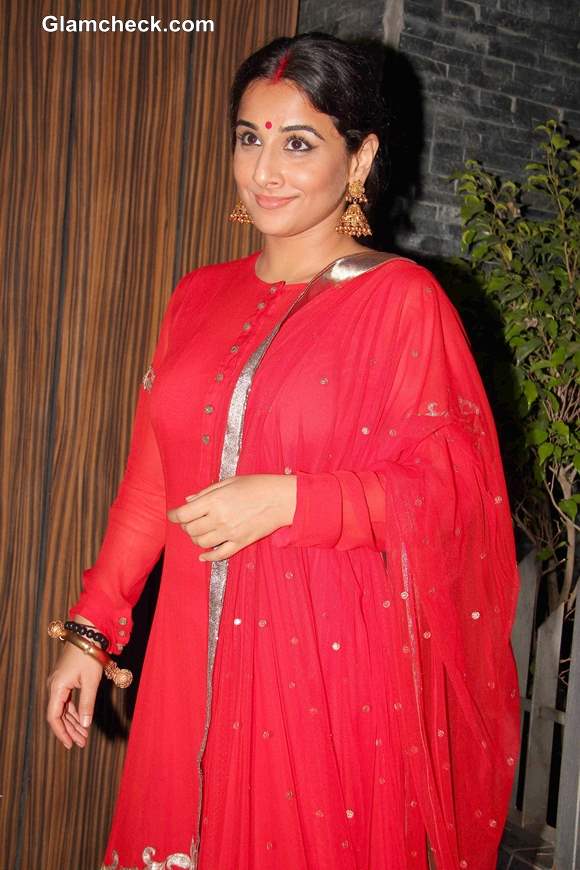 Vidya Balan at Aamir Khan Diwali Party
She went with the festive color for her accessories too – opting for gold heels, a gold bracelet and gold ethnic danglers to round off her ensemble. Don't miss her beloved cat's eye sweep and the sindoor in her hair.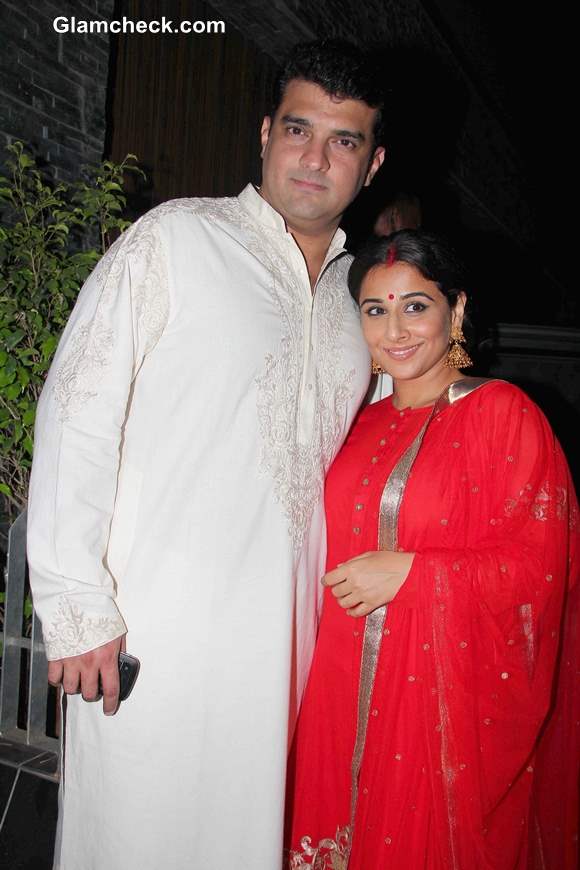 Vidya Balan with Siddharth Roy Kapur at Aamir Khan Diwali Party
Other celebs who made it to Aamir's do included Karan Johar, Sona Mohapatra, Priyanka Chopra, Anil Kapoor, Jackie Shroff, Imran Khan and his wife Zarina Mehta, Nawazuddin Siddiqui and his wife Anjali, and Reema Kagti.
Solaris Images