If you've been looking forward to the release of the Ranveer Singh-Deepika Padukone starrer "Ram-Leela", then you're in for disappointment. District Judge A. S. Jayachandra of a Delhi court has ordered director Sanjay Leela Bhansali to delay release of the film until the court has had time to review its impact.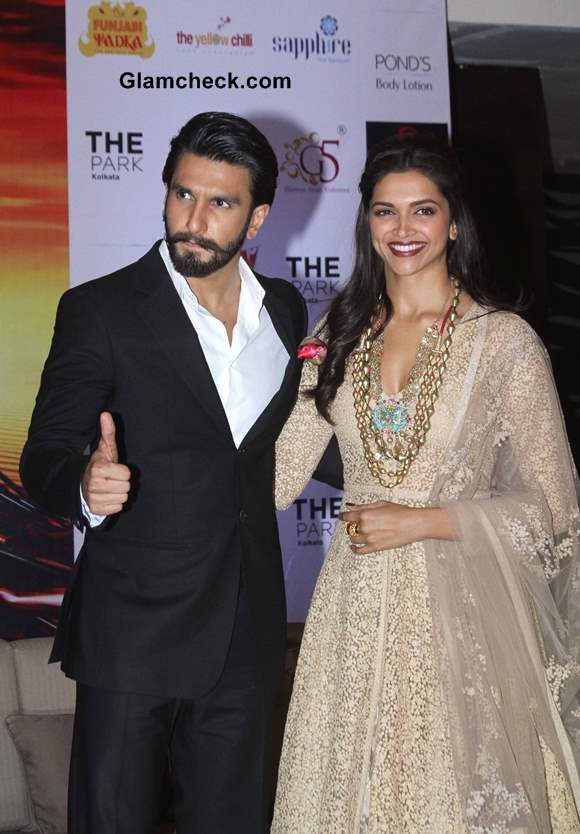 Deepika Padukone Promotes Ram-Leela in Stunning Gold Anarkali
You may recall that the title Ram-Leela has been flooded with controversy every since the first look of the film was unveiled some months ago. Protesters stated that the very name of the movie hurts the religious sentiments of the Hindu population. They have also called the content of the trailer and posters 'objectionable'. The petition that led to the court case does not want to ban the movie but is only asking that the makers of the film change the name.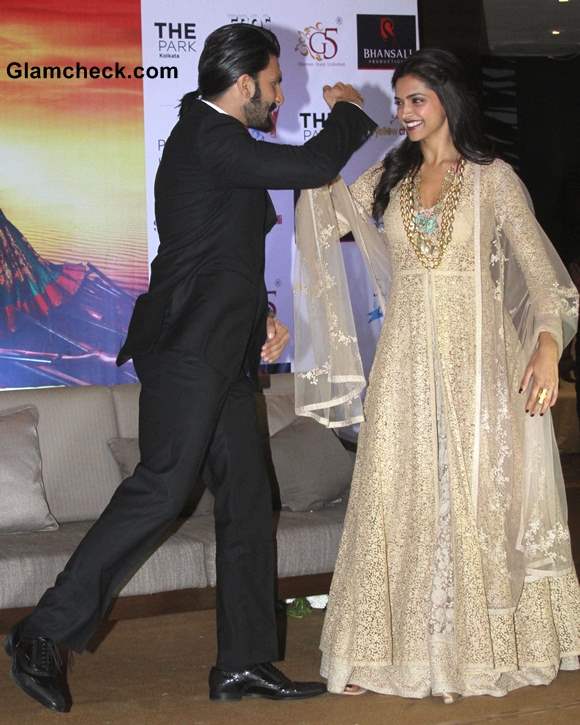 Deepika Padukone Promotes Ram-Leela in Gold Anarkali
Meanwhile, Deepika and Ranveer continued to promote the film at a store in Kolkata, West Bengal, India on November 12, 2013. They've really been busy with back-to-back promotions in Mumbai, Bangalore, Hyderabad and Delhi.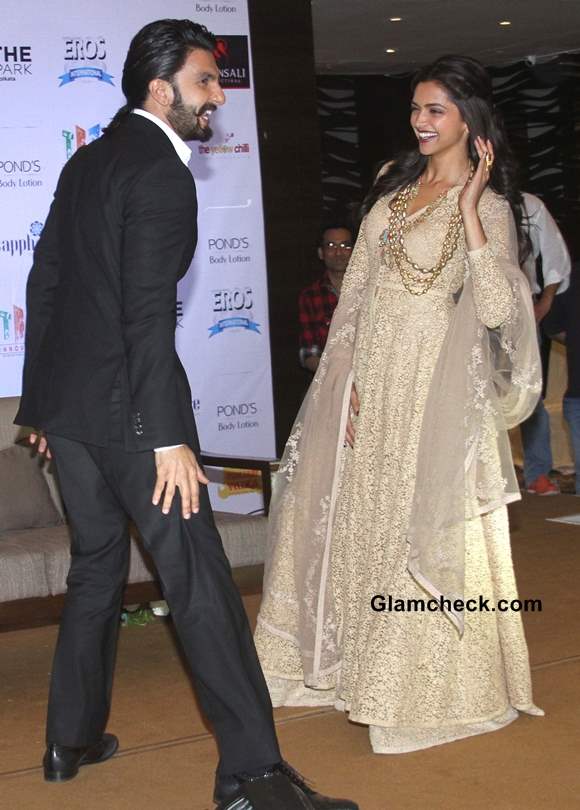 Deepika Padukone in Gold Anarkali Promotes Ram-Leela
The Kolkatta trip saw Deepika and Ranveer talk about their famous chemistry again. Deepika said that she didn't want to shy away from the fact that their sizzling interaction was what made most people want to see Ram-Leela, and that made her very happy.
She looked amazing at the event in a full-sleeve pale gold anarkali that was accessorized with a heavy gold necklace and a cuff ring. A half up, half down do and a deep plum lippie completed her look.
Deepika Padukone Ranveer Singh Pictures
Ranveer sported a black pantsuit with a white shirt, continuing to wear his hair in a ponytail that has been made famous since he started promoting this movie.
Ram-Leela was supposed to release on November 15, 2013, but for now no one knows if that will go forward or not. We'll keep you posted.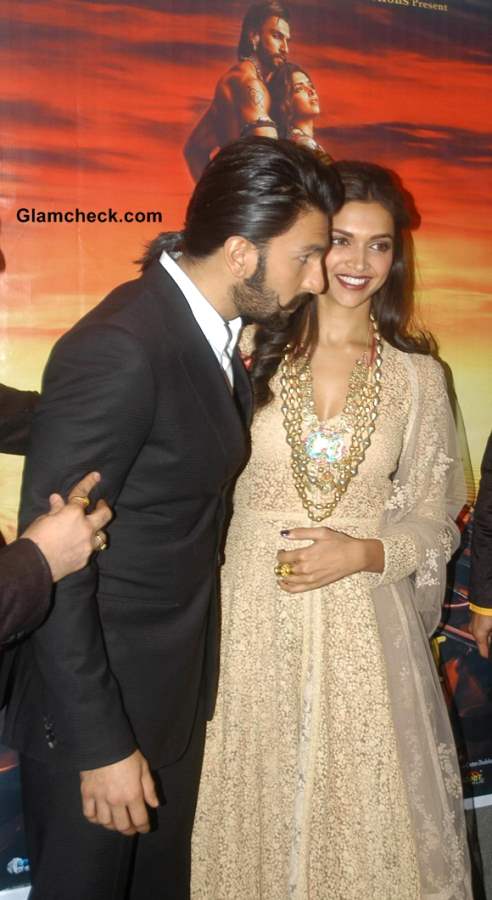 Deepika Ranveer 2013 Ram-Leela Promotions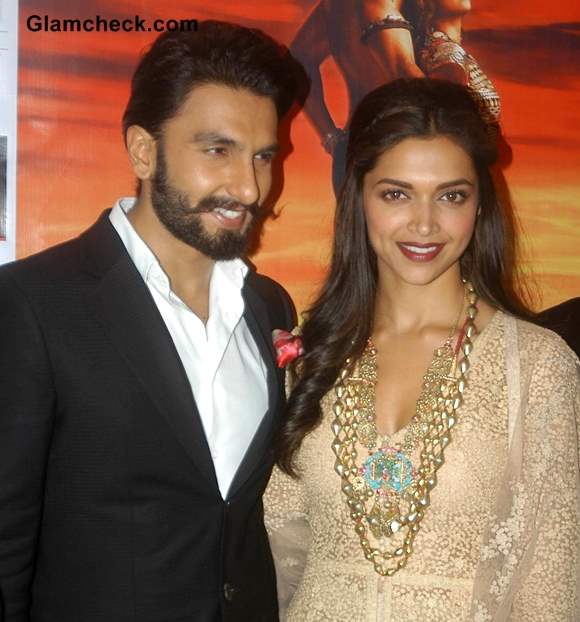 Deepika Ranveer Pictures 2013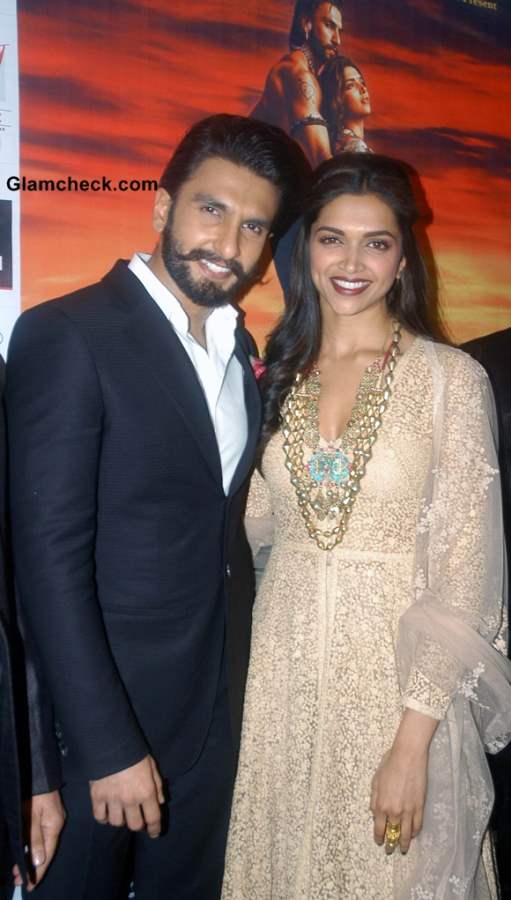 Deepika Ranveer Pictures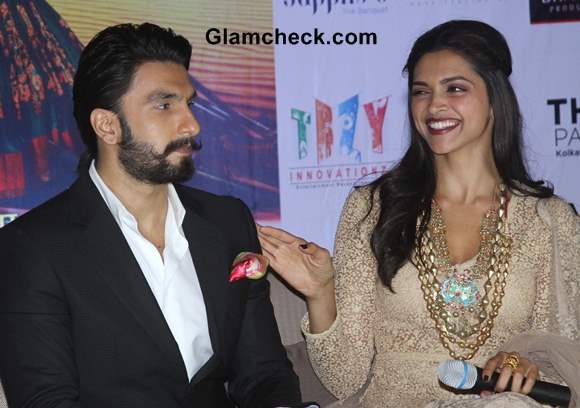 Deepika Ranveer Ram-Leela Promotions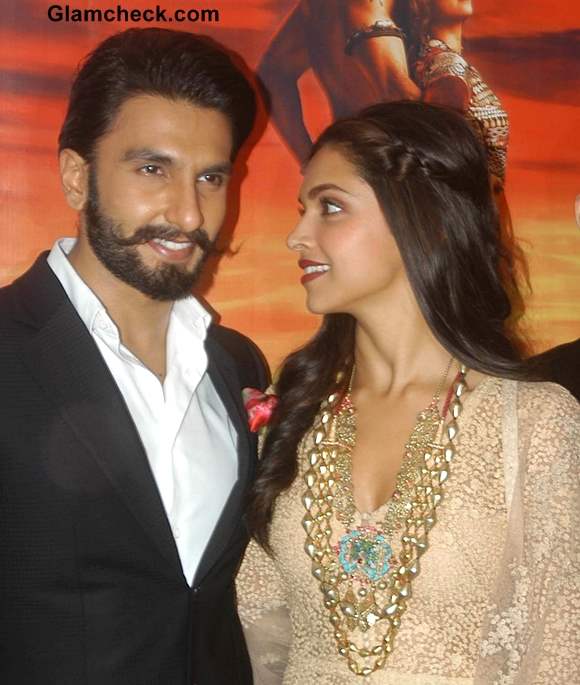 Deepika Ranveer Ram-Leela
Solaris Images