The cast of the film "Bullet Raja" along with the film's director Tigmanshu Dhulia launched the music in Mumbai, India on November 20, 2013.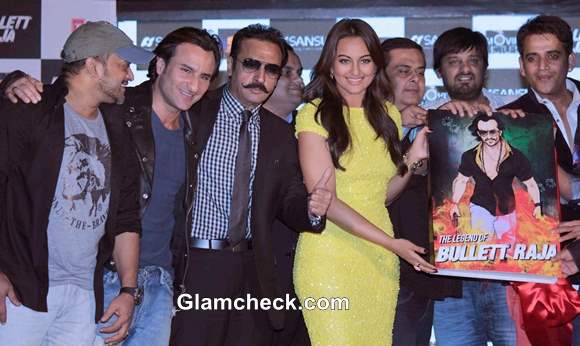 'Bullet Raja' Music Launch
The music has been composed by duo Sajid-Wajid while the lyrics are the work of Kausar Munir. Two songs from the film have been showing on music channels. One is Tamanche pe Disco and the other is the title track which is picturised mostly on the film's hero Saif Ali Khan beating up a bunch of goons.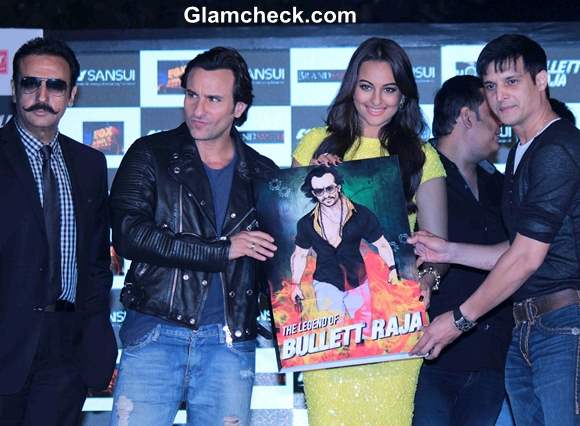 Cast of Bullet Raja Launch Music of Film in Mumbai
Apart from Saif, the film's primary villain Gulshan Grover and leading lady Sonakshi Sinha were also present at the launch of the soundtrack. All three were dressed as their characters from the film.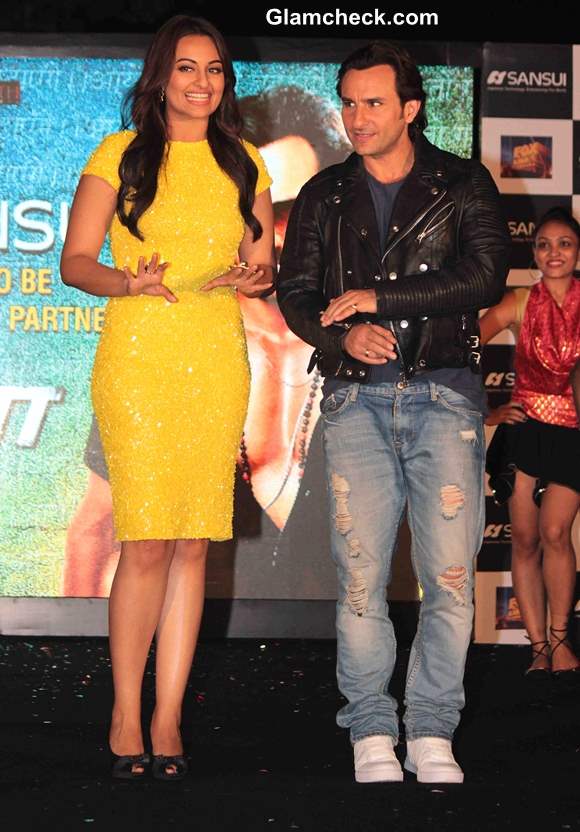 Saif Ali Khan and Sonakshi Sinha at Bullet Raja Music Launch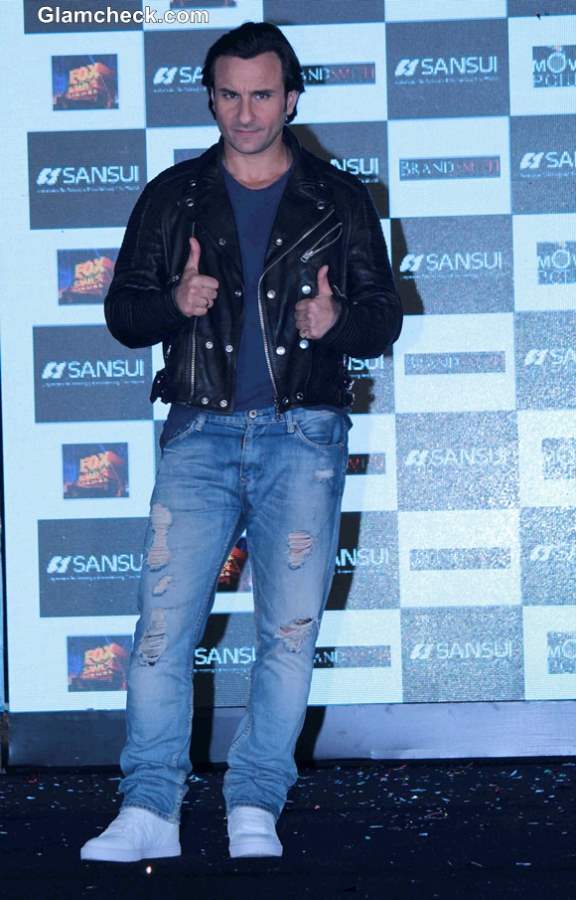 Saif Ali Khan at Bullet Raja Music Launch
Saif, who plays a rugged role, was seen in distressed blue jeans, a dark blue tee and a black leather jacket which gave him a total badass look. At least it would have if he wasn't so squeaky clean shaven.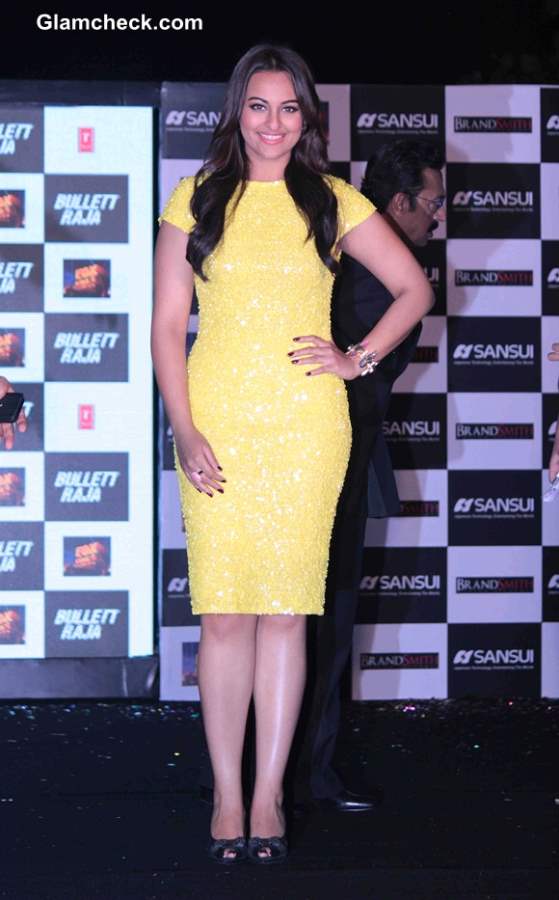 Sonakshi Sinha at Bullet Raja Music Launch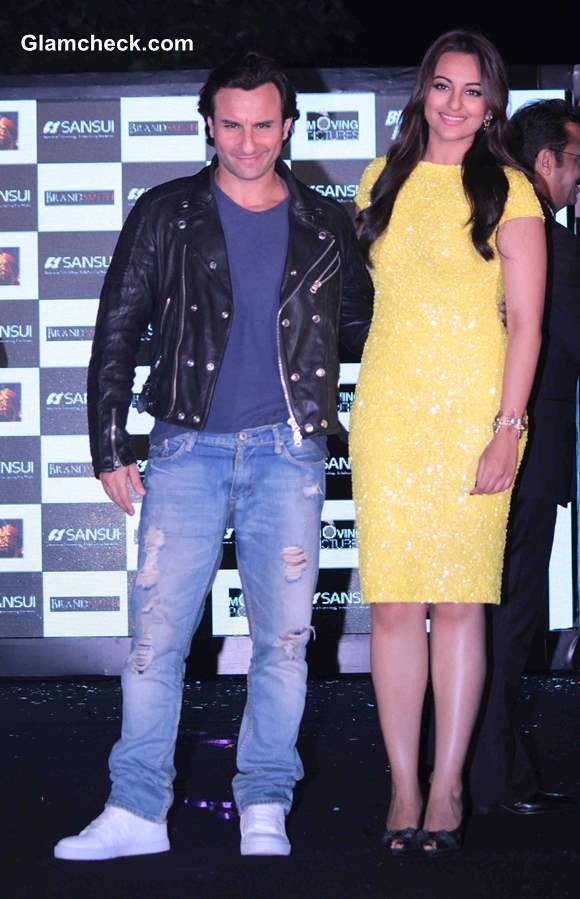 Sonakshi Sinha and Saif Ali Khan in Bullet Raja Movie
Sonakshi obviously stole the show, as she has at all public appearances of late, in a knee-length sequinned yellow sheath dress and black peep-toes.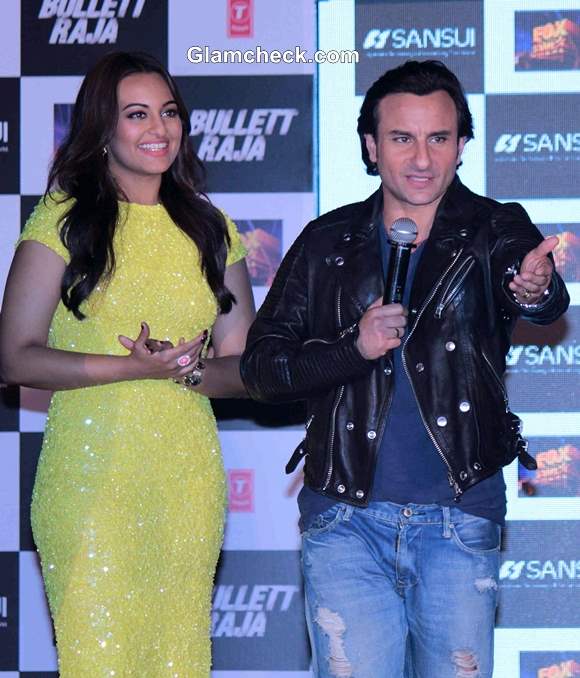 Sonakshi and Saif in Bullet Raja Movie
Gulshan looked like the quintessential villan in a black pantsuit, crisp shirt and tie, black boots and sun glasses, and a full moustache for an authentic touch.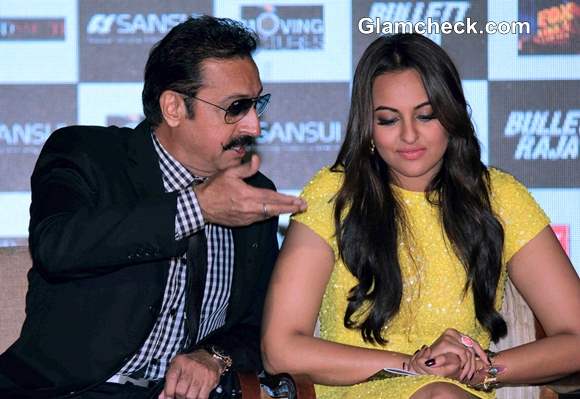 Gulshan Grover and Sonakshi Sinha
Bullet Raja releases on November 29, 2013.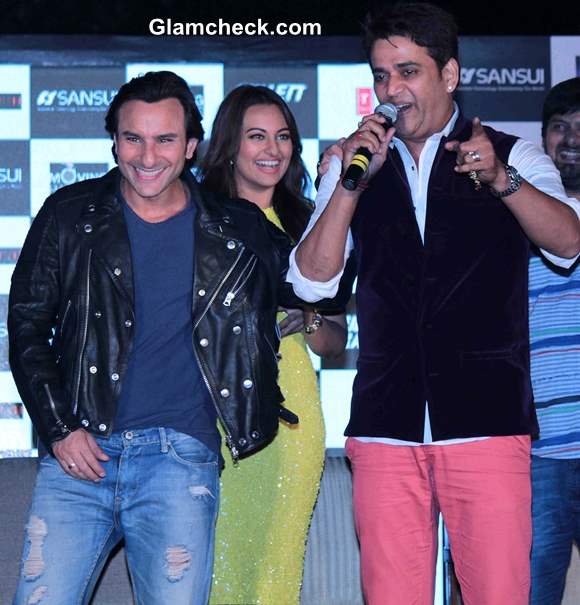 Saif Ali Khan, Sonakshi Sinha and Ravi Kishan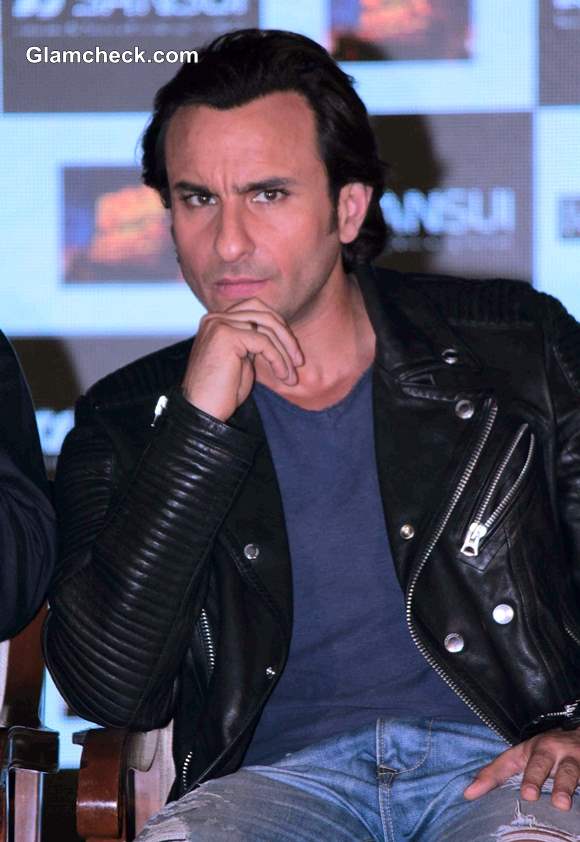 Saif Ali Khan Movie Bullet Raja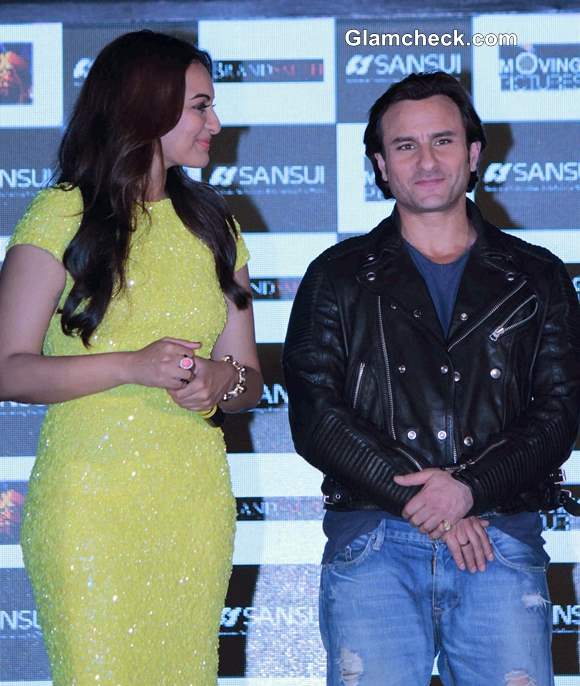 Sonakshi Sinha and Saif Ali Khan Movie Bullet Raja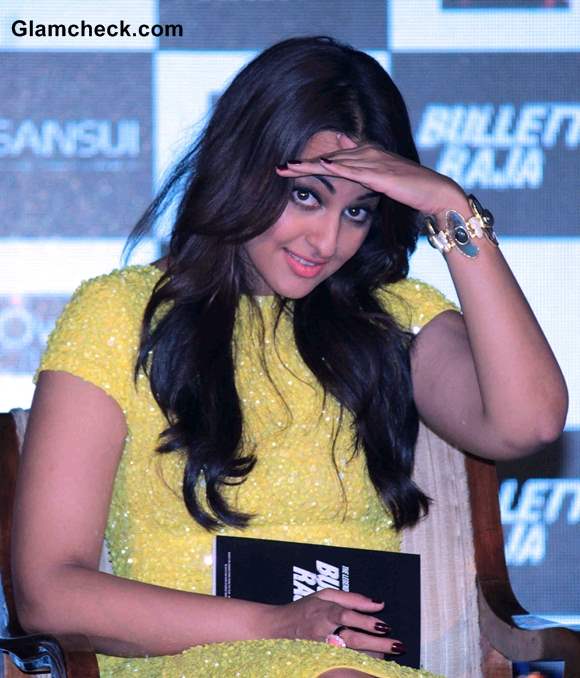 Sonakshi Sinha at Bullet Raja Movie Music Launch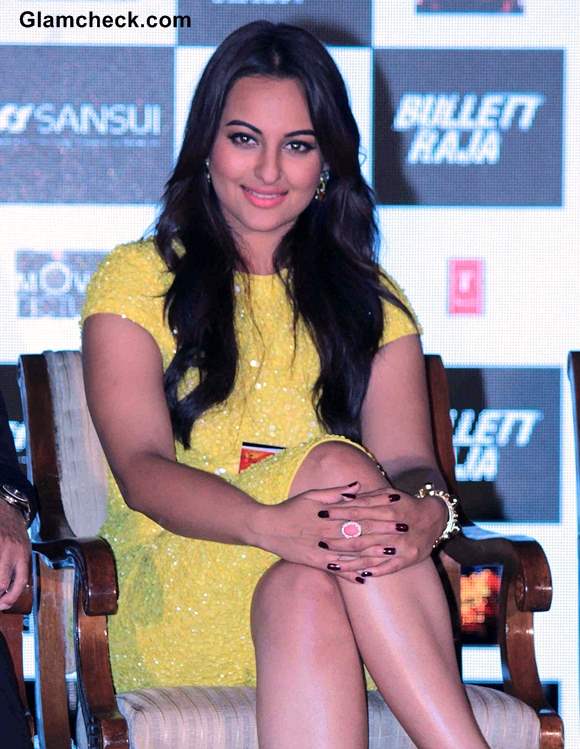 Sonakshi Sinha Pictures Bullet Raja Movie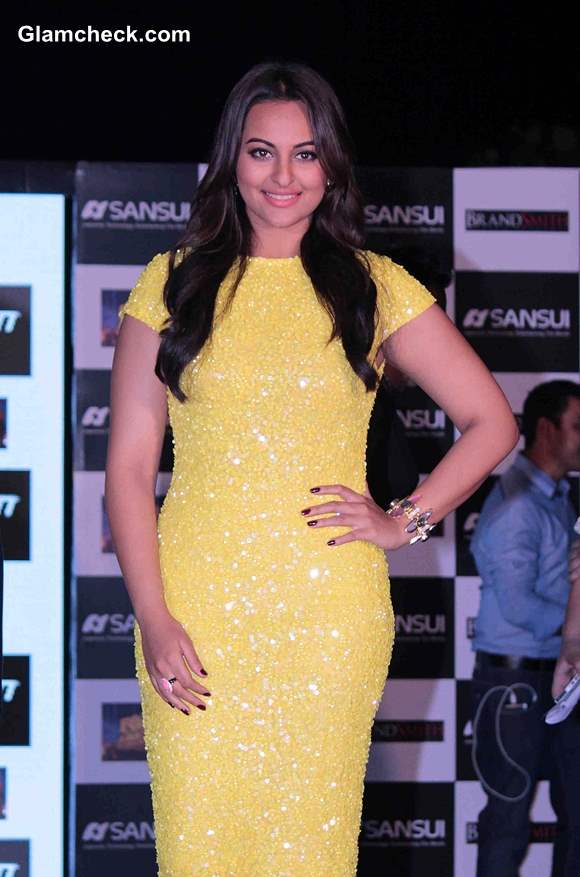 Sonakshi Sinha Pics in Bullet Raja Movie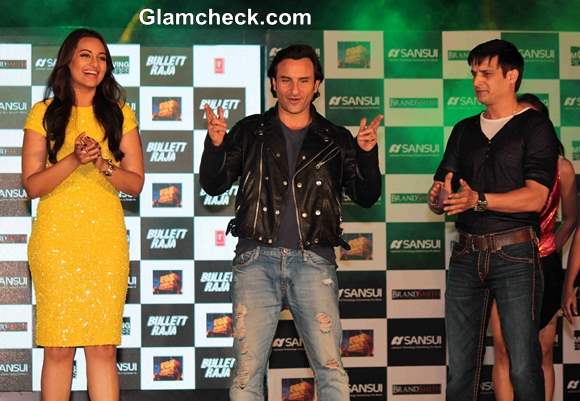 Sonakshi Sinha Saif Ali Khan and Jimmy Shergill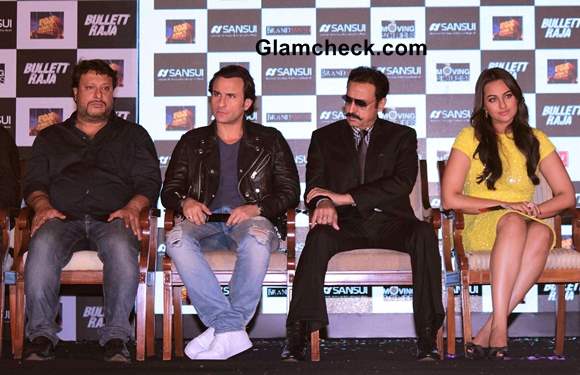 Cast of Bullet Raja Launch Music of Film
Solaris Images