Bollywood actress Mugdha Godse looked stunning as she sashayed down the catwalk for designer Nitya Bajaj during Pune Fashion Week 2013 in Pune, Maharashtra, India on November 9, 2013.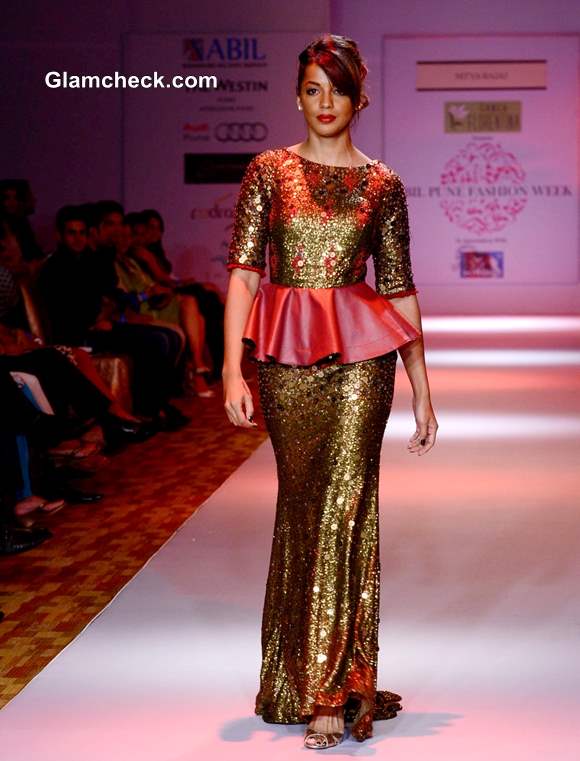 Mugdha Godse Walks the Ramp at Pune Fashion Week 2013
The dress Mugdha modelled was fashioned from sheer fabric, sequins, a peplum flare and even more sequins. The evening gown was adorned in sequins from the high neckline to the elbow-length sleeves to the floor-sweeping skirt and short train. Dominantly gold ones, but some red was apparent too. All that sequin work made for a very slinky, almost reptilian visual but also boosted the outfit's glamour quotient ten-fold.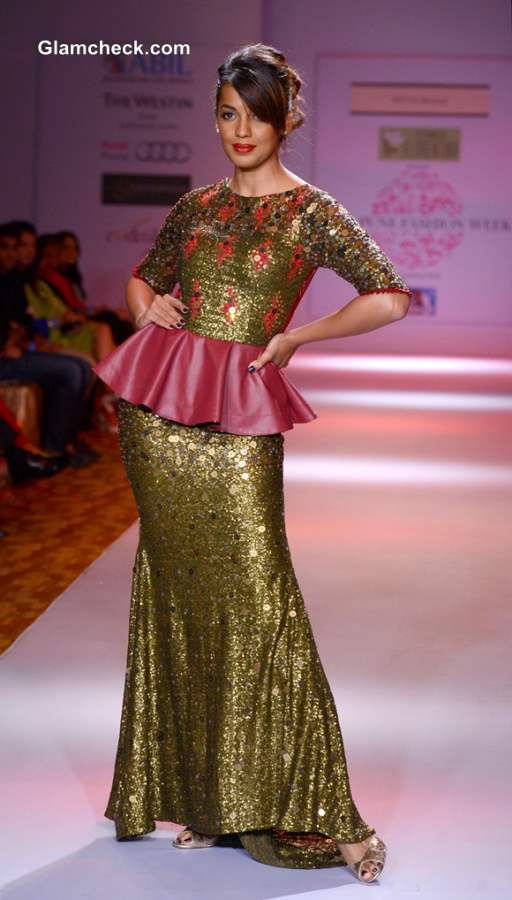 Mugdha Godse at 2013 Pune Fashion Week
The waist was embellished with a coral peplum flare sans any embellishment. And the back was made up entirely of red sheer lace which was further peppered with sequins.
It was quite the dramatic number and we can't see it working anywhere but the red carpet of a really high-end event. Mugdha, of course, had no problem pulling it off with help from dark cat's eye makeup, red lips and a come-hither updo.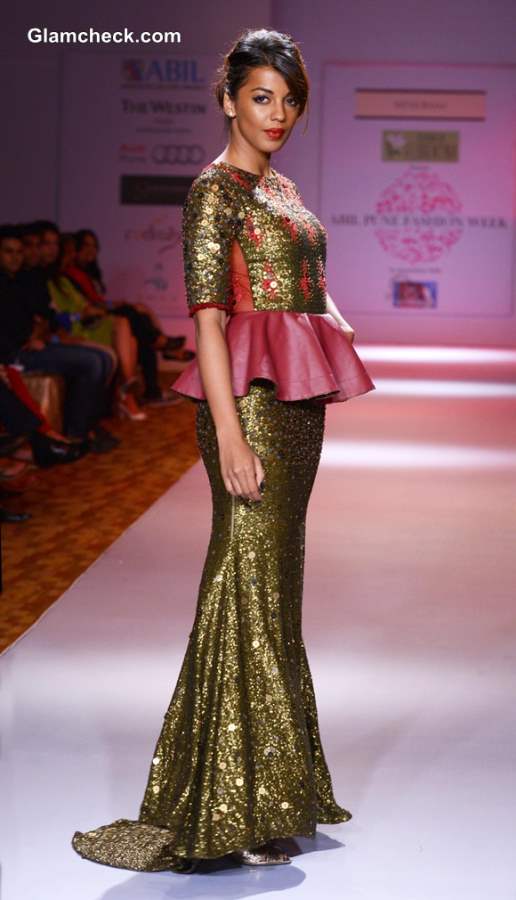 Mugdha Godse 2013 Pune Fashion Week
The outfit was teamed with gold peep-toes and stud earrings. A black mani-pedi rounded off the look.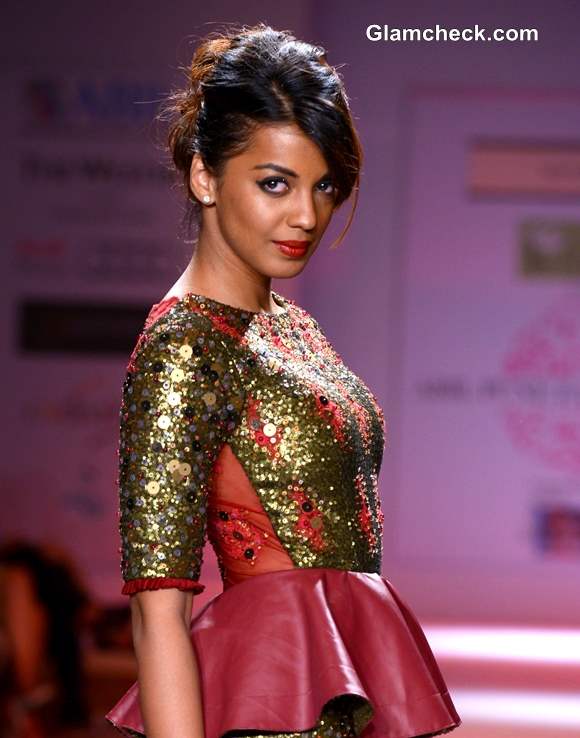 Mugdha Godse 2013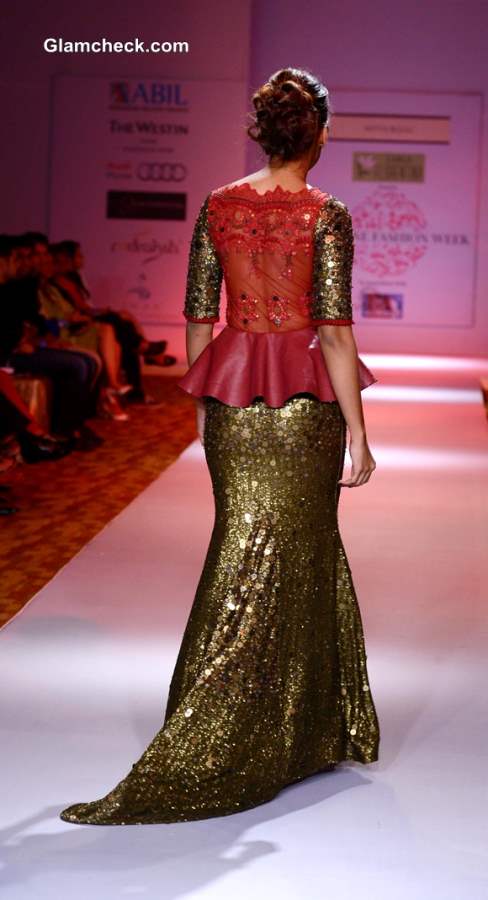 Mugdha Godse at 2013 Pune Fashion Week Pictures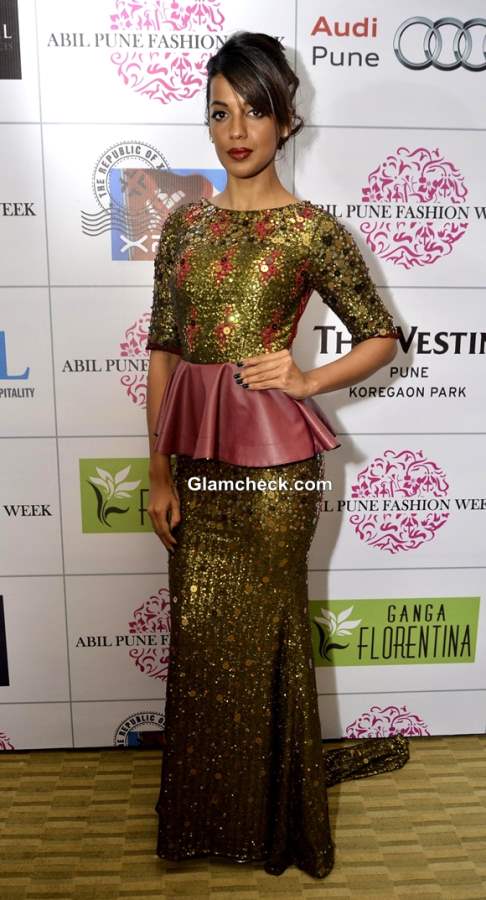 Mugdha Godse at Pune Fashion Week 2013
Image: Indian Photo Agency