We spotted a lot of different celebrities during the Aamby Valley India Bridal Fashion Week (IBFW) 2013, in Mumbai, India on December 2th 2013 and each one was sporting new and exciting trends. Let's take a deeper look into our favourite celebs wardrobes.
Ariana Ayam wore a stark white pant suit (very Yves Saint Laurent type of a look, we'd say) and went shirtless to increase the sexiness quotient. Whoever said formals can't be turned to evening wear clearly hadn't met this lady. She carried a beige Chanel bag and wore pointed heels on her feet. She went for a neutral lipstick shade for her makeup and smoky eyes (which we thought were borderline scary, she should have toned it down a bit and not extended it till her brow) and her hair was slicked back into a ponytail which looked really smart!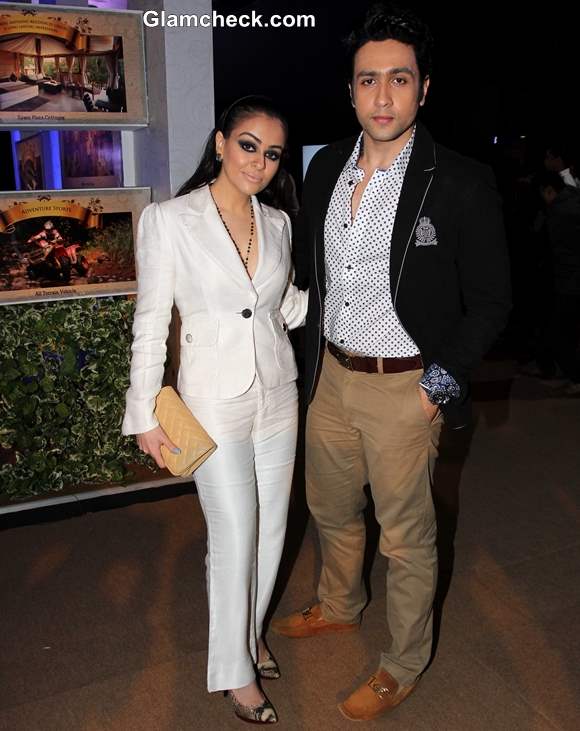 Ariana Ayam and Adhyayan Suman at India Bridal Fashion Week 2013 Mumbai
Adhyayan Suman, on the other hand, wore a navy blue and white polka dotted shirt that had patterned contrast cuffs peeking through his black blazer. He teamed it up with light brown pants, chocolate brown belt and camel coloured loafers. Very stylish pair, we have to say!
Mini Mathur was spotted in a chiffon bright pink sari which just a hint of gold lining on the borders and a heavily embellished choli underneath.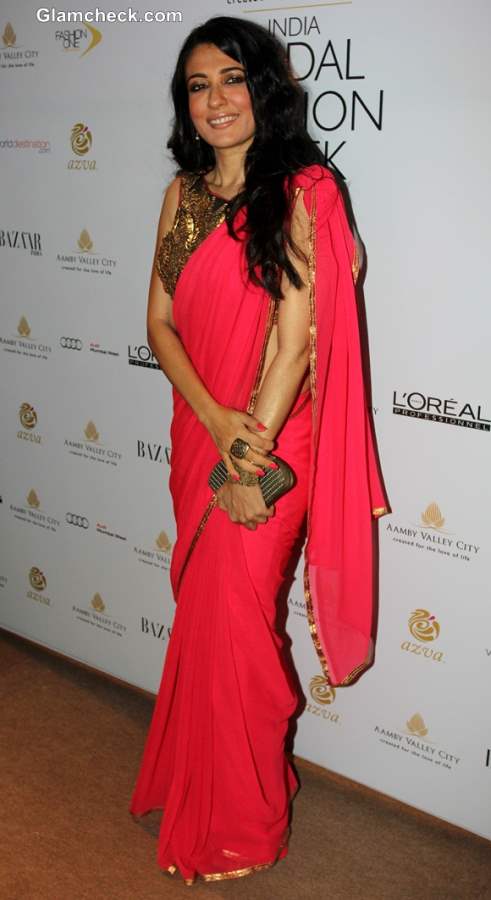 Mini Mathur at India Bridal Fashion Week 2013 Mumbai
She accessorized with a box clutch and a statement ring on one hand. Her hair was left as it is and makeup was subtle with pink blush on her cheeks and a bit of gloss on her lips and her nails in a neon pink shade. We really liked this look on her because it was simple and yet, so pretty!
Someone who went metallic and short, was Preeti Jhangiani. She opted for a sequin filled one shoulder loose dress in silver. She carried an auburn bag and clumpy heels on foot, and chose to match that with her maroon lipstick.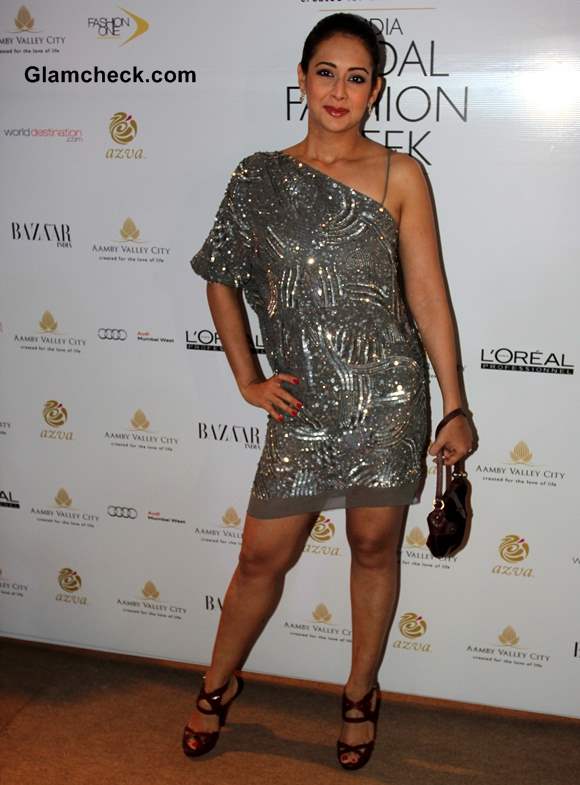 Preeti Jhangiani at India Bridal Fashion Week 2013 Mumbai
Wearing small earrings, her hair was pulled back into a ponytail (making a small puff in the front would have worked better.) Even the Preeti tried really hard, we think the crashed and burned, she couldn't carry off the sequin at all, she should stick to solid colours instead.
Riteish Deshmukh and his wife and actor, Genelia D'Souza, looked cute in their respective looks. While Riteish wore navy blue blazer with a patterned handkerchief and white pants, Genelia went for a minimalism.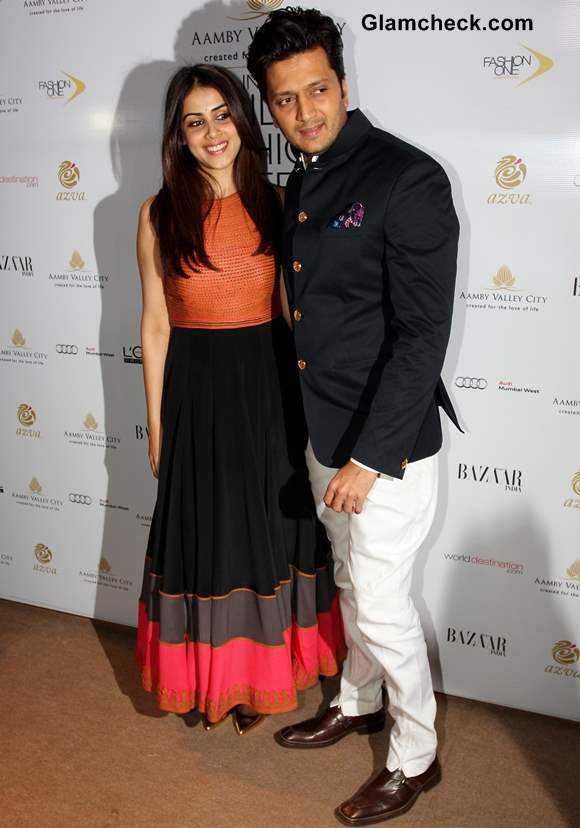 Riteish Deshmukh with his wife Genelia D'Souza at India Bridal Fashion Week 2013 Mumbai
She wore an anarkali cum dress which was orange at the top and black-grey-pink at the bottom one after another. She let her hair flow down in a middle parting as it is and wore amazing metallic gold pointy stilettos which are so hot on our shoe list right now.
Shamita Shetty was in the mood for black. She wore a body hugging full sleeved floor length gown with gold patchwork on the shoulders (to imitate shoulder pads.)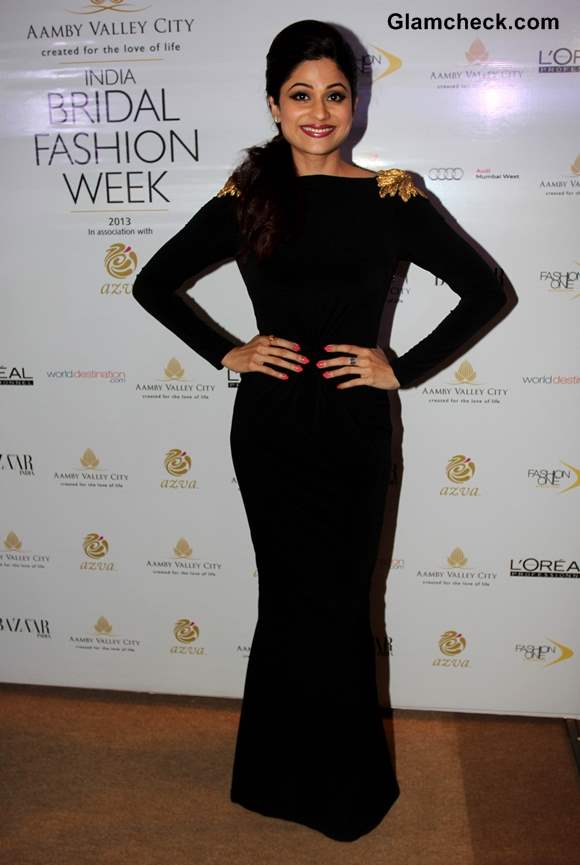 Shamita Shetty at India Bridal Fashion Week 2013 Mumbai
We really liked her dress and though it was sensual even though it hardly was a revealing one. One thing we would like to add, was a statement piece of jewellery, maybe a ring or a thick hand cuff in gold or a hair accessory.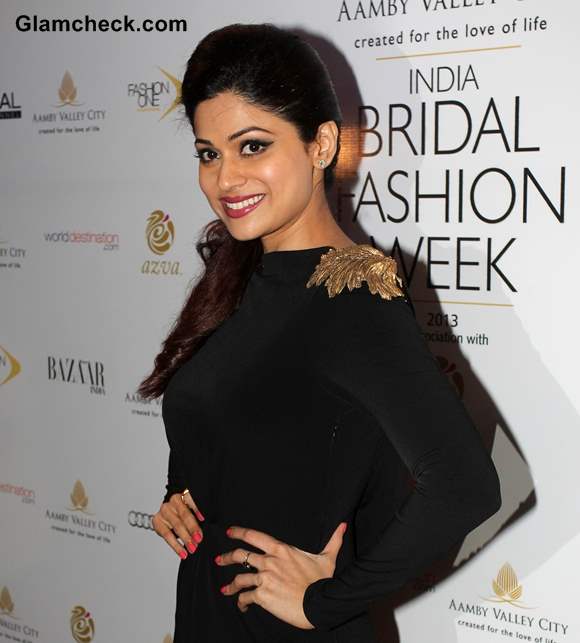 Shamita Shetty at India Bridal Fashion Week 2013
Her nails were neon pink and lips were a shade of plum. She extended her eyeliner far too much and finished off her makeup with mascara. Her hair was puffed up a little at the front and then made into a side ponytail which looked nice.
Sonal Chauhan showed up on the carpet in a mustard flowy gown. Her gown was strapless and had floral embellishments on the top and chiffon pleats at the bottom, all the way till her feet.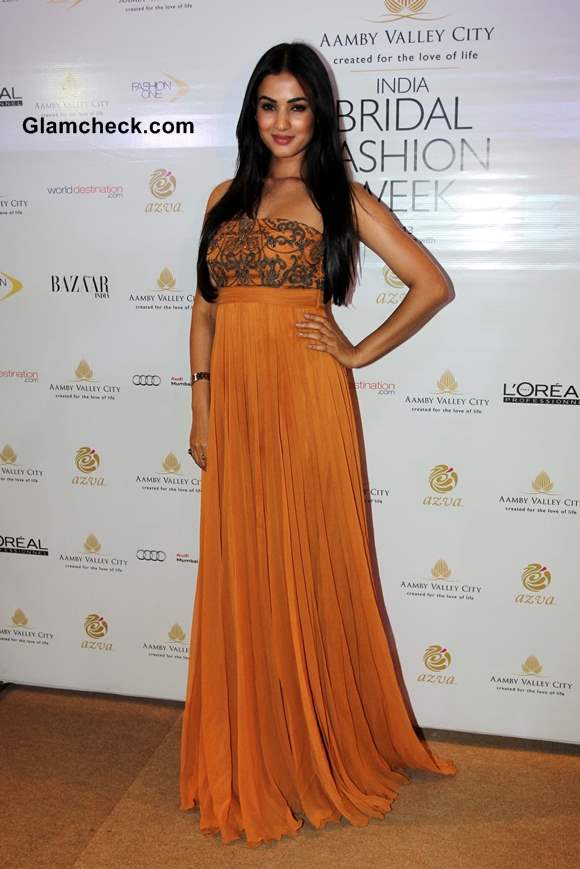 Sonal Chauhan at India Bridal Fashion Week 2013 Mumbai
She wore no accessories except a gold bracelet and left hair long black hair down, her makeup included a dull red lip colour and bronzer. She played a little too safe for us, we would have liked to see a little more!
Zarine Khan, wife of Bollywood actor, Sanjay Khan went for animal print. She slipped into a black and white cheetah print loose skirt and a black top with lace detailing. She also carried the same cheetah print stole on her shoulder and accessorized with a beaded necklace, diamond encrusted bracelet and watch, huge gem rings and a dull silver clutch.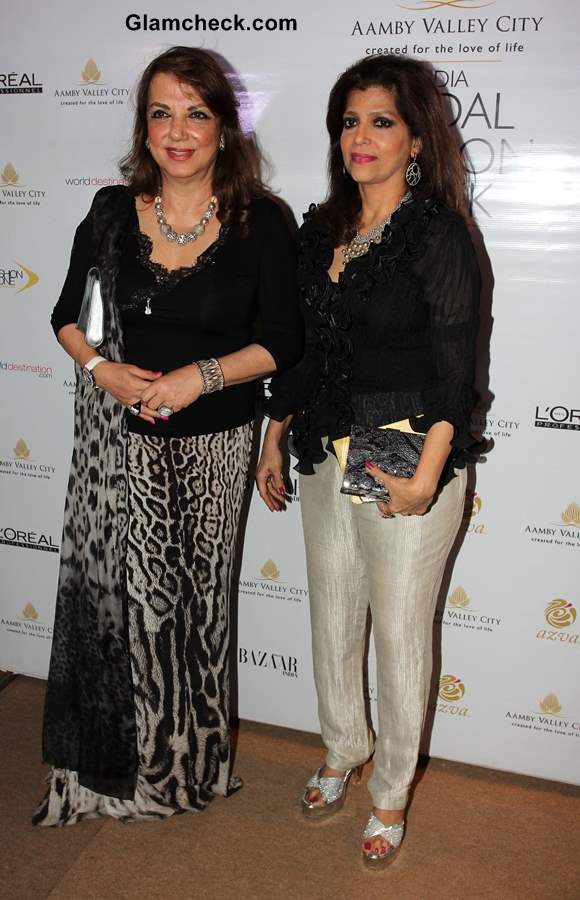 Zarine Khan with Bina Aziz at India Bridal Fashion Week 2013 Mumbai
Her makeup accentuated her lips with tons of peach blush and her nails were surprisingly in neon pink again! (seems to be the favourite nail colour at this event.) Along with her was Bina Aziz, wife of ghazal singer, Talat Aziz, who was in a ruffled black top and straight fit shiny white pants, her clutch was in snake print and her lips were in mauve. Her heels were a disaster but we think, we can let this one slip!
Solaris Images