Designers Kavita and Meenu Malik showcased their latest collection for brides during Khwaab Bridal Couture 2013 in New Delhi, India on December 25, 2013. The collection consisted mainly of lehenga cholis and anarkali suits in a variety of contemporary cuts, designs and fusions. Bollywood actress Alia Bhatt was the show-stopper, walking the ramp in one of the finer pieces of the line.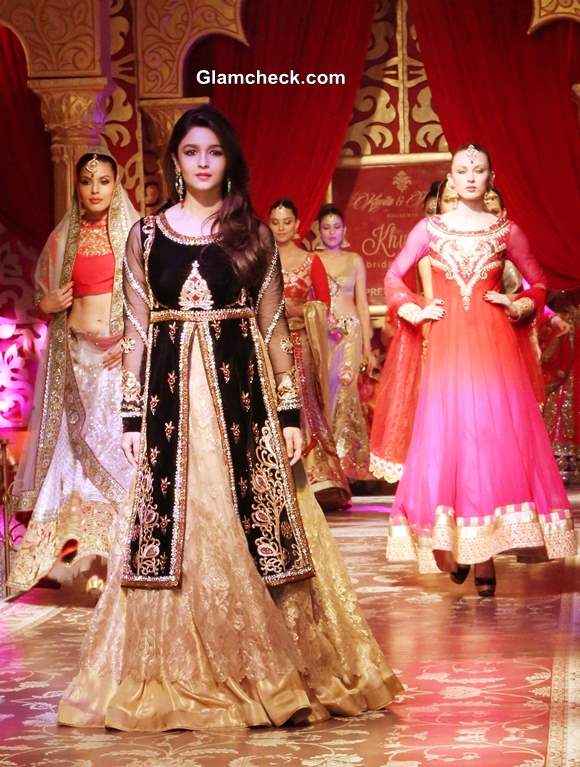 Alia Bhatt for Kavita Meenu at Khwaab Bridal Couture 2013
The Student of the Year star was decked out in a gold and black lehenga choli that had distinctly royal vibes thanks to that color combo. The lehenga was a thing of beauty – all gold with a delicate overlay of gold lace in a floral design that imparted a sensual aura to her look.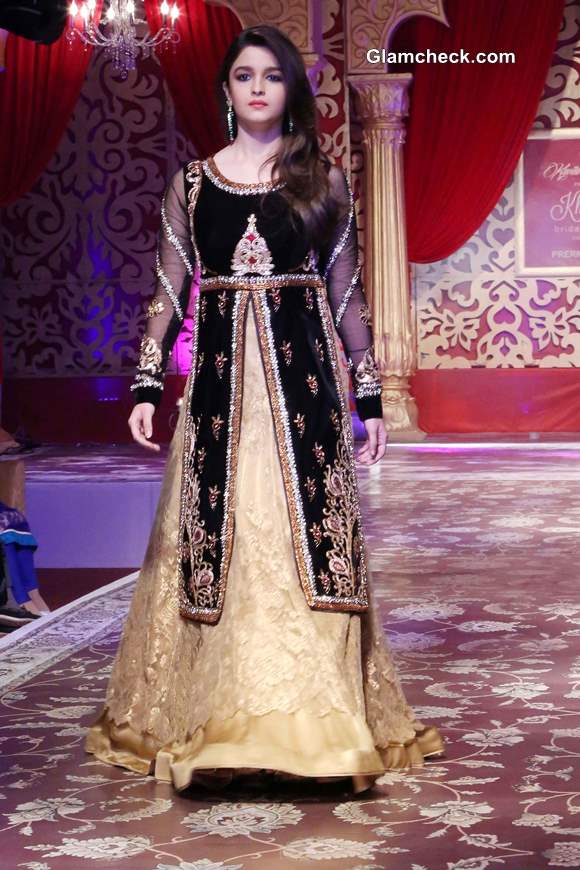 Alia Bhatt for Kavita and Meenu at Khwaab Bridal Couture 2013
As for the black choli, it extended to just below the knees on the front, split in two from the waist down. While the lehenga was almost simplistic, the gold embroidery on the choli was rich and very striking. The sleeves were sheer, but they too had the same rich gold embroidery which made a lovely play of a strong statement on a delicate fabric.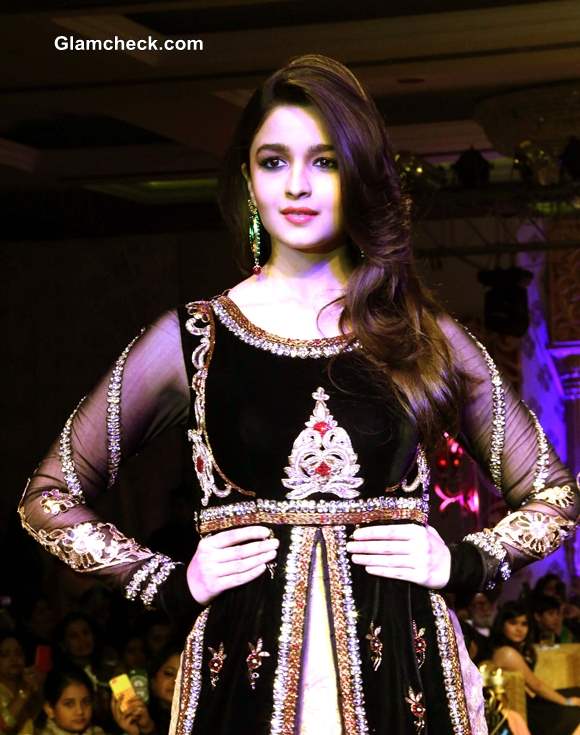 Alia Bhatt at Khwaab Bridal Couture 2013
Although bridal, the ensemble was accessorised only with a pair of gold dangle earrings which, though minimal, was the most suitable jewellery for this outfit. And then there was Alia herself who radiated joy, playfulness and her own brand of inner beauty. Her makeup too was basic, but she really didn't need any more. And she wore her hair in that side-swept wavy style that we've seen her sport on a couple of red carpet occasions.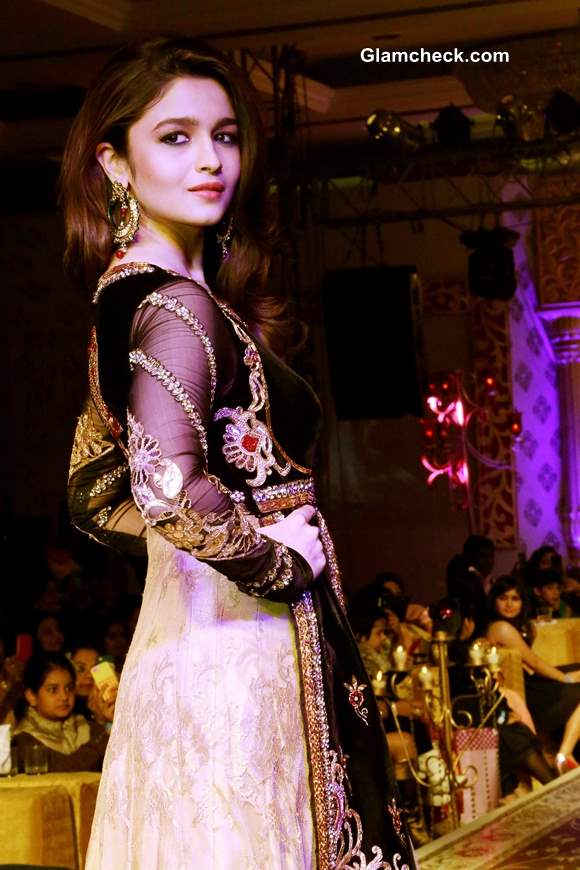 Alia Bhatt 2013 Khwaab Bridal Couture
She said after the show that she was very happy to be displaying an outfit for the designer duo. She also expressed  that she enjoyed her walk down the ramp and was impressed with the layout of the show too.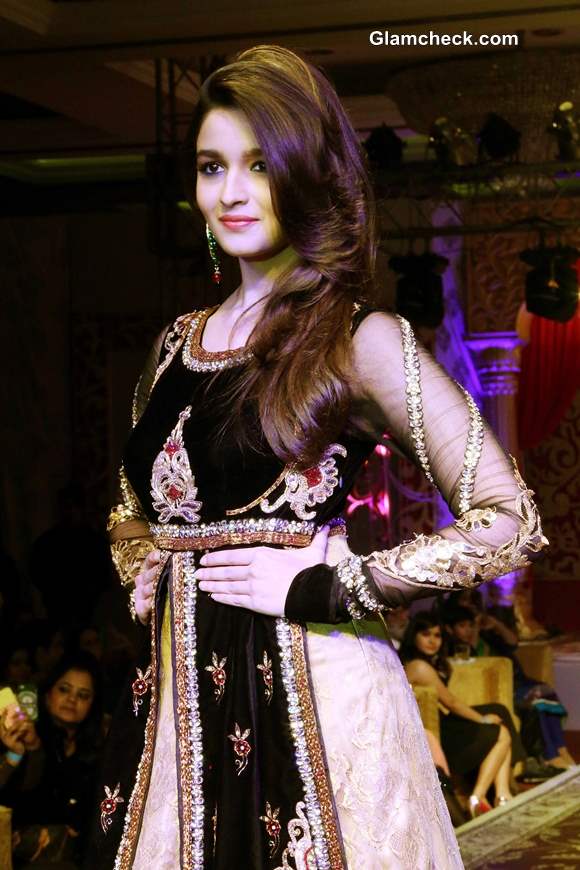 Alia Bhatt Khwaab Bridal Couture 2013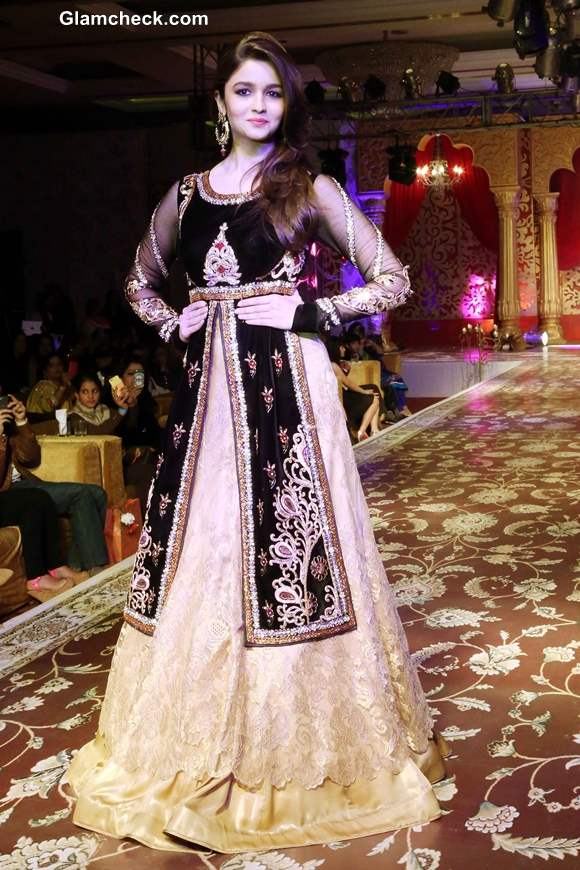 Alia Bhatt Show-stopper for Kavita and Meenu at Khwaab Bridal Couture 2013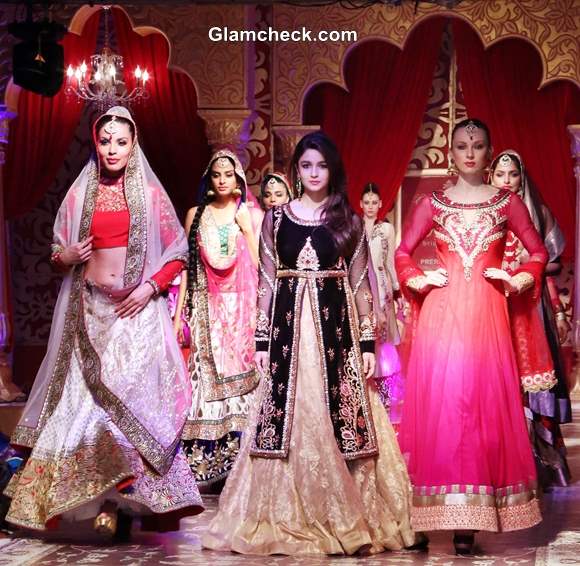 Khwaab Bridal Couture 2013 Alia Bhatt
Solaris Images