Hello Everyone, this video is all about celebrating Independence Day, and I will be sharing ideas on how to show the patriot in you with some easy room décor ideas, tips for nail art, makeup and hair styles, as well as look suggestions.
 Watch the Video
I'll start with the interior décor. Your room can be made to channel the Independence Day spirit with easy decoration props like lights, Tri-color inspired flower arrangements and a tissue paper marigold flower with artificial leaves. 
Lights – Jazz up the walls or corners of your house with twinkling single or multicolored string lights The lights can be neatly hung on top of your curtains in various patterns just like you can see in this video
Next, I will show you a simple flower vase arrangement.
This makes use of a DIY marigold flower that can be made with a tissue paper. The steps for making it are quite easy.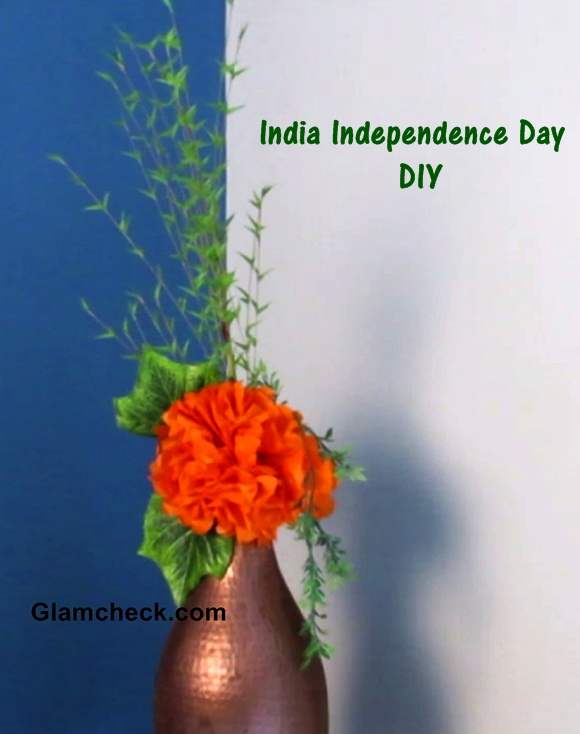 India Independence Day DIY Home Decor
Stack 8-10 sheets of tissue or kite paper. Make around 1 inch wide accordion folds (just like how we make paper fan).
Slip an elastic rubber-band over center of folded fan shaped tissue paper.
With scissors, trim the ends of the fan into rounded or pointy shapes.
Separate all the layers, pulling away from center one at a time, and your paper flower is made.  
Now that your flower is ready , it's time for the arrangement. Things that u will need are – Artificial branches, ur newly created paper flower, some artificial leaves & a vase ) .
Carefully arrange the branch, flower and the leaves in the vase one by one as shown here. Once you have the arrangement done, You can place this pretty vase on a side table. It will be a bonus if you can display a tricolor in a prominent position in the room, just like I have done. Or you can also place it next to the Indian Flag.
Create more tricolored tissue paper flowers and use them as a wall hanging or simply arrange them on the sides of the sofa.  These artificial flowers can be used on various other occasions too, like parties or birthdays.
India Independence Day – Beauty /Makeup/Hair & Looks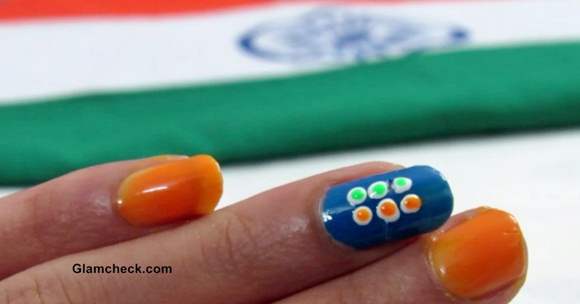 India Independence Day – Nail Art Tri Color
Nail Art
For the nail art, let's do something different apart from the usual mix and match of nail polishes in tricolor shades. Paint all the nails on your fingers in a saffron shade, except for the ring finger on your left hand. Paint this nail in navy blue. After the blue paint dries completely make two rows of vertical white dots with a dotting tool. Then, make green dots on top of one row of white dots and saffron dots on the other row. And voila, you have a new rendition of tricolor inspired nail art.
India Independence Day Makeup & Hair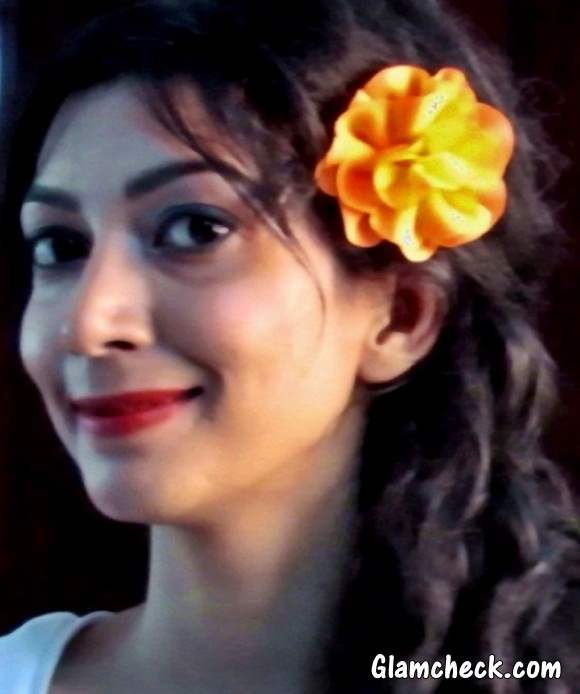 Indian Youtuber – Sarita Upadhyay – India Independence Day Makeup & Hair
Next, I'll focus on the India Independence Daythat I sport for all the upcoming looks. Start by doing your base makeup so that your skin looks super smooth. Next, fill in the eyebrows evenly with an eye brow pencil. For the eye makeup, apply white eye shadow on the brow bone and eyelids. Then, highlight the inner corners of the eyes with a white eyeliner or pencil . I used the lakme iconic white kohl. Next, draw a neat line on the eyes with a bold green eyeliner.
To add more depth to your eyes make another line close to the lashes with a black eyeliner. A pop of red on the lips completes your makeup.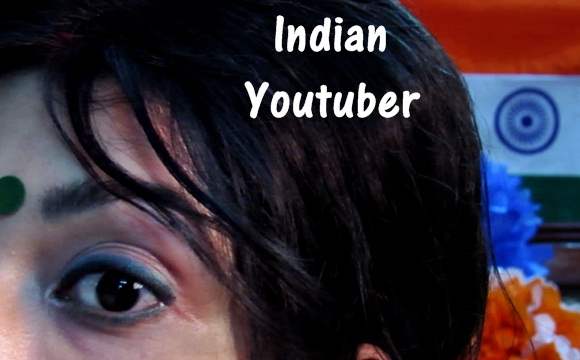 Indian Youtuber – Fashion Blogger
For your tresses, style them whichever way you like. I decided to go with curls.
Next, I come to my 5 different Independence Day looks, each of which are tri-color inspired and portray an indo-western fusion without getting too loud. I have used my existing basic wardrobe staples to create these distinct five looks.
5 Independence Day looks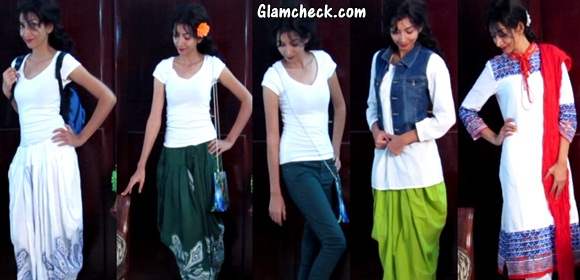 India Independence Day – 5 Indo-western Fusion Looks
LOOK 1 – Serene: This look channels peace and calm as symbolized by the white in the Indian National Flag, and also incorporates the color blue. The items used in this look are a white zara tshirt, a pair of white dhoti paints with pretty blue patterns that I got from Soch, a blue knapsack from Decathlon and blue shoes from sketchers. This look is ideal for school and college students as it blends casual and fun. Those going for hiking, trekking, and picnic or indulging in sight seeing on Independence Day can also opt for this comfortable style.
LOOK 2 – Patriotic: This style makes use of all the colors on the Indian flag – white, green, saffron and blue. The items used in this look are a white zara T-shirt, green dhoti pants from soch, orange flower hair accessory, a chain bag from Splash that sports all the colors of the National flag, and finally sandals with green floral detailing from Metro. This look is ideal for showing the patriot in you on Independence Day.
LOOK 3 – Casual: This look also focuses on all the colors on the tricolor. For this look too I used my white zara tshirt, the chain bag from Splash that sports all the colors of the National flag (worn sideways) as well as the sandals with green floral detailing from Metro. The only new addition was a pair of green denims that I got from Zara. This cool and casual look can be sported by anyone anytime.
LOOK 4 – Eclectic: The focus of this look was on white, green and blue. The items used are a white embroidered kurti (can't recall where I picked it up as it was long back), a pair of super smart green dhoti pants from Akriti, a blue denim sleeveless jacket from Splash and my sandals with green floral detailing from Metro. This look is great for all who want to be a bit experimental, and will draw many appreciative gazes.
LOOK 5 – Ethnic: Last we come to the Indian look that makes use of white, blue and orange. For this I wore a salwar kameez from Biba. I also added a green bindi to make the look more ethnic and also because this was the only Indian Flag color missing from the outfit. Married ladies can also add a touch of sindoor to make this look more interesting and Indian. I deviated from my curly hairstyle to a beehive ponytail for this look, and added a white flower accessory. This look is great for everyone who believes in sporting a cent percent Indian style on Independence Day.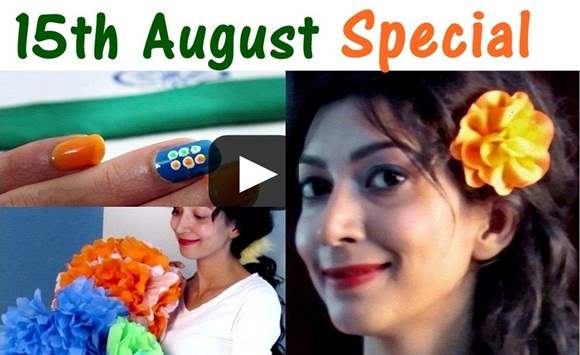 India Independence Day – Indo-western Fusion Looks – Beauty – DIY
Hope you had fun watching my Independence Day special video, with all the varied styles and ideas. I wish you all a very Happy Independence Day. Jai Hind!