How far can you push the boundaries to express yourself? What does it mean to be an independent filmmaker in a country of Bollywood dhumkas and chatkas where crores of Rupees are spent on mere costume and styling? Flimmaker Sandeep Mohan has taken creativity and innovation to an entirely new level as he sets out to redefine Indie films with his latest creation 'Hola Venky!'
Shot with a budget of mere Rupees 10 Lakhs and with just three crew members, the film's screening is being done through an innovative concept which he calls 'Great Indian Travelling Cinema'.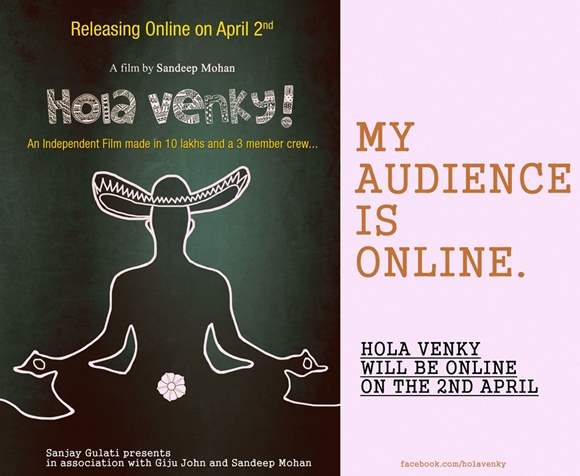 'Hola Venky!' through the Great Indian Travelling Cinema experience
'Hola Venky!' is a light hearted, witty drama with some Indian Mexican masala. Written by Sandeep Mohan, the film explores what it takes to be a man in the 21st century, through the eyes of a middle aged software techie from India. The fast changing pace of life makes the urban man slightly confused, should he be the dominating male like his own father or should he be the modern metro sexual male? Middle aged, divorced and depressed, Venky goes on a journey that takes him from Matunga in Mumbai to Bay Area in San Francisco, where ultimately he re-discovers his passion for life. The film, as Sandeep puts it, is this guy's journey from his groin to the heart.
The filmmaker has made use of the concept of 'alternate space' to screen the movie; this space could be almost anything, cafes, bars, restaurants, art galleries, office spaces, church halls or even big homes. Sandeep arrives at the venue with a projector, two speakers and a Blu Ray disc and the screening is done virtually 'free'! There is no upfront ticket charge; the audience is allowed to choose how much they want to pay. What's more, the audience at the unique 'Great Indian Traveling Cinema' also gets to meet the director personally after the screenings.
Once an assistant director to Sanjay Leela Bhansali for Hum Dil De Chuke Sanam, a mega budget movie, Sandeep is ready to woo the audience with his own unique creations. His first film 'Love, Wrinkle-free' stands proof to his creative film making ability.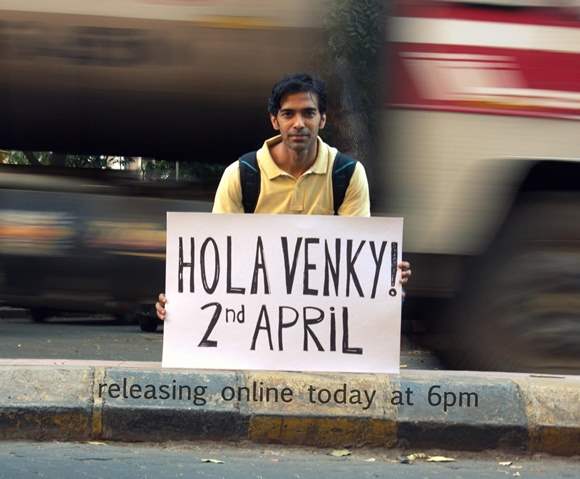 Sandeep Mohan Director Hola Venky
Sandeep Mohan relies only on word of mouth publicity to promote Holy Venky! He cannot even use the social media for publicity as the Censor certificate has not been applied for. Instead, he hopes more and more people will like and share the movie link. The online release starts today on April 2 across 110 countries.
We're ready to say Hi to Venky? Are you? Share your selfies, views, experiences etc of 'Hola Venky!' on facebook.com/holavenky.
Images: Sandeep Mohan