Kangana Ranaut has won the National Award for Best actress for her portrayal of the endearing 'Rani from Rajouri' in Queen. First of all, a big congratulation to Kangana!
'Queen' has been a milestone film in many ways; it is one of the few films where an actress has single handedly shouldered the film's responsibility. It moved away from the larger-than-life Bollywood persona and told an honest story of a simple Indian girl and her journey towards self-discovery. The story of Rani has been and continues to be an inspiration to many women seeking to re-discover the meaning of life. And it was Kangana who breathed life into Rani's character; we couldn't have imagined anyone else as Rani.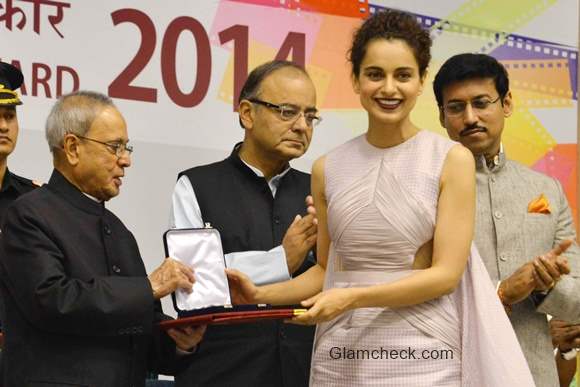 Kangana Ranaut honoured with the National Award for the film Queen
Kangana was visibly elated with the National recognition and though surprised with the win, she said it was an honor that she will cherish for life. The actress has been quite vocal in stating that the National Film Award recognized talent unlike commercial films that are TRP driven and based on commercial factors. It might be worth mentioning the Kangana chooses not to attend Bollywood award shows.
But yes, for the prestigious National Award she turned up personally to receive the honour from President Pranab Mukherjee in New Delhi on May 3rd, 2015. For this 62nd National Awards Ceremony, Kangana quite surprisingly decided not to sport a desi look but instead went for a Bibhu Mohapatra gown. The cut out gown also featured a sweeping train that gave it a more dramatic look despite its subtle color. Tom Ford heels, high up-do hair and dark burgundy lips completed the look. She looked stunning!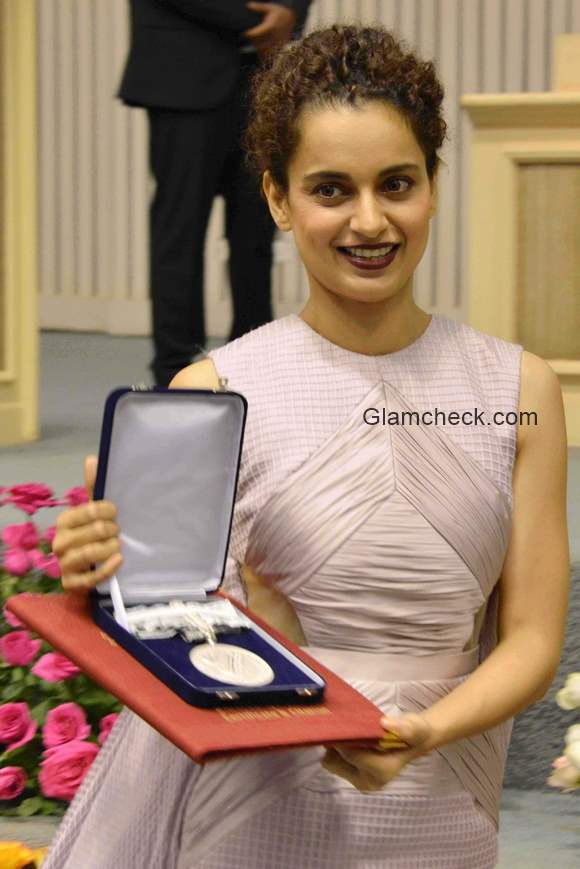 Kangana Ranaut honoured with National Award for the film Queen
This is the second time that Kangana has been honoured with the National award. Her first win was as a Supporting Actress for 'Fashion'. As she put it, she was now in a very fulfilling phase of life where everything seemed picture-perfect. And despite the pressure, she felt very happy and ready to deal with whatever life has to offer. She also revealed that they have a big celebration party planned in Mumbai (but of course!).
Queen has also won the Best Hindi Film Award.
The Best Actor Award was conferred to Kannada actor Vijay for 'Nanu Avanalla Avalu'.
Solaris Images