Milind Soman, recently titled Ironman Triathlete after successfully completing what has been touted as the world's toughest triathlon, on Tuesday, July 28th announced the launch of 2015's SBI Pinkathon in New Delhi. The Pinkathon is India's biggest marathon for women, aimed at encouraging a fit, healthy lifestyle and spreading awareness about breast cancer. The marathon is back in Delhi for the third consecutive year and will be flagged off from the Jawarlal Nehru Stadium in the capital city on Sunday, September 6th, 2015.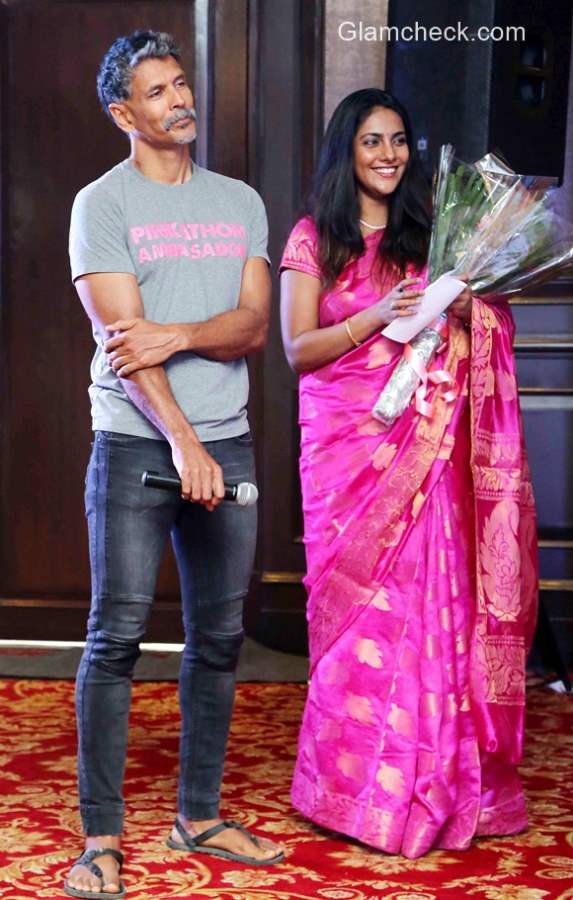 Milind Soman announces Pinkathon Indias biggest Womens run
During a press conference held at the Claridges Hotel, Milind Soman said that Pinkathon was more than a marathon; it was the seed of change. This movement marked the beginning of a movement carried forward by empowered women from across the country who shared a common belief that – a healthy family, a healthy nation and a healthy world will begin with women empowerment. The first step towards empowerment, Milind added, was taking control of one's own healthy, respecting her own self and understanding, celebrating the value that she brings to her family and to the society. Empowerment is not just a gift of society but a gift that a woman can give to herself.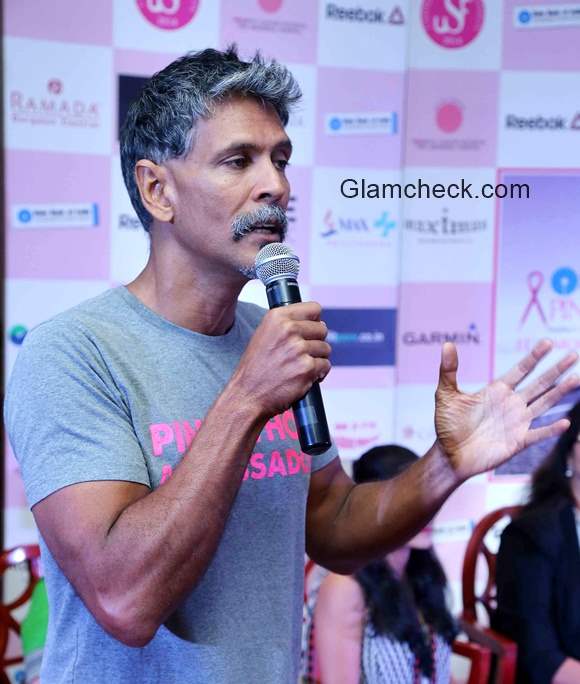 Milind Soman announces Pinkathon India biggest Women run
Pointing out the importance of personal health, the triathlete said that fitness is liberating. For the culture of regular exercise and fitness to take root in India, the country's women first need to become aware about its benefits. They should be able to get out and run freely, but that sadly doesn't happen due to various cultural reasons.
The actor further added that Pinkathon has been organized in eight cities across the country. More than 10,000 women participate in these events; running gears are not compulsory, many run dressed in sarees, salwar kameez, hijabs and whatever attire they deem fit and feel comfortable in.
The Pinkathon 2015 will also see the participation of 20 visually impaired girls who will run in the three categories of 3km, 5 km and 10 km. A special training session has also been designed to prepare and assist them for the run. A sighted runner will also be allocated to run alongside them.
Milind Soman announces Pinkathon 2015
The macots for SBI Pinkathon 2015 has been formally announced as Sunita Poddar – breast cancer survivor, Pinki – National Association of Blind and RJ Jassi – Radio Mirchi for the 3km, 5km and 10 km run respectively. During the launch event, they were each presented with the first bibs along with Reebok running shoes.
Solaris Images