Hello Everyone,
I was at Kudle Beach in Gokarna during one of my weekend getaways in the month of April 2015. This edition of Outfit of the day features one of my favorite looks I sported during the 3 days vacation.
VIDEO :
Outfit
I decided to wear a long kaftan top from Thrifted that fell right below my knees which I teamed with a pair of blue denim capris by Pepe. This beautiful diaphanous kaftan features colorful tropical print that makes it the perfect choice for any beach lover.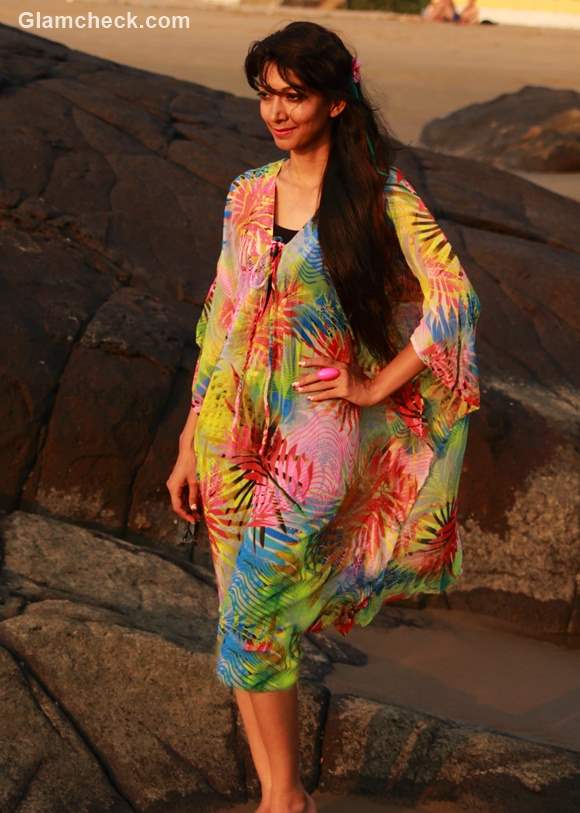 Indian Youtuber Sarita Upadhyay
Accessories
I carried my beach essentials in a canvas tote from B for bag which went quite well with my outfit. I also wore a pink finger ring that I picked from Ayesha. I added more colors to my look with a funky tropical nail art featuring little flowers and leaves.
Rounding things out were my glares and my floral-print Bata flip-flops.
Hair
I wanted to keep my look as natural as possible so I decided to leave my naturally wavy hair as is – all wavy and a little wild and clipped it on one side with a hair clip I made myself with a pink flower and some green ribbon.
Makeup
Not a huge fan of makeup on the beach, I kept things simple. I applied a nice slather of sunscreen all over my face and enhanced my eyes with blue-green eyeliner followed by a pink lipstick.
What is always more fun for me is accessorizing looks with pieces I made myself or little gems that I acquire here and there. I think it all came together quite nicely!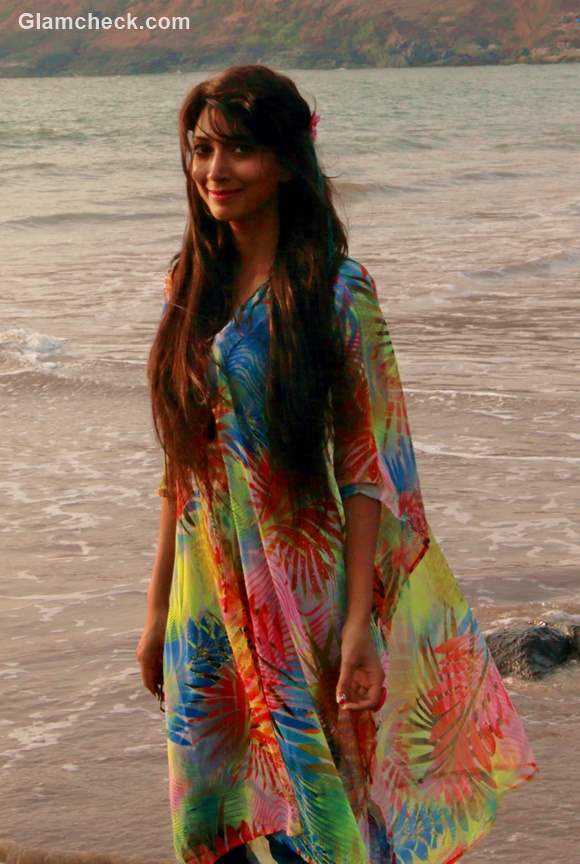 Indian Youtuber Sarita Upadhyay Glamcheck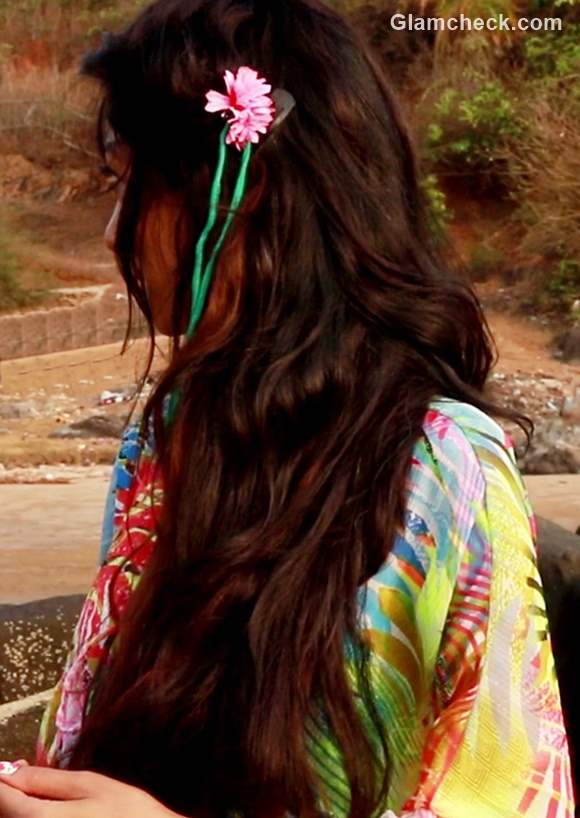 Natural Curls – Indian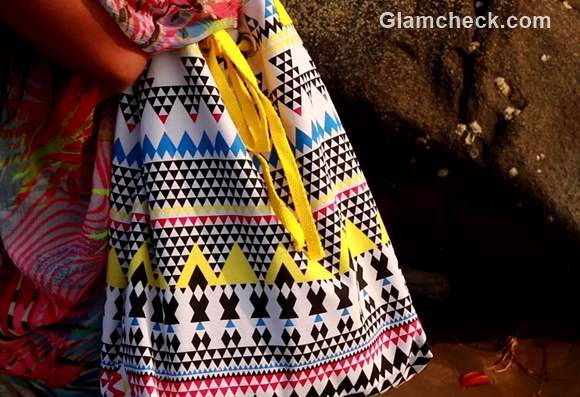 B for Bag Canvas Tote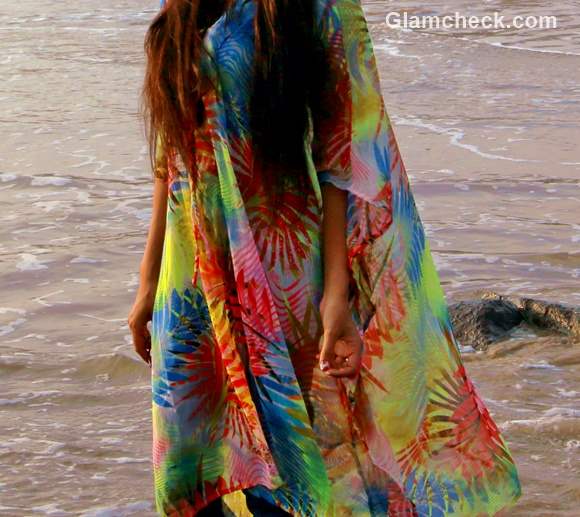 Kaftan at the Beach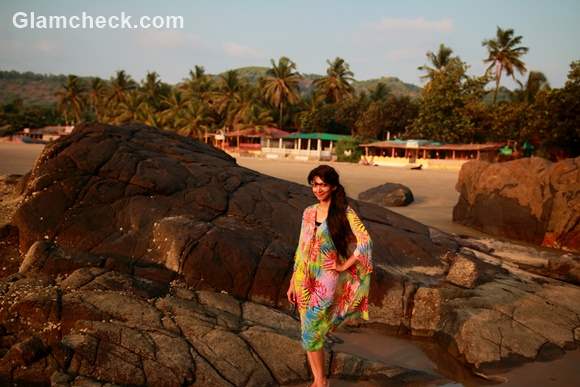 Indian Fashion Blogger
Outfit Details:
Kaftan : Thrifted
Denim Capris : Pepe Jeans
Finger Ring : Ayesha
Tote Bag : B for Bag
Hair Accessory : Self made
Glares : Vogue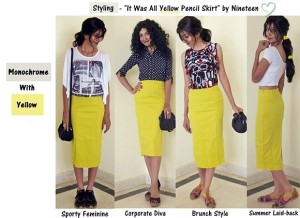 Yellow Pencil Skirt by Nineteen – Review and Styling Tips
When it comes to wardrobe staples, pencil midi skirts are something I swear by. The shape flatters almost all body types and the skirt length is such … [Read more…]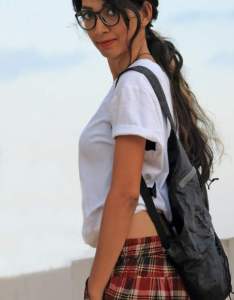 Sporty in Plaid Chinos – Sunday Morning Walk Outfit
Hello Everyone!It's Sunday, and I am pretty sure you guys are having fun & enjoying the day. It was a beautiful morning in Bangalore today and … [Read more…]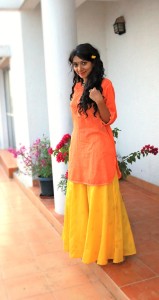 Krishna Janmashtami Outfit – Yellow and Orange
Hello Everyone!It's September already, and I can't even begin to comprehend how excited I am. This month is really special to me not just because of … [Read more…]