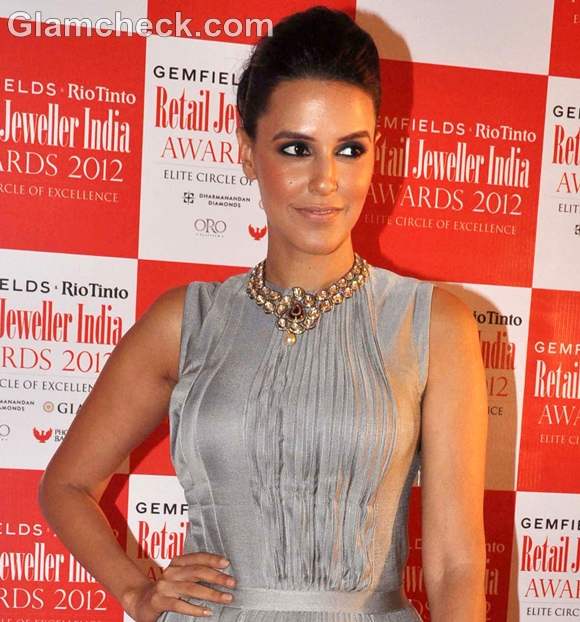 Bollywood actress Neha Dhupia was stunning – well, we're not really surprised by that – as she attended the Retail Jeweller India Awards 2012 in Mumbai, India on August 25.
Her Look
Bollywood diva
What She is Wearing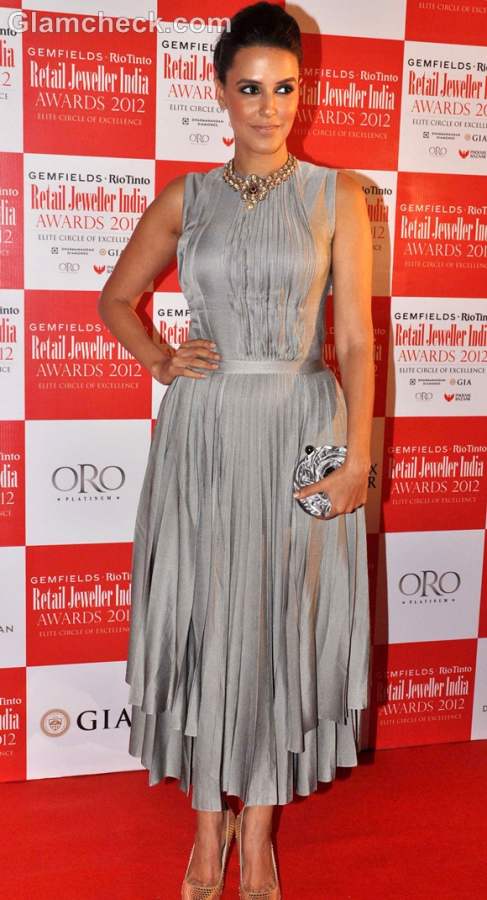 Neha Dhupia sported a silver-grey pleated dress that fell to her ankles. The sleeveless, high-necked number had a layered skirt which created an interesting visual texture.
The beauty accessorized with gold-sequinned heels, a round silver-grey clutch purse, and a lovely necklace inset with luminous stones. A simple updo, smoky eye makeup and sun-kissed cheeks completed her look. Like her makeup ? We have a tutorial on her makeup as well: Neha Dhupia's Sultry Siren Makeup
Get the Look
Neha's dress is an alternative to metallic silver. Silver is an eye-catching color and any outfit in silver is made to stand out. However, not everyone is comfortable sporting silver as they perceive it as a loud color. So a slightly-muted silver which borders on grey is a good start. Just make sure that your makeup and accessories blend in well with the dress rather than fade out, a mistake that many a celeb has made over the years.
How & Where to sport the look
This is a very elegant ensemble and can potentially be used in situations where you want to impress. So it would be the perfect outfit for an office party, a business dinner, or even a date. If the occasion is a little informal, you can style your hair in curls and scrunch it up for a messy look. That combined with the smoky eyes and ephemeral color of the dress is bound to make anyone sit up and take notice.
Image: Indian Photo Agency