Bollywood came down to Reliance Media Works in Film city, Andheri to grace the Red Carpet for Mr. Bachchan's birthday bash. From the super-genius Rajnikanth to King Khan were present at the bash.
We show you a glimpse of the Bachchan clan along with the super couples of Bollywood.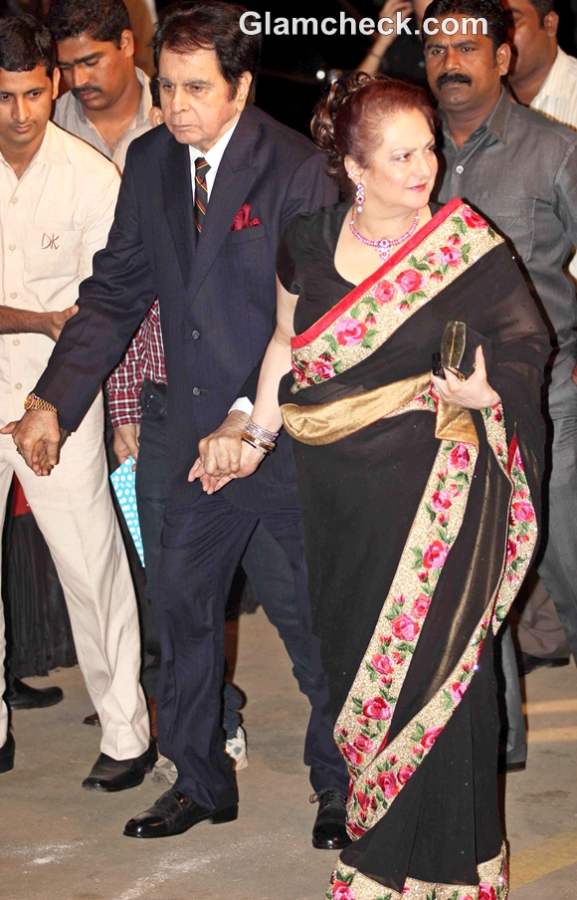 Dilip Kumar & Saira Banu Bollywood couple
The yesteryear legend Dilip Kumar walked the Red carpet with the beautiful Saira Banu. Mrs. Saira Banu wore a black sari with a floral border while Mr. Dilip Kumar was in a formal suit for the event. Her hair was neatly tied up in a bun. She accessorized her look with a box-clutch, glittering necklace and earrings.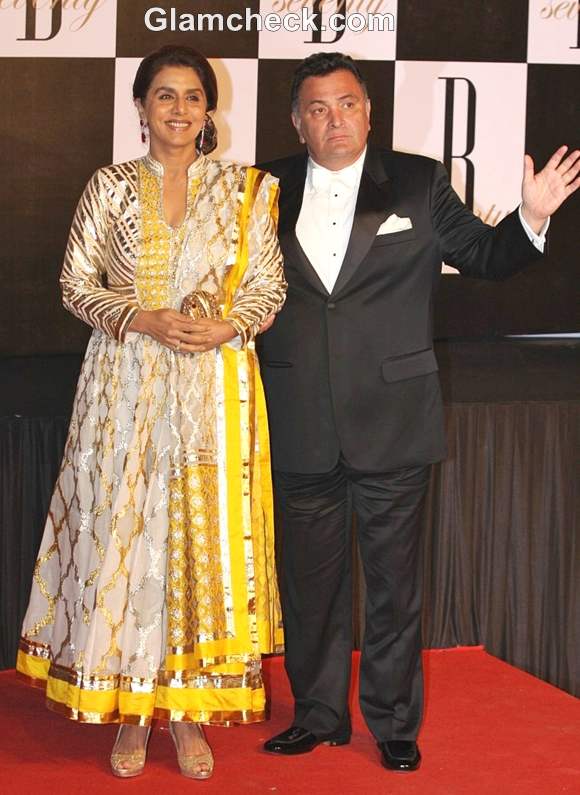 Shashi Kapoor & Neetu Singh Bollywood Couple
Mr. Rishi Kapoor and Mrs. Neetu Singh Kapoor attended the event looking chic. Mrs. Kapoor wore a gold and sunshine- yellow Anarkali paired with golden peep-toes, clutch and dazzling earrings. Her hair was done in a loose chignon and she wore minimal make-up. Mr. Kapoor looked dapper in a black dinner jacket and white bow-tie.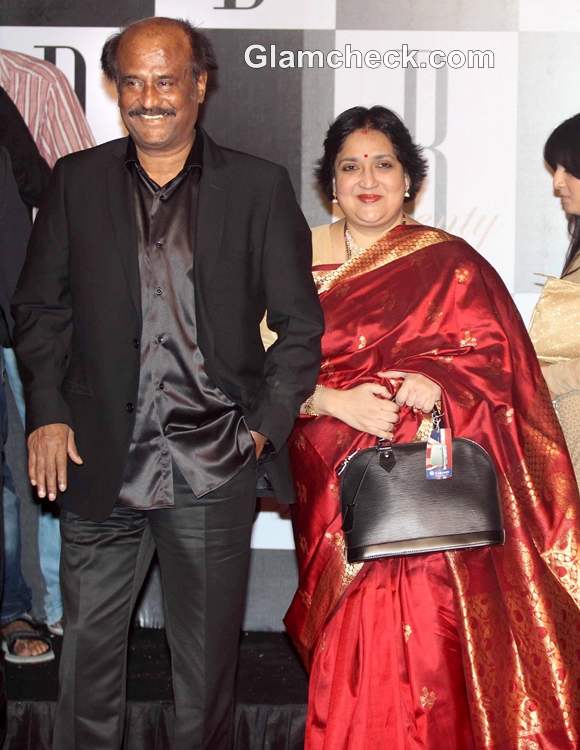 Rajinikanth with wife Latha at Amitabh's  70 birthday bash
Superhero Rajnikanth walked with his better-half looking smart in all-black ensemble. Mrs. Rajnikanth wore a beautiful red sari to the event.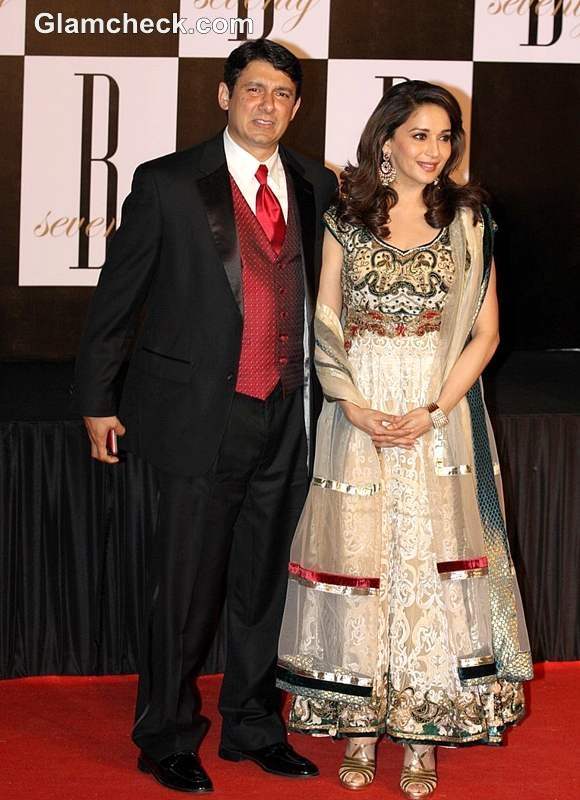 Madhuri Dixit with husband Sriram Nene Bollywood couple 
The diva, Madhuri Dixit arrived at the event with Mr. Nene looking as glamorous as ever.  While Madhuri picked a heavily embroidered Anarkali for the bash, Mr. Nene chose to wear a three-piece suit. The lady accessorized her look with a gorgeous jhumka, diamond studded bracelet and golden stilettos.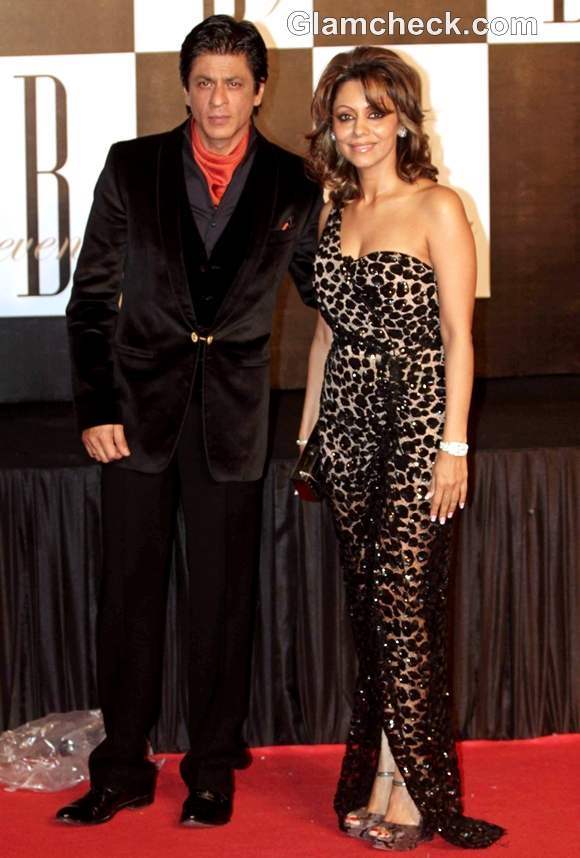 Sharukh Khan with wife Gauri Bollywood couple
King Khan graced the red carpet with the dainty Gauri Khan in tow. Gauri wore a Michael Kors one-shoulder gown and paired it with a box-clutch and snake-leather stilettos. Shah Rukh Khan chose a three-piece suit with a scarlet scarf draped around his neck. Good choice, we must say!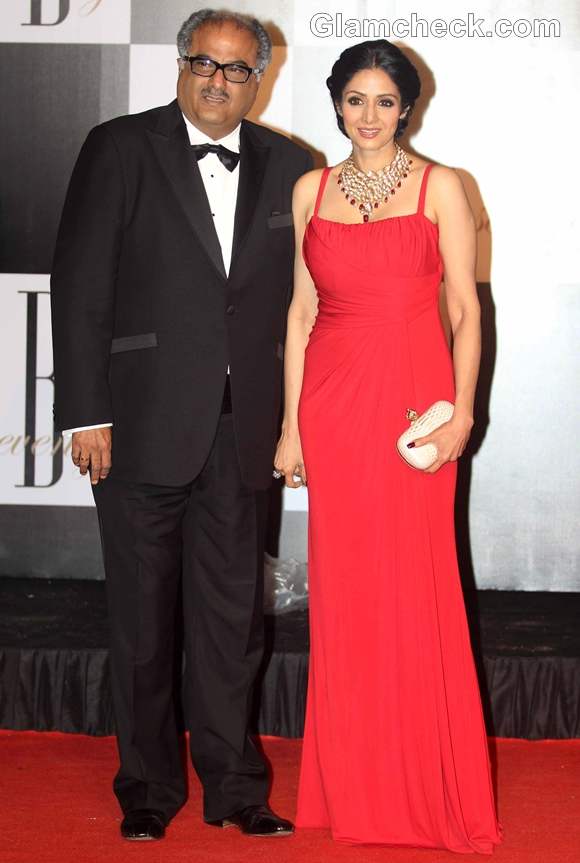 Bollywood couple Sridevi & Boney Kapoor 
Sridevi made it to our style-list with this sexy red gown. She accessorized with a diamond and ruby neckpiece, diamond ring and clutch. Her hair-do was chic and her deep eyes made all the impact. Mr. Boney Kapoor was in a black suit for the event.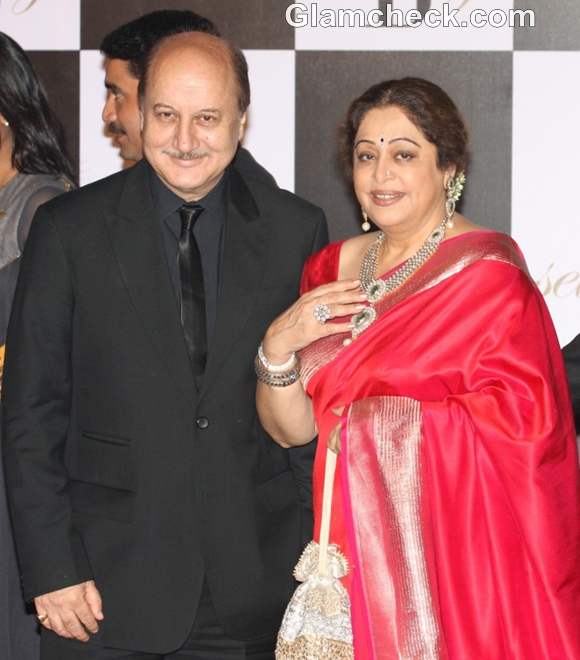 Anupam Kher and Kirron Kher graced the event with son Sikander Kher. The men chose all-black to wear at the bash whereas the lady wore a gorgeous sari with diamond and emerald necklace with matching earrings. She adorned her hair with a gajra and wore a small black bindi on her forehead.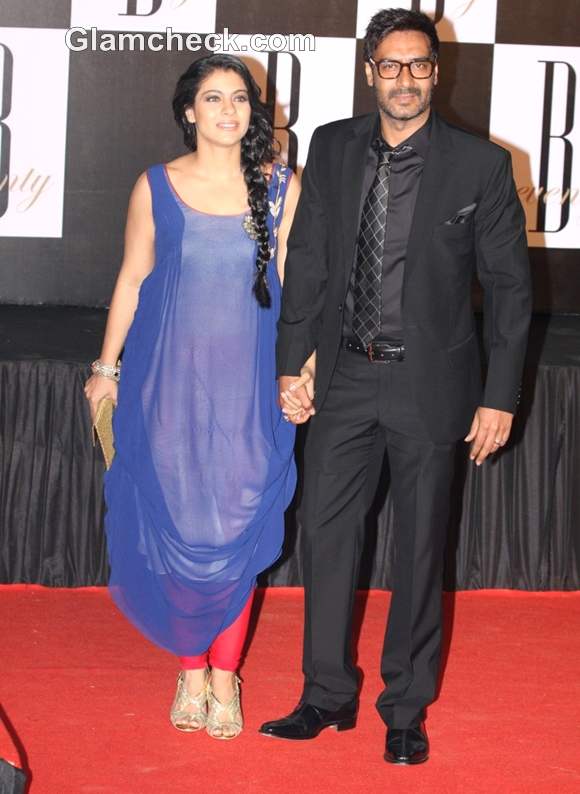 Bollywood couple Kajol & Ajay Devgan
Mr. and Mrs. Devgan attended the event hand-in-hand .Kajol chose a contemporary kurta with an asymmetrical hemline paired with heels, a gold clutch and glittering bangle. Her side-braid was bang on trend whereas, Ajay chose to wear a black suit and tie with a black frame on his eyes.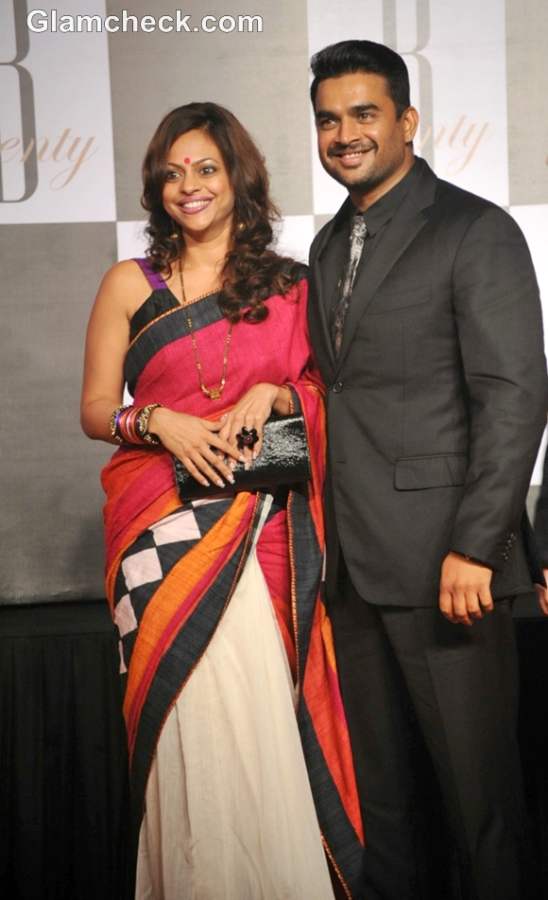 R. Madhavan with wife Bollywood couple
R. Madhavan and his wife attended the event looking very elegant. Mrs. Madhavan wore a beautiful sari and looked gracious in it. Madhavan wore a black formal suit for the bash.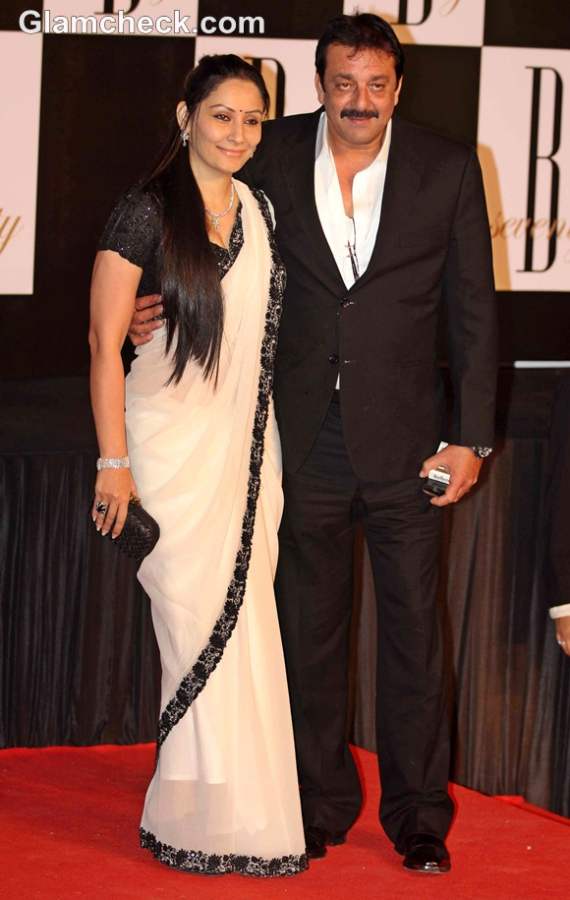 Bollywood couple – Sanjay Dutt with wife Manyata 
Sanjay and Maanyata Dutt appeared in black & White for the bash. Maanyata chose a black and white sari and accessorized with a black clutch and diamond bracelet. Sanjay Dutt wore a black suit with un-buttoned white shirt.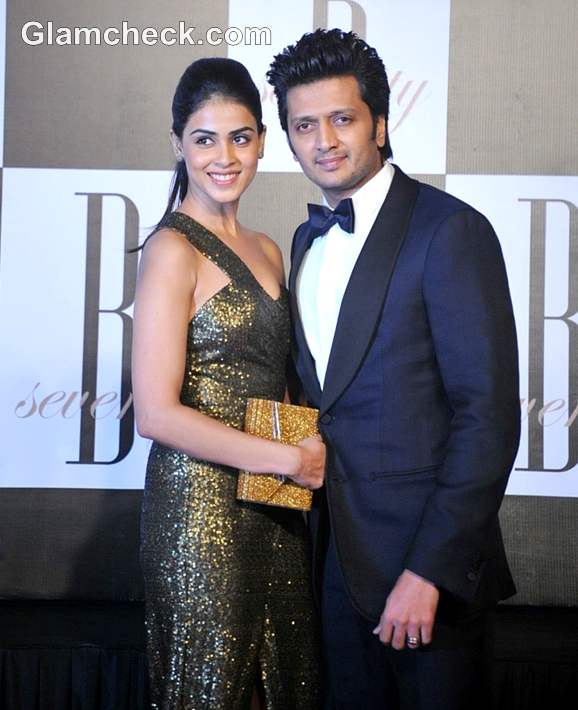 Ritesh Deshmukh & Genelia – Bollywood couple 2012 
The newly-wed couple Genelia and Ritesh Deshmukh looked lovely as they attended the event. It was Rohit Gandhi-Rahul Khanna for Genelia at the bash while Ritesh chose a chic Zegna suit. Classy!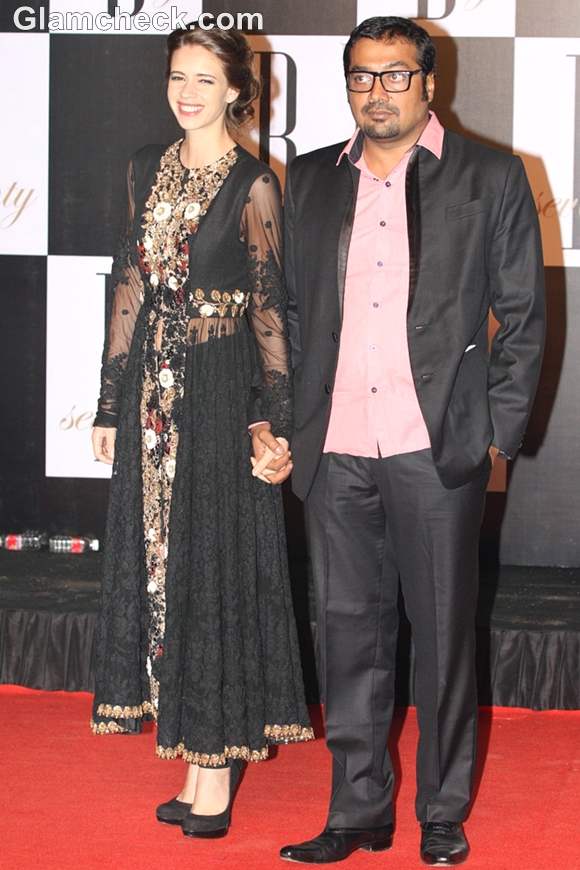 Kalki Koechilin and Anurag Kashyap –  Bollywood couple
Kalki Koechilin wore a Sabyasachi outfit for the event and paired her ensemble with pretty black heels and chignon-ed hair. The director Anurag Kashyap was in a semi formal look with unbuttoned suit and un-tucked shirt.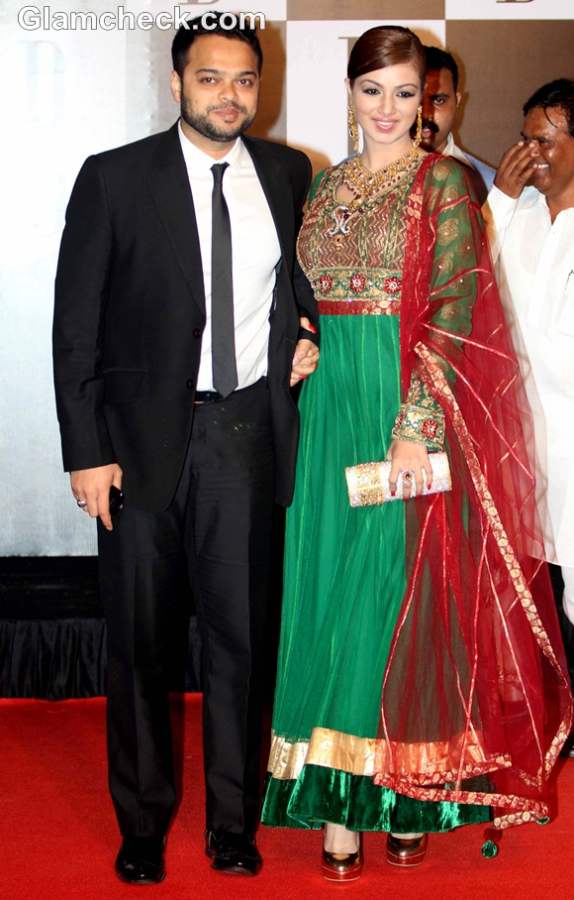 Ayesha Takia walked the red carpet with hubby Farhan Azmi in tow. The actress looked pretty in an emerald green Anarkali paired with a red dupatta. Gold adorned her neck and ear. She accessorized this ensemble with an embellished clutch and gold stilettos.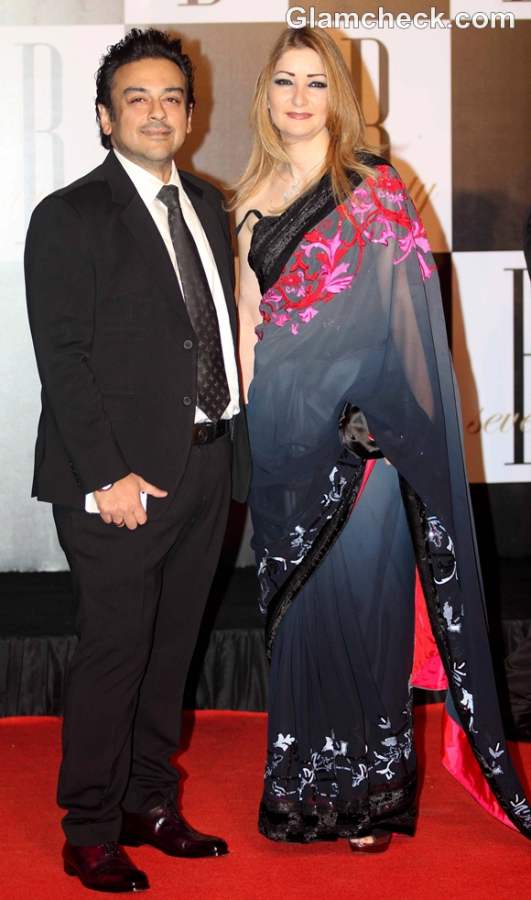 Adnan Sami with wife Roya Fariyabi
Adnan Sami attended the bash with his wife wearing a formal black suit. His wife chose a chiffon sari for the event with kohl-rimmed eyes and glossy lips.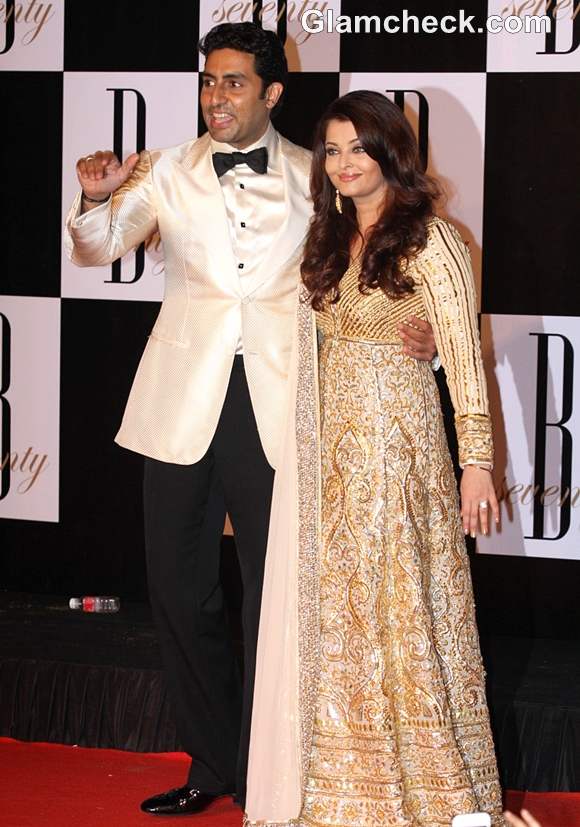 Bollywood couple – Abhishek Bachchan & Aishwarya Rai 2012
The new parents of a divine baby girl rocked the red carpet in style. Aishwarya wore an Abu-Sandeep ensemble with baroque inspired motifs whereas, Abhishek Bachchan wore a tuxedo. The hosts definitely looked hot and happening.
Indian Photo Agency, IANS