Based on the thought that every daughter gets her strength from her mother and that a mother plays a huge role in her daughter's development, Clinic Plus carried launched its "Clinic Plus Scholarship Programme 2014-15" on January 20 in Mumbai.
The main aim of this scholarship programme aim is for mothers to help their daughters complete their secondary education and thus, take a step closer to fulfilling their child's dream. The programme is a part of its noble endeavour 'M se maa, Maa se mazbooti'.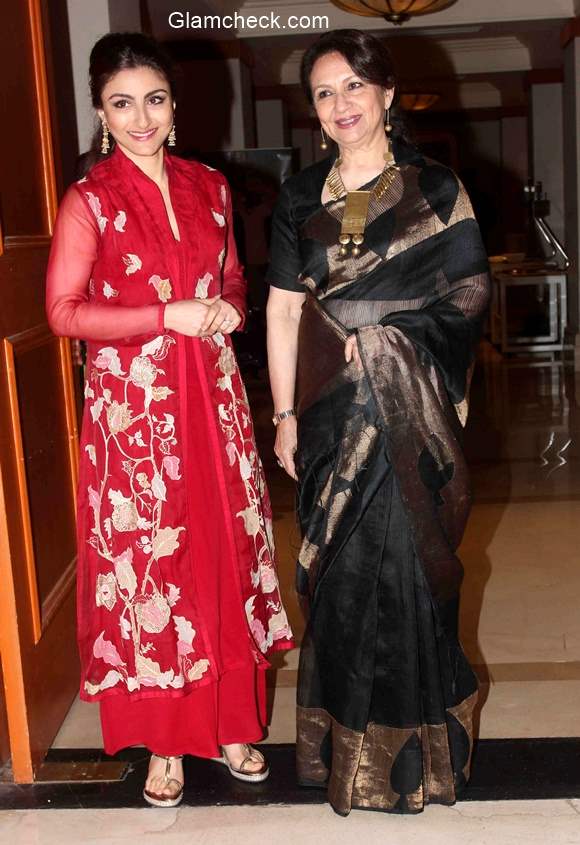 Soha Ali Khan and Sharmila Tagore during the felicitation ceremony of Clinic Plus scholarship programme
Like in 2014, Soha Ali Khan graced the launch event. This time she was dressed in a rich red floral embroidered salwar suit, accessorised with dangling earrings and hair partially pinned. Soha personified royal elegance.
The event was even more special for Soha since her mother, Sharmila Tagore accompanied her. She chose a black and gold saree for the event and added a stunning statement gold neckpiece to complete the look. Beautiful as ever!
Soha earlier tweeted – Celebrating educating the girl child with my favourite teacher – my mother!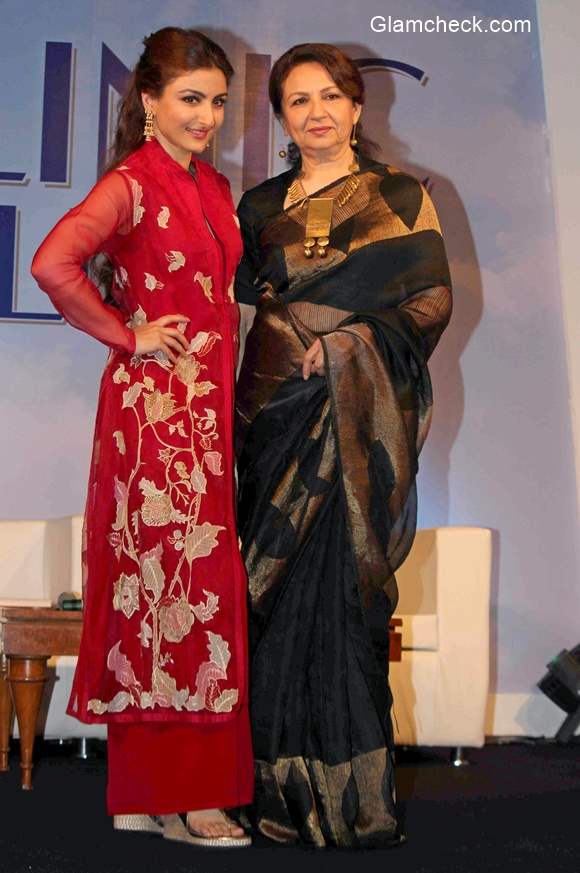 Soha Ali Khan and Sharmila Tagore 2015
Speaking during the launch event, Soha expressed that the bond between a mother and a daughter is very deep and strong. Her mother has not only been a popular actor but a homemaker and a successful mother, thus for Soha, she was a source of inspiration.
On asked about the problem faced by girl child in India, she replied that though personally she was never made to feel different from her brother, she did realize that girls are considered burdensome by many in the country. She further highlighted that such indifference is a reality but such perceptions are slowly changing.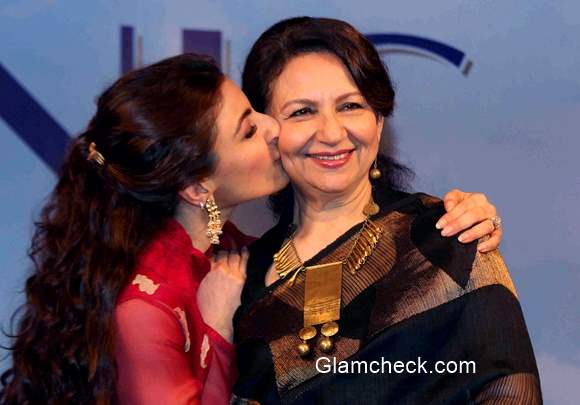 Soha Ali Khan with mother Sharmila Tagore
Sharmila Tagore also opened up about the close bond she shared with Soha saying that Soha has included her in every part of her life, be it her first day in school, university or work. Amid loud cheers from the media, she also announced that Soha will get married on 25th January and sought blessings for her.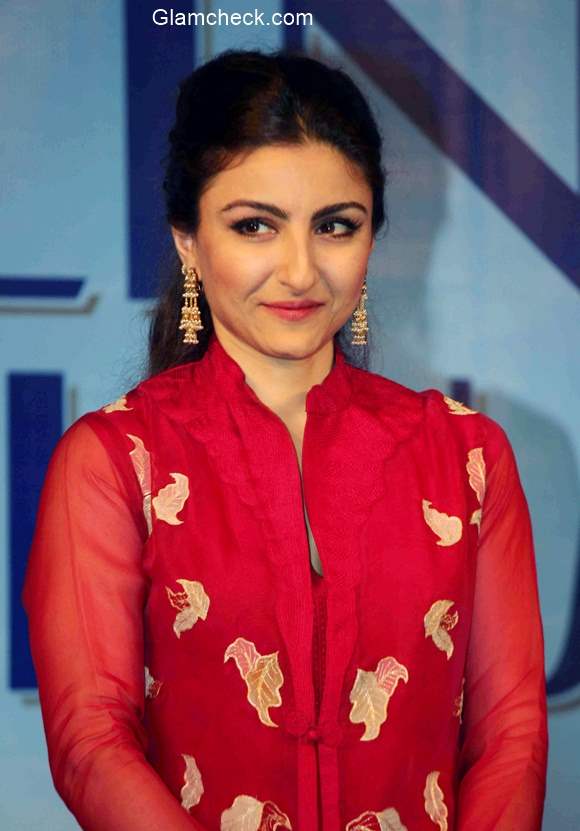 Soha Ali Khan 2015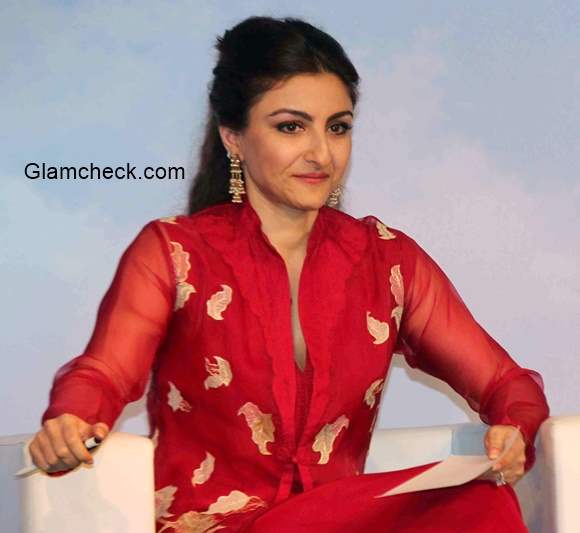 Soha Ali Khan 2015 pic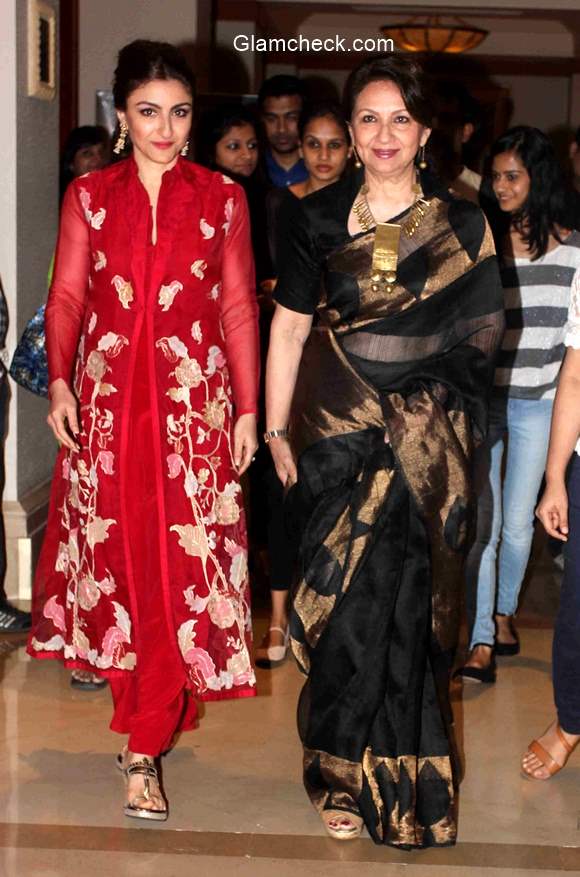 Soha Ali Khan Sharmila Tagore at the felicitation ceremony of Clinic Plus scholarship programme
Solaris Images