Kareena Kapoor and Saif Ali Khan's five year courtship culminated in marriage on Tuesday. They decided to go for a quiet ceremony at Saif Ali Khan's residence at Fortune Heights, Bandra.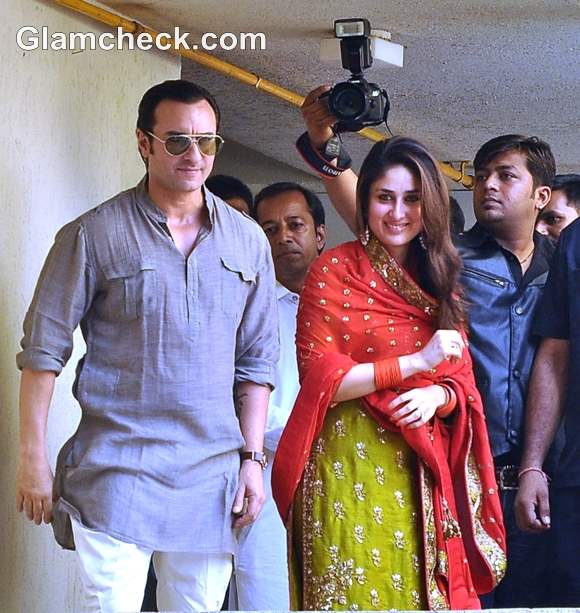 Saif-Kareena Wedding , Court Marriage pictures

The couple joined hands and greeted the press with a namaskar after the ceremony. News had spread like a wild fire making the shutterbugs go crazy.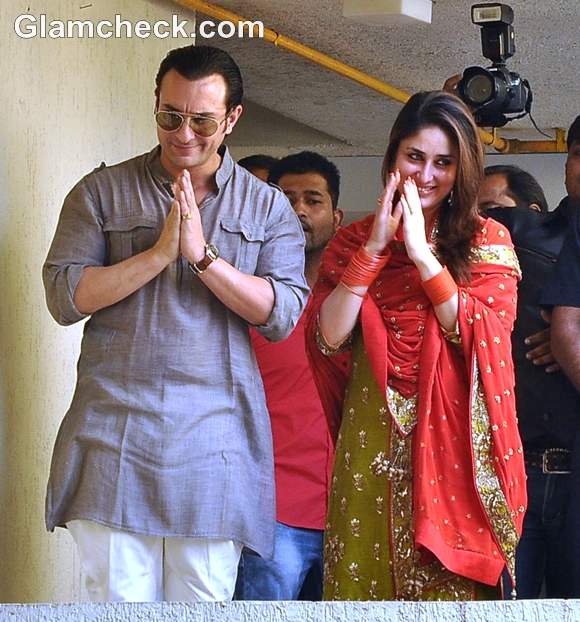 Saif Ali Khan 7 Kareena Kapoor Wedding pictures Court Marriage
Kareena was seen wearing a pista green kurta with a scarlet dupatta embellished with butis and an ornate border. The ensemble was paired with lots of scarlet bangles. She wore a beautiful smile on her face which displayed her blissful state of mind. Saif looked chic in a grey linen kurta with double-breast pockets paired with a white pyjama.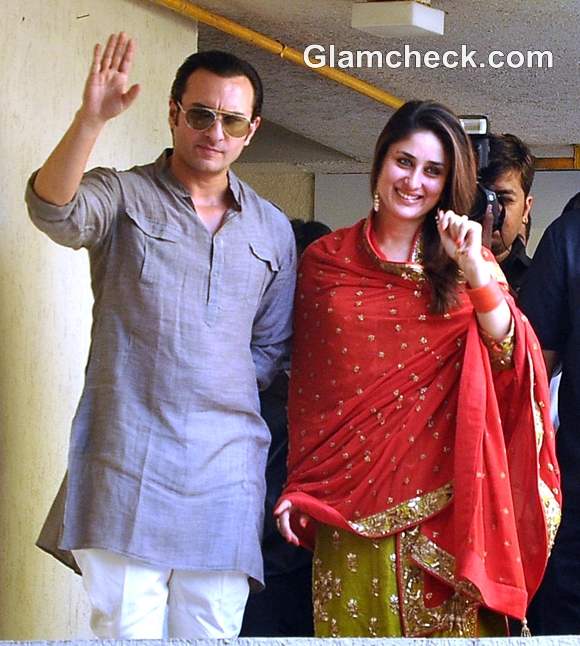 Saif-Kareena Wedding , Court Marriage pics
It was a much awaited Bollywood marriage where two very successful actors sailed successfully through matrimony. The scores of fans and media got a glimpse of the couple as they came out and greeted their fans.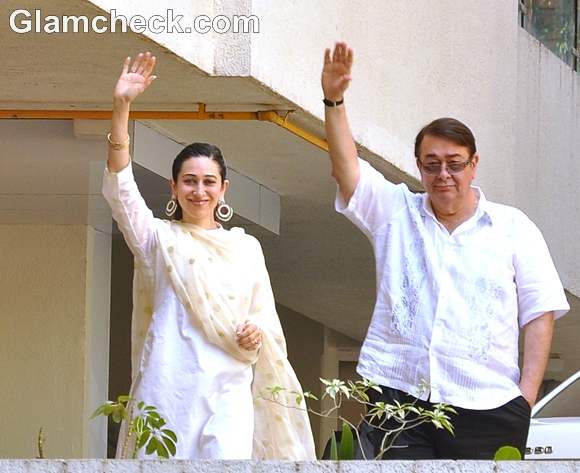 Karisma kapoor at Saif-Kareena Wedding,  Court Marriage
The three witnesses included Mrs. Babita Kapoor, Mr. Randhir Kapoor and Mrs. Sharmila Tagore Pataudi.  Mr. Randhir Kapoor and daughter Karisma Kapoor waved to the waiting media and fans after the ceremony.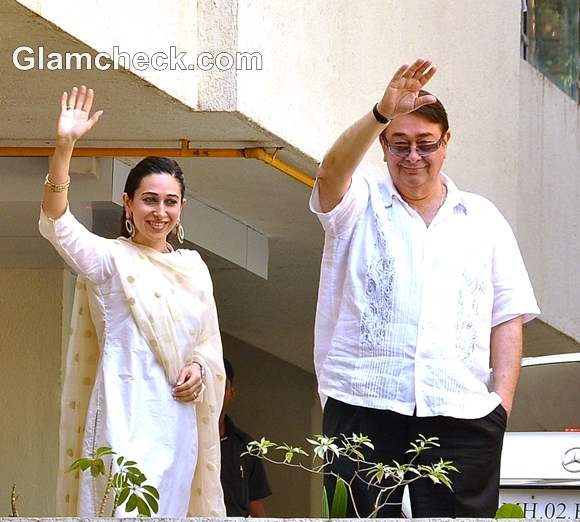 Karisma Kapoor &  Randhir Kapoor at Saif-Kareena Court Marriage
Karisma Kapoor was spotted wearing a simple white kurta with off-white dupatta. She had pretty hoops on her ears and a gold bracelet. The actress was seen waving at the crowd with father Randhir Kapoor.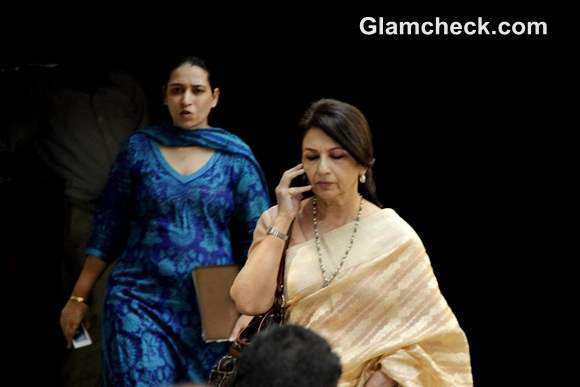 Sharmila Tagore at Saif-Kareena Wedding
The marriage ceremony was simple but, we think a grand bash might be coming soon where, we will again have the privilege to report to you who wore what.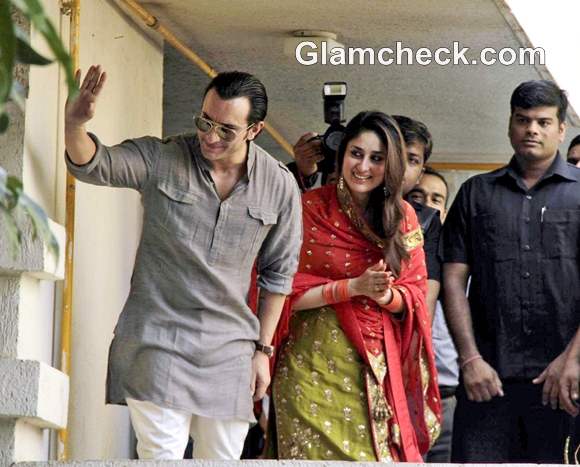 Saif-Kareena Wedding pictures
We at Glamcheck wish the newly married couple a very happy married life!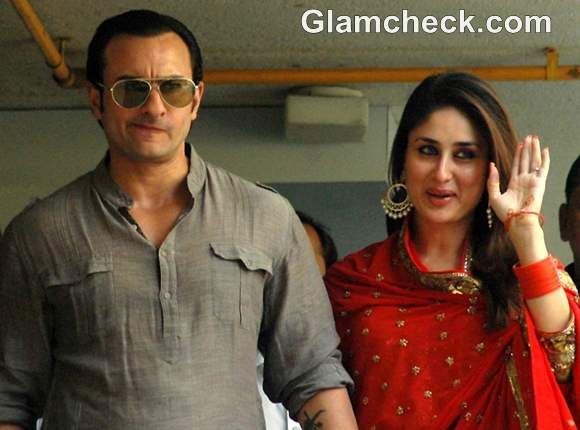 Saif Ali Khan Kareena Kapoor marriage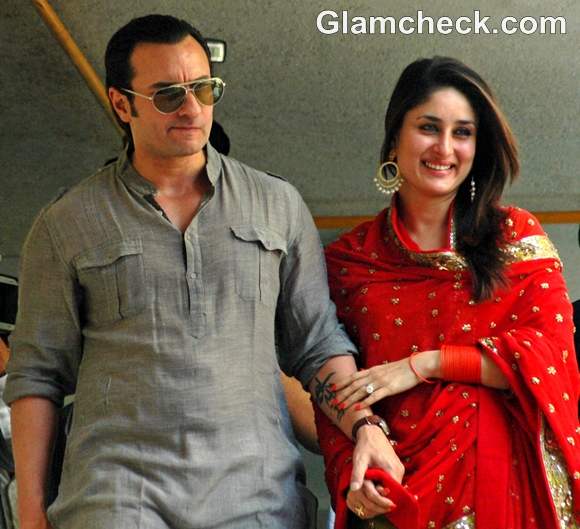 Kareena Kapoor Wedding
IANS, Indian Photo Agency